With its sun-kissed beaches and a vibe that can only be described as pure euphoria, this Balearic gem has become a mecca for partygoers and sun-seekers.
Whether you're planning a wild summer escape or simply want to relive the magic of the White Isle, I've got you covered.
I've compiled this collection of the best Ibiza captions that will effortlessly transport your followers to this legendary party island.
Visiting Ibiza? I recommend this Ibiza beach hopping cruise as it's super fun and a great way to see more of the island.
Best Ibiza Instagram Captions
Cute Ibiza Captions For Instagram
Once upon a time in Ibiza
All I want is good music, great friends, bright lights and late nights
Cocktail in my hand, confetti in my hair
Beach, beats and barely any sleep. That's how we do Ibiza
When in Ibiza, 'dancing queen' becomes my official job title
Ibiza has been one blur of fun
If you follow your heart just right, it will get you to Ibiza
Warning: Ibiza may cause an uncontrollable urge to dance like nobody's watching
The night is still young and so are we!
Twinkle, twinkle little star… point me to the nearest bar
Think a little less, live a little more
If you can't find me, I'm probably lost in an Ibiza foam party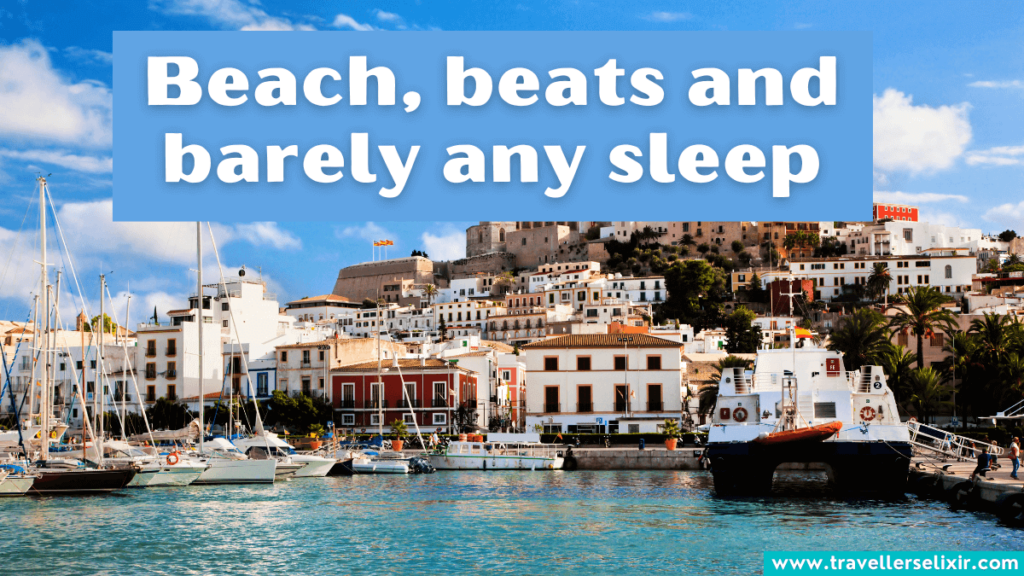 Me and Ibiza: Love at first sight
Feeling like a free-spirited island queen in Ibiza
Ibiza is more than an island, it's a state of mind
Ibiza stole my heart, my sleep and probably a few brain cells
Today's forecast: 100% chance of boat parties
I came for the sunsets but I stayed for the epic dance battles
I think Ibiza looks pretty good on me
In Ibiza, SPF stands for 'Sun, Parties and Fun'
Ibiza is always a good idea
Sure I can party all night long
Here for the sun and boat parties
Enjoying life one cocktail at a time
It's an Ibiza thing, you wouldn't understand
Ibiza vibes are in the air
Life is better with sand between your toes and a cocktail in your hand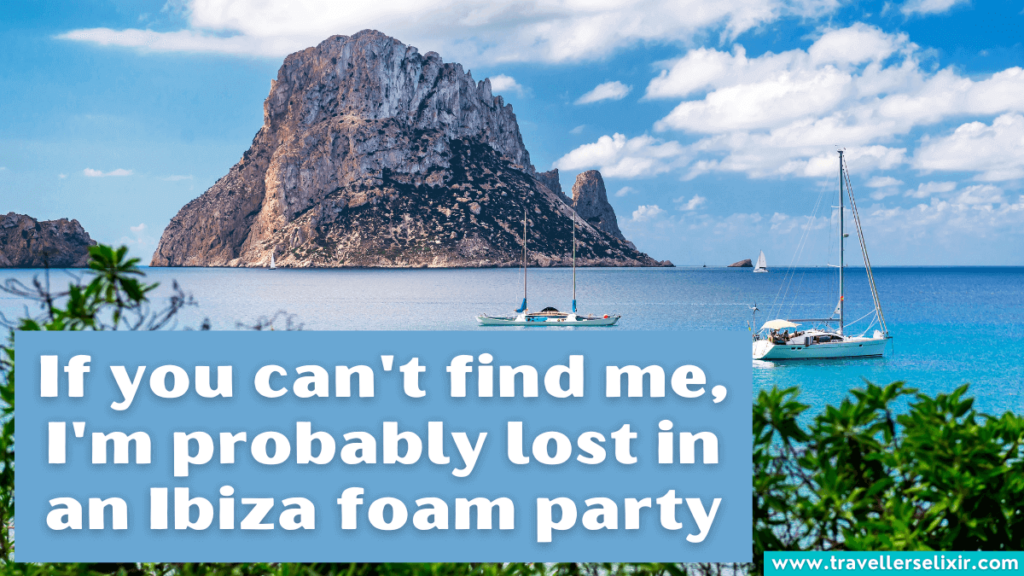 Up Next: Barcelona Instagram Captions
Funny Ibiza Captions & Ibiza Puns
Beach, please!
All I need is some Vitamin Sea
Water you doing right now?
Don't be a Spain
Sip sip hooray
Happy as a clam
Ibiza: where the night is shore to be unforgettable
Having a fin-tastic time in Ibiza
I'm an aqua-holic
Sea-ing more of the world
Uh, I think I Spain-ed my ankle in Ibiza
Getting my sun-sational groove on in Ibiza
Throwin' shade
Girls just wanna have sun
You May Also Like: Algarve Captions For Instagram
Short Ibiza Captions
When in Ibiza…
If lost, return to Ibiza
Pure Ibiza magic
I'd rather be in Ibiza
Let's party all night
Sun-kissed adventures
Ibiza dreaming
Endless party paradise
Sandy toes & sunkissed nose
Ibiza gives me butterflies
Dancing under the stars
Beach hair, don't care!
It's 5 o'clock somewhere
Epic nights, epic memories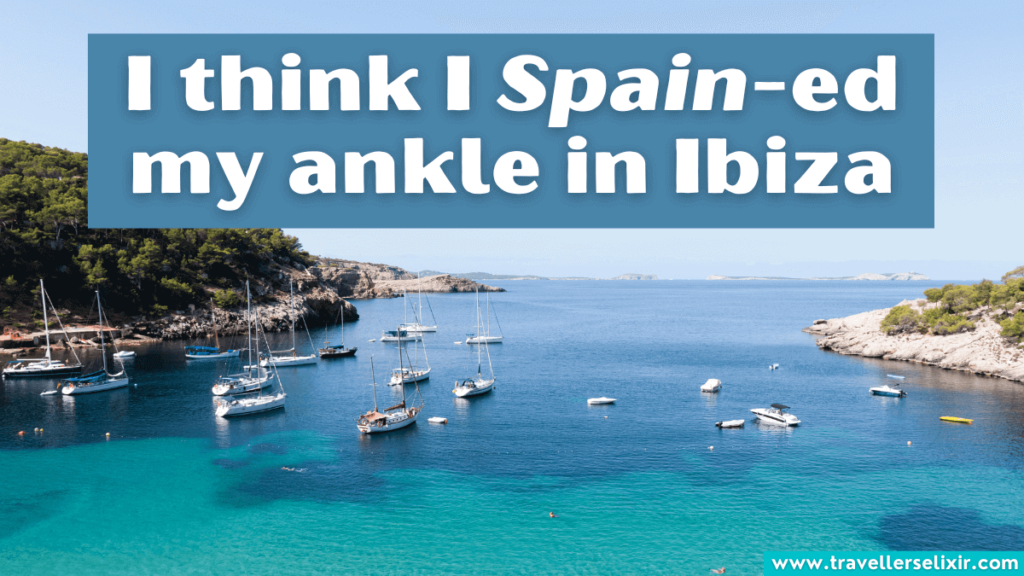 Unleashing my inner party animal
Good times & tan lines
The island is waiting
Sun, sand & boat parties
Island bliss
Salty & sweet
Lost in the magic of Ibiza
Up Next: Santorini Captions For Instagram
Inspirational & Beautiful Ibiza Captions
All I need is salt in my hair and sand between my toes
Ibiza: where the only blues I have are the crystal-clear waters
Somewhere between living and dreaming, there's Ibiza
Leave your worries at the airport and let Ibiza work its magic on your soul
High tide or low tide, I'll stay by your side
Leaving footprints of happiness along Ibiza's shores
Life is made by little beautiful moments like this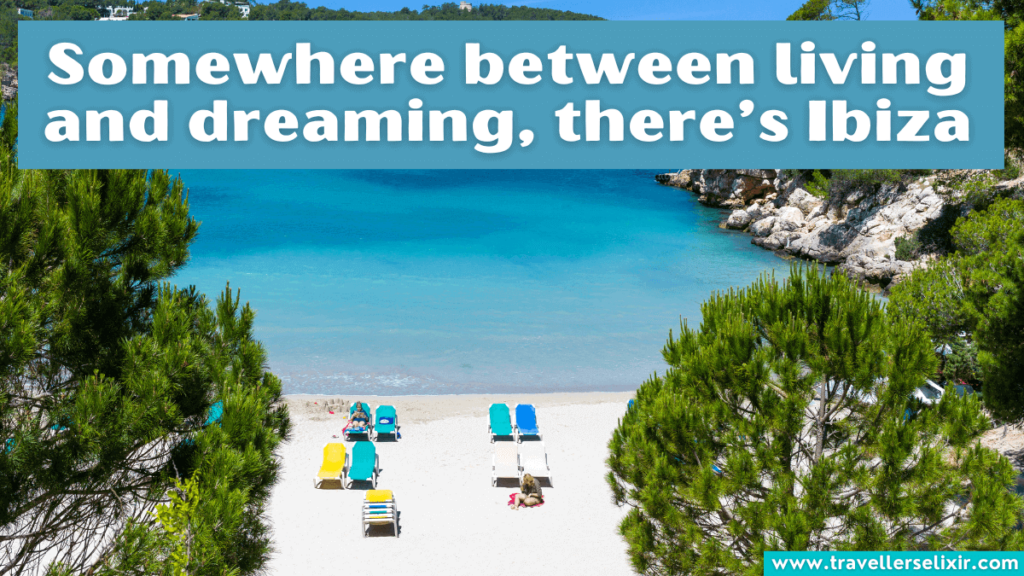 Lost in the rhythm of Ibiza, dancing like nobody's watching
Ibiza: where the sand is my dance floor and the ocean is my DJ
Making memories that will last a lifetime in Ibiza
Our memories of Ibiza will linger on, long after our footprints in the sand are gone
I wish some nights lasted forever
Ibiza, you made my heart skip a beat and my worries disappear
Embracing the vibrant colors and contagious energy of Ibiza
Darling, it wouldn't be a party without you
Ibiza sunsets and good vibes, the perfect recipe for happiness
Living my mermaid dreams in Ibiza's turquoise waters
Chasing sunsets and dancing 'til dawn in the magical land of Ibiza
Sun-kissed and carefree, embracing the Ibiza way of life
One of those nights, dancing in the stars
Sandy toes, salty kisses and endless summer days in Ibiza
Sun, sand and endless smiles in Ibiza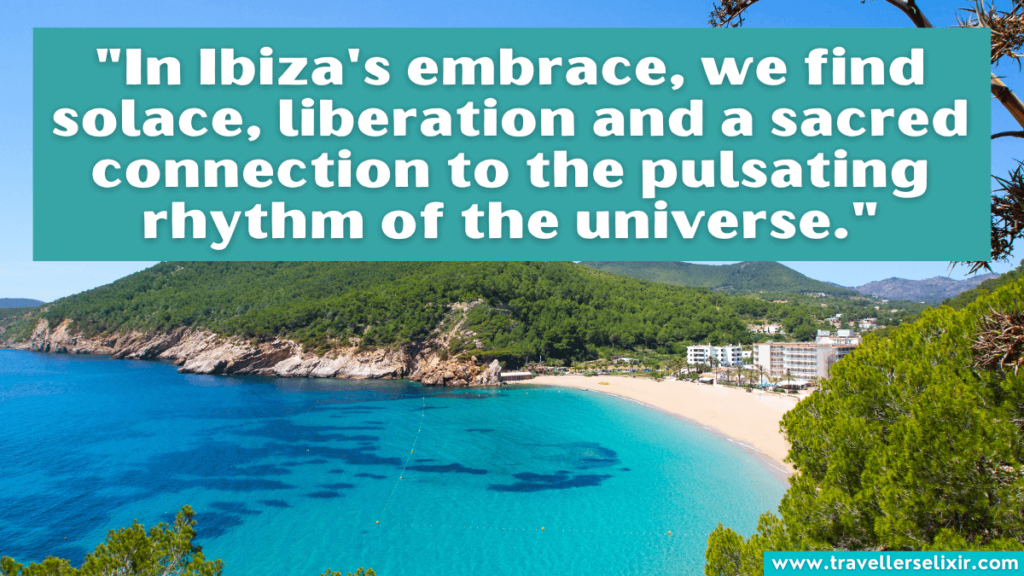 You May Also Like: Croatia Captions For Instagram
Ibiza Quotes For Instagram Captions
"In Ibiza's realm, we discover that true luxury lies not in material possessions but in the freedom to be our authentic selves and embrace the beauty of the present moment." – Traveller's Elixir
"The cure for anything is salt water: sweat, tears or the sea." – Isak Dinesen
"In Ibiza's embrace, we find solace, liberation and a sacred connection to the pulsating rhythm of the universe." – Traveller's Elixir
"Ibiza is very close to my heart." – Jade Jagger
"Ibiza, the island that whispers secrets to the wind and dances with the waves, inviting us to join its eternal celebration of life." – Traveller's Elixir
"Live in the sunshine. Swim in the sea. Drink in the wild air." – Ralph Waldo Emerson
"Ibiza, where the sun paints the sky with hues of possibility and dreams come alive with every beat of the music." – Traveller's Elixir
"We should consider every day lost on which we have not danced at least once." – Friedrich Nietzsche
"Ibiza, a kaleidoscope of experiences, where the journey from sunrise to sunset becomes a canvas for our wildest dreams to unfold." – Traveller's Elixir
"The ocean stirs the heart, inspires the imagination and brings eternal joy to the soul." – Robert Wyland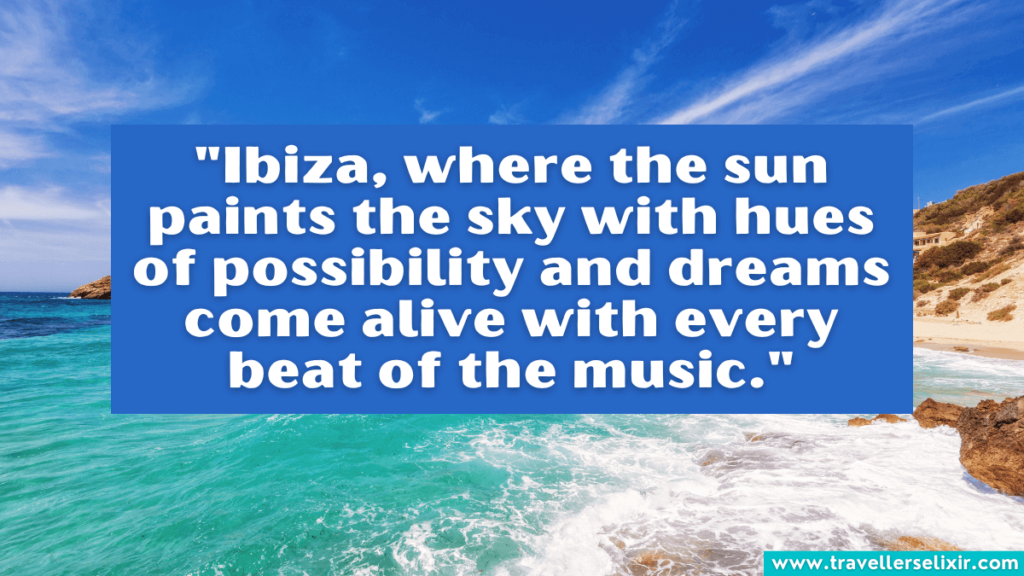 "Ibiza, a sanctuary for the wild at heart, where dreams merge with reality, creating a tapestry of unforgettable moments." – Traveller's Elixir
"Why see the world when you've got the beach." – Frank Ocean
"Ibiza, a symphony of sunsets and melodies, where the music of the waves harmonizes with the beats of our hearts." – Traveller's Elixir
"Carpe diem, seize the day boys! Make your life extraordinary." – Robin Williams, 'Dead Poets Society'
"In Ibiza's embrace, we discover the poetry of serenity, as the waves whisper stories and the sunsets paint masterpieces in the sky." – Traveller's Elixir
"Life is either a great adventure or nothing." – Helen Keller
"Among Ibiza's dazzling nights, we dance under starlit skies, our souls alight with the rhythm of freedom." – Traveller's Elixir
Up Next: Rome Captions For Instagram
Ibiza Hashtags For Instagram Likes
#ibiza
#ibizastyle
#ibizabeach
#ibizalife
#ibiza❤️
#ibizalovers
#ibizaparty
#ibizavibes
#ibizalove
#ibizasummer
#ibizaisland
#ibizablues
#ibizalifestyle
#ibizatown
#ibizanightclub
#ibizafashion
#ibizarocks
#ibizamusic
#ibizaoldtown
#ibizaspain
You May Also Like: Monaco Captions For Instagram
---
And that's a wrap folks!
From sunsets that leave you breathless to wild nights that blur into dawn, Ibiza offers a wide range of experiences waiting to be shared with the world.
Until next time, keep spreading the Ibiza love and keep those captions flowing!
Related Posts: