From the dazzling casinos to the sleek super-yachts, Monaco has captured the hearts of jet-setters and dreamers alike.
But let's face it, no trip to Monaco is complete without capturing those picture-perfect moments for your Instagram feed.
That's where I come in! I've curated a collection of the best Monaco Instagram captions that will elevate your posts to new heights of sophistication and style.
Best Monaco Instagram Captions
These captions work for any place you're visiting in Monaco including Monte Carlo, the Prince's Palace, casinos and more.
Cute Monaco Captions For Instagram
Sigh, where did I go wrong in life?
PSA: Update your address books people, I live here now
Let the chips fall where they may!
Cue the confetti and casino lights
Taking life one casino at a time
Once upon a time in Monaco
I'm just here for the chips…
I left my heart in Monaco
Does anyone have a yacht I could borrow?
Monaco stole my heart and gave it a VIP tour
Channeling my inner James Bond in Monaco. Shaken, stirred and ridiculously underdressed for this level of cool
I want to live by the Mediterranean Sea
So I'm not a billionaire just yet but if I was…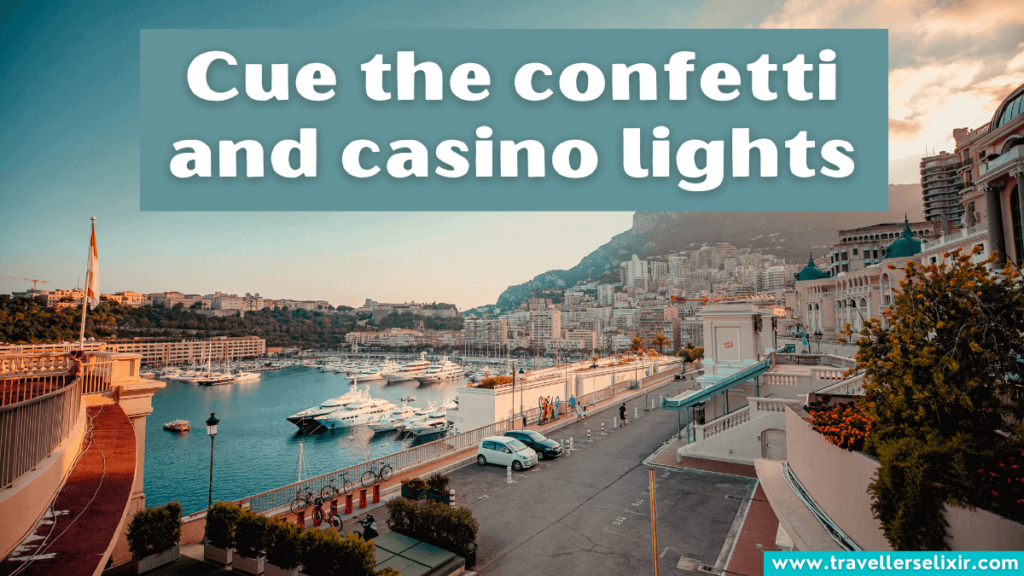 I came to Monaco to find my prince/princess charming but all I got was a hefty bill for a cocktail. Love can be expensive, people!
Dear Monaco, I will never get over you
I wonder if there's any eligible princes around here
Monaco: where the only traffic jam you'll encounter is caused by supercars and fancy yachts
Princess of Monaco has a nice ring to it
Monaco stole my heart and my wallet but it was worth every Euro
Monaco love affair: sun, sea, and bliss
Never wanted to win the lottery so bad
Visited Monaco and now I understand why they call it a 'playground for the rich.' Let's just say my wallet needs a timeout
Monaco: a love story etched in my heart
Up Next: Paris Captions For Instagram
Funny Monaco Captions & Monaco Puns
Let's Mona-GO!
Aced it!
It's beginning to look a lot like cocktails
You've yacht to be kidding me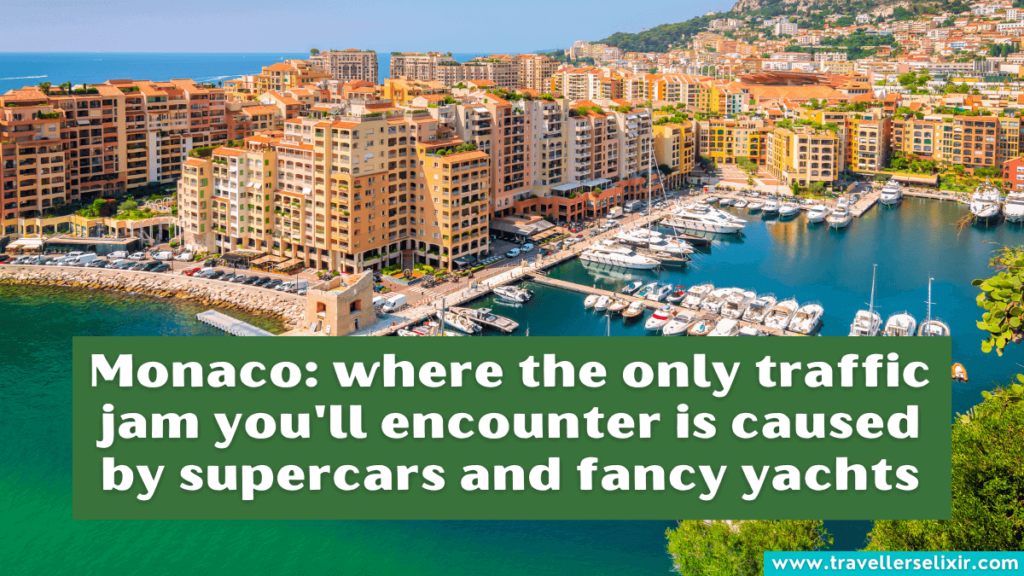 Stacks a lot…
Texas Fold-em
Wads up!?
I'm in a good place right now. Not emotionally, I'm just in Monaco
I have no common cents when in Monaco…
Yacht do you want?
Nauti buoy
Monaco floats my boat
You May Also Like: Santorini Captions For Instagram
Inspirational & Beautiful Monaco Captions
Monaco? That's not a place, it's a dream
Let's make these kind of nights last forever
Just casually sipping my champagne while overlooking the Mediterranean
Dreams are made in Monte Carlo
Monaco is the king of my heart
Forever captivated by Monaco's allure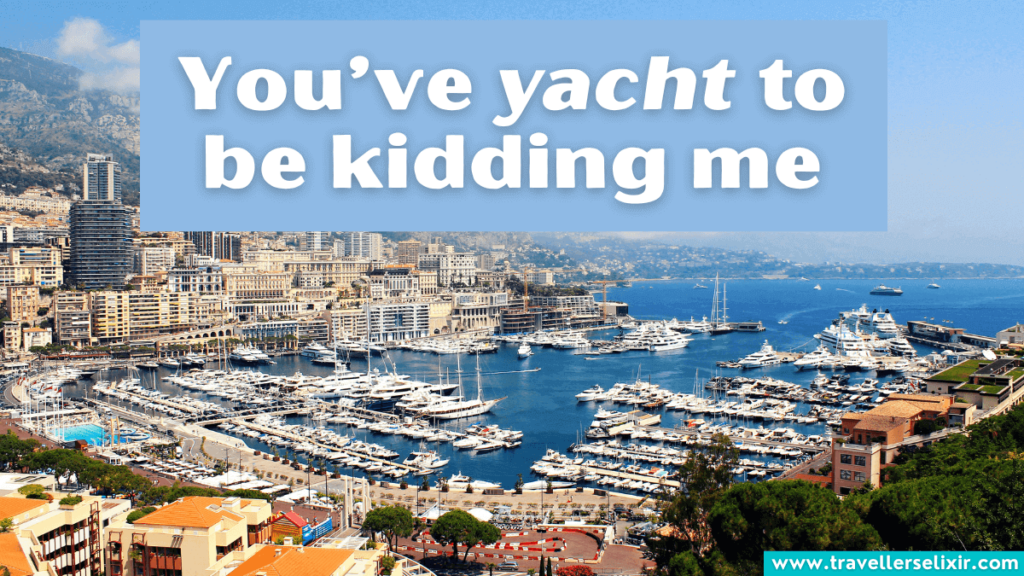 Feeling like a modern-day princess in Monaco's fairytale land
Embracing the magic, one glamorous step at a time
I'm always in paradise when I visit Monaco
Follow your heart, even if it takes you all the way to Monaco
Somewhere between living and dreaming, there's Monaco
Monaco stole my heart and left me forever enchanted
In Monaco, I discovered a world where elegance meets adventure
I could stay on the French Riviera forever and ever
Monaco, the city of love and sunshine
Monaco, where dreams and reality merge into a beautiful symphony
Monaco's sun kissed my skin, the sea whispered its secrets and my heart found solace in this Mediterranean paradise
Up Next: Ibiza Captions For Instagram
Short Monaco Captions
Ready. Set. Monaco
Sunsets and superyachts
Daydreaming in Monaco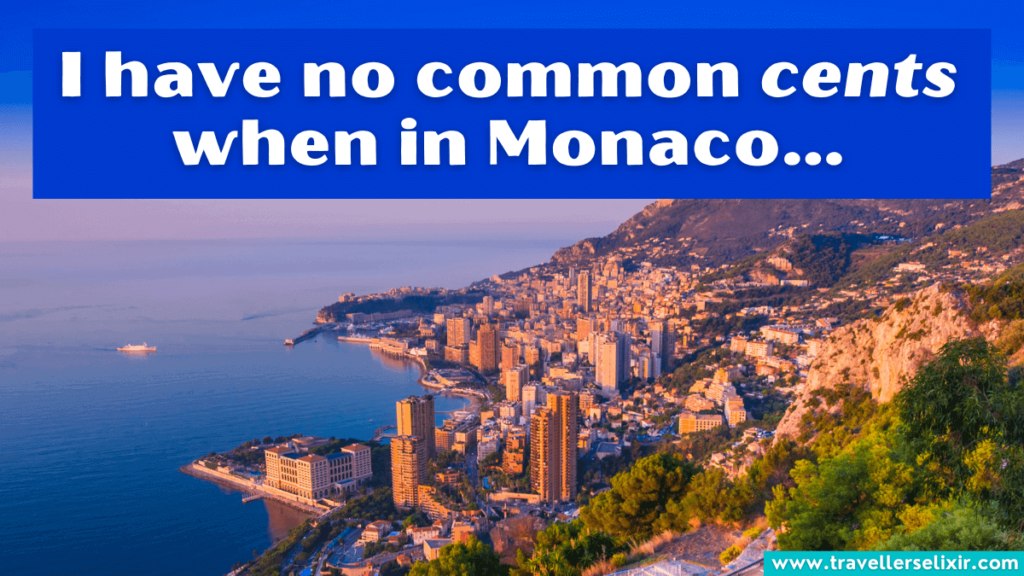 No bad days found here
Enjoying every Monaco minute
Chic in Monte Carlo
I make my own luck
I really, really like Monaco
Life's a gamble
Living the Monaco fantasy
Billionaires Playground
Jetset dreams come true
Sun, sea and Monaco dreams
Let the city set you free
Meet me in Monte Carlo
Life, Monaco-style
Life is more fun with games
Glamour overload in Monaco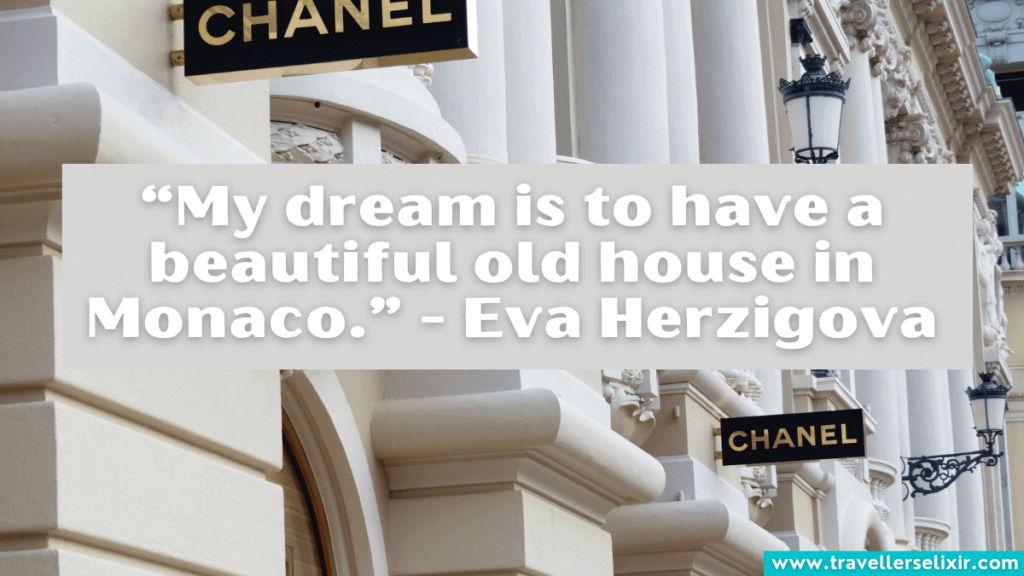 Monaco wanderlust kicking in
You May Also Like: Zurich Captions For Instagram
Monaco Quotes For Instagram Captions
"My dream is to have a beautiful old house in Monaco." – Eva Herzigova
"Monaco, where the sun-kissed Mediterranean dances with the elegance of the French Riviera. A rendezvous of dreams, painted in hues of luxury and serenity." – Traveller's Elixir
"I have found serenity at Monaco." – Stephan El Shaarawy
"Monaco, a jewel of the Mediterranean, where every step unveils a story of opulence and grace. A destination that lingers in the heart long after the journey ends." – Traveller's Elixir
"Everybody seems to live rather well down here in Monaco!" – Roger Moore
"Well, it looks like I've a love-hate thing going on with Monaco." – Lando Norris
"I avoid looking back. I prefer good memories to regrets." – Grace Kelly
"Monaco's allure lies not only in its picturesque landscapes and luxurious façades but in the intangible essence that whispers 'this is where dreams come true.'" – Traveller's Elixir
"I must hurry back to my house and my flowers in Monaco." – Lillie Langtry
"When I wake up every morning I still think, 'Oh my God, I'm living in Monaco!' I'm living in a dream." – Victoria Silvstedt
"In Monaco, time surrenders to the enchantment of the moment, as azure waters and opulent grandeur weave a tapestry of timeless beauty and allure." – Traveller's Elixir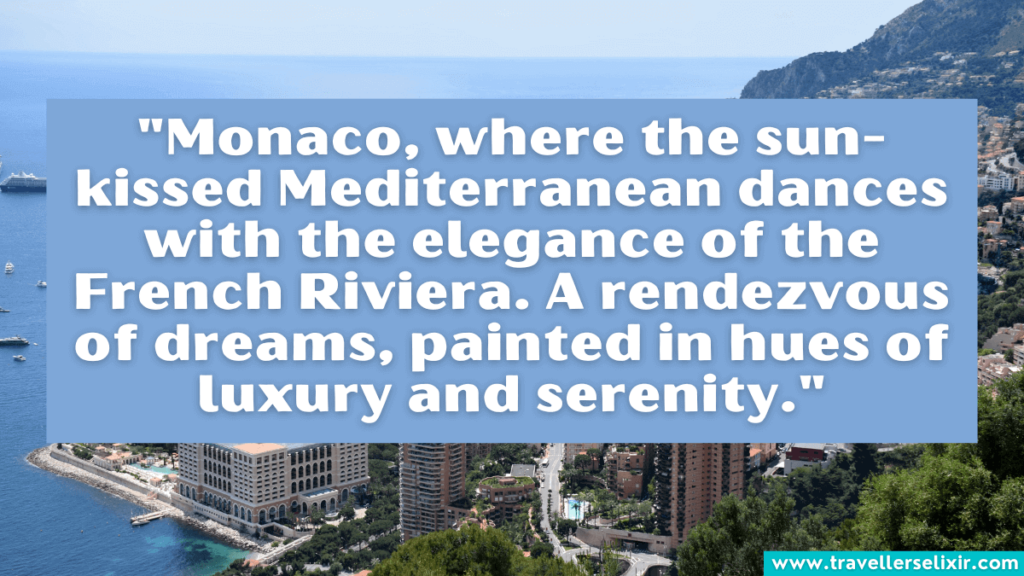 "The Mediterranean is in my DNA. I'm fine inland for about a week, but then I yearn for a limitless view of the sea, for the colors and smells of the Italian and French Riviera." – Alain Ducasse
"Gambling isn't fun; winning is fun." – Steven Brust
"Monaco, where I spend a lot of time, holds a very special place in my heart." – Alain Ducasse
"It is impossible to change your luck. But, you can always change the machine you are at!" – James Hauenstein
"Amidst Monaco's glitz and glamour, I found solace in the whispers of the sea, the gentle breeze that caressed my skin and the symphony of dreams that echoed through its streets." – Traveller's Elixir
"I'm happy to have returned to Monaco." – Radamel Falcao
You May Also Like: Venice Captions For Instagram
Monaco Hashtags For Instagram Likes
#monaco
#monacolife
#monacolifestyle
#monacomontecarlo
#monacocars
#monaco🇲🇨
#monacoville
#monacograndprix
#monacoroyals
#monacomoments
#monacostyle
#visitmonaco
#monacosupercars
#monacocity
#monacoluxury
#monacotravel
#monacocasino
#monacoatnight
Up Next: Croatia Captions For Instagram
---
I hope this collection of Monaco Instagram captions has inspired your creativity and added a touch of elegance to your social media game.
So whether you're strolling along the iconic Monte Carlo harbor or exploring the historic streets of Monaco-Ville, let these captions capture the essence of this city.
Related Posts: