There's just something about Paris that makes you want to capture every moment and share it with the world.
Whether you're strolling along the Seine or admiring the view from the top of the Eiffel Tower, these Paris Instagram captions will make your followers feel like they're right there with you.
P.S. Follow me on Instagram (@travellerselixir), tag me in your post and I'll share it!
Best Paris Instagram Captions
These captions work for any place you're visiting in Paris including the Eiffel Tower, the Louvre, the Arc de Triomphe and Notre-Dame Cathedral.
Funny Paris Captions & Paris Puns
Eiffel in love with this city at first sight
Bonjour Paris, let's baguette started
Excuse my French, but I'm in France
Eiffel hard for this city
Paris, I hope our paths will croissant again
Paris, I Lourve you
Holy crêpe this city is amazing
I've found Paris-dise
Eiffel for the Eiffel Tower
In Paris, Eiffel in love
I came to Paris to find Louvre
What's not to Louvre about Paris?
Paris is a very France-y city
Oh crêpe!
Going in-Seine over this city!
In-Seine-ly beautiful sights
What a Seine-sational city!
You're being a Champagne in the butt!
Frankly, my dear, I don't give a Notre Dame
I'm having a beret good time in Paris
How could I baguette about Paris?
Don't come to Paris with no Monet
Paris – it's a oui bit different
I'm starting to France-y this city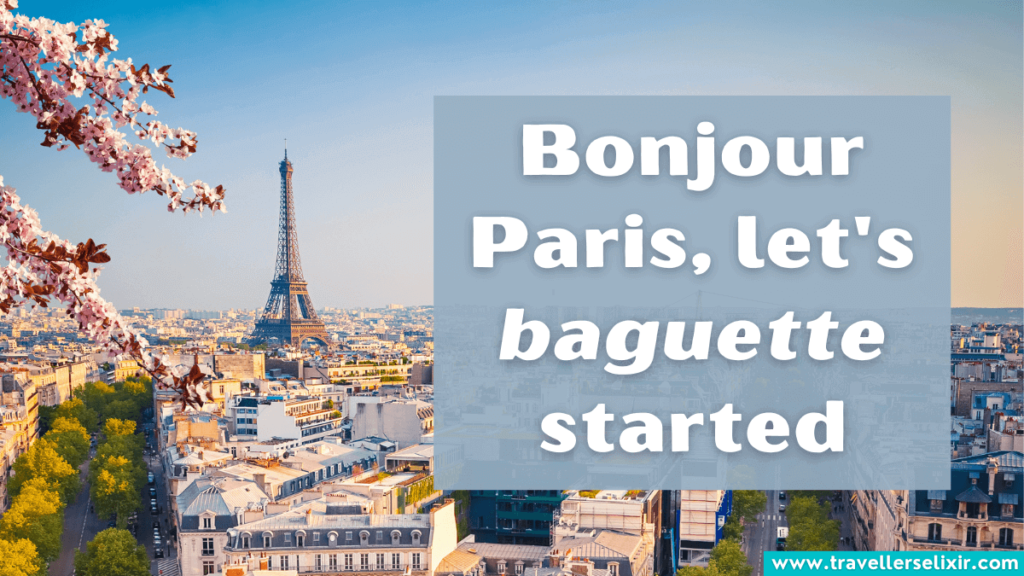 I sure didn't macaron choice when I visited Paris
I always feel Triomphe-ant in Paris
Feelin' France-y
Arc you glad to be in Paris?
I love Paris to the macaron and back
Up Next: London Instagram Captions
Short Paris Captions
Feeling très chic in Paris
You had me at Bonjour
I came, I saw, I ate all the macarons
Pardon my French
Paris, je t'aime
Here for the views and croissants
Je suis in Paris
No Champagne, no gain
Take me back to Paris
We'll always have Paris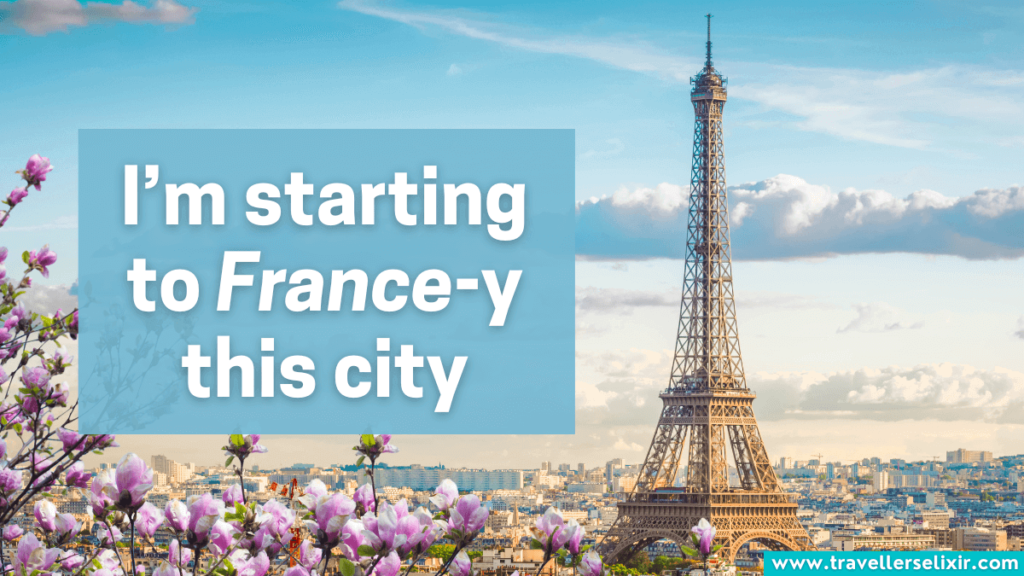 Wine and cheese, yes please!
Meet you at the Eiffel Tower
Paris is a city of dreams
Paris, je t'aime…and your croissants
Okay, but first Paris
Ooh La La!
Paris on my mind
There is no cure for Paris
Up Next: Copenhagen Instagram Captions
Cute Paris Captions For Instagram
Paris or paradise? It's easy to mix them up
I tried to take a cute pic in front of the Eiffel Tower but I accidentally got photobombed by a baguette
I didn't choose the Parisian life, the Parisian life chose me
You never forget your first trip to Paris
When in Paris, eat all the bread and cheese you can. It's the law
Enjoying life one crêpe at a time
Sorry for what I said when I wasn't eating a crêpe by the Eiffel Tower
Paris is calling and I must go
Brb, catching a flight to Paris
When I'm in Paris, the world is my oyster
How can you complain in a place like Paris?
When in doubt, always wear a beret
Feeling like a queen at Versailles
A bad day in Paris is still better than a good day in anywhere else
French fries may not be French but croissants definitely are
Paris holds the key to my heart
Feeling so French, I might just start wearing a beret
Paris, you have my heart
Paris, where even the pigeons look stylish
Paris is always a good idea, especially when wine and cheese are involved
I'm not the same since seeing the Eiffel Tower shine at night
How can you complain in a place like Paris?
Some may dream in color, I dream in Paris
Paris has a certain je ne sais quoi
She dreams in perfect French
Yes, it is indeed always a good idea
I've lost my heart in Montmartre…and my wallet at Ladurée
You May Also Like: New York Instagram Captions
Inspirational & Beautiful Paris Captions
The city of love has my heart
Catching feels for this beautiful place
Made it to the city of love
Even after countless visits, Paris continues to inspire and captivate me with its endless beauty and elegance
Le coup de foudre – love at first sight
Paris, je t'aime. There's simply no other city like it in the world
Paris is not just a city for lovers, but a city to fall in love with
Paris is a city that entrances us all
Paris has a way of illuminating even the darkest corners of my heart and filling me with joy
The bewildering beauty of Paris
There's something magical about wandering the charming streets of Paris and stumbling upon hidden treasures
I could spend the rest of my life café-hopping in Paris
But Paris after midnight is magic
I know exactly where my heart is: Paris
In Paris, every moment feels like a work of art, from the breathtaking architecture to the simple pleasure of sipping coffee by the Seine
Taking a stroll along the Seine – can't decide what's more beautiful, the river or the city
There's no time to be bored in a city as beautiful as this
La vie est belle (life is beautiful)
Up Next: Berlin Instagram Captions
Paris Quotes For Instagram Captions
"Just add three letters to Paris, and you have paradise." – Jules Renard
"There are only two places in the world where we can live happy: at home and in Paris." – Ernest Hemingway
"The beauty of Paris is not just in its streets and buildings, it's in the way it makes you feel alive." – Traveller's Elixir
"Though you may leave Paris, Paris never really leaves you." – Janice Macleod
"A walk about Paris will provide lessons in history, beauty, and in the point of Life." – Thomas Jefferson
"Paris is a symphony of history, culture, and romance and its melody lingers in your heart long after you've left." – Traveller's Elixir
"Paris is always a good idea." – Audrey Hepburn
"When good Americans die, they go to Paris." – Oscar Wilde
"Paris is like a love affair that never ends, always calling you back to its magic and wonder." – Traveller's Elixir
"Breathe Paris in. It nourishes the soul." – Victor Hugo
"The Eiffel Tower was once thought impossible to build." – Hector Jesus Arencibia
"In Paris, every street corner is a work of art, and every moment feels like a dream." – Traveller's Elixir
"If you're going to be sad, you might as well be sad in Paris." – Blair Waldorf, Gossip Girl
"Whoever does not visit Paris regularly will never really be elegant." – Honoré de Balzac
"That Paris exists and anyone could choose to live anywhere else in the world will always be a mystery to me." – Marion Cotillard
"The charm of Paris lies not just in its iconic landmarks, but in the little moments that make it a treasure trove of memories." – Traveller's Elixir
"Paris is not a city; it's a world." – King Francis I
"Though I often looked for one, I finally had to admit that there could be no cure for Paris." – Paula McLain
"Paris is a reminder that sometimes the most beautiful things in life are the ones that take your breath away and leave you speechless." – Traveller's Elixir
"An artist has no home in Europe except in Paris." – Friedrich Nietzsche
"Paris exists to remind you that all your dreams are real." – Audrey Hepburn
"What an immense impression Paris made upon me. It is the most extraordinary place in the world!" – Charles Dickens
"Standing tall and proud, the Eiffel Tower reminds us that anything is possible if we dare to dream." – Traveller's Elixir
"I can never decide whether Paris is more beautiful by day or by night." – Midnight in Paris
"I had forgotten how gently time passes in Paris. As lively as the city is, there's a stillness to it, a peace that lures you in. In Paris, with a glass of wine in your hand, you can just be." – Kristin Hannah
"At the top of the Eiffel Tower, you feel like you're on top of the world, with a view that takes your breath away." – Traveller's Elixir
"To be a Parisian is not about being born in Paris, it is about being reborn there." – Sacha Guitry
"There's something magical about the Eiffel Tower, a feeling of wonder and awe that stays with you long after you've left its shadow." – Traveller's Elixir
"I guess it goes to show that you just never know where life will take you. You search for answers. You wonder what it all means. You stumble, and you soar. And, if you're lucky, you make it to Paris for a while." – Amy Thomas
"I know so much is going to happen here, but I just don't know how. It feels like Paris is full of so many adventures just waiting to be had." – Rachel Kapelke-Dale
"The Eiffel Tower is not just a tower, it's a legacy, a symbol of Paris that has become a part of our global identity." – Traveller's Elixir
"I love Paris for the million reasons that everybody loves the city. It's an incredibly romantic and beautiful place." – Alan Furst
"I think Paris smells, and not just sweet but melancholy and curious, sometimes sad but always enticing and seductive. She's a city for all the senses, for artists and writers and musicians and dreamers, for fantasies, for long walks and wine and lovers and yes, for mysteries." – M.J. Rose
"Paris is the most beautiful city in the world. It brings tears to your eyes." – Lee Radziwill
"The Eiffel Tower is a timeless treasure that will continue to inspire generations to come, a testament to the enduring power of human creativity and imagination." – Traveller's Elixir
"Paris at dawn is one of those rare cities where you get the impression that something worthwhile could actually happen to you." – Pierre Assouline
"Paris is a place where, for me, just walking down a street that I've never been down before is like going to a movie or something. Just wandering the city is entertainment." – Wes Anderson
"It's true, you never forget your first love, and for me, that will always be Paris." – Caitriona Balfe
"Paris is the only place where I feel that I lead a life that I can call my own." – Joan Juliet Buck
"I ought to be jealous of the tower. She is more famous than I am." – Gustave Eiffel
"When spring comes to Paris, the humblest mortal alive must feel that he dwells in paradise." – Henry Miller
"There should be a name for the syndrome that occurs when you're in Paris and you already miss it." – Rosecrans Baldwin
"Let's go to Paris. Take me there and never look back." – Lana Del Rey
"Of course, I think of the past and of Paris, what else is there to remember?" – Djuna Barnes
You May Also Like: Ireland Instagram Captions
Paris Hashtags For Instagram Likes
#parisfrance
#parisvibes
#parisfood
#parislover
#parismood
#parisphoto
#parisgram
#parislife
#parisstreets
#parisienne
#parisiloveyou
#parislove
#parisview
#parisjetaime
#parisparis
#cityoflove
#cityoflights
You May Also Like: Amsterdam Instagram Captions
---
And there you have it folks, those are the best Paris Instagram captions.
Remember that Paris is always a good idea and with these captions, your followers won't be able to help but click that like button.
And don't forget to follow me on Instagram (@travellerselixir) and tag me in your photo. I'd love to see it!
Related Posts: