Ireland, with its rolling green hills, dramatic cliffs and cozy pubs, offers a range of breathtaking backdrops that are just begging to be captured and shared with the world.
But let's face it, finding the perfect Instagram caption to accompany those awe-inspiring photos can be a challenge.
Fear not! I've come up with a list of the best Ireland Instagram captions that will not only add a touch of wit and charm to your posts but also capture the essence of this enchanting land.
Best Ireland Instagram Captions
These captions work for any place you're visiting in Ireland including Dublin, Cork, Kerry, Galway, Donegal, Killarney and more.
Cute Ireland Captions For Instagram
I'm just here for the pubs and potatoes
Irish weather forecast: rainbows with a chance of Guinness
Thanking my lucky stars and four-leaf clovers for being in Ireland
The leprechauns made me do it
Home is wherever the potatoes are
I'm in a good place right now. Not emotionally, I'm just in Ireland
A little bit of luck and a passport is all you need
Living the Irish life: Eat. Sleep. Pub. Repeat.
Haters gonna hate. Potatoes gonna potate
Brb, off to find my pot of gold
Pro tip: if you can pronounce 'Sceilig Mhichíl' you're officially an honorary Irish person
The grass really is greener on the other side
When in Ireland, it's a moral obligation to become a Guinness connoisseur. I take my responsibilities seriously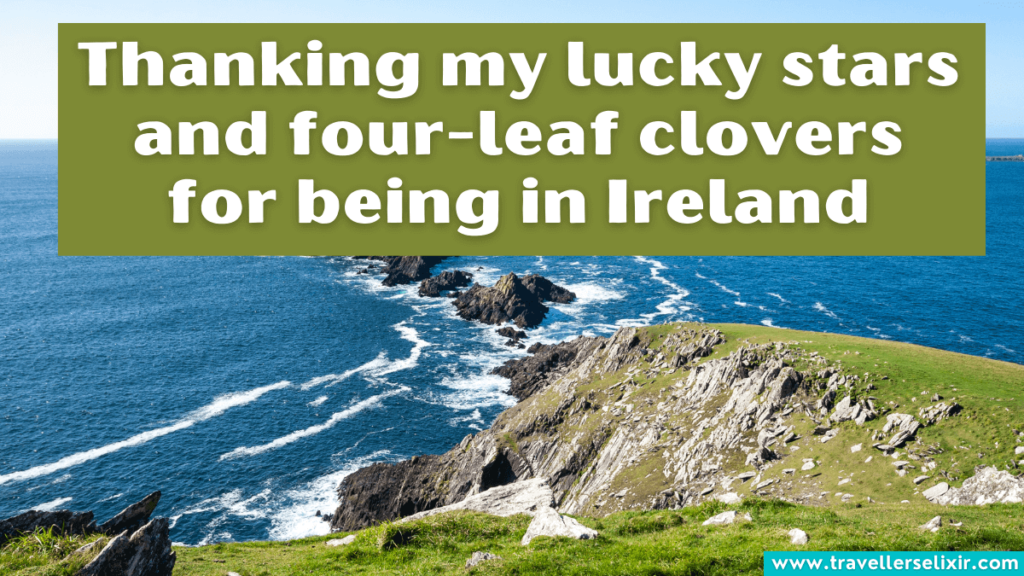 I've kissed the Blarney Stone and now I can't stop talking about how amazing Ireland is.
Sit still and dream of Ireland
Dear Ireland, I miss you every day
Exploring the Emerald Isle, one footstep at a time
On the hunt for the best medieval castle in Ireland
Current status: Guinness in hand, heart full of laughter and a smile as wide as the Cliffs of Moher
Cheers to Guinness, green landscapes and good craic
I'm having an affair with Dublin
Drinking Guinness in Ireland: It's like sipping pure liquid luck from a pint glass!
Stuck in an Irish fairytale
Living the Irish dream: chasing rainbows and finding gold (or at least a great pub)
Oh darling, why don't we just stay in Ireland
Embracing my inner leprechaun and spreading Irish cheer
Taking my four-leaf clover search to the Emerald Isle
My Irish adventure: from sheep photobombers to pub crawls, it's been one heck of a ride!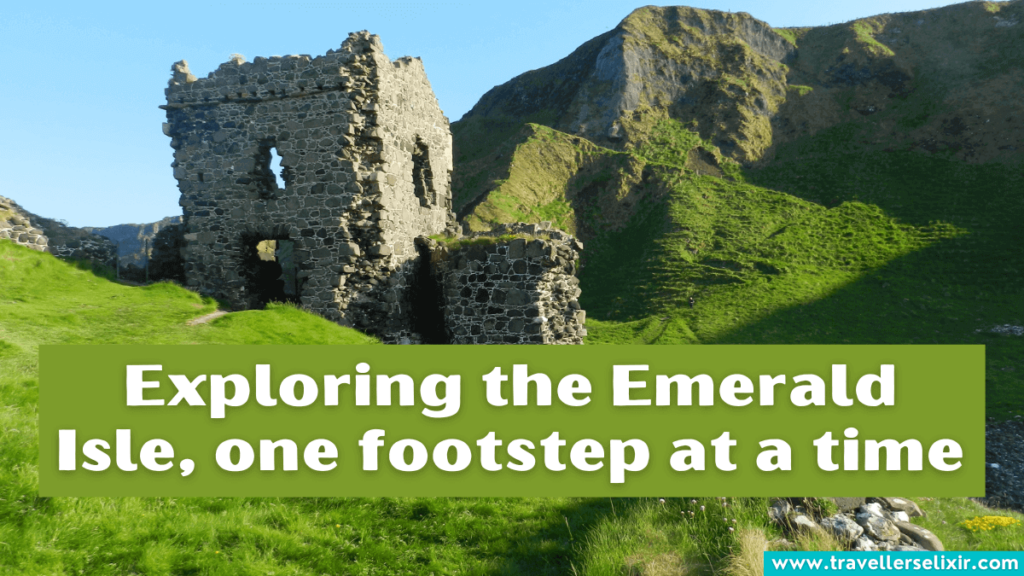 The grass is always greener on the Irish side
Irish adventures and shenanigans await
Exploring Ireland, one pint at a time. Cheers!
I came for the castles, stayed for the Guinness. Priorities, you know?
Up Next: Scotland Captions For Instagram
Funny Ireland Captions & Ireland Puns
I'm Dublin down on what I said before: Ireland is the best country in the world
I'd call this a Dub-win
Irish I could stay in Ireland forever
My love for Ireland is shamrock-solid
It ain't over till it's clover
Put a Cork in it
You'll never Guinness what I tried today!
Irish you were beer with me in Ireland
Shamrockin' and rolling around the world
Ireland always leaves me wanting Moher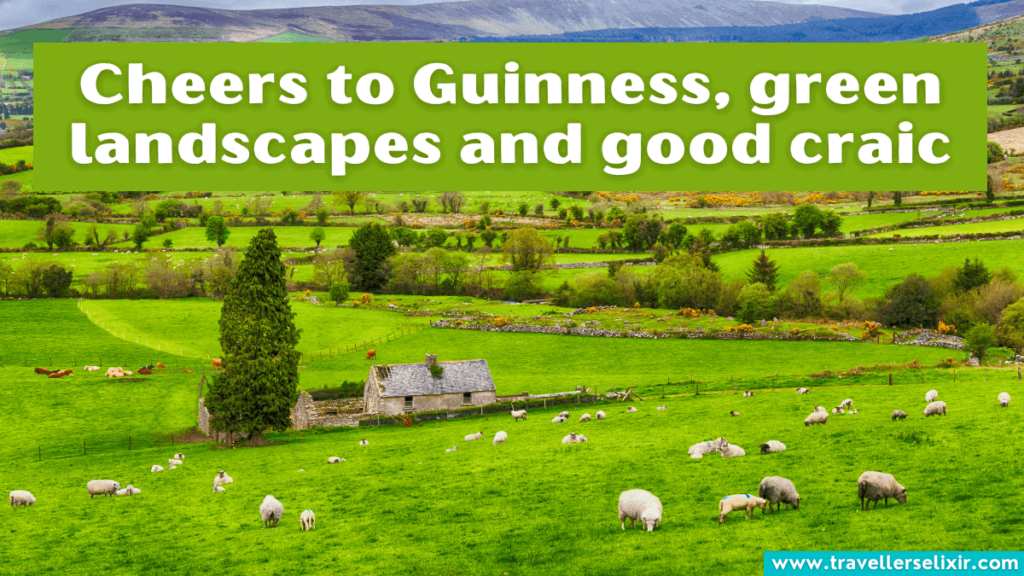 The paddy don't start till I walk in
Ready to sham-rock!
Ireland sham-rocks my world!
Don't worry, there are Moher pictures coming
Craic-ing jokes in Ireland
Paddy like a rockstar
Don't give in to beer pressure
Ireland? Green there, done that
Irish you were here
Wish you were beer
I love that moss-t of Ireland is green
You May Also Like: London Captions For Instagram
Short Ireland Captions
Seeing green
What's the craic?
The Irish do it better
Dublin dreams
Luck of the Irish
Chasing rainbows
P.S. Ireland, I love you
Galway girl
Dancing away the night in Dublin
Cliffs and thrills
Keep calm and stay lucky
Sorry, mom. I'm staying in Ireland
Irish soul, wild heart
The Emerald Isle
Daydreaming in Dublin
Wanderlust & city dust
Castle hopping adventures
Craic and laughter
Shake your shamrocks
Irish kisses & shamrock wishes
Misty mornings, magic evenings
Irish soul seeker
Up Next: Iceland Captions For Instagram
Beautiful & Inspirational Ireland Instagram Captions
Some places just feel like home. Ireland is one of them
Lost in Ireland's enchantment
Not leaving anything behind in Ireland but my heart
Ireland's charm is not only in its sights but in the way it whispers to your heart
Embracing the Irish spirit and falling in love with every step
Irish charm turned my wanderlust into wanderlove
Walking on Irish soil but floating on clouds of pure bliss
In Ireland's embrace, my soul found a home it never knew it needed
Irish dreams do come true and I'm living mine here
Finding my own pot of gold in the beauty of Ireland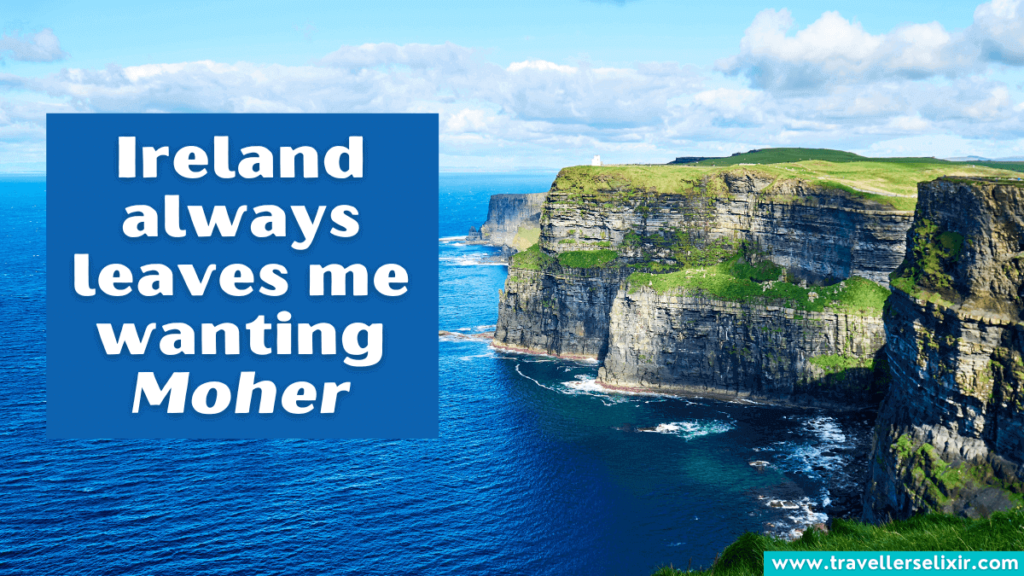 Lost in the beauty of Ireland's landscapes, found in the warmth of its people
Embracing the soulful charm of Ireland
Found my heart in the land of a thousand welcomes
Feeling lucky to wander the charming streets of Ireland
Leaving a piece of my soul in Ireland, taking a piece of its magic with me
Uncovering hidden gems and creating memories that will forever paint my heart green
In the land of poets and dreamers, my own story found its voice
Ireland: where every moment feels like a fairytale come true
Making memories in the land of myths and legends
You May Also Like: Stockholm Captions For Instagram
Ireland Quotes For Instagram Captions
"Ireland is a land of poets and legends, of dreamers and rebels." – Nora Roberts
"Ireland's beauty whispers in the wind, painting my heart with shades of green." – Traveller's Elixir
"I swear I'm gonna put you in a song that I write. About a Galway girl and a perfect night." – Ed Sheeran, 'Galway Girl'
"May your pockets be heavy and your heart be light, may good luck pursue you each morning and night." – Irish Blessing
"In Ireland's embrace, I found serenity and a piece of my soul that had been longing for home." – Traveller's Elixir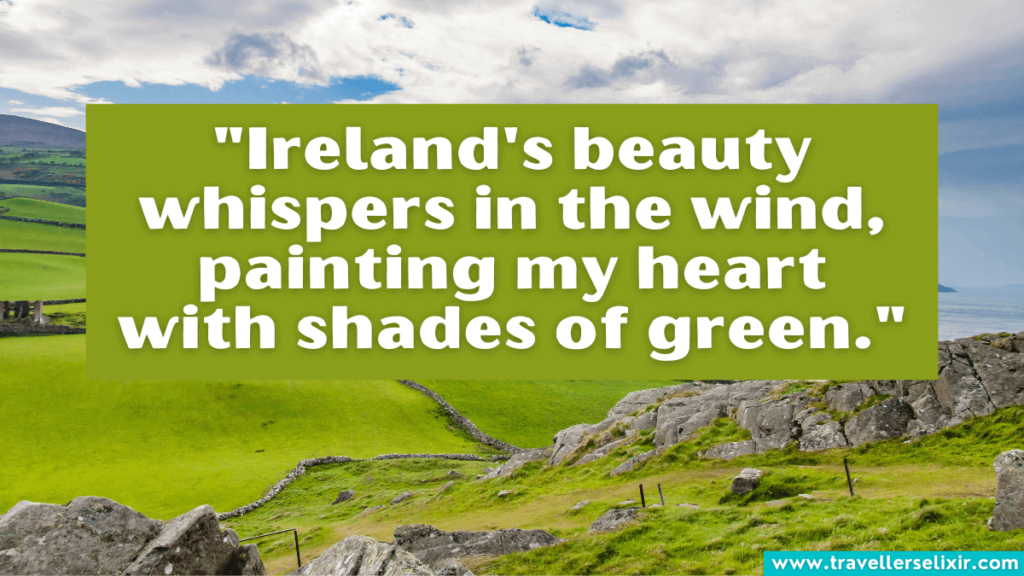 "Whether I drink often or just once in a while; I'm always sure to raise a glass to the dear old Emerald Isle." – Pat Maloney
"May your day be touched by a bit of Irish luck, brightened by a song in your heart, and warmed by the smiles of the people you love." – Irish Blessing
"Visiting Ireland is like stepping into a fairytale where castles, cliffs and culture intertwine." – Traveller's Elixir
"I wish that I could stop feeling that I want to be an Irish girl in Ireland." – Saoirse Ronan
"We may have bad weather in Ireland, but the sun shines in the hearts of the people and that keeps us all warm." – Marianne Williamson
"Ireland's landscapes are love letters written by nature, inviting us to explore their poetic beauty." – Traveller's Elixir
"Wherever you go, whatever you do, may the luck of the Irish be there with you!" – Irish Proverb
"You can take a man out of Ireland, but you can't take the Irishness out of the man." – Tyson Fury
"With each step on Irish soil, I felt the whispers of ancient legends breathe life into my journey." – Traveller's Elixir
"I can't say enough about Ireland. I can't. I'd move there." – Jeffrey Dean Morgan
"The landscape in Ireland is just – I've never been in such a beautiful place with the lakes and ocean and everything." – Travis Fimmel
"Exploring Ireland is like unwrapping a gift from nature, where each corner reveals a new treasure to behold." – Traveller's Elixir
"It's just very homey in Ireland. It's very comforting and comfortable. There's lots of fireplaces with fires. It's just really cozy." – Amy Adams
"Ireland, where time stands still and the soul finds solace in the symphony of rolling hills and misty valleys." – Traveller's Elixir
"I absolutely love Ireland. It's one of the most beautiful places on Earth, and I have strong ties here." – Emily Ratajkowski
"Geographically, Ireland is a medium-sized rural island that is slowly but steadily being consumed by sheep." – Dave Barry
"Ireland. Great for the spirit – very bad for the body." – Hugh Dancy
"I love Ireland. I feel very at peace there. It's just magical and beautiful." – Eva Green
"In Ireland's embrace, I found a symphony of colors that danced harmoniously with my heart." – Traveller's Elixir
You May Also Like: Edinburgh Captions For Instagram
Ireland Hashtags For Instagram Likes
#ireland
#irelandtravel
#irelandphotography
#irelanddaily
#irelandcalling
#irelandaily
#ireland☘️
#irelandgram
#discoverireland
#ireland🇮🇪
#loveireland
#ireland_gram
#visitireland
#ireland_travel
#ireland_insta
#tourismireland
#ireland_passion
#ireland_daily
#irelandlove
#instaireland
You May Also Like: Copenhagen Captions For Instagram
---
I hope this collection of Ireland Instagram captions has inspired you to embark on your own Irish adventure and create unforgettable memories.
Whether you're sipping a pint of Guinness in a cozy pub, exploring ancient ruins or hiking along the rugged coastline, feel free to use these captions to accompany your photos.
Related Posts: