Known for its historic charm and breathtaking landscapes, Scotland's capital city is a treasure trove of Instagrammable moments waiting to be captured.
Whether you're strolling along the cobblestone streets of the Old Town, exploring Edinburgh Castle or indulging in some haggis, Edinburgh offers many photo opportunities that will make your followers double-tap.
So get ready for my top picks of the best Edinburgh Instagram captions that will make your feed shine brighter than the crown jewels. Let's dive in, shall we?
Best Edinburgh Instagram Captions
Cute Edinburgh Captions For Instagram
Off to Edinburgh, be back never
Just a wee lassie lost in the beauty of Edinburgh
Keep calm and…I can't keep calm, I'm going to Edinburgh!
Edinburgh stole my heart and replaced it with a deep-fried Mars bar
Falling in love with Edinburgh all over again
Well put on a kilt and call me Scottish
Guys, I want a castle
No, mom, I haven't picked up a Scottish accent yet
Tried haggis for the first time in Edinburgh. Let's just say it's an acquired taste and my taste buds are still in recovery
PSA – Update your address books, I live here now
Edinburgh has me feeling like I'm in a real-life fairy tale, complete with castles and kilts
Never met a castle I didn't like
When in doubt, just blame it on the Scottish weather
It's a Scotland thing, you wouldn't understand
Exploring Edinburgh one step at a time, and by step, I mean climbing all those hills
Dear Edinburgh, you're my absolute favorite
Here for the views and castles
My incurable wanderlust has brought me to…Edinburgh!
Edinburgh taught me three things: haggis is an acquired taste, kilts are surprisingly comfortable and unicorns are the national animal
Found my own Hogwarts in the streets of Edinburgh
Edinburgh's streets have more twists and turns than a soap opera plot
I went to Edinburgh and came back with more kilts in my luggage than souvenirs
Trying to fit in with the locals but my accent keeps getting lost in translation
Visited Edinburgh for the kilts, stayed for the bagpipes and the endless supply of shortbread
Edinburgh's beauty is like that one friend who always looks flawless, no matter the angle
Tried my hand at speaking Scottish slang in Edinburgh. Let's just say 'Dinnae fash yersel' is my new favorite phrase
Up Next: Scotland Instagram Captions
Funny Edinburgh Captions & Edinburgh Puns
Enjoying a reign-y day here at Edinburgh castle
Nothing can ruin this view
Turn that crown upside down
It's quite cold here at Edin-brrrr Castle
Winter in Edinburgh is snow joke!
Whisky me away to Edinburgh
Wow, you're kilt-ing it!
Some like it Scot!
Well that was whisky business…
Love Edinburgh? Kilt-y as charged!
Even the rain can't dampen Edinburgh's beauty
Embracing my bagpipe dreams in Edinburgh!
Visited Edinburgh and discovered my inner Highlander. Now I can't stop shouting 'Freedom!' at random moments
Edinburgh's got me loch-ed in its beauty
Whisky business in Edinburgh
Edinburgh is my kilt-y pleasure
Edinburgh, you whisk me off my feet!
Thistle do nicely
Scottish food is a-mars-ing
You May Also Like: London Captions For Instagram
Short Edinburgh Captions
My heart belongs to Scotland
Like my castle?
Kilts, castles & fun
Daydreaming in Edinburgh
Castle love affair
Edinburgh enchantment
The one where I go to Edinburgh
Cobblestones and kilts
Cobblestone dreams
Enjoying life one haggis at a time
Falling hard for Edinburgh
Embracing the Scottish spirit
Whisky kisses, Edinburgh wishes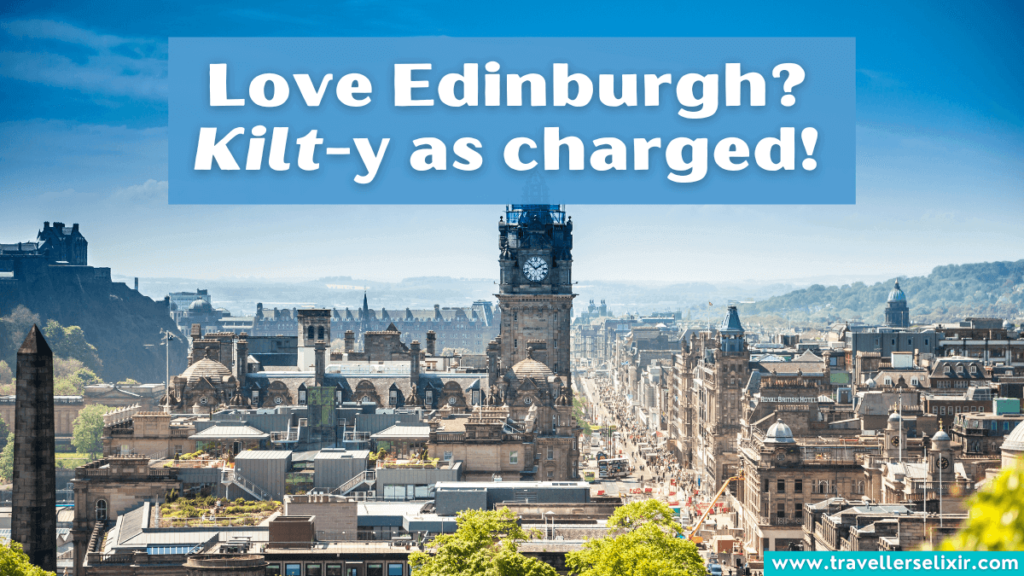 Wanderlust & city dust
The Royal Mile is my style
Lost in the Edinburgh fog
Adventures in the Royal Mile
Sometimes I dream of Scotland
A glimpse into Edinburgh's soul
I wonder if Edinburgh misses me too
Quirky streets, endless stories
Up Next: Stockholm Instagram Captions
Inspirational & Beautiful Edinburgh Captions
I don't want to go to heaven, I want to go to Edinburgh
Edinburgh's beauty is a symphony for the eyes
Don't listen to what they say, go and see it for yourself
Wandering through Edinburgh's Royal Mile, feeling like a character in my own storybook adventure
Exploring Edinburgh's hidden gems, discovering secret gardens and whimsical alleyways
People never forget two things: their first love and their first day in Edinburgh
I do believe it's time for another adventure
Lost in the charm of Edinburgh's cobblestone streets and feeling like a fairytale princess
Edinburgh, thank you for making me feel so alive
Edinburgh's castles and cobblestones stole my heart
You can leave Edinburgh but it will never leave you
Edinburgh stole my heart with its picturesque landscapes and dreamy castles
Don't be a tourist, be a traveler
Embracing the cozy vibes of Edinburgh's cafes, sipping hot cocoa while watching the world go by
You May Also Like: Zurich Instagram Captions
Edinburgh Quotes For Instagram Captions
"Edinburgh isn't so much a city, more a way of life… I doubt I'll ever tire of exploring Edinburgh, on foot or in print." – Ian Rankin
"And yet the place establishes an interest in people's hearts; go where they will, they find no city of the same distinction." – Robert Louis Stevenson
"Visiting Edinburgh is like stepping into a time capsule, where history gracefully intertwines with the pulse of modern life." – Traveller's Elixir
"The view of Edinburgh from the road before you enter Leith is quite enchanting: it is, as Albert said, fairy-like and what you would only imagine as a thing to dream of, or to see in a picture." – Queen Victoria's journal
"I always feel that when I come to Edinburgh, in many ways I am coming home." – Alan Rickman
"Edinburgh, a city that invites you to wander and dream, where every corner holds the promise of a new adventure." – Traveller's Elixir
"Edinburgh is a city of shifting light, of changing skies, of sudden vistas. A city so beautiful it breaks the heart again and again." – Alexander McCall Smith
"Edinburgh is alive with words." – Sara Sheridan
"Amidst the castles and spires of Edinburgh, I found a piece of my heart that will forever belong to this majestic city." – Traveller's Elixir
"I find Edinburgh a stimulating place in which to live, with it being a city of contrasts, both architecturally and socially, and each district having a definite character." – Joan Lingard
"Fantasy, myth, legend, truth – all are intertwined in the story that is Scotland." – Laurence Overmire
"Edinburgh's beauty is a symphony of architectural marvels and scenic landscapes, leaving an indelible melody in my soul." – Traveller's Elixir
"Edinburgh is a hotbed of genius." – Tobias Smollett
"The most beautiful of all the capitals of Europe." – Sir John Betjeman
"There's no leaving Edinburgh, no shifting it around: it stays with you, always." – Alan Bold
"Edinburgh is a sort of gothic fairytale city, and it can be a gothic horror city as well." – David Mackenzie
"Edinburgh, a tapestry of stories woven by the hands of time, where every street whispers secrets of its captivating past." – Traveller's Elixir
"But Edinburgh is a mad god's dream." – Hugh MacDiarmid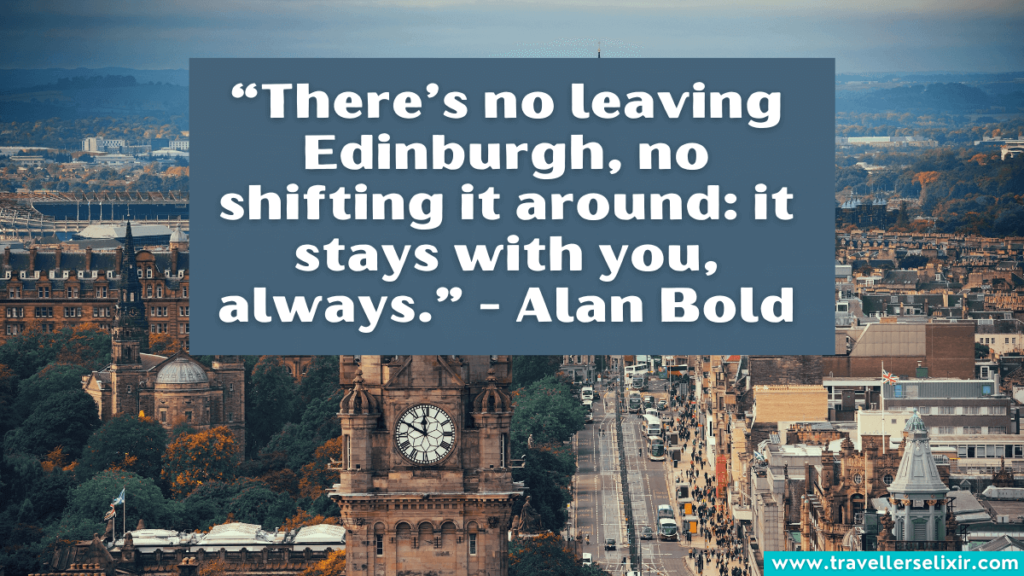 "When I looked out in the morning it is as if I had waked in Utopia." – George Elliot
"Edinburgh, where dreams take flight amidst the soaring towers and imagination dances freely along its enchanting streets." – Traveller's Elixir
"Beautiful city of Edinburgh, most wonderful to be seen; with your ancient palace of Holyrood and Queen's Park Green; and your big, magnificent, elegant New College; where people from all nations can be taught knowledge." – William McGonagall
"Coming back to Edinburgh is to me like coming home." – Charles Dickens
"Edinburgh is so cultural and such a beautiful place to walk around." – Rupert Friend
"Half a capital and half a country town, the whole city leads a double existence; it has long trances of the one and flashes of the other; like the king of the Black Isles, it is half alive and half a monumental marble." – Robert Louis Stevenson
"Edinburgh's landscapes are like poetry etched in nature, an invitation to pause, reflect and find solace in the beauty that surrounds." – Traveller's Elixir
"There are no stars as lovely as Edinburgh street-lamps." – Robert Louis Stevenson
Up Next: Ireland Instagram Captions
Edinburgh Hashtags For Instagram Likes
#edinburgh
#edinburghcity
#edinburghcastle
#edinburghlife
#edinburghscotland
#edinburghfood
#edinburghsnapshots
#edinburghstory
#edinburghfoodie
#edinburghbloggers
#edinburgh_snapshots
#edinburghhighlights
#visitedinburgh
#edinburghspotlight
#edinburghfoodies
#edinburghblogger
#edinburgholdtown
You May Also Like: Amsterdam Captions For Instagram
---
As we wrap up our journey through the best Edinburgh Instagram captions, I hope you've found the perfect words to complement your stunning snapshots of this captivating city.
From the historic landmarks that transport you back in time to the hidden gems waiting to be uncovered, Edinburgh truly has it all.
Related Posts: