Whether you're sipping tea in a cozy cafe in Notting Hill or standing in awe of Big Ben, the opportunities for capturing the perfect Instagram photos in London are endless.
But let's be real, finding the perfect caption to go along with your stunning photo can be a challenge.
That's why I've curated a list of the best London Instagram captions that will make your followers stop scrolling and double-tap that heart button.
Visiting London? I recommend this full day city tour of London as you'll hit all the top sights in just one day.
Best London Instagram Captions
These captions work for any place you're visiting in London including the London Eye, Big Ben, Tower Bridge, River Thames or Buckingham Palace.
Funny London Captions & London Puns
London is my cup of tea
I'm taking life one scone at a time
Relationship status: crushing on Big Ben
Time to par-tea in London
Never met a scone I didn't like
Here's the hot tea from London
Let's cross that London Bridge when we come to it
Can you pass the tea and scones, please?
What's up, MTV. Welcome to my palace
Just Paddington up my case for London
Stop Hyde-ing from me!
Home is where the palace is
I've only scone and don't it
I can't be Thame-d
50 Shades of Earl Grey
Wow, London really is tea-riffic
Don't be dilly!
The traffic in London is like a Piccadilly Circus
Where have you Ben all my life
Visiting Buckingham Palace, but I'm having a bad heir day
Euston we have a problem…
Prince you've been gone…
This little piggy went to Camden Market
Oh, Eye see you
Keeping my London Eye on the prize
You're being Picca-silly!
I could king with excitement, I'm in London!!
Eye Came. Eye Saw. Eye Conquered.
The weather in London is like a box of chocolates, you never know what you're going to get
Watching the River Thames is one of the world's most famous live streams
Having the Thames of my life
Have you queen to London, it's amazing
Turn that crown upside down
I can't Kate to get to London
I'm in a Harry to get home
Next Up: Edinburgh Instagram Captions
Short London Captions
From London with love
Living like the royals
Falling hard for London
London, I'm in love with your chaos
Mind the gap
Talk British to me
Big Ben, big love
London calling!
There's no time to be bored in London
Lost in London but loving it
My kind of London town
You May Also Like: Paris Instagram Captions
Cute London Captions For Instagram
Dreaming of double-decker buses and red phone booths
Tower Bridge, making all other bridges look basic since 1894
London is calling, so I must go
You can take the girl out of London but you can't take London out of the girl
Wear your crown and go to London
If these walls could talk…I wonder what Buckingham Palace would say
Money can't buy you happiness but it can buy you a ticket to London
All you need is love and a vacation in London
I could stare at Tower Bridge all day and never get bored
It's tea time somewhere
Sipping tea in London, feeling posh and fancy AF
There will always be London
Living my royal dreams at Buckingham Palace
I wonder why they call it Big Ben…
London stole my heart and I'm never getting it back
Will you be the Will to my Kate?
I'm royally obsessed with the Queen
London on a sunny day is my idea of heaven
London is my knight in shining armor
Nothing like a cup of tea to warm the soul in the chilly streets of London
Buckingham Palace, fit for a queen (or king)!
Signing this postcard from London with love
London, you have my heart
I could get used to living in a palace like this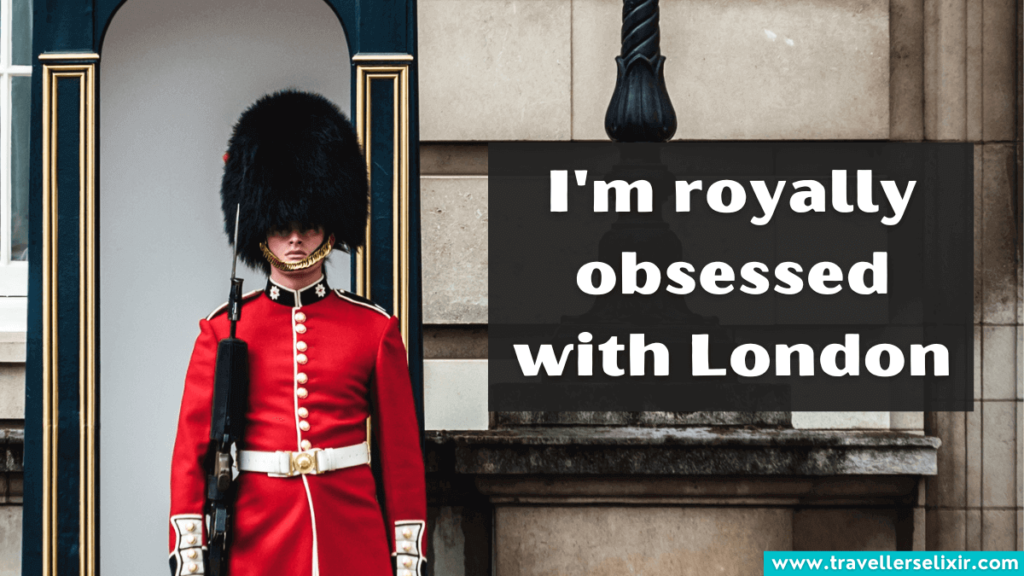 From now on, sweet dreams are made of scones and sight-seeing in London
London is the city of tea and crumpets and I'm here for it
A bad day in London is still better than a good day anywhere else
On top of the sky in the London Eye
I'm pretty sure I was born to be a royal after visiting Buckingham Palace
Next Up: Barcelona Instagram Captions
Inspirational & Beautiful London Captions
Up in the clouds, on my way to London
I never knew a bridge could make my heart skip a beat until I saw Tower Bridge
When in doubt, follow your heart to London
Oh darling, why don't we just stay in London
The magic of London is in the air
Hello London, your lights are fireflies in my heart
London, thank you for making me feel so alive
London is the city that never stops surprising me
There's something magical about the way the light hits Tower Bridge
Falling in love with London all over again
Life is short, but my love for London is long-lasting
There's no time to be bored in a city as beautiful as this
You May Also Like: Scotland Instagram Captions
London Quotes For Instagram Caption
"There's nowhere else like London. Nothing at all, anywhere." – Vivienne Westwood
"London is not just a city, it's a feeling that stays with you forever." – Traveller's Elixir
"London is a modern Babylon." – Benjamin Disraeli
"In London, every street has a story to tell and every corner is a new adventure waiting to happen." – Traveller's Elixir
"I travel continuously, and I see many cities, but there is nowhere like London." – Norman Foster
"I've been walking about London for the last thirty years, and I find something fresh in it every day." – Walter Besant
"London is a city of contrasts, where the beauty of the old and the excitement of the new come together to create something truly unique and magical." – Traveller's Elixir
"If you're curious, London is an amazing place." – David Bailey
"The streets of London have their map, but our passions are uncharted. What are you going to meet if you turn this corner?" – Virginia Woolf
"There's something special about the energy of London, where the hustle and bustle of the city can make you feel alive and invigorated." – Traveller's Elixir
"The vibe of London as a city is captivating. It's both fast-paced and extremely rushed but still has the calmness that would attract any big-city person." – Ali Fazal
"You find no man, at all intellectual, who is willing to leave London. No, Sir, when a man is tired of London, he is tired of life: for there is in London all that life can afford." – Samuel Johnson
"London is a love affair that never ends, a city that captivates and charms you with its endless possibilities and undeniable charm." – Traveller's Elixir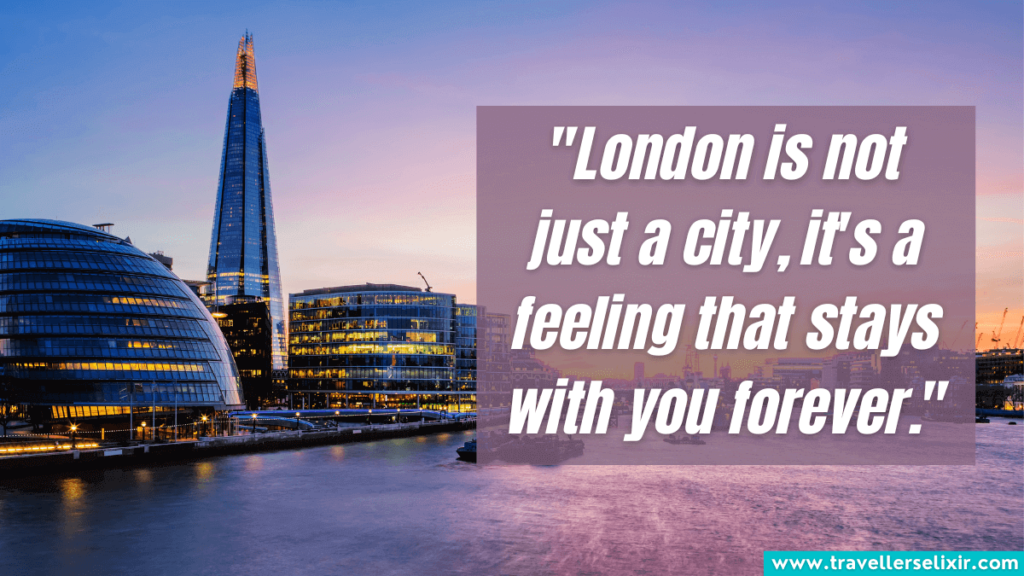 "How can you ever be late for anything in London? They have a huge clock right in the middle of the town." – Jimmy Kimmel
"In London, everyone is different, and that means anyone can fit in." – Paddington Bear
"London is a city that wears its history on its sleeve, where every building and street corner has a story to tell." – Traveller's Elixir
"London opens to you like a novel itself… it is divided into chapters, the chapters into scenes, the scenes into sentences: it opens to you like a series of rooms, doors and passages. Mayfair to Piccadilly to Soho to the Strand." – Anna Quindlen
"London is a city that invites you to explore, to get lost in its charming streets and discover hidden gems around every corner." – Traveller's Elixir
"My dad says that being a Londoner has nothing to do with where you're born. He says that there are people who get off a jumbo jet at Heathrow, go through immigration waving any kind of passport, hop on the tube and by the time the train's pulled into Piccadilly Circus, they've become a Londoner." – Ben Aaronovitch
"The man who can dominate a London dinner-table can dominate the world." – Oscar Wilde
"London is a city that captures your heart and never lets go, where the memories and experiences stay with you forever." – Traveller's Elixir
"By seeing London, I have seen as much of life as the world can show." – Samuel Johnson
"In London, love and scandal are considered the best sweeteners of tea." – John Osborne
"Oh, I love London society! It is entirely composed now of beautiful idiots and brilliant lunatics. Just what society should be." – Oscar Wilde
"A person who is tired of London is not necessarily tired of life; it might be that he just can't find a parking place." – Paul Theroux
"London is a city that never ceases to amaze, where you can discover something new and exciting every single day." – Traveller's Elixir
Next Up: Stockholm Instagram Captions
London Hashtags For Instagram Likes
#londonlife
#londonfood
#londoncity
#londondiaries
#londonstreets
#londoneye
#londonlove
#londonphotography
#londontravel
#londonstyle
#londonview
#londonlover
#londonbylondoners
#londonlifestyle
#londonarchitecture
#londonphoto
#londongram
#londonvibes
#londontrip
#londonphotographer
Next Up: Budapest Instagram Captions
---
I hope you enjoyed my selection of the best London Instagram captions!
From quirky and funny to poetic and inspiring, there's something for every type of Instagram post.
And don't forget to follow me on Instagram (@travellerselixir) and tag me in your photo. I'd love to see them all.
Related Posts: