With its stunning architecture, bustling streets and vibrant culture, it's no wonder that this Spanish gem is a top destination for Instagrammers.
But let's face it, finding the perfect Instagram caption can be a challenge. You want something that captures the essence of the city but also shows off your wit and humor.
In this post, I'll be sharing some of the best Barcelona Instagram captions that will make your photos shine brighter than Gaudí's La Sagrada Família.
P.S. Follow me on Instagram (@travellerselixir) and tag me in your photo so I can share it!
Best Barcelona Instagram Captions
Funny Barcelona Captions & Barcelona Puns
Let's give 'em something to tapas-bout
Oh my Gaudí, I just love Barcelona!
Feeling on tapas the world here in Barcelona
Might as Guell head to Barcelona for the weekend!
My Gaudí, isn't Barcelona amazing?
Barcelona, you're the Juan that I want!
I'm having a Barce-lonely time without you here
I hate to Rambla on about Barcelona, but this place is amazing!
Guell, what do we have here then?
Getting to the top of Tibidabo is a Spain in the butt!
I've got a bad queso loving Barcelona
Fiesta like there's no mañana
Might as Guell upload this to Instagram
A sangria a day keeps the worries away
I'm not shore what to do in Barcelona, I might go to the beach
It's been a tile since I've been to Barcelona, but I'm so happy to be back!
Shake your patatas
Gaudí, I could use another sangria
I don't speak Catalan but I Cata-can try!
It's a pitcher perfect night for sangria
I can't espresso how much I love my morning café con leche
You May Also Like: Fun London Instagram Captions
Short Barcelona Captions
Paella, sangria, and tapas, oh my!
Barcelona has my heart
Sangria counts as fruit right?
Barcelona, I'm in love
Living off sangria and siestas
Barcelona, I'm yours!
I left my heart in Barcelona
It's paella o'clock
Save water, drink sangria
Viva Barcelona!
Find me under the palms
You had me at hola
Soup of the day: Sangria
Next Up: Croatia Instagram Captions
Cute Barcelona Captions For Instagram
Barcelona, the city that never sleeps (unless it's siesta time)
BRB, going off to play in the Barcelona sun
I'm just a girl, standing in front of a paella, asking it to love me
When in Barcelona, do as the Barcelonians do
Pass the sangria and paella, please
I never thought I could fall in love with a building but La Sagrada Familia has stolen my heart!
Take me to Barcelona and I won't want to order sangria anywhere else in the world
Barcelona, where the streets are made for strolling and the paella is made for devouring
The best way to see Barcelona? With my own two ojos!
The only thing better than visiting Barcelona is visiting it twice
I found paradise in Barcelona
Don't know siesta, but I do fiesta
Barcelona, the city that stole my heart and passport
On the search for the best sangria in Barcelona
I left my heart in Barcelona (and my stomach at the nearest tapas bar)
Sangria is my favorite fruit
Barcelona, the place where I discovered that I actually love olives
Dreams are made of sun and sangria
Where can I get more vacation days?
Today's forecast: 100% chance of sangria and tapas
Barcelona, the city where even the pigeons are chic
Life is short but the streets of Barcelona are long so let's get lost in them together!
Relationship status: in love with sunsets and Barcelona
You can take the girl out of Barcelona but you can't take the Barcelona out of the girl
Sangria is basically a fruit salad which makes it healthy right?!
Barcelona, where the wine flows like water and the people are always up for a fiesta
You May Also Like: Santorini Instagram Captions
Inspirational & Beautiful Barcelona Caption
Watching the sun set over the Spanish horizon is something I'll never forget
Barcelona, where every street is a work of art
After visiting, I totally understand why there are so many songs about Barcelona
Barcelona, where the sangria is sweet but the memories are sweeter
Summer in Barcelona is the best I've ever felt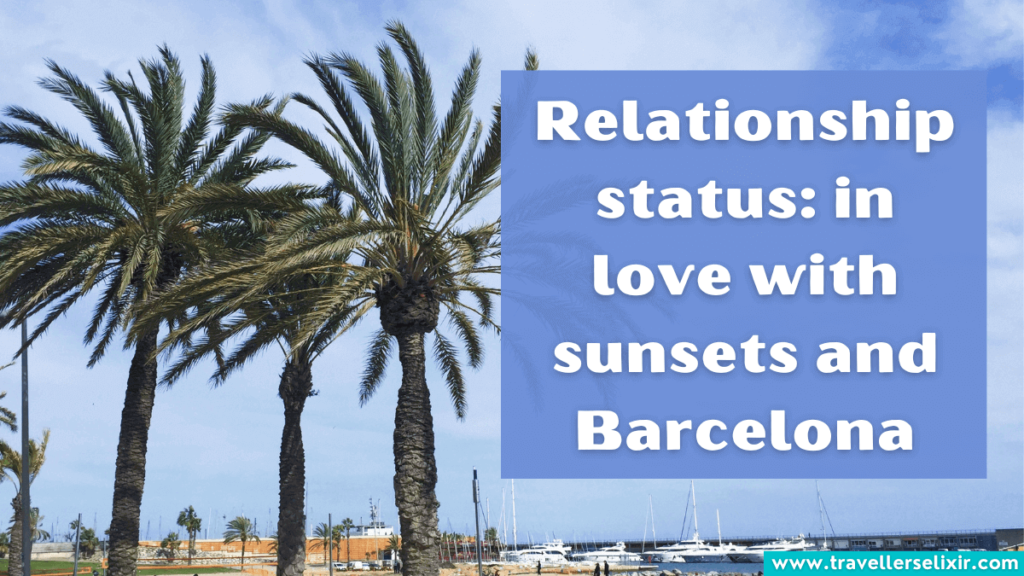 The sun shines brighter and the sangria flows stronger in Barcelona
Barcelona, where the beach meets the city and the magic of the Sagrada Família never fades
Barcelona is the stuff of dreams and fairytales
Watching the sun set over the Barcelona horizon never gets old
Barcelona, where the Gothic Quarter meets the Mediterranean sea and magic happens
I'm dreaming of a hot summer in Barcelona
I know exactly where my heart is: Barcelona
Hello Barcelona, your lights are fireflies in my heart
Barcelona, where the only thing more beautiful than the architecture is the people
I came for the sights but stayed for the soul of Barcelona
Barcelona, a city that ignites the senses, from the taste of tapas to the colors of Park Güell
Up Next: Prague Instagram Captions
Barcelona Quotes For Instagram Captions
"Barcelona, such a beautiful horizon. Barcelona, like a jewel in the sun." – Freddie Mercury and Montserrat Caballé, "Barcelona"
"Barcelona is more than a city – it's a feeling, a state of mind, a place where magic and reality blur together in perfect harmony." – Traveller's Elixir
"Every time you have to go, shut my eyes and you know, I'll be lying right by your side in Barcelona." – George Ezra, "Barcelona"
"New York City and Barcelona: Two places I love that might have more rooftop pools than people." – Unknown
"The colors of Barcelona are like no other – a kaleidoscope of reds, blues, greens, and golds that paint the city with a magical light." – Traveller's Elixir
"Just close your eyes and let's pretend we're dancing in the street in Barcelona." – Ed Sheeran, "Barcelona"
"Barcelona is a very old city in which you can feel the weight of history; it is haunted by history. You cannot walk around it without perceiving it." – Carlos Ruiz Zafon
"In Barcelona, the past and the present exist in perfect harmony, creating a city that is both timeless and modern." – Traveller's Elixir
"Even the moon was embarrassed by the beauty of Barcelona." – Andrew Barger
"The spirit of Barcelona is alive in its people – passionate, creative, and full of life." – Traveller's Elixir
"Italy has great food and Barcelona has great energy." – Stefon Harris
"La Sagrada Família is a place of awe and wonder – a cathedral that reminds us of the infinite beauty and mystery of the world we live in." – Traveller's Elixir
"I'd love to be popular in Barcelona. That sounds like a fun job." – Bobby Heenan
"Barcelona is a city that speaks to the soul – a place where the heart feels at home, and the mind is free to dream." – Traveller's Elixir
"But if there was no Barcelona, why would you get out of bed in the morning?" – Ray Hudson
"Las Ramblas, I'll meet you. We'll dance around La Sagrada Familia drinking sangria." – Ed Sheeran, "Barcelona"
"To fall in love with Barcelona is to fall in love with life – a love affair that lasts a lifetime, and never fades or grows old." – Traveller's Elixir
"Allow me to state here how much I love Barcelona, an admirable city, a city full of life, intense, a port open to the past and future." – Le Corbusier
"Gaudí's masterpiece is a testament to the power of imagination and creativity – a work of art that will inspire and amaze for generations to come." – Traveller's Elixir
"I wrote every day between the ages of 12 and 20 when I stopped because I went to Barcelona, where life was too exciting to write." – Colm Tóibín
"Nothing is art if it does not come from nature." – Antoni Gaudí
"In La Sagrada Família, every detail is a work of art – from the intricate carvings to the stunning stained glass windows, it's a masterpiece that must be seen to be believed." – Traveller's Elixir
"Barcelona is one of my favorite cities in the world. The fashion and people are just so effortlessly cool." – Leigh Lezark
"There are no straight lines or sharp corners in nature. Therefore buildings must have no straight lines or sharp corners." – Antonio Gaudi
"La Sagrada Familia is a cathedral of the future – a vision of what is possible when we dare to dream and create beyond the limits of the present." – Traveller's Elixir
You May Also Like: Paris Instagram Captions
Barcelona Hashtags For Instagram Likes
#barcelona
#barcelonacity
#barcelonaspain
#barcelonafood
#barcelonaespaña
#barcelonabeach
#barcelonagram
#barcelonafoodies
#barcelonalovers
#barcelonalife
#barcelonaexperience
#barcelonafans
#barcelonatravel
#barcelonalove
#barcelonatrip
You May Also Like: Ibiza Instagram Captions
---
I hope you enjoyed this list of the best Barcelona Instagram captions!
Whether you're a seasoned traveler or planning your first trip to this beautiful city, these captions will help you capture the spirit of Barcelona and make your Instagram feed pop.
And don't forget to follow me on Instagram (@travellerselixir) and tag me in your photo!
Related Posts: