From the misty Highlands to the vibrant streets of Edinburgh, Scotland is a photographer's paradise.
But before you hit that 'post' button, you'll need the perfect caption to complement your stunning shots.
That's why I've spent hours coming up with the best Scotland Instagram captions that will transport your audience to the land of tartan dreams.
P.S. Follow me on Instagram (@travellerselixir) and tag me in your photo for a share!
Best Scotland Instagram Captions
These captions work for any place you're visiting in Scotland including Edinburgh, Glasgow, the Scottish Highlands, Aberdeen, Loch Ness and more.
Cute Scotland Captions For Instagram
My theory is that all of Scottish cuisine is based on a dare
Put some whiskey in my coffee because it's Scotland somewhere!
Falling in love with Scotland all over again
You can take the girl out of Scotland but you can't take the Scottish out of the girl
No, mom, I haven't learnt how to play the bagpipes yet
Left my heart in Scotland, better go back and get it
It's bad manners to keep Scotland waiting
Enjoying life one haggis at a time
It's a Scotland thing, you wouldn't understand
Found my inner Braveheart while exploring the stunning Scottish landscapes
Did somebody say whiskey?
Stuff that in your haggis and chew it!
Well put on a kilt and call me Scottish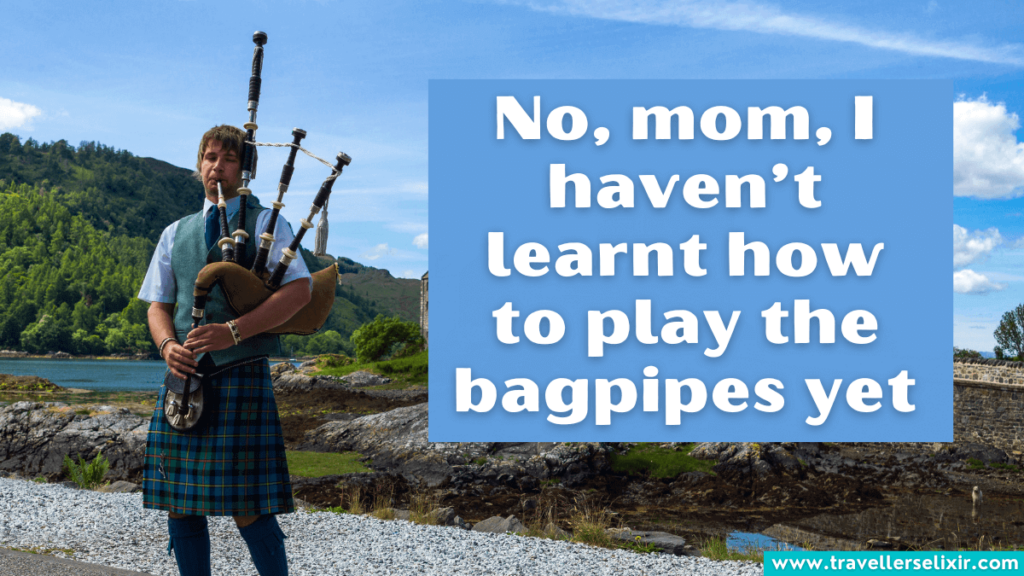 I'm considering a career change to professional bagpipe player!
Just a girl who loves tartan
Scotland's national animal is the unicorn. Friends, I think I am Scotland
No, mom, I haven't picked up a Scottish accent yet
Here for the views and whiskey
Adventures are even sweeter when they're filled with tartan and bagpipes
The one where I go to Scotland
When in doubt, just add whisky
My incurable wanderlust has brought me to…Edinburgh!
Up Next: Edinburgh Instagram Captions
Funny Scotland Captions & Scotland Puns
Wait, Scotland Yard isn't in Scotland? Next, you'll tell me the Loch Ness Monster isn't real!
Scotland, I loch you so much!
Bagpipes: the original surround sound. I'm convinced they're secretly controlled by mischievous fairies!
Some like it Scot
Scotland has un-loched my heart
It's gettin' Scot in here!
Bagpipes, the musical instrument that simultaneously soothes and terrorizes eardrums. It's a love-hate relationship
Thistle do nicely
Scotch is neat
Kiltn' it
Visited a haunted castle today. Not gonna lie, I'm now best friends with a friendly ghost named Hamish. We're pen pals!
Winter in Scotland is snow joke
Aye can't believe I'm in Scotland
Met a friendly local who taught me the art of Scottish slang. Now I'm fluent in 'wee', 'braw' and 'dreich'. Still working on 'whit's fur ye'll no go by ye'
I don't want to leave, but it's time to Glasgow
Bought a souvenir kilt and accidentally joined a local wedding procession. I guess I'm part of the family now!
The Scottish Highlands are not to be mist!
Survived the Scottish weather like a true warrior. Wind: 1, Umbrella: 0. On the bright side, I discovered a new hairdo
It's quite cold here at Edin-brrrr Castle
Highland cattle snuggle up in the rain to keep each udder dry
Even the rain can't dampen Scotland's beauty
I'm feeling plaid about leaving Scotland
Yes, I love whiskey. Who's cask-in?
Whisky tasting: because who needs water when you can have a dram of liquid courage?
Wow this Scotland trip is getting Nessy!
Kilt-y as charged!
Don't let him get away Scot free
I need to mull over my decision on which Scotch to pick
Tried to do a Scottish accent. Now I sound like a mix between Braveheart and a malfunctioning bagpipe. Oops!
Looking forward to Scottish summers, the rain gets warmer
Don't run with bagpipes. You could put an aye out or worse, get kilt!
You May Also Like: London Captions For Instagram
Short Scotland Captions
Where's the whiskey?!
Off to Scotland, be back never
Living my Scottish fairytale
High in the misty Highlands
You'll find me in Scotland
My heart belongs to Scotland
Exploring the land of tartan dreams
Whisky and breathtaking views
Scotch eggs. Haggis. Scotland
Daydreaming in Scotland
Searchin' for Nessy
Lost in the beauty of the Highlands
Meet me in Glasgow
Real men wear skirts
I'm ready for you Scotland
Kilts & castles
Scotland, where magic meets reality
Up Next: Ireland Captions For Instagram
Inspirational & Beautiful Scotland Captions
I don't want to go to heaven, I want to go to Scotland
Feeling blessed to have witnessed Scotland's beauty firsthand
Scotland, where every corner holds a fairytale waiting to unfold
You can leave Scotland, but it will never leave you
Time and tide for nae man bide – Time waits for no man
Whit's fur ye'll no go past ye – Whatever will be, will be
Exploring Scotland's magic, where dreams and reality intertwine
Thank you Scotland for making me feel so alive
If you follow your heart just right, it will get you to Scotland
People never forget two things: their first love and their first day in Scotland
Scotland gives me butterflies
Embracing the Scottish spirit, fueled by kilts and endless adventures
Money can't buy you happiness, but it can buy you a ticket to Scotland
You May Also Like: Iceland Captions For Instagram
Scotland Quotes For Instagram Captions
"Scotland is a picturesque country where the people are friendly yet completely incomprehensible. Also, the national delicacy is a sheep's stomach filled with its liver, lungs, and heart." – Adam Schlesinger
"Scotland is so gorgeous that every time I'm there, I start to dream of living there. I want to buy one of those whitewashed cottages with thatch roofs and gaze out at the sea and read my books." – Julia London
"Scotland: where misty glens and ancient castles dance in harmony and the spirit of adventure flows like a Highland stream." – Traveller's Elixir
"There are three reasons why I live in Scotland. First, I like silence, and you have to be a millionaire to buy silence in Italy. Second, I like cold weather. Third, in Italy, I have too many relatives and know too many people, so I never get quiet time." – Gian Carlo Menotti
"Scotland is about layering. The weather changes every 10 minutes." – Sam Heughan
"I absolutely love Scotland. I'm always happy there." – Jennifer Saunders
"There are few places in my life that I've found more ruggedly beautiful than the Highlands of Scotland. The place is magical – it's so far north, so remote, that sometimes it feels like you've left this world and gone to another." – Julia London
"It is one of the most hauntingly beautiful places in the world, the history is fascinating, the men are handsome and the whiskey is delicious." – J.K. Rowling
"Scotland's landscapes are a tapestry of dreams, woven with threads of history, myth and breathtaking beauty, inviting travelers to embark on a journey of the soul." – Traveller's Elixir
"Did not strong connections draw me elsewhere, I believe Scotland would be the country I would choose to end my days in." – Benjamin Franklin
"Fantasy, myth, legend, truth – all are intertwined in the story that is Scotland." – Laurence Overmire
"Amidst the haunting melodies of bagpipes and the whispers of ancient stones, Scotland reveals its secrets to those who listen with open hearts and wander with curious spirits." – Traveller's Elixir
"There's just no place like Scotland when the sun is out. I just love coming home." – Ashley Jensen
"It is true that I once refused to eat haggis in Scotland and this did not sit well with the local population." – Rick Riordan
"To wander through Scotland is to walk in the footsteps of legends, to be humbled by nature's grandeur and to discover the true essence of adventure." – Traveller's Elixir
"There are two seasons in Scotland: June and winter." – Billy Connolly
"I love Scotland, mainly for its landscape. I like walking, and it's a great place to go hiking" – Toby Stephens
"In the untamed wilderness of Scotland, where heather carpets the hills and ancient ruins whisper tales of old, the traveler finds a sanctuary for the heart and a haven for the soul." – Traveller's Elixir
"My heart's in the Highlands, my heart is not here. My heart's in the Highlands, a chasing the deer. A-chasing the wild-deer, and following the roe, my heart's in the Highlands wherever I go." – Robert Burns
"Hey, single malt Scotch, you're thirty years old. When are you going to settle down and get married to my stomach?" – Stephen Colbert
"Scotland's beauty is a symphony for the senses, an orchestra of rolling hills, cascading waterfalls and dramatic cliffs, where every note resonates with the awe-inspiring power of nature." – Traveller's Elixir
"Scotland's a pretty place. I mean, as long as it ain't raining." – Boo Weekley
"It doesn't matter if it's soggy or it's sunny, there are so many lovely roads and awesome rugged countryside in Scotland – that's what makes it." – Edd China
"Scotland is the best place in the whole world." – Gail Porter
"The best food in the world comes from Scotland, in part at least, because Scotland is the last wilderness area in Europe; therefore the land, freshwater rivers, and lochs and sea waters around the country are clean and pure." – Lady Claire MacDonald
"There is magic in Scotland. It's a country with a lot of pride and bravery." – Gayle Rankin
"The proper drinking of Scotch whiskey is more than indulgence, it is a toast to a civilization, a tribute to the continuity of culture, a manifesto of man's determination to use the resources of nature to refresh mind and body and enjoy to the full senses with which he has been endowed." – David Daiches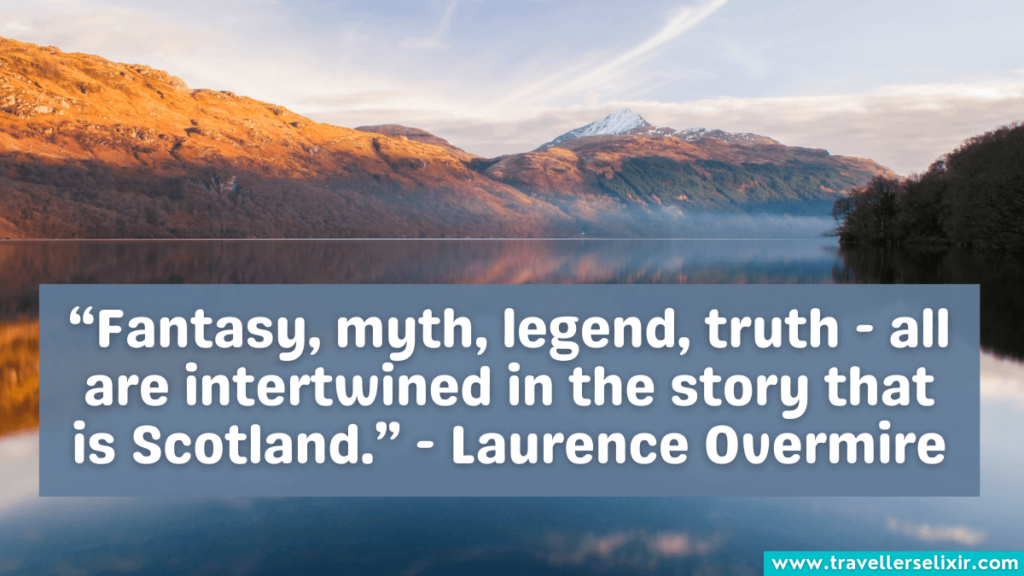 "I went to this beautiful place where the ground moved underneath me and the air was a part of me, and where time stopped. It was amazing and wonderful." – Cyndi Tefft
"I live out in the country in Scotland and know that if I close my eyes, I can recognize every sound." – Rory McCann
"Staring into a Scottish landscape, I have often asked myself why – in spite of all appearances – bracken, rocks, man and sea are at some level one." – Neal Ascherson
"I'm very fond of Glasgow, particularly the West End. The whole stretch of the west coast of Scotland from Loch Lomond up through Mallaig to the Kyle of Lochalsh is so beautiful." – John Niven
"In Scotland, as beautiful as it is, it was always raining. Even when it wasn't raining, it was about to rain or had just rained. It's a very angry sky." – Colin Hay
"There's no place on Earth with more of the old superstitions and magic mixed into its daily life than the Scottish Highlands." – Diana Gabaldon
"I remember every stone, every tree, the scent of heather. Even when the thunder growled in the distance, and the windswept up the valley in fitful gusts, oh, it was beautiful home sweet home." – Beatrix Potter
"Edinburgh isn't so much a city, more a way of life…I doubt I'll ever tire of exploring Edinburgh, on foot or in print." – Ian Rankin
"I'd live in Glasgow if I could. I can't praise it enough; it's the nicest place I have ever worked and I've worked in a lot of nice places." – Roxanne McKee
"Wherever I wander, wherever I rove, the hills of the highland forever I love." – Robert Burns
"For in the lowlands we walk with the body only; in the highlands we walk with the mind." – Henry Stephens Salt
Up Next: Berlin Captions For Instagram
Scotland Hashtags For Instagram Likes
#scotlandtravel
#scotlandexplore
#scotlandshots
#scotlandlover
#scotlandhighlands
#scotlandphotography
#scotlandisnow
#scotlandlove
#scotlandtrip
#scotland_greatshots
#scotlandsites
#scotlandscenery
#scotland_insta
#scotlandroadtrip
#scotland_lover
#hiddenscotland
#lovescotland
#instascotland
#scotland_ig
#explorescotland
You May Also Like: Copenhagen Captions For Instagram
---
I hope these fun captions have inspired your creativity and added a touch of Scottish charm to your posts.
Whether you're wandering through the cobblestone streets of Edinburgh, hiking rugged mountains or indulging in a wee dram of whisky, these captions will help you capture the essence of Scotland.
Related Posts: