Known for its rich history, cutting-edge culture and undeniable charm, this captivating German capital has an Instagrammable scene that will leave you speechless.
From iconic landmarks like the Brandenburg Gate to hidden gems tucked away in hip neighborhoods, Berlin offers endless opportunities to snap that perfect shot.
I've spent hours coming up with the absolute best Berlin Instagram captions that will perfectly capture the essence of Berlin.
Best Berlin Instagram Captions
Cute Berlin Captions For Instagram
You had me at hallo
Some call it Berlin, I call it heaven
On the search for the best bratwurst in Berlin
A photo dump featuring sausages and fancy buildings
If it's not a beer, don't park it here
A bratwurst a day keeps the doctor away
Either you love Berlin or you are wrong
Berlin, where beer is cheaper than water and clubbing is a form of exercise
Here for the views and sausages
Wanted to see the Reichstag Building so I did
Left my heart in Berlin, better go back and get it
Oh darling, why don't we just stay in Berlin
Berlin? That's not a place, it's a dream
I wanna explore Berlin with you
Earth without art is 'eh'
Saying 'Danke' to Berlin for the currywurst cravings
Checking in on Checkpoint Charlie
Berlin, the city that never says 'nein' to a good time
Note to self: don't challenge a Berliner to a beer chugging contest
No such thing as too much bier in Berlin
All we have is now and a little bit of Berlin
I came to Berlin for the history but I'm staying for the currywurst. Priorities, you know?
Up Next: Zurich Captions For Instagram
Funny Berlin Captions & Berlin Puns
Can't bear to leave Berlin
Not the wurst day
No brat days in Berlin
Wunderlust
The street art in Berlin is very ad-mural-able
Brrrr-lin, it's cold out here!
Stop being such a bratwurst
Beer in Berlin is brew-tiful
I've got a Berlin desire to drink beer!
Leaving Berlin is just the wurst!
Having a brat-tastic time in Berlin
Pitcher perfect
Ready or not, beer I come!
I make pour decisions
I've definitely been in wurst places…
You May Also Like: Amsterdam Captions For Instagram
Short Berlin Captions
Hallo Berlin!
Meet me at Brandenburg Gate
Hold my bratwurst
Okay, but first Berlin
Adventures in Berlin await
Prost Berlin!
Berlin, I'm here!
Pass me the bratwurst
Berlin gives me butterflies
Daydreaming in Berlin
Loosen up your lederhosen!
Berlin bound, ready to explore
Wanderlust in Berlin
You had me at beer
Chasing dreams in Berlin
Berlin called and I answered
Living off of sausages and sunshine
Mesmerized by Berlin
Berlin's got me hooked
Cathedrals and museums up ahead
Berlin let's do it
Berlin, you're a work of art
Up Next: Porto Captions For Instagram
Beautiful & Inspirational Berlin Instagram Captions
Until we meet again, meine Liebe!
Berlin stole a piece of my heart and I'm leaving a piece of my soul behind
In the midst of Berlin's bustling streets, I found a little piece of magic that will forever linger in my memories
Me and Berlin – a love story waiting to unfold
Berlin, you showed me that adventure begins the moment you step out of your comfort zone
Berlin, a city painted with dreams and possibilities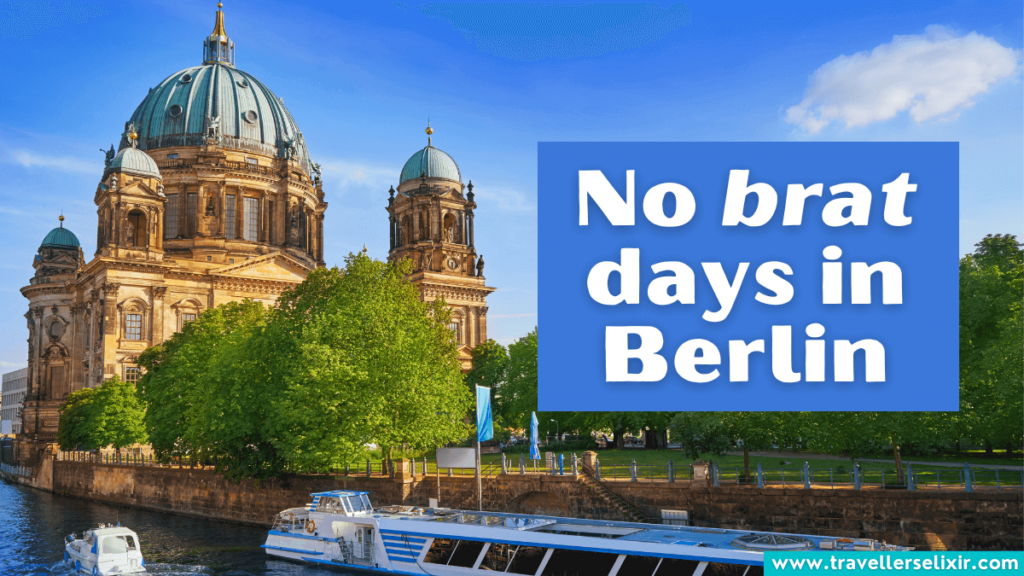 Exploring Berlin made me realize that the world is full of beautiful surprises
Berlin, where history whispers through every cobblestone
Walking hand in hand with Berlin, I fell in love with the city
Berlin, where dreams find their wings
I found a piece of paradise in Berlin
Berlin, you reminded me that it's okay to wander, to get lost and to embrace the unknown
Exploring Berlin awakened my senses and ignited a fire within me to fearlessly pursue my dreams
Berlin, a city that speaks volumes without uttering a word
In Berlin's embrace, I found my heart's home
Embracing the vibrant spirit of Berlin's soul
You May Also Like: London Captions For Instagram
Berlin Quotes For Instagram Captions
"Berlin is the Cinderella of European capitals." – Peter Schneider
"Berlin, you taught me that stepping out of my comfort zone leads to extraordinary adventures and a deeper understanding of myself." – Traveller's Elixir
"Berlin is more part of the world than a city." – Jean Paul
"Berlin – the greatest cultural extravaganza that one could imagine." – David Bowie
"In the heart of Berlin, where East meets West, a city embraces its scars and blossoms into a vibrant tapestry of resilience and creativity." – Traveller's Elixir
"You are crazy, my child. You must go to Berlin." – Franz Von Suppe
"Lost in the kaleidoscope of cultures, languages and ideas that thrive in Berlin, I found a renewed sense of inspiration and an endless well of creativity within me." – Traveller's Elixir
"Berlin is the newest city I have come across. Even Chicago would appear old and gray in comparison." – Mark Twain
"There is something about the name Berlin that evokes an image of men in hats and long coats standing under streetlamps on rainy nights." – Erik Larson
"Berlin is a pulsing, exciting city with so many varied and distinctive neighborhoods, iconic history all around, great food at all levels and from every corner of the world." – R.E.M
"Berlin, where history whispers through the echoes of its cobblestone streets, inviting you to uncover its captivating tales." – Traveller's Elixir
"Berlin would be a great place to have no cell phone, I think. Especially if you were able to live in a central location." – Alex Ebert
"And of course, I like Berlin a lot. It's such an interesting city." – Daniel Libeskind
"I still keep a suitcase in Berlin." – Marlene Dietrich
"The intricate architecture of Berlin Cathedral captures the essence of divine beauty, inviting you to explore the spiritual wonders within its hallowed walls." – Traveller's Elixir
"Love the sight and love the sound, I wish that I could stick around Berlin." – Kirsty MacColl
"Berlin is a city of leafy boulevards, grand Neoclassical buildings, world-class art, glitzy shopping arcades, and funky graffitied neighborhoods with gourmet street food." – Rick Steves
"Some people go to Berlin to get more cutting edge; I went and started wearing lederhosen and going to visit baroque palaces." – Rufus Wainwright
"The energy of Berlin is infectious, pulsating through its bustling markets, lively cafes and buzzing nightlife, igniting a fire within every adventurer's soul." – Traveller's Elixir
"I like museums in Berlin a lot, especially in the eastern part. They're extraordinarily good." – Elliott Erwitt
"Berlin combines the culture of New York, the traffic system of Tokyo, the nature of Seattle, and the historical treasures of, well, Berlin." – Hiroshi Montomura
"Berlin is my favorite city." – Logan Lerman
"With its vibrant street art, thriving cultural scene and a constant sense of reinvention, Berlin inspires you to break free from conventions and live life on your own terms." – Traveller's Elixir
You May Also Like: Monaco Captions For Instagram
Berlin Hashtags For Instagram Likes
#berlin
#berlinberlin
#berlincity
#berlingram
#berlinart
#berlinwall
#berlinfood
#berlin🇩🇪
#berlinlove
#berlinmitte
#berlingirl
#berlinlife
#berlinphotography
#officialfanofberlin
#berlinstreetart
#berliner
#berlinstyle
#berlinarchitecture
#berlingermany
#berlininstagram
Up Next: Scotland Captions For Instagram
---
I hope you've enjoyed this thrilling journey through the best Berlin Instagram captions!
Whether you find yourself strolling along the historic streets of Mitte or immersing yourself in the artistic haven of Friedrichshain, every corner of this metropolis has a story to tell.
And now, armed with the perfect caption, you can unlock the essence of each moment and share it with the world!
Related Posts: