Nestled in the heart of Utah's red rock country, this captivating national park is a photographer's paradise.
From the breathtaking hoodoos that rise majestically from the canyon floor to the kaleidoscope of colors that paint the sky during sunset, Bryce Canyon offers an endless array of Instagram-worthy moments.
I've come up with the best Bryce Canyon Instagram captions that are as awe-inspiring, witty, and fun as the park itself.
Best Bryce Canyon National Park Instagram Captions
Cute Bryce Canyon National Park Captions For Instagram
Long live the planet and the magic it makes
Bryce Canyon officially has my heart
Some places leave you speechless. This was one of them
From now on sweet dreams are made of hiking around Bryce Canyon National Park
Not leaving anything behind in Bryce Canyon National Park but my heart
Part of me thinks we're not on planet Earth anymore…
Dear Bryce Canyon, you're my absolute favorite
I came for the hoodoos but I stayed for the good views
Hiking through Bryce Canyon like a boss or at least a clumsy boss who occasionally trips over their own feet
My sneakers aren't white anymore but the scuffs were so worth the views
Bryce Canyon: where my hiking skills go from 'I got this' to 'Oh, this is gonna to be interesting'
Think I might just park myself by this giant hoodoo and call it a day
Never met a hoodoo I didn't like
Add a national park to your bucket list. I promise you won't regret it
Bryce Canyon is making me question if I'm in a national park or a giant outdoor art gallery
May all your trails be crooked, winding, leading to the most amazing views
The one where I go to Bryce Canyon National Park
It was so worth getting up early for this!
Feeling like a real-life 'hoodoologist' exploring Bryce Canyon
Up Next: Hiking Captions For Instagram
Funny Bryce Canyon National Park Captions & Bryce Canyon Puns
If you haven't been to this national park before, Bryce yourself – it's beautiful
Bryce to meet you
Bryce, Bryce, baby
Exploring Bryce Canyon with a canyon-do attitude
If the Bryce is right
Look on the Bryce side
Canyon believe this place!
Hoodoo you think you are?
Bryce Canyon got me feeling sediment-al
Bryce Canyon National Park rocks!
Canyon feel the love tonight?
Playing hide and peak in Bryce Canyon
These views are beautiful as far as the eye canyon see
Must be Bryce…
Yes we canyon!
Hiking Bryce Canyon is like stepping into a rock-umentary
Erode to the occasion
I can't help feeling sedimental looking at these views
My hiking skills at Bryce Canyon are peak-ing
You May Also Like: Utah Captions For Instagram
Short Bryce Canyon National Park Captions
Hike, hike, baby
No better way to reset
Hoodoos, views and hiking shoes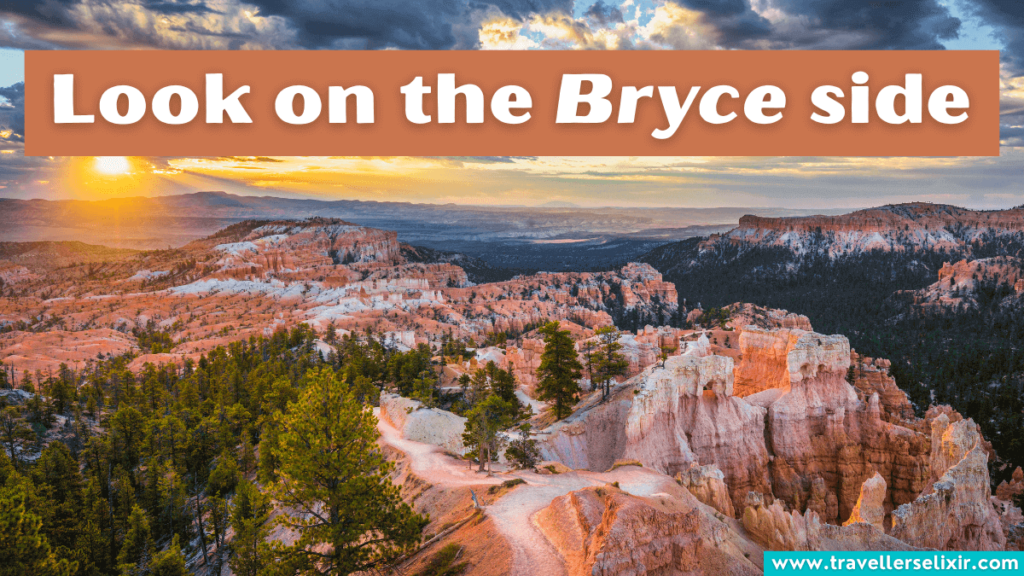 Unleashing my wild side
Another day, another national park
Lost in hoodoo wonder
Adventure awaits
Do what feels good for your soul
Hiking heaven discovered
Where rocks whisper tales
Hoodoo magic
Bryce Canyon? Completed it
Is this Bryce Canyon or Mars?
Red rocks & sweaty socks
Forever Bryce-bound
Nature's red symphony
You May Also Like: Zion National Park Captions For Instagram
Bryce Canyon National Park Quotes For Instagram Captions
"The National Park is the best idea America ever had." – James Bryce
"Bryce Canyon, where the whispers of the wind carry stories of ancient beauty." – Traveller's Elixir
"Stepping out onto any lookout, you are invited to connect with an amazing example of some of the most unusual terrain on this planet, making you feel as though you are stepping foot on the edge of another world." – Stefanie Payne
"I've seen the majestic beauty of nature and the overwhelming perfection of it. To me, there's nothing closer to God than that." – Cote De Pablo
"Amidst Bryce's towering hoodoos, I discovered the heights my soul can reach." – Traveller's Elixir
"What a country chooses to save is what a country chooses to say about itself." – Mollie Beattie
"Within National Parks is room – glorious room – room in which to find ourselves, in which to think and hope, to dream and plan, to rest and resolve." – Enos Mills
"In the presence of nature's wonders, my heart finds its truest melody." – Traveller's Elixir
"Across our land, the National Park System represents America at its best. Each park contributes to a deeper understanding of the history of the United States and our way of life." – George B. Hartzog, Jr.
"National parks are the best idea we ever had. Absolutely American, absolutely democratic, they reflect us at our best rather than our worst." – Wallace Stegner
"I encourage everybody to hop on Google and type in 'national park' in whatever state they live in and see the beauty that lies in their own backyard. It's that simple." – Jordan Fisher
"Lost in the embrace of Bryce's red rock walls, I truly found myself." – Traveller's Elixir
"That is all the National Parks are about. Use, but do no harm." – Wallace Stegner
"A national park is not a playground. it's a sanctuary for nature and for humans who will accept nature on nature's own terms." – Michael Frome
"Bryce Canyon, where dreams and nature intertwine, creating moments that linger forever." – Traveller's Elixir
Up Next: Arches National Park Captions For Instagram
Bryce Canyon Hashtags For Instagram Likes
#brycecanyon
#brycecanyonnationalpark
#brycecanyonnps
#brycecanyonutah
#brycecanyonnp
#brycecanyoncountry
#brycecanyonhike
#hikeutah
#utahgram
#utahisrad
#utahphotography
#utahtravels
#utahmountains
#hikemore
#hikelife
You May Also Like: Salt Lake City Captions For Instagram
---
I hope this collection of Instagram captions has provided you with the perfect words to accompany your awe-inspiring photos.
Whether you're marveling at the ethereal beauty of the hoodoos or embarking on thrilling adventures along the park's trails, these captions will help you share your experiences in a way that resonates with your audience.
Related Posts: