Whether you're exploring the awe-inspiring canyons or immersing yourself in the spiritual vortexes, Sedona offers a backdrop that guarantees envy-inducing photos.
But let's face it, a picture is worth a thousand words and finding the perfect Instagram caption can be a challenge.
I've come up with the crème de la crème of Sedona Instagram captions that are guaranteed to capture the essence of your adventure and make your followers double tap.
Best Sedona Instagram Captions
Cute Sedona Captions For Instagram
Not leaving anything behind in Sedona but my heart
Nothing but blue skies and heart eyes
Doing this sweet thing called visiting Sedona
Some call it Sedona, I call it heaven
Who needs a crystal ball when you have the mystical vortexes of Sedona?
In Sedona, we have two types of weather: hot and a little less hot
Never met a cactus I didn't like
I'm in a good place right now. Not emotionally, I'm just in Sedona
Trails before ales, pines before wines
Sedona adventures got me feeling like Indiana Jones
A hike a day keeps the doctor away
Sedona looks like a battle on Mars
Sedona's stunning views had me saying 'wow' so many times, I started sounding like an owl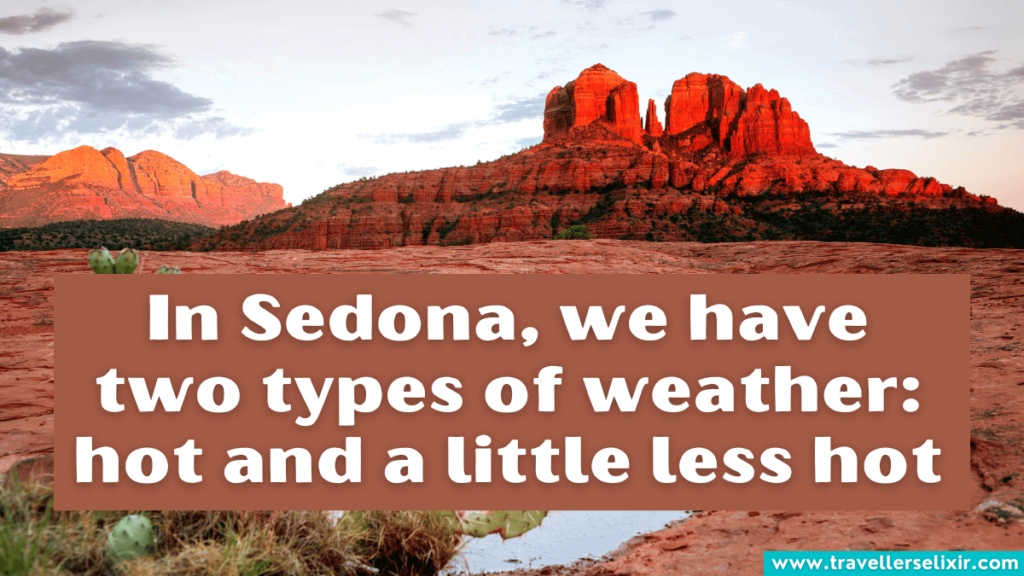 Today's forecast: 100% chance of red rocks
Hiking in Sedona is like a game of rock-paper-scissors except the rocks always win
Happiness is not a state of mind but a trip to Sedona
Sedona: where my hiking skills go from 'wow' to 'ow' in record time
Windows down, wind through my hair, desert dust in my shoes
Sedona, where I climbed rocks like a pro…or more like a clumsy goat
Dear Sedona, I miss you every day
I like long hikes, tall trees and sunsets in Sedona
Sedona: the only place where I can confidently declare 'I'm one with the vortex!'
Up Next: Best Arizona Instagram Captions
Funny Sedona Captions & Sedona Puns
I like big Buttes and I cannot lie
Sedona: serving you just deserts
Canyon feel the love tonight?
Sedona rocks!
Sedona, I'll never desert you
The views in Sedona are beautiful as far as the eye canyon see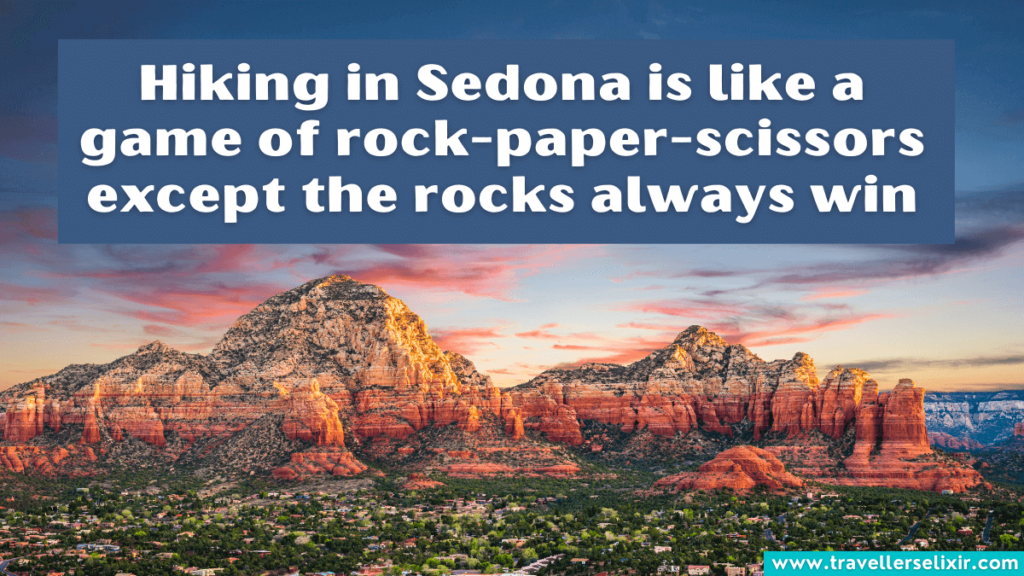 Yes we canyon
Sedona, you've rocked my world
Sedona, you're in fine landform today
I'm rocking my brains for the last time I saw something this beautiful
Sedona: it'll knock your rocks off
In Sedona, you need a canyon do attitude
Let me branch out a little
Sedona, you've cact-us by surprise with your stunning landscapes
The view is tree-mendous!
Playing a real life game of hide and peak in Sedona
I pine for you
Pretty fly for a cacti
You May Also Like: Best Hiking Captions For Instagram
Short Sedona Captions
Desert days and Sedona nights
Red is my favorite color
Wanderlust and desert dust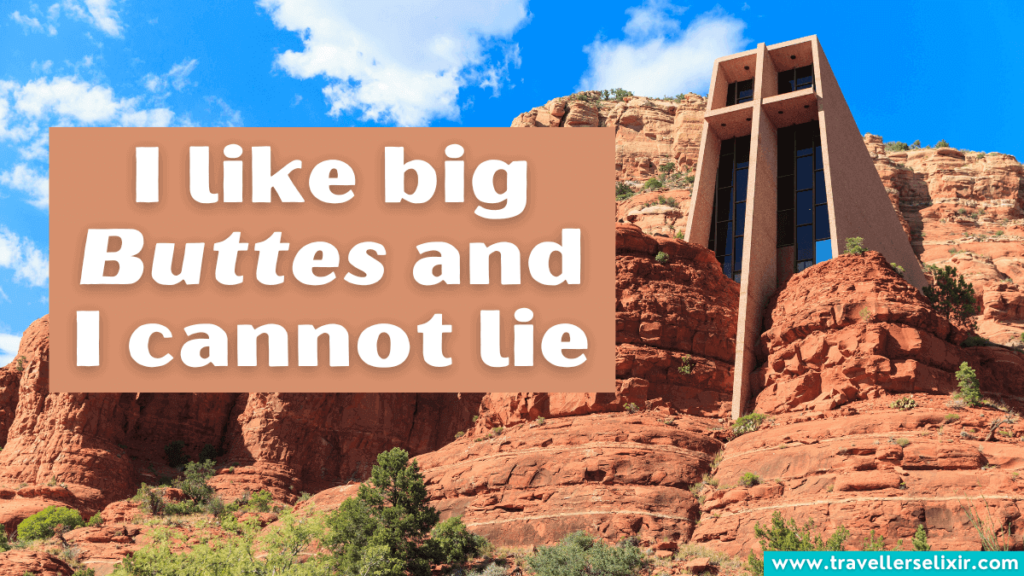 In awe of Sedona
Okay, but first Sedona
The one where I go to Sedona
Lost in red rock paradise
Sedona, you have my heart
Red rock wonderland
Peace, love and desert dust
Mystical vortex vibes
Vibrant desert hues
Finding my Zen
Sedona, I'm yours!
Red rocks & picnicking spots
Daydreaming in Sedona
Lost in red rock paradise
Seeking tranquility in Sedona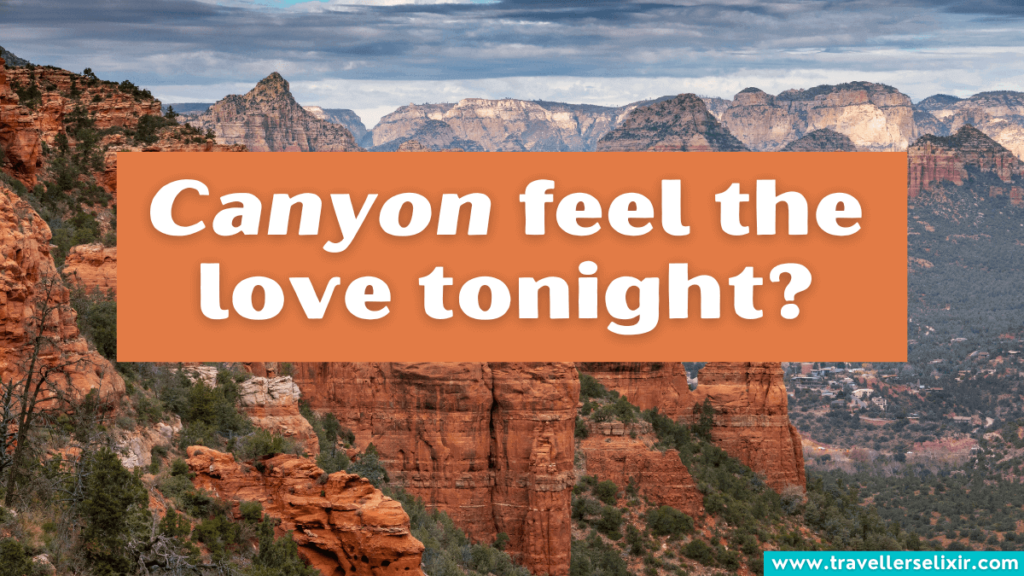 Up Next: Grand Canyon Captions For Instagram
Beautiful & Inspirational Sedona Instagram Captions
Somehow, the stars are just better out here
Living my desert dreams in Sedona
Sedona, where dreams and reality blend into one
Sedona's red rocks and soulful skies had me falling in love with nature all over again
Somewhere between living and dreaming, there's Sedona
Sedona, where every step felt like a dance with nature's rhythm
Of all the paths you take in life, make sure some of them are sandy
Sedona's breathtaking landscapes reminded me that nature's artistry is the best remedy for a weary heart
Sedona's breathtaking vistas stole my breath away and replaced it with pure awe
Finding magic in every corner of Sedona
Lost in the beauty of Sedona's landscapes and found a piece of myself
Sedona stole my heart, one red rock at a time
Sedona, you're the kind of place that makes you feel small yet connected to something greater
Adventures in Sedona created memories I'll cherish forever
Sedona's majestic sunsets painted the sky with colors that only dreams could imagine
In Sedona, I learned to appreciate the beauty of simplicity and the power of nature
Captivated by Sedona's magic, where each moment felt like a page from a fairytale
Sun-kissed and Sedona-blissed
You May Also Like: Phoenix, Arizona Instagram Captions
Sedona Quotes For Instagram Captions
"As I wandered through Sedona's majestic landscapes, I realized that nature's artistry is the purest form of magic." – Traveller's Elixir
"Why didn't I know about Sedona before? Why did no one tell me? It's breathtaking. It's … indescribable. Well, all right, not literally indescribable. You can describe it. You can say, There are these huge red sandstone rocks everywhere, jutting up from the desert, making you feel all tiny and insignificant." – Sophie Kinsella
"The Arizona desert takes hold of a man's mind and shakes it." – David W. Toll
"In the heart of Sedona's canyons, I discovered that nature's vastness has a way of humbling the soul and expanding the spirit." – Traveller's Elixir
"Nowhere on this planet is the desert as fascinating as it is in Arizona." – Joseph Stacey
"In Sedona's embrace, I found a sacred space where my soul danced with the colors of the desert and my heart felt at home." – Traveller's Elixir
"Wow, even the rocks in Sedona meditate!" – Ilchi Lee
"A desert is a place without expectation." – Nadine Gordimer
"In Sedona's embrace, time seems to stand still, allowing our souls to dance freely with the rhythms of the earth." – Traveller's Elixir
"Sedona is beautiful, but your soul is even more beautiful." – Ilchi Lee
"In Sedona's embrace, I found a sanctuary where nature whispers ancient secrets and my spirit finds solace." – Traveller's Elixir
"No matter where in the world I'm coming back from, in Sedona I always feel a sense of safety and peace, as if I've returned to the home of my soul, into the arms of Mother Earth, the red land that always welcomes me with open arms." – Ilchi Lee
"Amidst Sedona's red rock wonders, I discovered the true essence of freedom – being at one with nature and letting my spirit roam." – Traveller's Elixir
"If you need a dream, or if you need to rediscover a dream you've lost, come here to Sedona." – Ilchi Lee
"Sedona's gentle breezes carry whispers of serenity, inviting us to release our worries and surrender to the tranquility of the desert." – Traveller's Elixir
"Sedona is a space of infinite creation in your heart, your greatest dream, and the most sacred moments of your life. And it is the power of your choice to choose hope even in the most difficult moments." – Ilchi Lee
"Sedona's majestic vistas paint a masterpiece in my heart, reminding me of the boundless beauty that surrounds us." – Traveller's Elixir
Up Next: Arches National Park Captions For Instagram
Sedona Hashtags For Instagram Likes
#sedona
#sedonaarizona
#sedonahiking
#sedonavortex
#sedonaaz
#sedonaescape
#visitsedona
#sedonax
#sedonafood
#sedonaredrocks
#sedonaeats
#sedonahikes
#sedonasunset
#sedonatrails
#sedonalove
#sedonaphotography
#hikesedona
#sedonalife
#sedonahikingtrails
#exploresedona
You May Also Like: Las Vegas Captions For Instagram
---
I hope these carefully crafted Instagram captions have inspired you to showcase the magic and beauty of this desert oasis to the world.
From the iconic red rock formations to the tranquil creeks, Sedona has an endless array of sights that will leave you breathless.
Related Posts: