If you're visiting a desert then you're bound to have hundreds of stunning photos that you'll want to post to Instagram.
Nothing goes better with a beautiful photo than a cute caption.
To save you the trouble of thinking up a caption yourself, I've put together this list of the best desert Instagram captions.
Just copy and paste the desert caption straight into Instagram.
Best Desert Instagram Captions
Funny Desert Captions & Desert Puns
I'll never desert you
Pretty fly for a cacti
Serving you just deserts
The desert prickles my fancy
Been there, dune that
How are you dune?
The desert sun is brilliant. It has over five thousand degrees!
I love the desert…even though it gives me the hump sometimes
Having a fan-cactus day in the desert
Aloe my little friend
Talk to the sand
Are we dune yet?
Cute Desert Captions For Instagram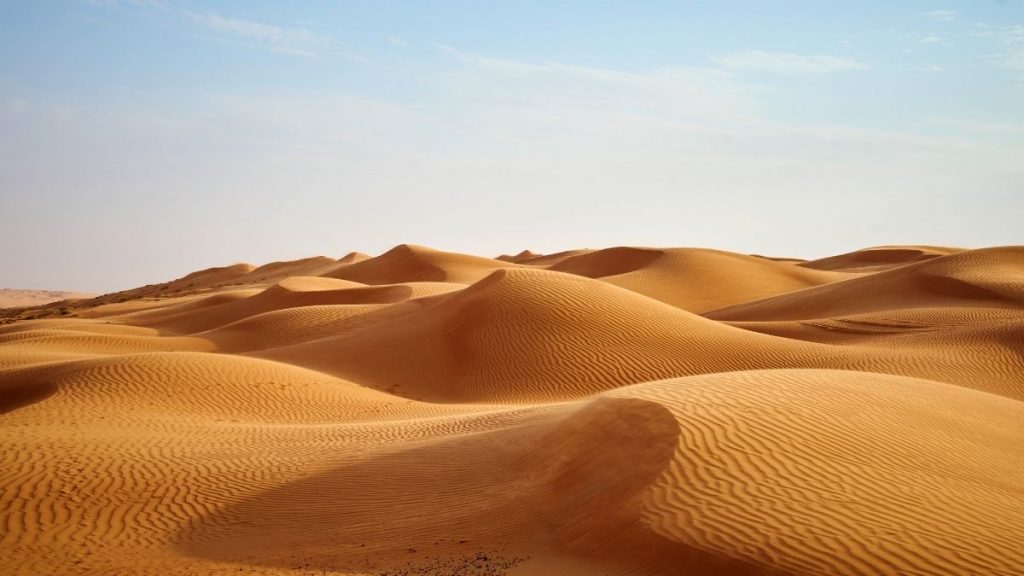 Of all the paths you take in life, make sure some of them are sandy
Never met a desert sunset I didn't like
There's no WiFi in the desert, but I'm definitely going to find a better connection out here
Forever wandering where the WiFi is weak
Catch me under the stars
OK Mother Nature, you didn't need to flex that hard
Just a girl dreaming of the desert
It feels good to be lost in the right direction
Jobs fill your pockets, but adventures fill your soul
Ready to make tracks in the sand
If you're heading to Death Valley you'll be needing these awesome Death Valley Instagram captions & quotes.
Short Desert Captions
Into the desert I go
Wanderlust and desert dust
Sand is my favorite color
Into the dunes
Desert hair, don't care
I was born to explore
Follow me to the desert
Peace, love, and desert dust
Desert hearts
We're going on an adventure
Lost in the desert
Ridin' these dunes
Inspirational & Beautiful Desert Captions
Windows down, wind through my hair, desert dust in my shoes
Somehow, the stars are just better out here
The desert works constantly to forbid it, and still the cactus blooms
If I have ever seen magic, it has been in the desert
Take only memories, leave only footprints
Don't listen to what they say. Go see it for yourself
Sometimes you find yourself in the middle of nowhere. Sometimes, in the middle of nowhere, you find yourself
Life is like a desert. You only regret the oasis you let pass
Cover the Earth before it covers you
Into the desert I go to lose my mind and find my soul
Desert Quotes For Instagram Captions
"The desert, when the sun comes up, I couldn't tell where heaven stopped and the Earth began." – Tom Hanks
"What makes the desert beautiful is that somewhere it hides a well." – Antoine de Saint-Exupery
"The desert tells a different story every time one ventures onto it." – Robert Edison Fulton Jr.
"Adventure is out there." – Up
"I don't see the desert as barren at all; I see it as full and ripe. It doesn't need to be flattered with rain. It certainly needs rain, but it does with what it has, and creates amazing beauty." – Joy Harjo
"I love the desert and its incomparable sense of space." – Robyn Davidson
"A desert is a place without expectation." – Nadine Gordimer
"Night comes to the desert all at once, as if someone turned off the light." – Joyce Carol Oates
"What draws us into the desert is the search for something intimate in the remote." – Edward Abbey
"When you escape to a desert, the silence shouts in your ear." – Graham Greene
"Wherever you go, go with all your heart." – Confucious
"If a flower can flourish in the desert, you can flourish anywhere." – Matshona Dhliwayo
"This creed of the desert seemed inexpressible in words, and indeed in thought." – T. E. Lawrence
"Life is always like a desert. You'll either find an oasis or will end up in a mirage while finding one." – Surimal Kundu
"You can't fight the desert. You have to ride with it." – Louis L'Amour
"But in the desert, in the pure clean atmosphere, in the silence – there you can find yourself." – Father Dioscuros
"Even in the most barren desert, one would still feel one's heart beating." – Marty Rubin
"The desert is a natural extension of the inner silence of the body." – Jean Baudrillard
"The desert is so huge, and the horizons so distant, that they make a person feel small, and as if he should remain silent." – Paulo Coelho
"We all have our own deserts. They may not be the same as my desert, but we all have to cross them to find a purpose in life and be free." – Yeonmi Park
"A rose in a desert can only survive on its strength, not its beauty." – Matshona Dhliwayo
"I knew I was a grain of sand in the vast desert that never ended and he was a sparkling star in the sky." – Aleena Yasin
"It is like being in the desert. At first you listen to the absence of sounds and call it silence. Then suddenly you may be taken by the presence of stillness where you are one with listening itself." – Jean Klein
"And then there is the most dangerous risk of all – the risk of spending your life not doing what you want on the bet you can buy yourself the freedom to do it later." – Randy Komisar
"Sunshine all the time makes a desert." – Arab Proverb
"Travel: the best way to be lost and found at the same time." – Brenna Smith
"Life is like a camel, you can make it do anything but back up." – Marcelene Cox
---
Hopefully this list gave you plenty of ideas for cute desert Instagram captions.
There's a caption here for any photo, from puns to beautiful quotes.
Feel free to copy and paste these Instagram captions for your desert photos.
Related Posts: