From the stunning sand dunes of the Sahara to the breathtaking rock formations of Monument Valley, deserts are some of the most awe-inspiring and otherworldly landscapes on the planet.
Whether you're an avid hiker, a nature lover or just someone who appreciates the beauty of the great outdoors, there's no denying the appeal of the desert.
That's why I've compiled this ultimate list of the best desert Instagram captions that will perfectly complement your photos and inspire your followers.
P.S. Follow me over on IG (@travellerselixir) and tag me in your photo for a share on my story!
Best Desert Instagram Captions
Funny Desert Puns
I'll never desert you
Pretty fly for a cacti
Serving you just deserts
The desert prickles my fancy
Been there, dune that
How are you dune?
Sand-sational views in the desert!
Wearing my camel-flage in the desert…
Cactus makes perfect
The desert sun is brilliant. It has over five thousand degrees!
I love the desert…even though it gives me the hump sometimes
Having a fan-cactus day in the desert
Don't desert me, cactus!
Aloe my little friend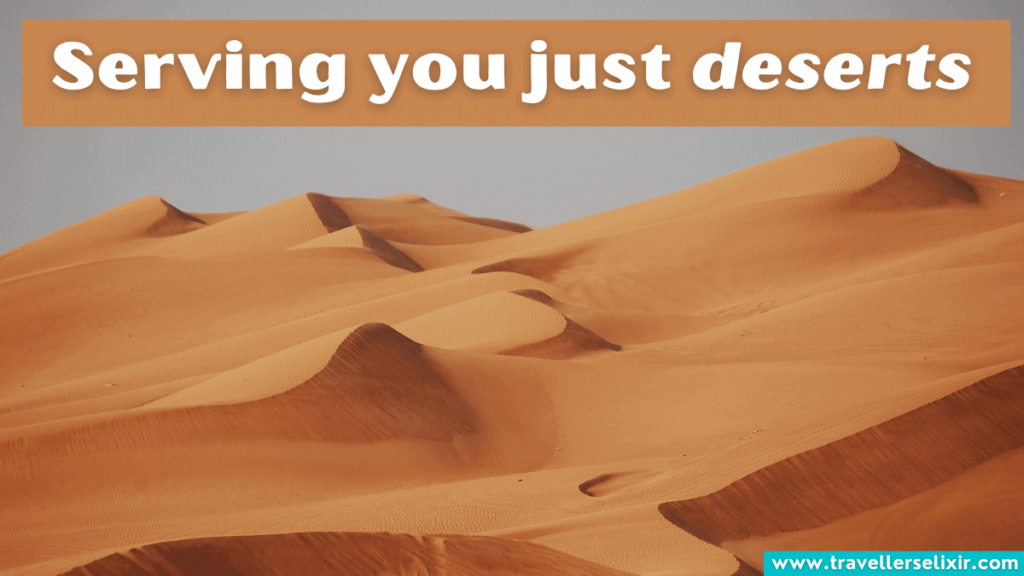 Talk to the sand
Are we dune yet?
Up Next: Dubai Instagram Captions
Funny Desert Captions
In the desert, you can't hear anyone scream. Mostly because it's too darn hot to even talk
I can't tell if I'm sweating or melting….
I thought the desert was supposed to be dry but I'm sweating more than a snowman in July
The desert has a dry sense of humor
I went to the desert and all I got was this sunburn and a cactus needle in my foot
The desert is like a sauna but with more sand and less towels
The desert is like a giant beach, except the sand gets in your eyes, your mouth and your soul
I don't always go to the desert, but when I do, I bring enough sunscreen to cover a small country
I'm convinced that the real treasure of the desert is finding a shady spot to sit and not melt
Why pay for a sauna when you can just visit the desert and get the same effect for free?
The desert is my happy place – no traffic, no people, no problems
You May Also Like: Abu Dhabi Instagram Captions
Cute Desert Captions For Instagram
Of all the paths you take in life, make sure some of them are sandy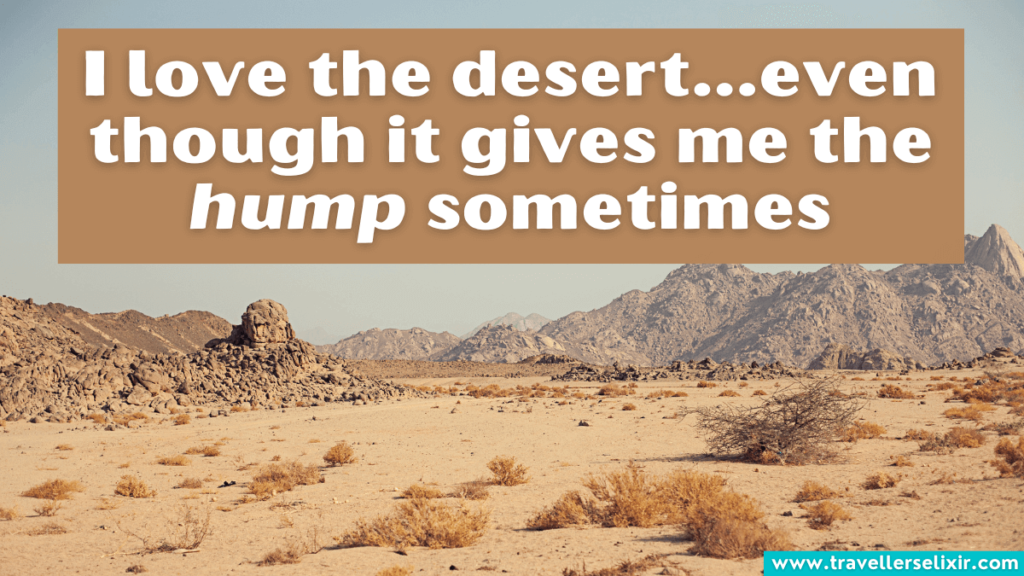 When the desert gives you sand, make sand angels
Never met a desert sunset I didn't like
I'm in a sand daze in the desert
There's no WiFi in the desert but I'm definitely going to find a better connection out here
The desert has a way of making you feel small but in the best way possible
Forever wandering where the WiFi is weak
I came for the stars but I stayed for the magic of the desert
I never knew sand could be so soft until I walked on a desert dune
Catch me under the stars
OK Mother Nature, you didn't need to flex that hard
Just a girl dreaming of the desert
It feels good to be lost in the right direction
Jobs fill your pockets but adventures fill your soul
Visiting the desert was like stepping into a different world – one full of beauty and wonder
Ready to make tracks in the sand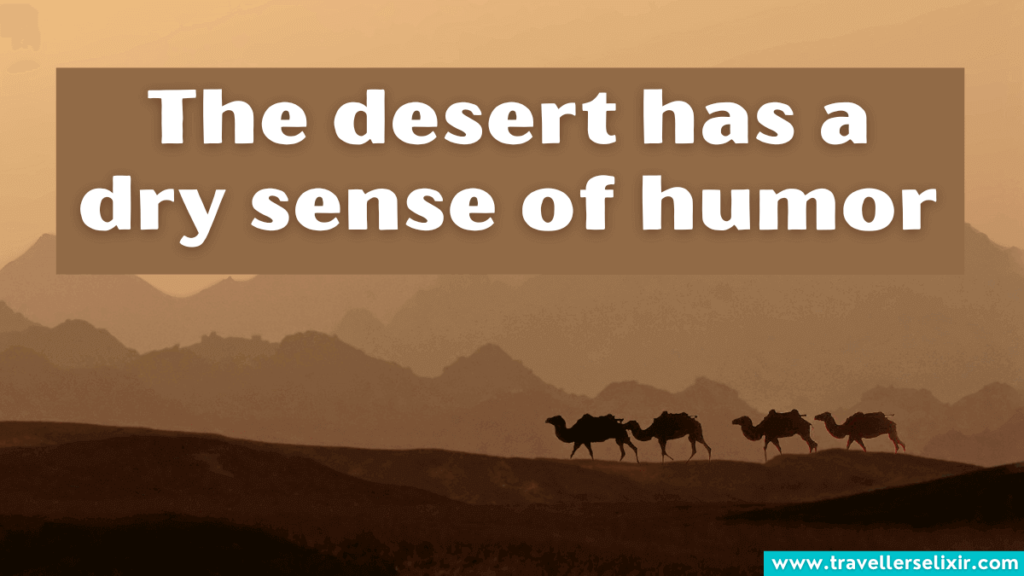 You May Also Like: Death Valley Captions For Instagram
Short Desert Captions
Into the desert I go
Wanderlust and desert dust
Sand is my favorite color
Sun, sand and soul
Nature's masterpiece
Into the dunes
Desert hair, don't care
I was born to explore
Desert dreaming
Sand and sun
Endless horizon
Hotter than hot
Desert vibes
Dune buggin'
Sandy toes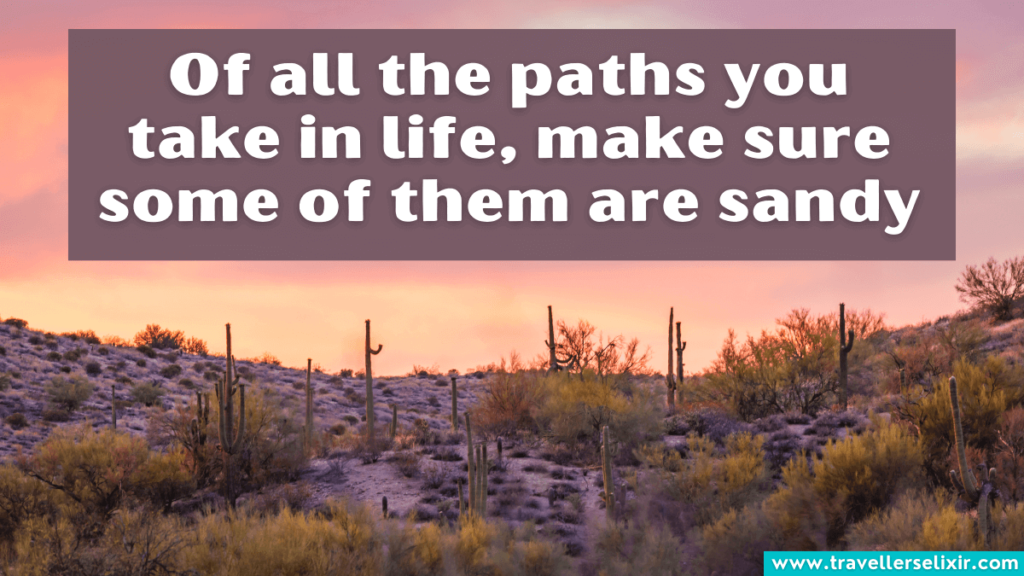 Mirage or reality?
Desert beauty
Follow me to the desert
Peace, love, and desert dust
Desert hearts
We're going on an adventure
Desert wanderer
Dusty adventures
Lost in the desert
Ridin' these dunes
Sandstorm survivor
You May Also Like: Safari Captions For Instagram
Inspirational & Beautiful Desert Captions
Windows down, wind through my hair, desert dust in my shoes
Somehow, the stars are just better out here
I didn't know what to expect when I visited the desert but what I found was nothing short of magical
The desert works constantly to forbid it, and still the cactus blooms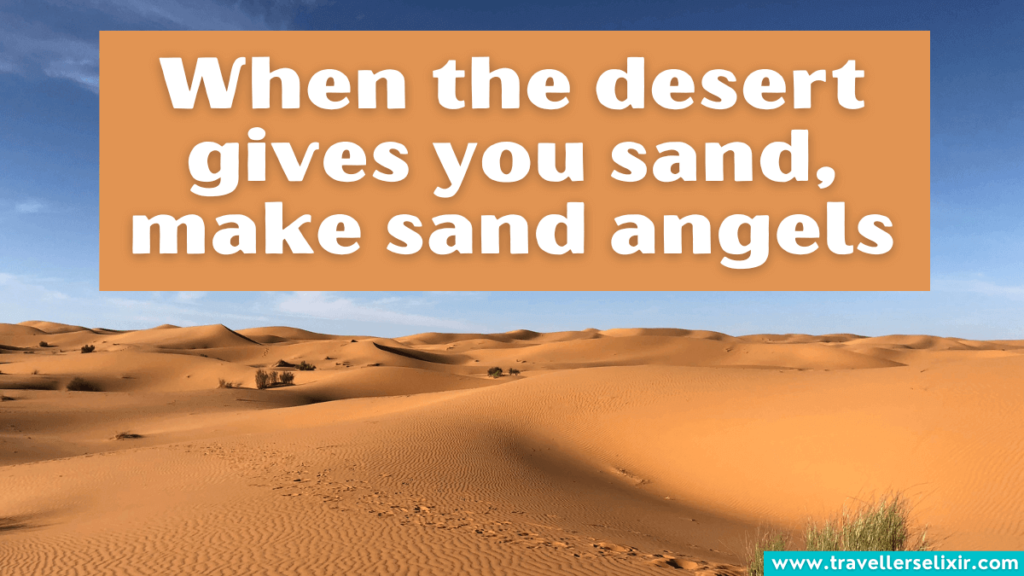 The vastness of the desert is a reminder that there's so much more to explore in this world
If I have ever seen magic, it has been in the desert
I may have left the desert but a part of it will always stay with me
I never thought I'd fall in love with the desert, but here I am, hopelessly smitten
Take only memories, leave only footprints
In the desert, the sunsets are more beautiful than any painting
Don't listen to what they say. Go see it for yourself
Who knew that the desert could be so charming? I'm in love!
Sometimes you find yourself in the middle of nowhere. Sometimes, in the middle of nowhere, you find yourself
I visited the desert and left with a heart full of memories and a camera full of photos
Life is like a desert. You only regret the oasis you let pass
I found peace and serenity in the vast expanse of the desert
In the desert, time seems to stand still. It's the perfect place to slow down and enjoy the moment
Cover the Earth before it covers you
Into the desert I go to lose my mind and find my soul
There's something special about the desert. Maybe it's the quiet or maybe it's the endless expanse of sky. Whatever it is, I can't wait to go back
You May Also Like: Hot Springs Instagram Captions
Desert Quotes For Instagram Captions
"The desert, when the sun comes up, I couldn't tell where heaven stopped and the Earth began." – Tom Hanks
"The desert is a reminder that even in the toughest of environments, life can thrive and flourish." – Traveller's Elixir
"What makes the desert beautiful is that somewhere it hides a well." – Antoine de Saint-Exupery
"The desert is like a blank canvas, waiting for us to add our own colors and create our own stories." – Traveller's Elixir
"The desert tells a different story every time one ventures onto it." – Robert Edison Fulton Jr.
"Adventure is out there." – Up
"I don't see the desert as barren at all; I see it as full and ripe. It doesn't need to be flattered with rain. It certainly needs rain, but it does with what it has, and creates amazing beauty." – Joy Harjo
"I love the desert and its incomparable sense of space." – Robyn Davidson
"A desert is a place without expectation." – Nadine Gordimer
"Night comes to the desert all at once, as if someone turned off the light." – Joyce Carol Oates
"What draws us into the desert is the search for something intimate in the remote." – Edward Abbey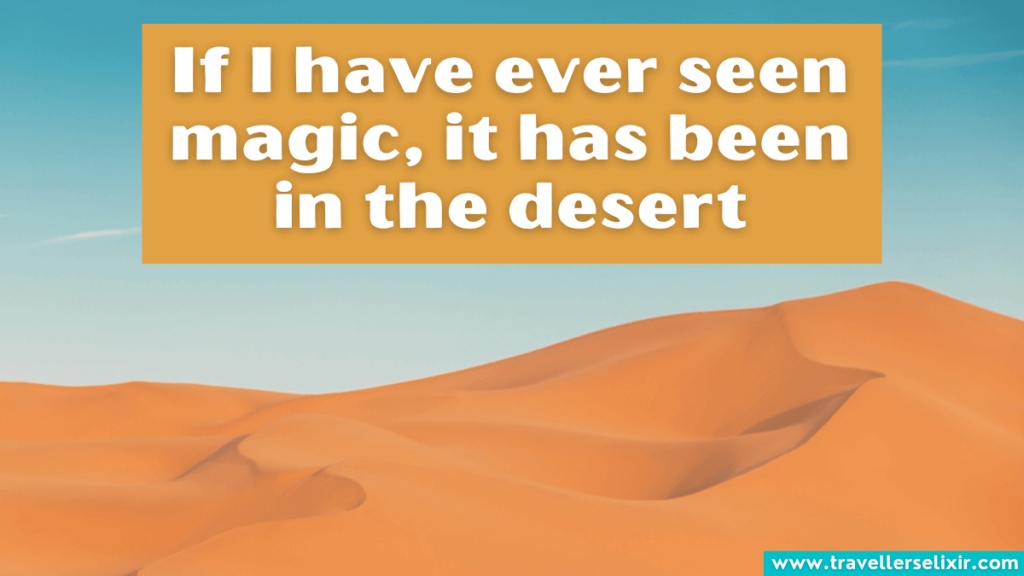 "When you escape to a desert, the silence shouts in your ear." – Graham Greene
"Wherever you go, go with all your heart." – Confucious
"If a flower can flourish in the desert, you can flourish anywhere." – Matshona Dhliwayo
"This creed of the desert seemed inexpressible in words, and indeed in thought." – T. E. Lawrence
"Life is always like a desert. You'll either find an oasis or will end up in a mirage while finding one." – Surimal Kundu
"You can't fight the desert. You have to ride with it." – Louis L'Amour
"But in the desert, in the pure clean atmosphere, in the silence – there you can find yourself." – Father Dioscuros
"In the desert, I found a sense of peace that I never knew existed. It's a place where the vast expanse of the landscape puts everything into perspective." – Traveller's Elixir
"Even in the most barren desert, one would still feel one's heart beating." – Marty Rubin
"The desert is a natural extension of the inner silence of the body." – Jean Baudrillard
"The desert is so huge, and the horizons so distant, that they make a person feel small, and as if he should remain silent." – Paulo Coelho
"We all have our own deserts. They may not be the same as my desert, but we all have to cross them to find a purpose in life and be free." – Yeonmi Park
"A rose in a desert can only survive on its strength, not its beauty." – Matshona Dhliwayo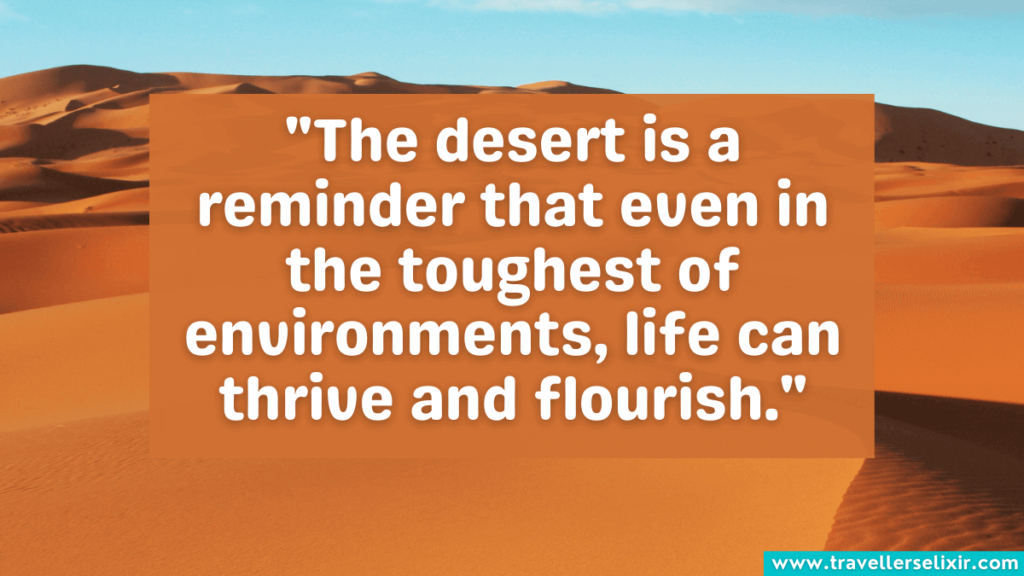 "I knew I was a grain of sand in the vast desert that never ended and he was a sparkling star in the sky." – Aleena Yasin
"The desert is a canvas, waiting for the artist to add their own colors. It's a place where the imagination can run wild and create something truly beautiful." – Traveller's Elixir
"It is like being in the desert. At first you listen to the absence of sounds and call it silence. Then suddenly you may be taken by the presence of stillness where you are one with listening itself." – Jean Klein
"The desert may seem barren and lifeless, but it's full of surprises. It's a place where you can find hidden gems and unexpected beauty." – Traveller's Elixir
"And then there is the most dangerous risk of all – the risk of spending your life not doing what you want on the bet you can buy yourself the freedom to do it later." – Randy Komisar
"Sunshine all the time makes a desert." – Arab Proverb
"Travel: the best way to be lost and found at the same time." – Brenna Smith
"Life is like a camel, you can make it do anything but back up." – Marcelene Cox
Up Next: Waterfall Instagram Captions
Desert Hashtags For Instagram Likes
#desert
#desertlife
#desertrose
#desertsafari
#desertvibes
#desertphotography
#deserts
#desertliving
#desertlandscape
#desertstorm
#desertlove
#deserthearts
#desert🌵
#desertsky
#deserttrip
#desertbeauty
#desertsunset
#deserthike
#deserthiking
#desertscape
You May Also Like: Sunrise Instagram Captions
---
That's a wrap on my list of the best desert Instagram captions!
Whether you've already explored the arid landscapes of the desert or are planning your next adventure, I hope these captions have inspired you to share your experiences on social media.
From the majestic canyons to the sprawling dunes, deserts offer endless opportunities for stunning photography and unforgettable memories.
Related Posts: