Dubai is a city that's made for the gram with its stunning skyscrapers, luxurious resorts and picturesque landscapes.
From the Burj Khalifa to the Palm Jumeirah, there are endless opportunities to capture the perfect shot. But let's face it, finding the right caption can be a daunting task.
Don't worry, I've got you covered with this list of the best Dubai Instagram captions that will make your followers double-tap.
Visiting Dubai? I recommend this Dubai desert dune bashing experience! It's the best rated tour available and is so much fun.
Best Dubai Instagram Captions
These captions work for any place you're visiting in Dubai including the Burj Khalifa, Atlantis, Dubai Desert and Burj Al Arab.
I'll have a skyscraper there… and there… oh, and the tallest building in the world just over there…
Dubai, the only place where the sky is not the limit
A jewel in the desert
Dubai, you have my heart
Dubai? That's not a place, it's a dream
All that glitters is Dubai
Hello Dubai, your lights are fireflies in my heart
Let's find some beautiful place and get lost in it
Money can't buy happiness but it can buy a ticket to Dubai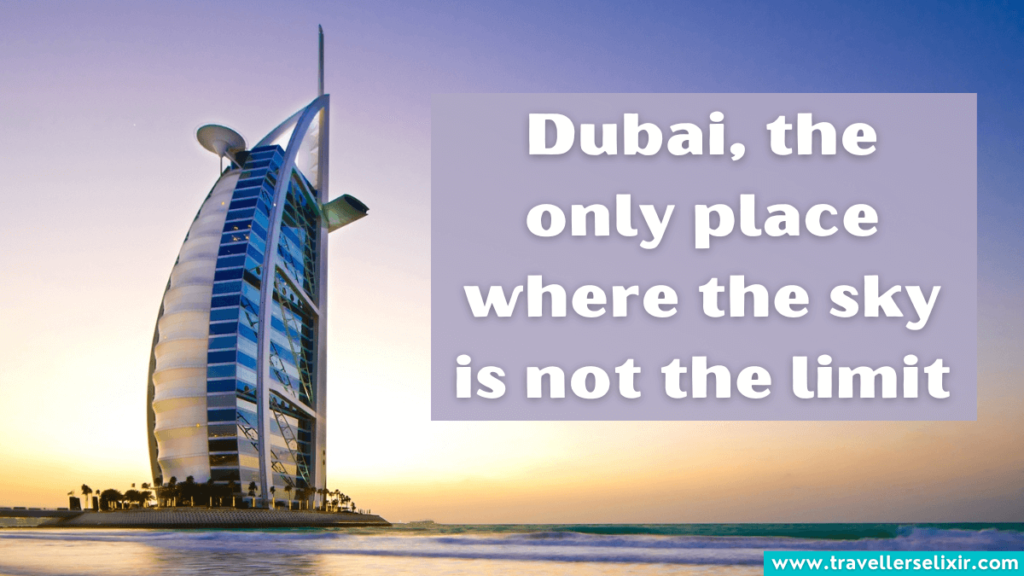 You name it, Dubai has it. Or if it doesn't have it, it's building it
Life is better where there are palm trees
I love Dubai. In every way
Just a girl dreaming of Dubai
Watching the world go by on a day out to the souk
Dubai, a place where the skyline is only the beginning of the adventure
Nothing tastes as sweet as a Dubai sunset
I can finally tick Dubai off my bucket list
Money can't buy happiness. Habibi, come to Dubai
This city taught me the definition of thinking big
Doing this sweet thing called visiting Dubai
Dubai, you have stolen my heart and my passport
Dubai is so hot, I'm melting like a sundae on Sheikh Zayed Road
Up Next: Abu Dhabi Instagram Captions
Funny Dubai Captions & Dubai Puns
Du-bye
I have a friend who went to Dubai for vacation. I asked him…Dubai anything?
This palace is a breath of fresh heir
Keep palm and carry on
Been there, dune that
Riding a camel really isn't that hard. Once you get over the first hump, the rest is easy!
Antique shop owners in the Middle East have one rule. You break, Dubai
How are you dune?
What did the camel say to the Oasis? I'll never desert you
Talk to the sand
Dubai: serving you just deserts
I'm about to Burj some bridges
Girls just wanna have sun!
Suite dreams
I Dubai-t that anyone can resist the charm of this city!
You May Also Like: Fun Palm Tree Instagram Captions
Short Dubai Instagram Captions
Feeling fine in Dubai
Got Dubai on my mind
Dubai is like a rose in the desert
Goodbye reality, hello Dubai
Dubai is my therapy
I wonder if Dubai misses me too
I need vitamin D…Dubai
Filling my camera roll with pictures of Dubai
Dubai is calling my name!
I really, really like Dubai
This is how we do it in Dubai
I left my heart in Dubai (and some dirhams too)
Dubai is always a good idea
I came, I saw, I fell in love with Dubai
I never met a sunset in Dubai that I didn't like
Up Next: Istanbul Instagram Captions
Best Burj Khalifa Instagram Captions
On top of the world…literally!
Dubai has its crown jewel and it's called the Burj Khalifa
Meet me at the Burj Khalifa
New Year, Same Burj
Majestic and mighty, we rise
Head in the clouds
I'm on top of the world, or at least the Burj Khalifa
No big deal, just hanging out with the tallest building in the world
The Burj Khalifa truly scrapes the skies
And the winner for the best skyscraper goes to…
When I see the Burj Khalifa, my eyes turn into little hearts
Who needs a magic carpet when you have the Burj Khalifa as your ride?
Tonight the world becomes smaller
From the ground up, the Burj Khalifa is a masterpiece
As the sun sets, the lights of the Burj Khalifa illuminate Dubai
I think the Burj Khalifa just raised my expectations for everything else in life
Breathtaking views from the world's tallest building
From the earth to the sky
Being this high off the ground I feel air-mazing
You May Also Like: Maldives Instagram Captions
Dubai Desert Instagram Captions
Soaking up the sun in the desert
Into the desert I go
Of all the paths you take in life, make sure some of them are sandy
Desert hearts
Lost in the desert
I came for the sand but stayed for the serenity
Into the desert I go to lose my mind and find my soul
Ridin' these dunes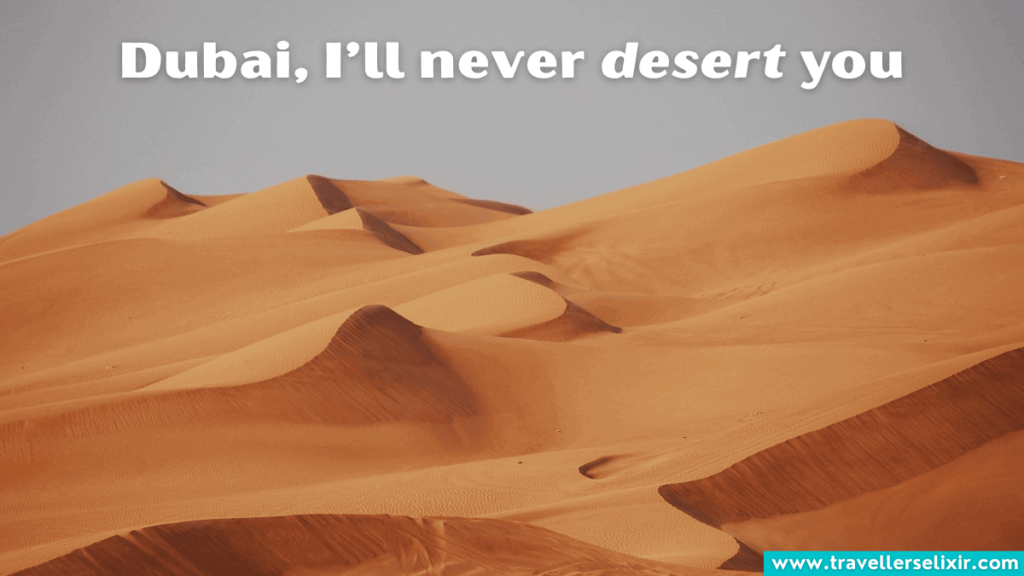 The Dubai desert is the perfect place to disconnect from the world and reconnect with yourself
Dubai, I'll never desert you
Everything makes sense in the desert
Not all those who wander are lost, some just end up in the Dubai desert
I have always loved the desert. One sits down on a desert sand dune, sees nothing, hears nothing
Sun, sand and soul searching in the Dubai desert
"Desert, in general, is a very good place to find yourself. Or lose yourself." – Maynard James Keenan
Just another day at the office…in the Dubai desert
"If a flower can flourish in the desert, you can flourish anywhere." – Matshona Dhliwayo
For more awesome desert puns, check out these awesome desert captions for Instagram.
Inspiring Dubai Instagram Captions
Dubai, where the desert meets the sea and dreams become reality
Sometimes, you need to stop and smell the roses. And sometimes, you just need to sit in a luxurious car and roll around Dubai for the day
Behold the red and gold of the sunset. This is Dubai at its most picturesque, when the sun leaves a shimmering blaze of dusk on sails as buildings, boats and bridges twinkle in the distance all around
Dubai, where the sand is my yoga mat and the sea is my therapist
You can leave Dubai, but it will never leave you
Somewhere between living and dreaming, there's Dubai
Dubai, the city that never fails to take my breath away
Dubai is my favorite place to connect with myself and the universe
Dubai is like a mirage, but better – it's real and it's spectacular!
If I have ever seen magic, it has been in Dubai
Dubai is a city that constantly reminds me to dream big and reach for the stars
Dubai, where every day feels like a fairytale
Somewhere over the rainbow, you will find Dubai
Feeling so blessed to be in Dubai, the city of dreams
Walking through a concrete jungle
Dubai, a place where I feel alive and free to be whoever I want to be
I've found my paradise, and it's called Dubai
Up Next: Kuala Lumpur Instagram Captions
Short Quotes About Dubai For Instagram
"Dubai's a pretty powerful place!" – Solange Knowles
"Dubai is a vibrant city: big cars, big buildings." – John Rocha
"Dubai is a city that dreams beyond limits, where impossible becomes possible." – Traveller's Elixir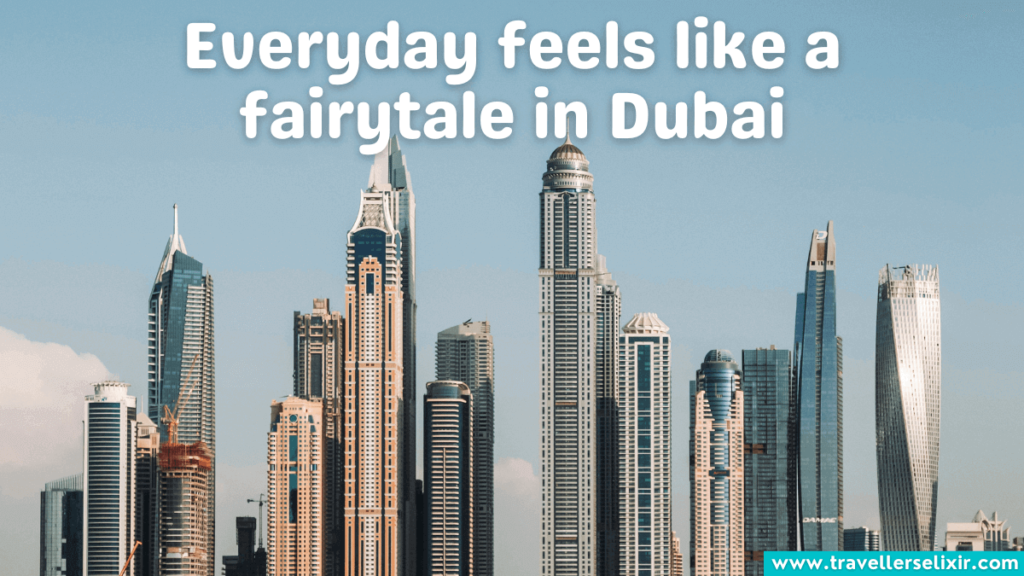 "When you escape to a desert, the silence shouts in your ear." – Graham Greene
"There is so much to discover in Dubai." – Mo Farah
"Sunshine all the time makes a desert." – Arab Proverb
"We in the UAE have no such word as 'impossible." – Mohammed bin Rashid Al Maktoum
"Dubai, with all of its glitz and glamour, rose in the heart of the desert." – Soroosh Shahrivar
"I want to go to – what's that hot country with a lot of money? – Dubai." – Grandmaster Flash
"A desert is a place without expectation." – Nadine Gordimer
You May Also Like: New York City Instagram Captions
Dubai Quotes For Instagram Captions
"Dubai is a city where the sky is not the limit, but rather a canvas waiting for the next masterpiece to be painted." – Traveller's Elixir
"I want Dubai to be a place where everybody from all over the world meets each other." – Mohammed bin Rashid Al Maktoum
"Dubai is a place where luxury meets adventure, and every moment is an opportunity to create unforgettable memories." – Traveller's Elixir
"We are living proof that when human beings have the courage and commitment to transform a dream into reality, there is nothing that can stop them. Dubai is a living example of that." – Mohammed bin Rashid Al Maktoum
"Dubai is a city that never sleeps, a place where the energy and excitement are contagious." – Traveller's Elixir
"People often refer to Dubai as the Hong Kong of the Gulf, but it's really more like Vegas." – Tucker Carlson
"Dubai is a place where dreams are not only made, but also lived and celebrated." – Traveller's Elixir
"The desert tells a different story, every time one ventures into it." – Robert Edison Fulton Jr.
"Dubai is a city that sparkles in the sun and shines even brighter at night, a true gem of the Middle East." – Traveller's Elixir
"There's so much beauty when your eyes lay lost in the city lights." – Motionless In White, "City Lights"
"Dubai is a city where the impossible becomes possible, and the unimaginable becomes reality." – Traveller's Elixir
"I wanna move to Dubai, so i don't never have to kick it with none of you guys." – Drake
"I love living in London but I would like to buy a place in Dubai and spend a few months of the year out there." – Kevin Pietersen
"Dubai is a city that constantly reinvents itself, where innovation and creativity are not just buzzwords, but a way of life." – Traveller's Elixir
"I am looking forward to going to Dubai because it gives us an opportunity to interact with each other. We can sit and enjoy each other's company. We can go out for a walk without worrying about schedules." – Amitabh Bachchan
"I like Dubai because of the sheer scale on which the city is built. It is completely futuristic but with a warm, old-world ethos." – Prabhas
"Dubai is a city of contrasts, where modern meets traditional and the past meets the future." – Traveller's Elixir
Dubai Hashtags For Instagram Likes
#dubailife
#mydubai
#dubailifestyle
#dubaiblogger
#dubaiinstagram
#dubaitourism
#dubaitravel
#dubaidesert
#dubaiskyline
#dubainight
#dubailuxury
#dubaistyle
#dubaicity
#dubailove
#burjkhalifadubai
#burjkhalifaview
---
I hope my list of the best Dubai Instagram captions has inspired you to capture the beauty of this magnificent city and share it with the world.
From desert safaris to world-class shopping, Dubai has it all. So what are you waiting for? Start planning your trip and get ready to create some Instagram magic!
Related Posts: