Welcome to the city of Kuala Lumpur, where the vibrant colors, delicious cuisine and stunning architecture provide the perfect backdrop for any Instagram photo.
Whether you're visiting the iconic Petronas Towers, exploring the bustling markets of Chinatown or sipping on a coconut at a cafe, Kuala Lumpur is a photographer's paradise.
I've put together a list of the best Kuala Lumpur Instagram captions that are guaranteed to make your followers hit that like button and leave them dreaming of their next adventure in the city.
P.S. Follow me on Instagram (@travellerselixir) and tag me in your photo for a share on my story!
Best Kuala Lumpur Instagram Captions
These captions work for any place you're visiting in Kuala Lumpur including Batu Caves, the Petronas Towers, KL Tower and more.
Cute Kuala Lumpur Captions For Instagram
Hello Kuala Lumpur, your lights are fireflies in my heart
I left my heart in Kuala Lumpur
I don't always take selfies in front of iconic landmarks, but when I do, it's at the Petronas Towers in Kuala Lumpur
Meet me at the Petronas Towers
Visited the Batu Caves in Kuala Lumpur and now I'm convinced I could be a professional stair climber. Olympic trials, here I come!
I'm just a small-town girl with big city dreams
Just had the best Nasi Lemak of my life in Kuala Lumpur. Sorry, Mom's cooking
I found a gate to heaven in Malaysia
Exploring Kuala Lumpur's street food scene one satay stick at a time. No regrets, except for maybe the extra 10 pounds
My bank account may be hurting after this trip to Kuala Lumpur but at least my Instagram grid is poppin'
KL, are you shining just for me?
Just got lost in the maze that is Central Market Kuala Lumpur. Send help (and snacks)
In Kuala Lumpur, it is never too late to dream a new dream
Kuala Lumpur is calling and I must go
I thought I was ready for the heat in Kuala Lumpur but my sweat glands beg to differ
I thought I was getting a tan in Kuala Lumpur but turns out it was just pollution
These bright lights are my sunshine
Dear Kuala Lumpur, I will never get over you
You May Also Like: Best Singapore Instagram Captions
Funny Kuala Lumpur Captions & Kuala Lumpur Puns
Where do Koalas like to go on holiday? Koala Lumpur
Kuala Lumpur, I a-durian you!
Malay all your dreams come true!
Con-batu-lations KL, you've stolen my heart!
If you need me, I'll be in Malaysia, eating my way through the country
I'm Kuala-lumping for joy in this amazing city!
I thought I knew what humidity was until I visited Malaysia
There's not time to be malay-ing around!
I finally cave-d in and visited KL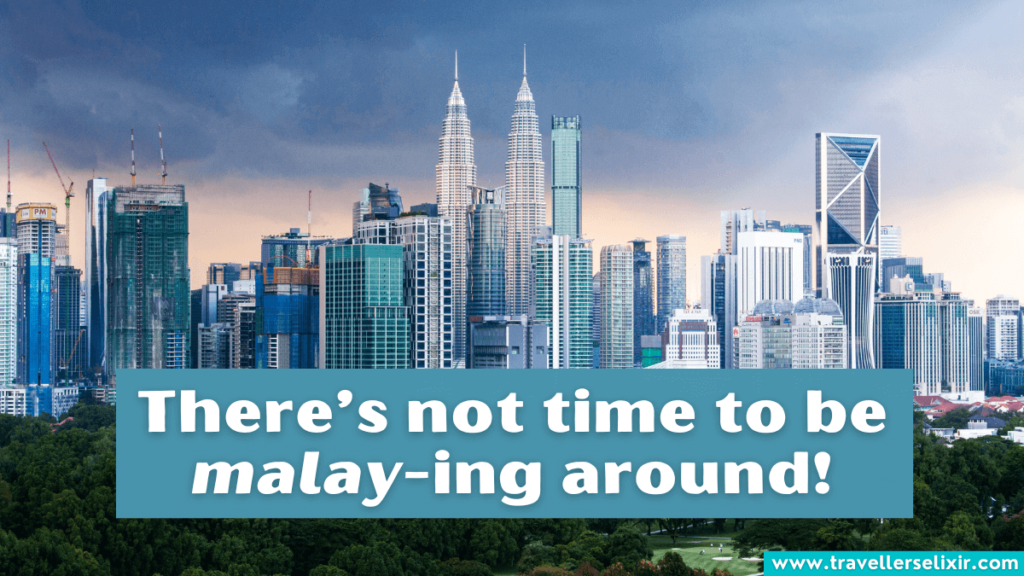 Malaysia, where the weather is hot but the food is hotter!
Up Next: Vietnam Instagram Captions
Short Kuala Lumpur Captions
Bright lights, big city
Malaysia, truly Asia
Lost in the charm of Kuala Lumpur
All you need is love and skylines
The colors of Kuala Lumpur are mesmerizing
In awe of Kuala Lumpur's beauty
Where skyscrapers touch the sky
Making a stop at KL Tower
Take me to Kuala Lumpur
A city of contrasts
Discovering the wonders of Malaysia
Magical moments in Kuala Lumpur
A melting pot of cultures
You May Also Like: Hong Kong Instagram Captions
Kuala Lumpur Quotes For Instagram Captions
"Kuala Lumpur is a symphony of colors, cultures and cuisines that come together in perfect harmony." – Traveller's Elixir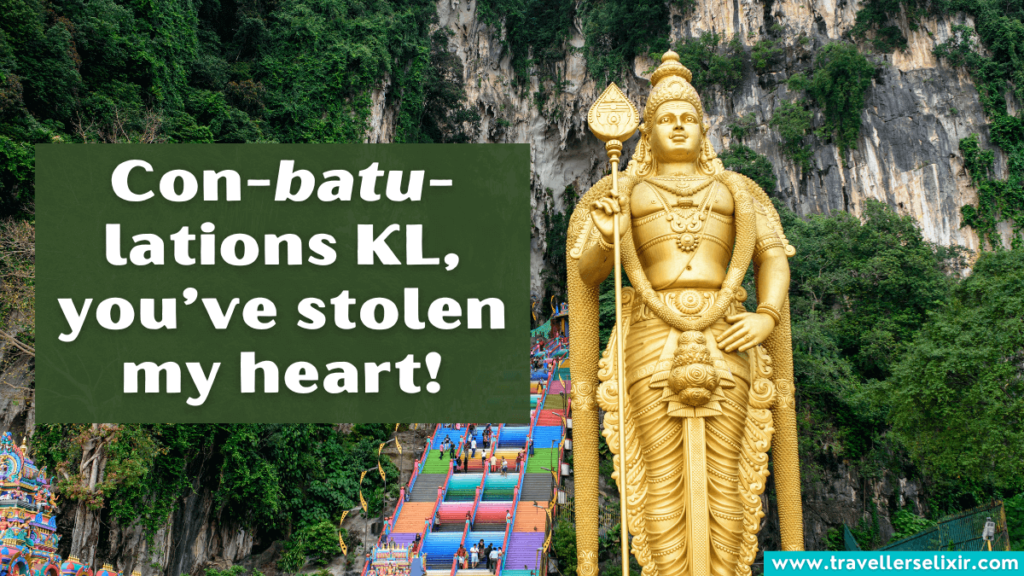 "Kuala Lumpur is a place where you can lose yourself in the streets and find yourself in the culture." – Traveller's Elixir
"Kuala Lumpur rises up out of steamy, equatorial, Southeast Asian jungle, Malaysia's capital city – a chaotic, multiethnic, multicultural modern metropolis of Malay, Chinese, and Indian." – Anthony Bourdain
"In Kuala Lumpur, every step is a journey and every moment is a treasure." – Traveller's Elixir
"Kuala Lumpur is a city that invites you to explore, to taste and to dream." – Traveller's Elixir
"Kuala Lumpur is a city that leaves an imprint on your soul, a memory that stays with you forever." – Traveller's Elixir
"The beauty of Kuala Lumpur lies in its ability to embrace the new without forgetting the old." – Traveller's Elixir
"Kuala Lumpur is a city that evokes the senses, from the taste of its street food to the sights of its skyline." – Traveller's Elixir
"Covering a full spectrum of cuisine from Portuguese, Arab and Indian to Chinese, Thai and Indonesian, Malaysian food is a fascinating journey of all that is 'truly Asia' in one nation." – Norman Musa
"Kuala Lumpur is a canvas painted with the brushstrokes of tradition, diversity and modernity." – Traveller's Elixir
"Kuala Lumpur is a city that reminds you that diversity is not a barrier but a bridge." – Traveller's Elixir
Up Next: Best Bali Instagram Captions
Kuala Lumpur Hashtags For Instagram Likes
#kualalumpur
#kualalumpurmalaysia
#kualalumpurcity
#kualalumpurfood
#kualalumpurtrip
#kualalumpurmalaysia🇲🇾
#kualalumpurtravel
#klcc
#klccview
#malaysia
#malaysiatrending
#malaysiafood
#malaysiatrulyasia
#malaysia🇲🇾
#instamalaysia
#malaysiatravel
You May Also Like: Best Japan Instagram Captions
---
As you wrap up your trip in Kuala Lumpur and reflect on all the amazing moments you captured on Instagram, I hope my list of the best captions helped you tell your story in a fun and creative way.
Whether you're reminiscing on the delicious food, stunning views or unforgettable experiences, I know these captions will help bring back those cherished memories.
Related Posts: