No doubt if you've visited Singapore recently, you have a million incredible photos to upload to Instagram (I know I sure did!).
Nothing goes better with a beautiful photo than a great Instagram caption.
I like to think I'm the queen of Instagram captions so here's my take on the best Singapore Instagram captions including cute captions, puns, funny captions and quotes.
Best Singapore Instagram Captions
Cute Singapore Captions For Instagram
Let's start off with some cute captions that capture everything you want to say about Singapore.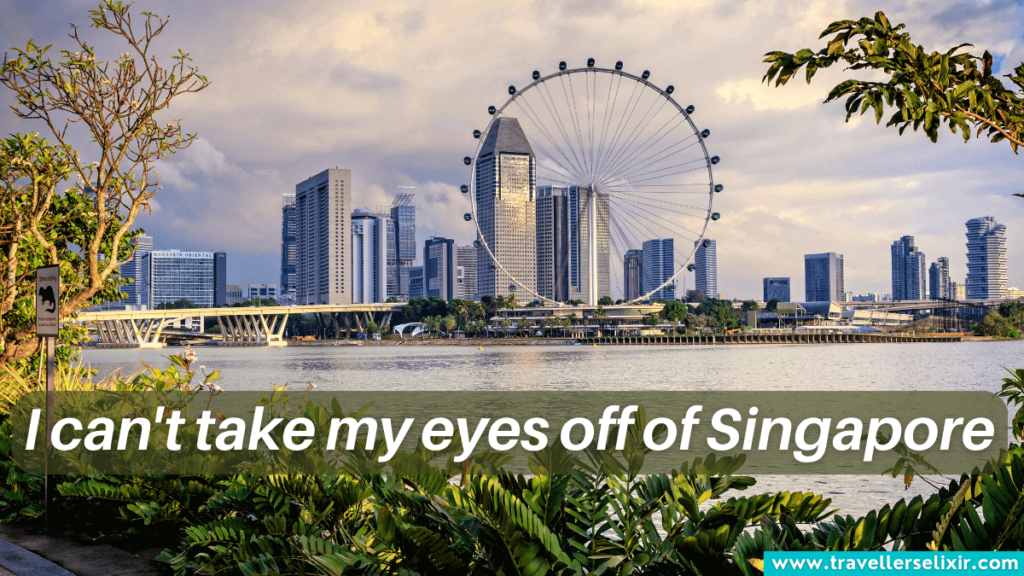 I think I fell in love with Singapore
On the verge of calling my boss and saying that I'm never coming back
Singapore is calling and I must go
A concrete version of paradise
Buildings so tall they make me feel small
Hello Singapore, your lights are like fireflies in my heart
Hey Singapore, meet your newest resident (me).
I mean come on, where else in the world has giant, light-up trees!?
I would give the greatest sunset in the world for one sight of the Singapore skyline with you
Oop, I'm catching all the feels for Singapore
Here for the views and a Singapore Sling
You can leave Singapore but it will never leave you
They say 'do what makes you happy' so I bought a ticket to Singapore
Ripping up that plane ticket because I'm never going home
I can't take my eyes off of Singapore
My heart is bursting, this city is too beautiful
You can't buy happiness but you can buy a ticket to Singapore
Lights so bright, I bet you'd see them from space
Did this Botanic Garden come straight from heaven??
There's no time to be bored in a city as beautiful as this
Nowhere does it like Singapore
Singapore, thank you for making me feel so alive
I'm literally about to tie myself to this giant tree so I don't have to leave Singapore
An enchanted forest (Gardens by the Bay)
Here for the views and merlions
Sorry for what I said when I wasn't sipping a cocktail by Marina Bay
Buying an extra suitcase and filling it with chilli crab (it's that delicious)
Singapore is a place like no other
They call this place the 'Garden City' and I can see why
Singapore, you have my heart
Hiding from my problems in Marina Bay
This chicken rice is so good that I'm thinking of moving here
A bad day in Singapore is still better than a good day anywhere else
There is no cure for Singapore
Did this bay come straight out of my dreams?!
Who needs a boyfriend when you have Singapore??
Hey Singapore, you're beautiful
You're gonna have to drag me out of Singapore because I'm never leaving
An enchanted forest full of surprises
Funny Singapore Captions & Singapore Puns
Sometimes I like being punny (lol, bad joke). Here's some funny Singapore captions that will make your friends giggle (or sigh, I'm not making any promises).
Lion around Singapore
I'm tired of your crab-itude now get me some more chilli crab!!
Avatar or Singapore?
I'm not lion, Singapore is beautiful!
I'd be lion if I said I didn't love Singapore
Erm I think I left my heart in Singapore, better go back and get it
Tree-t yourself
Hey Singapore, I'm rooting for ya
This chilli crab is clawsome!
I'd sing for Singapore
I'm Singa-pouring my heart out to you
Marina Bay, will you marry me?
The Garden City can plant one on me
Well this is claw-kward…
Singapore sure does light me up!
Oh crab! Is it time to go home already?
Marina Bay is tree-mendous
I'm water-falling for Singapore
Erm I think I just wet my plants in the Botanic Garden!!
You grow girl
That's a Laksa food but I think I can manage it
Short Singapore Captions
Sometimes captions should be just short and sweet, right?!
Singapore scenes
I see you, Singapore
Singapore sights
Wow, wow, wow
Want more of Singapore
The Lion City
The city of lights
A thousand lights
Giant trees, anyone?
Singapore Sling
Say no more, Singapore
Singapore Quotes For Instagram Captions
Here are my favorite quotes about Singapore that would make perfect Instagram captions.
"There's nowhere that looks like Singapore; it's absolutely beautiful on a purely aesthetic level." – Lisa Joy
"If you asked me to choose one city to live in for the rest of my life, I'd choose Singapore in a heartbeat." – Traveller's Elixir
"Singapore is the happiest place in Asia." – Dan Buettner
"Singapore is like nowhere I've ever seen before. It's flashy, it's glamorous and it's the place I want to be." – Traveller's Elixir
"Singapore has always held a special place in my heart." – Asha Bhosle
"Singapore is what your city could become if everyone obeyed the rules, did their jobs diligently, and just shut up. When your city gets to be this paragon of efficiency and discipline, would you still want to live there? Singapore is a model city, which is terrific if you happen to be a model human." – Jessica Zafra
"Singapore really does put on a show every single night just by existing." – Traveller's Elixir
"I could never leave Singapore. It's everything I want and need." – Traveller's Elixir
"Nobody in Singapore drinks Singapore Slings. It's one of the first things you find out there. What you do in Singapore is eat. It's a really food-crazy culture, where all of this great food is available in a kind of hawker-stand environment." – Anthony Bourdain
"There's New York, there's London, there's Chicago but there's nothing quite like Singapore." – Traveller's Elixir
"Singapore is a pretty special race with it being held at night; it makes a great show for the fans." – Romain Grosjean
"If I had infinite money and time, I'd go to Singapore in a heartbeat and never look back." – Traveller's Elixir
---
Hopefully, this list gave you some ideas for cute Singapore captions for Instagram.
There's a caption here for any photo, from puns to beautiful quotes.
Feel free to copy and paste these Instagram captions for your Singapore photos.
Related Posts: