If you've ever been to Vietnam then you'll know that this Southeast Asian gem is a photographer's paradise.
From the bustling streets of Ho Chi Minh City to the serene landscapes of Ha Long Bay, there's no shortage of stunning sights to capture and share with the world.
I've curated a list of the best Vietnam Instagram captions that are sure to make your followers double-tap and leave them yearning for their own adventure in this beautiful country.
Visiting Vietnam? I recommend this Ha Long Bay cruise which is super highly rated.
Best Vietnam Instagram Captions
These captions work for any place you're visiting in Vietnam including Hanoi, Ho Chi Minh City, Da Nang, Hoi An and more.
Funny Vietnam Captions & Vietnam Puns
You're really starting to Hanoi me
No Hue, Jose
I knew we would Hai Phong on this trip, but I didn't know just how much!
Sapa can you hear me?
Ha Long till I come back?
I wanna stay here pho-ever!
Just spent a week in Vietnam and my pho-to album is looking pretty good
I'm a Cat Ba lady
The food in Vietnam is pho-nomenal!
Is this pho real?
You can't banh mi from this restaurant! It's too delicious!
Vietnam is a bun cha fun!
1, 2, 3, pho, 5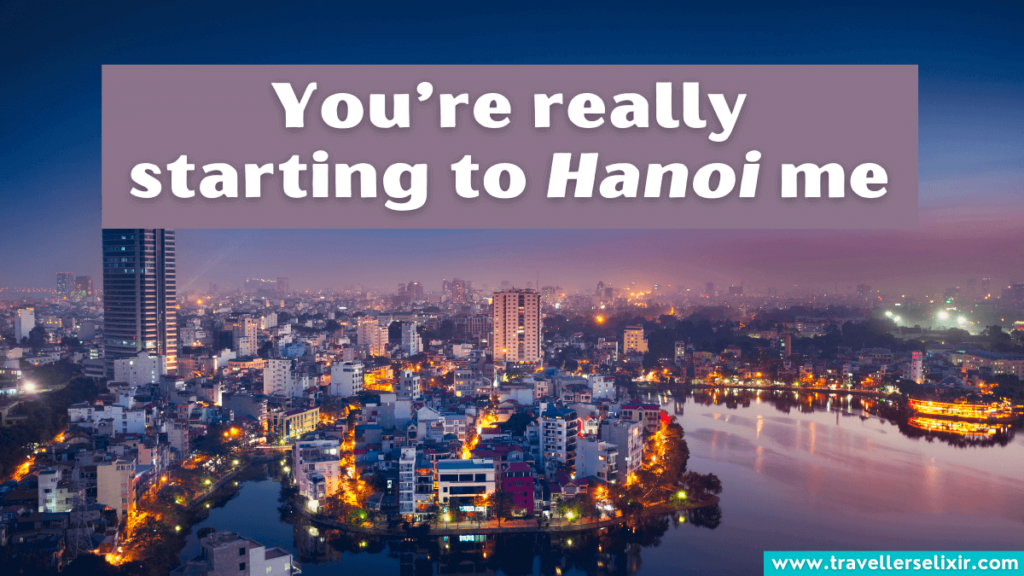 I'm always going to Miss Saigon
Vietnam? More like Viet-nomnomnom. The food here is amazing!
I'm crazy pho you
Having a pho-bulous time!
I didn't choose the bahn life, the bahn life chose me
Up Next: Thailand Instagram Captions
Cute Vietnam Captions For Instagram
I left my heart in Vietnam
Happiness is holding tickets that say Hanoi
Follow your heart, even if it takes you all the way to Vietnam
My favorite part about Vietnam? The constant challenge of trying to cross the street without getting hit by a motorbike
Dear Vietnam, I will never get over you
I'm pretty sure I'm now 80% pho
Greetings from Vietnam. I live here now.
It's official: Vietnamese coffee is my new addiction
Vietnam is always a good idea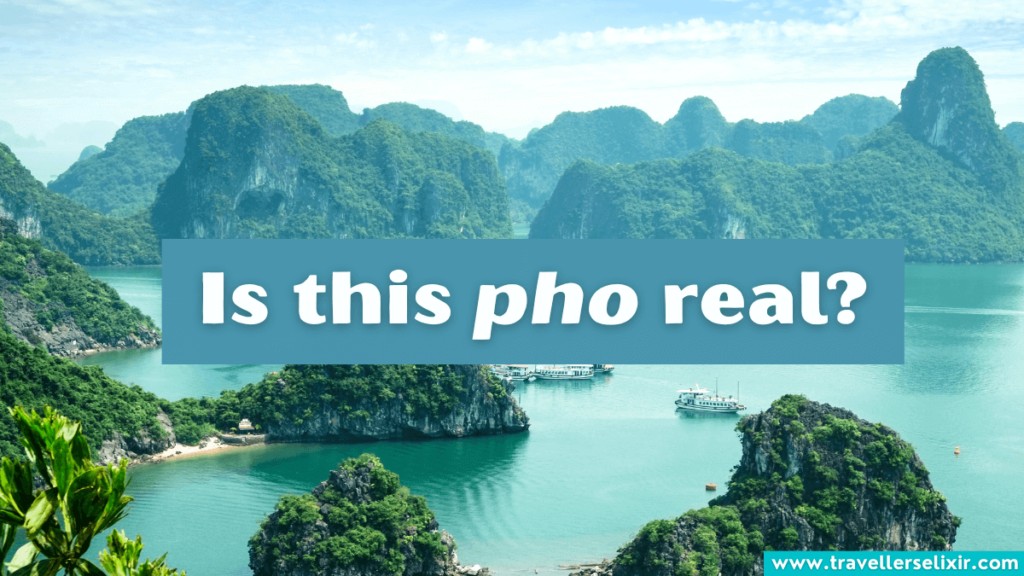 Halong Bay = the closest thing to heaven on Earth
I came to Vietnam for the culture but I'm staying for the banh mi
There's no time to be bored in a world as beautiful as this
Vietnam: Where you can get a $1 beer and a $100 tailor-made suit in the same street
Tans and jetlag fade but memories last forever
I came to Vietnam for the noodles and stayed for the chaos
Vietnam is better than my wildest dreams
The 14 hour flight was totally worth it
I'm not saying I'm a pro at riding a motorbike in Vietnam, but I haven't fallen off yet
My strategy for crossing the street in Vietnam? Close my eyes and hope for the best
I didn't think it was possible to fall in love with a country but then I came to Vietnam
If I could, I would bring a piece of Vietnam back home with me
From the people to the food to the scenery, Vietnam stole my heart
You May Also Like: Singapore Instagram Captions
Short Vietnam Captions
Wander often, wonder always
Meanwhile, in Vietnam…
Culture overload
Vietnam views!
Take me to Hanoi
Sapa sunrise
Ho Chi Minh hustle
Chaotic charm
Bright lights, city streets
Halong Bay bliss
I've found my happy place
Street food heaven
Take memories, leave footprints
Welcome to Hanoi
Rice paddy paradise
Hoi An hues
Up Next: Bali Instagram Captions
Vietnam Quotes For Instagram Captions
"Vietnam is a country that will leave footprints on your heart, with its vibrant colors, rich culture and warm hospitality." – Traveller's Elixir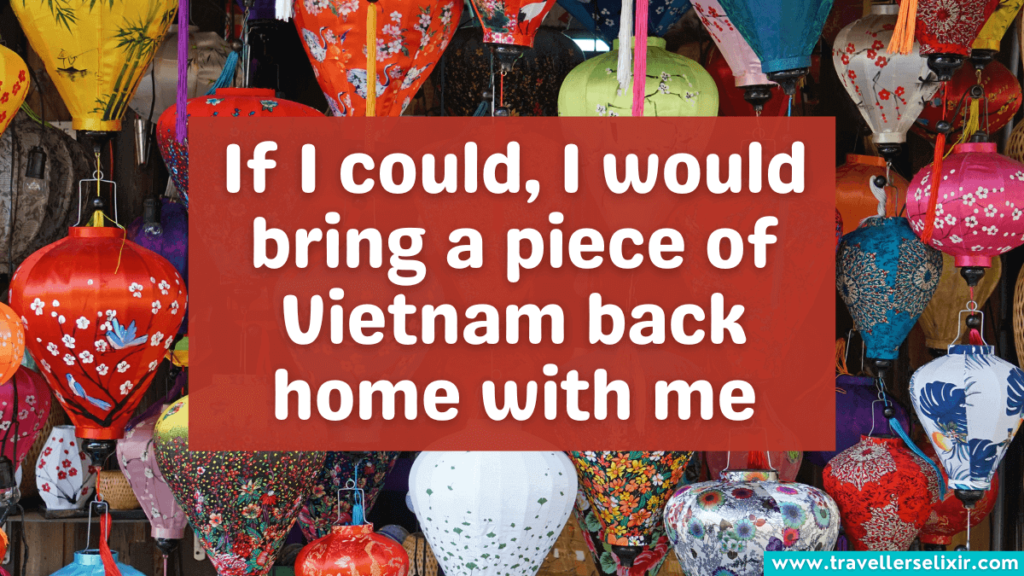 "My ultimate getaway is Vietnam. It has a little bit of everything when it comes to culture, amazing food, beautiful people, exotic sights, sounds and profound history of love, bravery and resilience." – Jeannie Mai
"In Vietnam, every street tells a story, every alleyway a mystery waiting to be explored." – Traveller's Elixir
"Vietnam, I love you for a long time. All-day, all night, I love you a long time." – Alex Garland
"There's something about the lush green landscapes and sparkling blue waters of Vietnam that make you feel like you've stumbled upon paradise." – Traveller's Elixir
"I can't say what made me fall in love with Vietnam – that a woman's voice can drug you; that everything is so intense. The colors, the taste, even the rain." – Graham Greene
"Vietnam is a symphony of flavors and aromas, where every bite and sip is a sensory experience." – Traveller's Elixir
"From the winding streets of Hanoi to the tranquil rice paddies of Sapa, Vietnam is a land of contrasts that will leave you breathless with wonder." – Traveller's Elixir
"They say whatever you're looking for, you will find here. They say you come to Vietnam and you understand a lot in a few minutes, but the rest has got to be lived. The smell, that's the first thing that hits you, promising everything in exchange for your soul. And the heat. Your shirt is straightaway a rag. You can hardly remember your name, or what you came to escape from." – Graham Greene
"From the intricate temples to the bustling markets, Vietnam is a kaleidoscope of sights and sounds that will leave you in awe." – Traveller's Elixir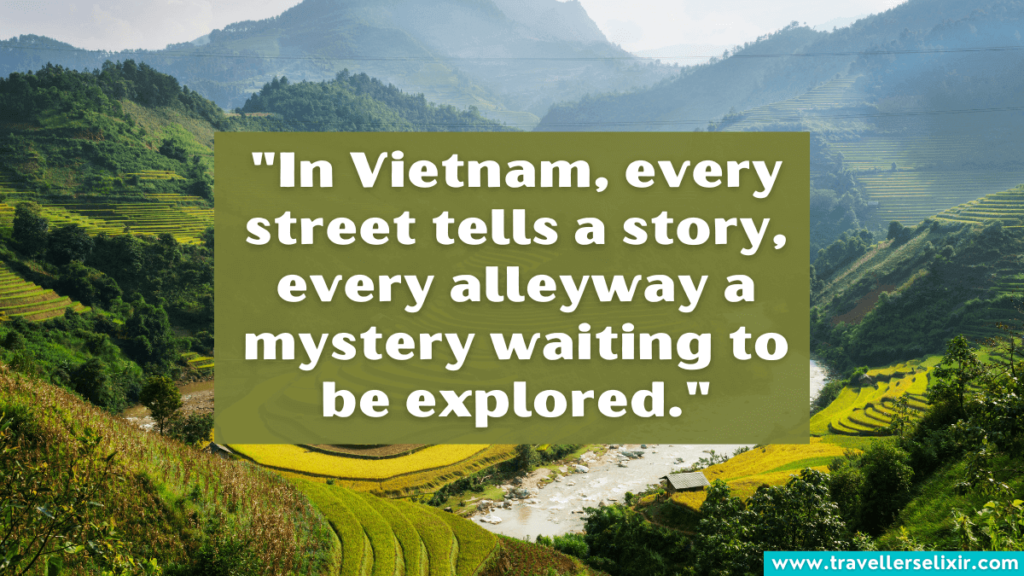 "We tried to change Vietnam. Instead, Vietnam changed us." – Tony Thomson
"In Vietnam, time seems to slow down as you lose yourself in the beauty of the countryside and the simplicity of everyday life." – Traveller's Elixir
"Vietnam is a place where you can find adventure at every turn and where the people and the scenery will steal your heart." – Traveller's Elixir
"Kiss me goodbye and write me while I'm gone. Goodbye my sweetheart, hello Vietnam." – Dave Dudley
"Vietnam is a country that teaches you to appreciate the small things in life, like a warm smile, a kind gesture or a delicious bowl of pho." – Traveller's Elixir
"Vietnam's century-old French villas and colonial-era government buildings are a draw for the 8 million tourists who visit the country every year. Even in France, we don't have so many examples of the beautiful wrought-iron railings and staircases that you see here." – Emmanuel Ly-Batalla
"In Vietnam, the past and present collide in a dazzling display of history, culture and progress." – Traveller's Elixir
You May Also Like: Kuala Lumpur Instagram Captions
Vietnam Hashtags For Instagram Likes
#vietnam
#vietnamtravel
#vietnamfood
#vietnamtrip
#vietnamesefood
#vietnamlife
#vietnamcharm
#vietnamtravels
#vietnam🇻🇳
#vietnamnow
#vietnamwonders
#vietnamtourism
#vietnamphotography
#vietnambeauty
#vietnamtour
#instavietnam
#travelvietnam
#vietnamphoto
#vietnamtravelers
Up Next: South Korea Instagram Captions
---
I hope that this list of the best Vietnam Instagram captions has given you some inspiration for your next social media post.
Whether you're exploring the vibrant cities, relaxing on the beaches or immersing yourself in the rich culture and history, Vietnam has so much to offer.
And don't forget to follow me on Instagram (@travellerselixir) and tag me in your photo for a share.
Related Posts: