If you're visiting South Korea then you're bound to have hundreds of stunning photos that you'll want to post to Instagram.
Nothing goes better with a beautiful photo than a cute caption. To save you the trouble of thinking up a caption yourself, I've put together this list of the best South Korea Instagram captions.
Just copy and paste the South Korea caption straight into Instagram.
These captions work for any place you're visiting in South Korea, including Seoul, Jeju Island, Busan, Incheon and more.
Best South Korea Instagram Captions
Cute South Korea Captions For Instagram
Hoping Seoul will save my soul
On the search for the best kimchi in South Korea
Trying soju for the first time. Wish me luck!
Filling your feed with that Seoul food
All you need is love and kimchi
Some places just feel like home. South Korea is one of them
Not leaving anything behind in South Korea but my heart
Never met a hanok I didn't like
Dear South Korea, I miss you every day
Meet me at Gyeongbokgung Palace
Take me to South Korea and I won't want to order bibimbap anywhere else
Looking out for BTS on every corner
My happy place is anywhere with bibimbap and kimchi
Some call it Jeju Island, I call it heaven
It is better to see something once than to hear about it a thousand times
I know exactly where my heart is: South Korea
Funny South Korea Captions & South Korea Puns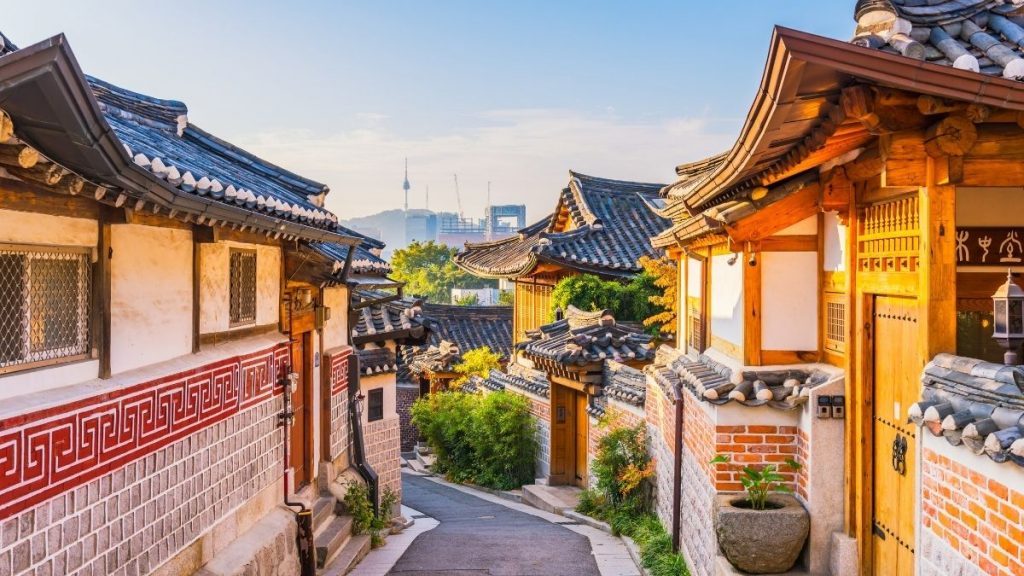 My heart and Seoul
Looking for my Seoulmate
Seoul searching
You make my heart go bi-bim-bap
So-ju want to go out?
This is where my Seoul belongs
When you hanok believe your eyes
I Korea-ly do with some kimchi right now
It's hard to leaf this place
Jeju know that Jeju island is the best!?
This tree is cherry nice
I Korea-ly stay here forever
Short South Korea Captions
Still dreaming of Seoul
Seoul, thank you for existing
Quick – act cool
If lost, return to South Korea
사랑해 ( I love you)
Kpop stan
Daydreaming in South Korea
It's a soju kinda night
South Korea Quotes For Instagram Captions
"Seoul is attracting the world's attention these days." – Munsoo Kwon
"Once a year, go someplace you've never been before." – Dalai Lama
"Breathing in South Korea, even though the life here is not easy, makes me so happy. I feel that sitting in a coffee shop, having a cup of tea, and looking out of the window at the blue sky – this is happiness. Truly happiness." – Lee Hyeon-seo
"My favourite place in South Korea is Jeju Island: it's a tropical paradise with sandy beaches, turquoise waters, and the magnificent Geomunoreum lava tube system of underground caves." – Lee Hyeon-seo
"Never let your dreams be greater than your memories." – Douglas Ivester
"I am not the same having seen the moon shine on the other side of the world." – Mary Anne Radmacher
"My favorite thing about South Korea is the people – they are so kind and helpful." – Elana Meyers
"In South Korea, they believe that when you turn 60, you've become a baby again and the rest of your life should be totally about joy and happiness." – Alice Walker
"The world is a book and those who do not travel read only one page." – Saint Augustine
"I would rather own a little and see the world than own the world and see a little of it." – Alexander Sattler
---
Hopefully this list gave you plenty of ideas for cute South Korea Instagram captions.
There's a caption here for any photo, from puns to beautiful quotes.
Feel free to copy and paste these Instagram captions for your South Korea photos.
Related Posts: