From the bustling streets of Seoul to the tranquil temples of Gyeongju, this captivating country has a way of enchanting hearts and igniting an insatiable wanderlust.
But finding the right caption to accompany that perfect shot can sometimes feel like searching for a needle in a haystack.
Fear not, for I'm here to up your Instagram game with my collection of the best South Korea Instagram captions!
Best South Korea Instagram Captions
These captions work for any place you're visiting in South Korea including Seoul, Jeju Island, Busan, Incheon and more.
Cute South Korea Captions For Instagram
Hoping Seoul will save my soul
On the search for the best kimchi in South Korea
Trying soju for the first time. Wish me luck!
Filling your feed with that Seoul food
All you need is love and kimchi
Some places just feel like home. South Korea is one of them
Not leaving anything behind in South Korea but my heart
Never met a hanok I didn't like
Dear South Korea, I miss you every day
Meet me at Gyeongbokgung Palace
Just hanging out in the land of oppas and octopus tentacles
Take me to South Korea and I won't want to order bibimbap anywhere else
Looking out for BTS on every corner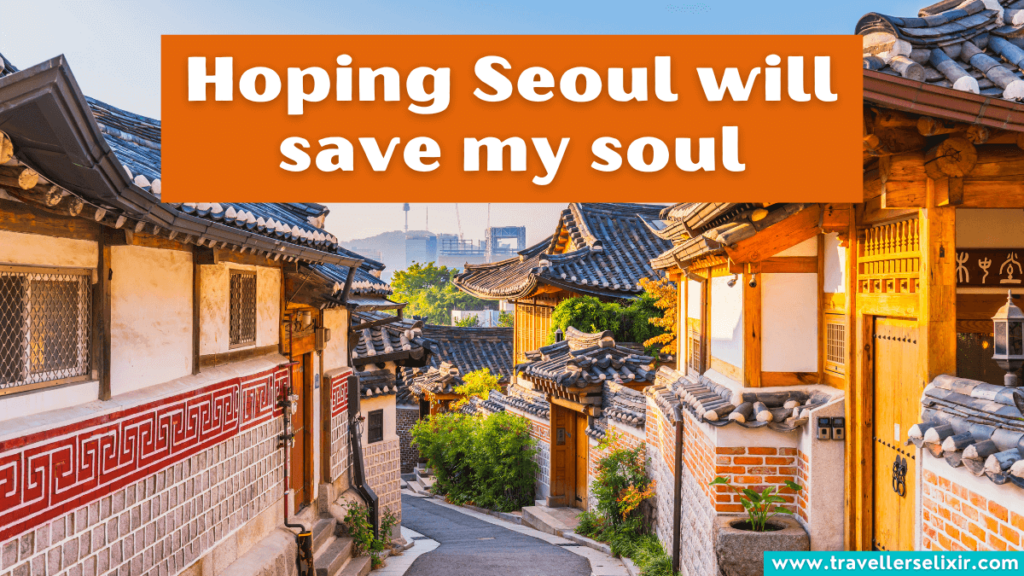 Searching for the best kimchi in town and I think I've found it
My happy place is anywhere with bibimbap and kimchi
Some call it Jeju Island, I call it heaven
It is better to see something once than to hear about it a thousand times
I know exactly where my heart is: South Korea
Channeling my inner K-pop star and dancing through the streets of Seoul like nobody's watching
Kimchi or no kimchi, that is the question!
Exploring South Korea one makgeolli sip at a time
K-poppin' and lockin' my way through South Korea
Up Next: Japan Captions For Instagram
Funny South Korea Captions & South Korea Puns
My heart and Seoul
Looking for my Seoul-mate
Seoul searching
You make my heart go bi-bim-bap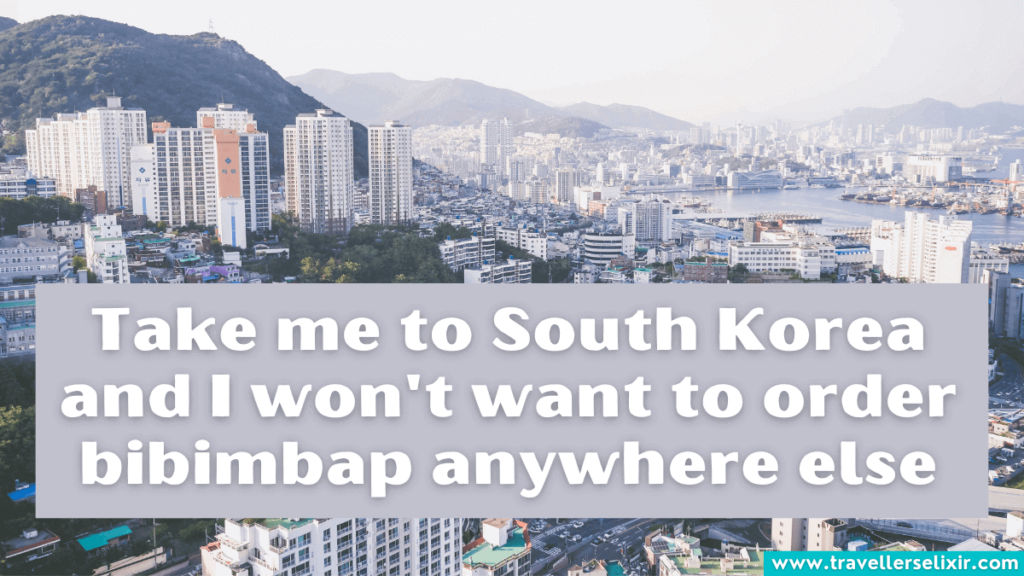 Korea-ting the most amazing memories
So-ju want to go out?
This is where my Seoul belongs
When you hanok believe your eyes
I Korea-ly do with some kimchi right now
Rice, rice, baby!
Kimbap your hands together
It's hard to leaf this place
Jeju know that Jeju island is the best!?
This tree is cherry nice
Time to kimchill
I Korea-ly stay here forever
You May Also Like: Hong Kong Captions For Instagram
Short South Korea Captions
Still dreaming of Seoul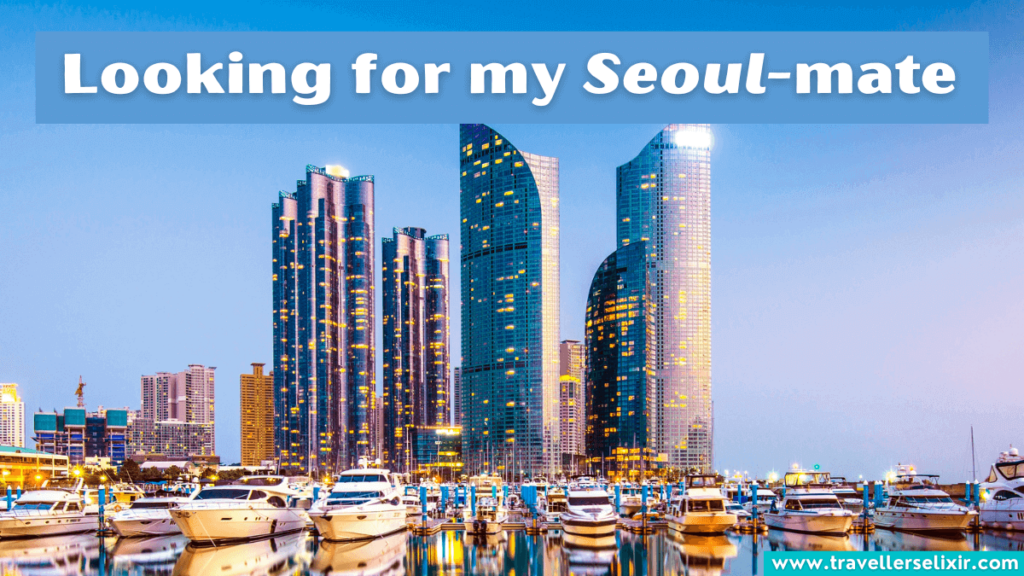 Lost in K-dreams
Seoul, thank you for existing
Quick – act cool
If lost, return to South Korea
사랑해 ( I love you)
Kpop stan
Korea calling
Neon lights, city nights
Daydreaming in South Korea
It's a soju kinda night
Cherry blossom bliss
Seoul at sunrise
K-pop beats and dancing feet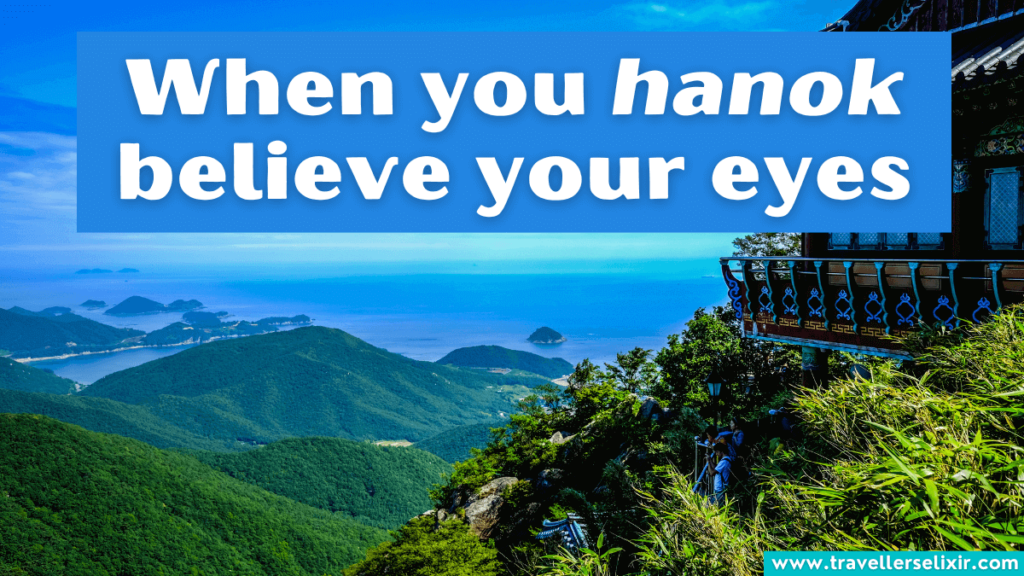 Up Next: Singapore Captions For Instagram
South Korea Quotes For Instagram Captions
"Seoul is attracting the world's attention these days." – Munsoo Kwon
"In the land of vibrant traditions and technological wonders, South Korea beckons with open arms, ready to reveal its hidden gems and capture your heart." – Traveller's Elixir
"Once a year, go someplace you've never been before." – Dalai Lama
"Breathing in South Korea, even though the life here is not easy, makes me so happy. I feel that sitting in a coffee shop, having a cup of tea, and looking out of the window at the blue sky – this is happiness. Truly happiness." – Lee Hyeon-seo
"My favourite place in South Korea is Jeju Island: it's a tropical paradise with sandy beaches, turquoise waters, and the magnificent Geomunoreum lava tube system of underground caves." – Lee Hyeon-seo
"A journey to South Korea is like stepping into a masterpiece, where ancient palaces and soaring skyscrapers paint a mesmerizing fusion of history and innovation." – Traveller's Elixir
"Never let your dreams be greater than your memories." – Douglas Ivester
"I am not the same having seen the moon shine on the other side of the world." – Mary Anne Radmacher
"A visit to South Korea is an invitation to immerse yourself in a culture that celebrates both individuality and unity, where diversity blooms like the petals of a thousand flowers."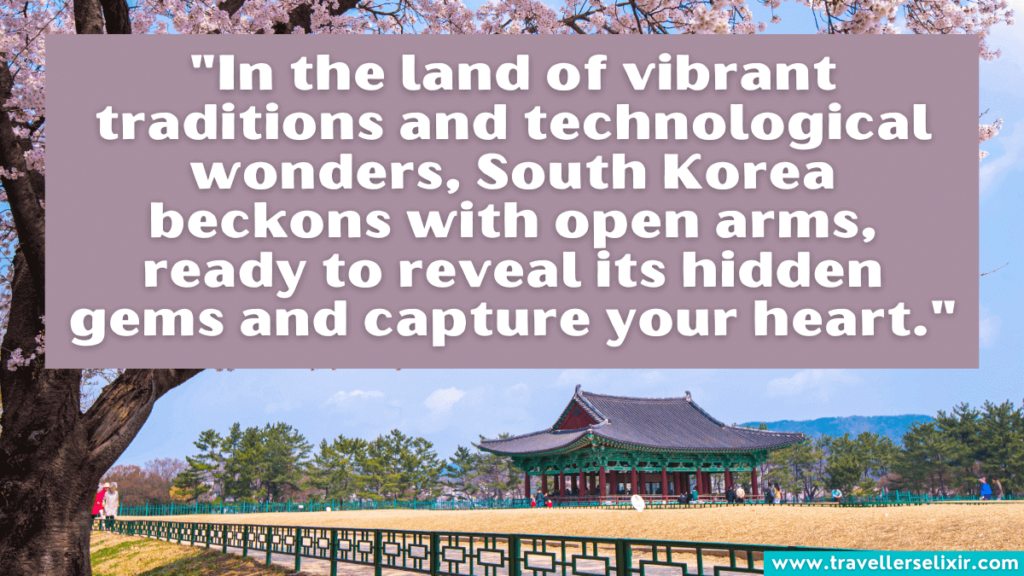 "My favorite thing about South Korea is the people – they are so kind and helpful." – Elana Meyers
"Amidst the gentle whispers of cherry blossoms and the graceful bows of hanboks, South Korea whispers secrets of grace and elegance to those who are willing to listen." – Traveller's Elixir
"In South Korea, they believe that when you turn 60, you've become a baby again and the rest of your life should be totally about joy and happiness." – Alice Walker
"The world is a book and those who do not travel read only one page." – Saint Augustine
"I would rather own a little and see the world than own the world and see a little of it." – Alexander Sattler
"Venture into the soul-stirring landscapes of South Korea, where mountains reach for the heavens and the seas sing melodies of tranquility, offering a sanctuary for weary wanderers." – Traveller's Elixir
You May Also Like: Kuala Lumpur Captions For Instagram
South Korea Hashtags For Instagram Likes
#southkorea
#southkoreatrip
#southkoreatravel
#southkorea🇰🇷
#seoul
#seoulkorea
#seoultravel
#seoultrip
#seoulfood
#seoulcity
#seoulsearching
#seoul🇰🇷
#seoul_korea
#seoultour
#seoullife
#seoulsky
#seouleats
#seoulsnap
#seoulstreet
#seoulgood
Up Next: Vietnam Captions For Instagram
---
And there you have it, fellow wanderers!
I hope this collection of the best South Korea Instagram captions has ignited your imagination and inspired you to share the beauty and charm of this country online.
From the rich history and traditions to the modern marvels and natural wonders, South Korea offers endless opportunities for creating awe-inspiring content.
Related Posts: