Is anywhere really more Instagram worthy than Japan. I don't think so…
If you're anything like me then you've probably got a gazillion photos from Japan all ready to post to Instagram.
To save you the trouble of thinking up a caption yourself, I've put together this list of the best Japan Instagram captions.
These captions work for any place you're visiting in Japan including Tokyo, Osaka, Kyoto, Sapporo, Okinawa, Hiroshima and more.
Best Japan Instagram Captions
Funny Japan Captions & Japan Puns
I hope you had a pun time in Japan. With that in mind, here's some funny Japan Instagram captions and puns.
Thank u, next bowl of ramen
You, me, and a cup of Japanese tea
I love you so matcha, Tokyo
Once Udon a time in Tokyo
Me and Japan are a perfect matcha
Thank you very mochi Japan for the best trip
Woah there, control your tempura
Udon know how much I love Japanese food
Miso happy
Mt Fuji really is hill areas
I love Japan very mochi
Japan, I'm soy into you
She believed she could, sushi did
Toky-OMG
Cherry blossoms are finally here… you Tokyo time
Japan, spring looks so Kyoto-n you!
Sneak peak at the one and only, Mt Fuji!
It's Jap-ON!
So little time, so matcha do
Me and Tokyo, it's a matcha made in heaven
I'm a hopeless ramen-tic for Japan
She believed she could, sushi did
Japan, I'll never let you gyoza
Wow, Mt Fuji looks snow beautiful
Peak-a-boo!
They see me rollin'…
Japan means so mochi to me
Cute Japan Captions For Instagram
Not everyone is as punny as me so here's some cute captions you can use too.
I can't seem to get the beauty of Tokyo off my mind
Can I take one of these cherry blossom trees home with me?
You had me at konnichiwa…
I've never met a mountain I didn't like
If I got a dollar every time I've said 'wow' in Japan, I'd be mega rich
Anyone hiring a sushi assistant?
Oh hey Mt Fuji, looking good
Doing this sweet thing called exploring Japan
Never coming home. Staying in Osaka forever
Currently getting knocked over at Shibuya crossing…worth it!
Just me and a bunch of cherry blossom trees
Literally running on just coffee and sushi right now
Wow these lights are so bright, I need my sunglasses…and it's night time!
I can't take my eyes off Tokyo!
Happiness is going on a sushi date in Japan
I've got all the heart eyes for Tokyo
I wish you could taste this picture from Japan
Greetings your Royal Highness, Mount Fuji-san!!!
Sorry never coming home, staying in Japan forever
Sushi is calling, so I need to go
Update your address book people, I live here now
Tokyo, you have my heart
We came. We saw. We loved Tokyo
My new full time job is getting lost in Tokyo
No mom, I've not picked up Japanese yet
Would moving here be a totally crazy idea?
Money can't buy you happiness but it can buy a ticket to Japan
Sakura season in Japan. That's it. That's the caption.
Arigato Japan for being the best place I've ever been
Sorry for what I said when I wasn't eating sushi in Tokyo
Signing up to Japanese classes because I'm for sure coming back here
Considering moving here and becoming a sushi chef
I've never been so happy to be blinded by bright lights
Short Japan Captions
Everything you want to say about Japan can be summed up in just a few words. Here are those few words…
Greetings from Japan
Cherry blossom dreamin'
Sushi and sight-seeing, please!
The more matcha, the merrier
Gimme more sushi any day of the week
Turning it up in Tokyo!!
Let's go to Tokyo
Ohayou Japan!
Lost in Tokyo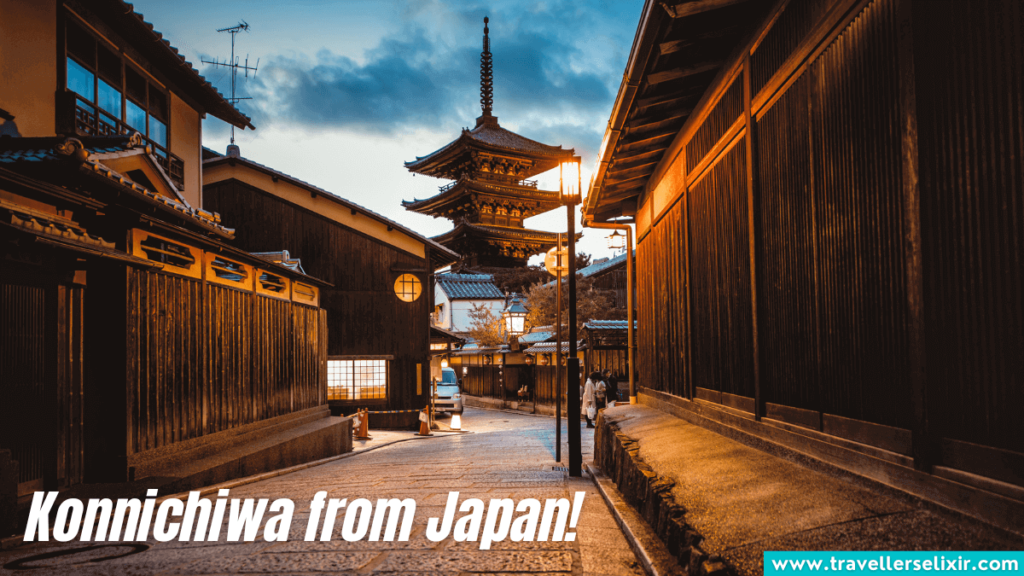 Konnichiwa from Tokyo!
Meet me in Tokyo
Let's get weird in Tokyo
Got cherry blossom on my mind
Sakura is calling my name!
This place is so kawaii
This sushi needs to get inside of me
Sakura secrets
City lights & Tokyo nights
Sweet Sapporo
Inspirational & Beautiful Japan Captions
Japan is a pretty beautiful place and it really does capture the heart and the mind. Here's some thought provoking captions you can use…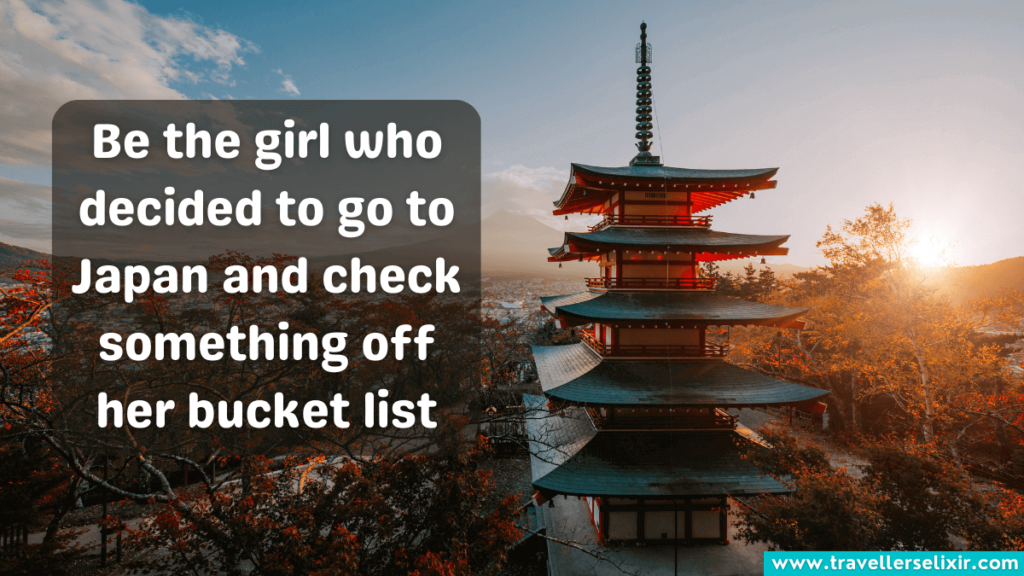 Be the girl who decided to go to Japan and check something off her bucket list
Would it be completely crazy if I quit my job and moved to Tokyo?
Tokyo: Where you can replace fear of the unknown with curiosity
Cherry blossom season is proof that change can be beautiful
Let your dreams blossom
Just a girl with big dreams making them a reality
Up in the clouds, looking at beautiful mountains
Making beautiful memories in a beautiful country
Japan is a beautiful dream that I never want to wake up from
My eyes have become mesmerized by Japan
I find my happiness in the Japanese garden
Time just seems to stop still here
O Tokyo, Tokyo, wherefore art thou Tokyo?
Japan Quotes For Instagram Captions
Sometimes it's just better if someone else says it for you.
"I love Tokyo. If I had to eat only in one city for the rest of my life, Tokyo would be it. Most chefs I know would agree with me." – Anthony Bourdain
"I always had a sense that I would fall in love with Tokyo." – Junot Diaz
"Staring at Mt Fuji covered in a blanket of snow is my idea of heaven. Does it getter any better than that?" – Traveller's Elixir
"Japan is the most intoxicating place for me. The Japanese culture fascinates me: the food, the dress, the manners and the traditions. It's the travel experience that has moved me the most." – Roman Coppola
"I'm absolutely mesmerized by Japan and I don't think that will ever change." – Traveller's Elixir
"There are so many more people in Tokyo than in New York, but it's pristine. It's so organized, and yet the address system is in complete chaos." – Nick Wooster
"Cherry blossom season really is something special. It really could cure a wounded heart, I'm sure of it." – Traveller's Elixir
"Tokyo was an origami city folded over and over until something was made of virtually nothing." – Christopher Barzak, The Love We Share Without Knowing
"Tokyo is more than just a city. It's a whole new world in itself. It has it's own people, it's own culture and it's own way of life. It's a completely different planet." – Traveller's Elixir
"Tokyo may have more money and Kyoto more culture; Nara may have more history and Kobe more style. But Osaka has the biggest heart." – Vikas Swarup
"Sometimes I think that I must be in a dream but then I wake up and realise it's all real, this is Japan." – Traveller's Elixir
"Tokyo would probably be the foreign city if I had to eat one city's food for the rest of my life, every day." – Anthony Bourdain
"Japan is crazy, hectic, vibrant and just down right ridiculous at times but I never want to leave." – Traveller's Elixir
"I love Japan. I love the collision of the modern and ancient worlds coming together in that place. It's so high-tech and cool." – John Lasseter
"I promise that the bright lights of Tokyo will never ever get boring." – Traveller's Elixir
 "One life, one encounter" – Japanese saying
"I don't think I'll ever stop being completely obsessed with Japan, like ever." – Traveller's Elixir
"I look at Japan and think that I must be living inside some crazy dream but nope, it's all completely real." – Traveller's Elixir
---
And that's it!
Hopefully you now have tons of beautiful captions to go alongside your epic Japan photos. Make sure you tag me in them (@travellerselixir), I'd love to see them.
Thanks so matcha for reading my best Japan Instagram captions!
Related Posts: