Are you planning a trip to the vibrant and bustling city of Hong Kong? Or maybe you're already there and want to capture the essence of the city in your Instagram posts?
This curated list of the best Hong Kong Instagram captions will make your posts stand out from the crowd.
From mouth-watering food to breathtaking skylines, these captions will help you capture the magic of Hong Kong and show off your love for this amazing city.
P.S. Follow me on Instagram (@travellerselixir) and tag me in your post for a share on my story!
Best Hong Kong Instagram Captions
Funny Hong Kong Captions & Hong Kong Puns
It's hard to wok in Hong Kong for too long
Hong Kong has me wonton more
Hong Kong is really all that and dim sum
You dim sum, you lose some
Wok on Hong Kong!
Hong Kong you are unbelieva-bao!
Victoria Peak – It peaks for itself
Hong Kong gives me boba-flies
Victoria Peak makes me peak at the knees
Dim sum-thing, say something
Wow the Big Buddha really is Buddha-ful
Up Next: Japan Instagram Captions
Cute Hong Kong Captions For Instagram
Sweet dreams are made of dim sum and sight-seeing in Hong Kong
Hong Kong, the land of endless possibilities and endless dumplings
Life is short, eat all the dim sum you can in Hong Kong
Ni hao from Hong Kong!
Leaving HK never felt so wrong
Hong Kong, you have my heart
Once upon a time in Hong Kong
Taking life one milk tea at a time
Did someone say milk tea?
A concrete version of paradise
Hong Kong, you have stolen my heart and my stomach
Hong Kong – where even the street food is Michelin-star quality
Hong Kong, are you shining just for me?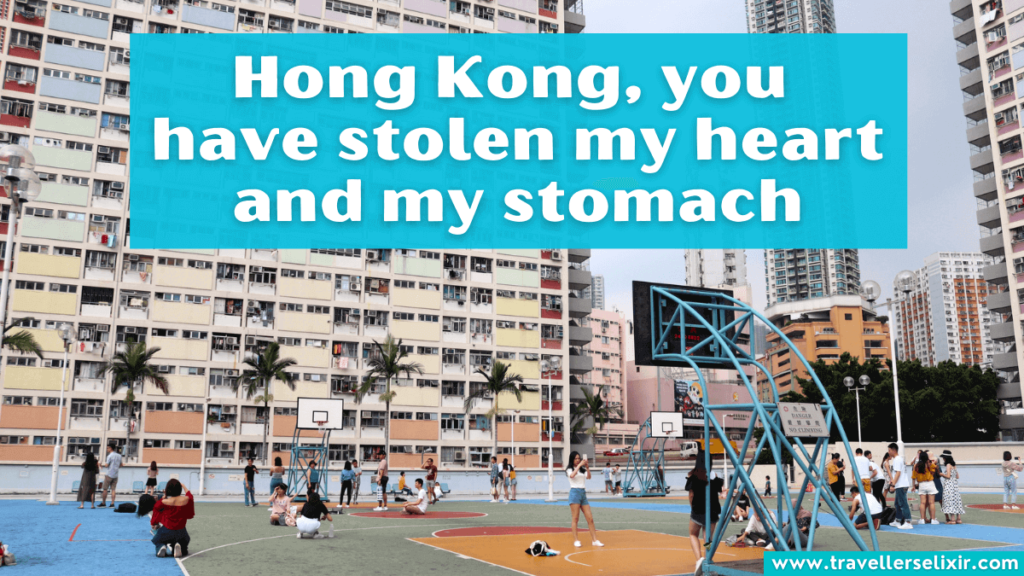 It's already tomorrow in Hong Kong
I fell in love, his name is Hong Kong
There's no time to be bored in Hong Kong
The view from Victoria Peak is worth the sweat and tears
I'm just another dot in Hong Kong
I followed my heart and it brought me to Hong Kong
You May Also Like: South Korea Instagram Captions
Short Hong Kong Captions
Roam, wander and explore Hong Kong
Lost in Hong Kong's neon jungle
I'm just here for the egg waffles
Meet me in Hong Kong
I'm in dim sum heaven
Never coming home, staying in HK
The streets of Hong Kong are my playground
Lost in translation, found in Hong Kong
Starry eyed on the Star Ferry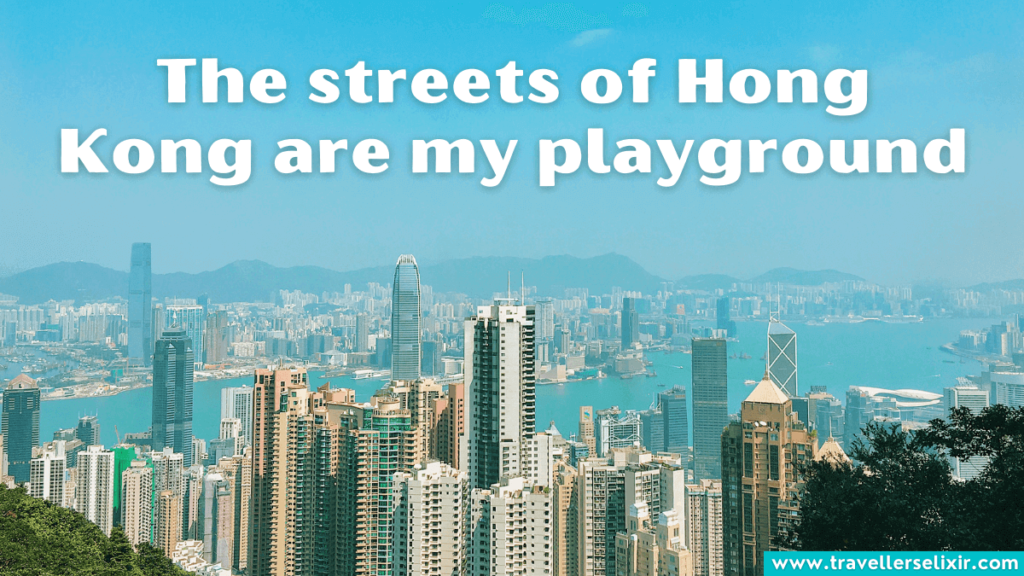 Postcard from Hong Kong
Up Next: Singapore Instagram Captions
Inspirational & Beautiful Hong Kong Captions
I would give the greatest sunset in the world for one sight of Hong Kong's skyline
Hong Kong, thank you for making me feel so alive
Amidst the chaos of Hong Kong, I found peace in the beauty of its culture and people
Discovering the hidden gems of Hong Kong is a journey of the soul
I never knew beauty until I saw the sunset from Victoria Peak
The breathtaking views of Hong Kong's nature reminded me to slow down and appreciate the beauty around me
Every street in Hong Kong is a work of art waiting to be explored
Hong Kong taught me to appreciate the small moments in life that make it truly beautiful
You May Also Like: Kuala Lumpur Instagram Captions
Hong Kong Quotes For Instagram Captions
"Hong Kong is a city that constantly reinvents itself, yet always stays true to its roots." – Traveller's Elixir
"You can leave Hong Kong, but it will never leave you." – Nury Vittachi
"In Hong Kong, the future is always unfolding, yet the past is never forgotten." – Traveller's Elixir
"Life in Hong Kong transcends cultural and culinary borders." – Peter Jon Lindberg
"The energy of Hong Kong is contagious, igniting a passion for life that's hard to resist." – Traveller's Elixir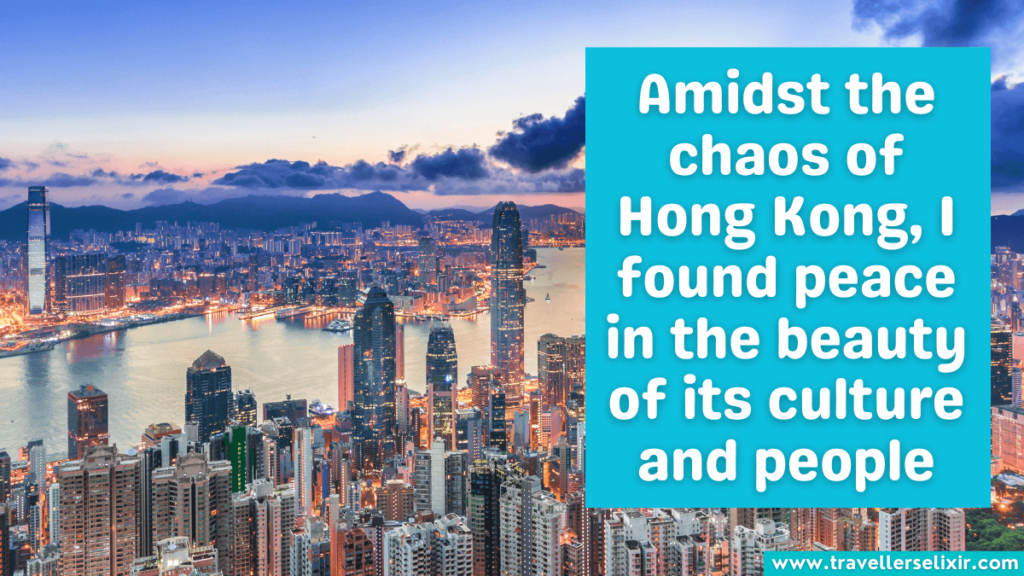 "Hong Kong is a wonderful, mixed-up town where you've got great food and adventure." – Anthony Bourdain
"Give Hong Kong to an Artist. He can use it. It can be poetised." – Baris Gencel
"The drama, the charm and the beauty of Hong Kong is all here – just as is its breathless energy." – Nury Vittachi
"In Hong Kong, there is always a hidden gem waiting to be discovered around every corner." – Traveller's Elixir
"When I went to Hong Kong, I knew at once I wanted to write a story set there." – Paul Theroux
"Hong Kong is a symphony of sights, sounds, and flavors that never fails to amaze me." – Traveller's Elixir
"I love Hong Kong because it's Hong Kong." – Utah Lee
"In Hong Kong, the world comes together in a harmonious fusion of cultures and ideas." – Traveller's Elixir
"When I lived in Hong Kong, I felt that Hong Kong is my family." – Jet Li
"The true magic of Hong Kong is in the way it captures our hearts and never lets go." – Traveller's Elixir
Up Next: Vietnam Instagram Captions
Hong Kong Hashtags For Instagram Likes
#hongkongfood
#hongkongphotography
#hongkonginsta
#hongkongtrip
#hongkonger
#hongkongtravel
#hongkongstyle
#hongkongstreet
#hongkongcity
#hongkonglife
#hongkongview
#hongkongers
#hongkongstreets
#hongkongphoto
#hongkongeats
#hongkongstreetphotography
#hongkongnight
---
And there you have it – my top picks for the best Hong Kong Instagram captions!
From the bustling streets to the stunning views, Hong Kong is a city that never fails to impress.
If you're visiting Hong Kong soon then you may be struggling to choose between staying in Kowloon or Hong Kong Island. My ultimate guide will help you decide.
And don't forget to follow me on Instagram (@travellerselixir) and tag me in your photo. I'd love to see it!
Related Posts: