Welcome to the ultimate showdown between two of the most iconic areas in Hong Kong – Kowloon and Hong Kong Island!
If you're planning a trip to Hong Kong, choosing where to stay can be a daunting task.
But fear not, as I have personally explored both areas and I'm here to give you the inside scoop on which one is the best for you.
In this post, I'll be comparing Kowloon and Hong Kong Island in terms of their attractions, accommodation, food, shopping and nightlife to help you decide where to stay.
Is It Better To Stay In Hong Kong Island Or Kowloon?
The honest answer is that there is no wrong choice. Both areas have so much to offer and would be a fantastic area to stay.
One thing I noticed though when I visited is that the two areas are completely different in so many ways.
Hong Kong Island is ultra modern and flashy whereas Kowloon is older and looks like the kinda thing you'd see in old movies.
In a hurry? Here's the key differences between Kowloon and Hong Kong Island:
Hong Kong Island is generally more expensive than Kowloon.
Hong Kong Island has a more upmarket feel whereas Kowloon has many older neighborhoods and buildings.
Kowloon has more traditional Chinese culture whereas Hong Kong Island is much more westernized and international.
Kowloon is generally better for shopping as it has a wide range of malls and markets. Hong Kong Island has fewer options but more luxury shopping malls. 
Most of Hong Kong's main attractions are located on Hong Kong Island.
Hong Kong Island is better for nightlife.
Hong Kong Island would be a better choice if you want to stay centrally, close to all the main attractions and your budget is mid-range to high-end.
It is also the best option if your time in Hong Kong will be short as you'll be located right in the heart of the action.
Hong Kong Island is filled to the brim with tall skyscrapers, is great for luxury shopping and also has an amazing nightlife scene.
Kowloon would be a better choice if your budget is lower as it is much cheaper than Hong Kong Island.
It's great for people who want to see more traditional culture and for people who have plenty of time to fully explore Hong Kong.
You will spend a bit more time on public transport if you stay in Kowloon as most of Hong Kong's main attractions are on Hong Kong Island but there are certainly plenty of things to do in Kowloon too.
When I visited recently, I found the public transport to be super fast, modern and easy to use so even if you do want to visit Hong Kong Island, you'll be there in no time.
Kowloon is also the best area for exploring markets (as it's full of them!) and is home to the famous area of Tsim Sha Tsui where you can walk along the waterfront promenade.
You'll also get the best view of the skyscrapers in Hong Kong Island from this side of the harbor which I personally loved!
Kowloon used to be seen as a much more downmarket part of the city whereas Hong Kong Island was seen as an upmarket modern area.
Whilst there are still many older and less modern buildings and neighborhoods in Kowloon, it also now has its fair share of swanky restaurants and luxury hotels so there's definitely something for everyone here.
Location – Kowloon vs Hong Kong Island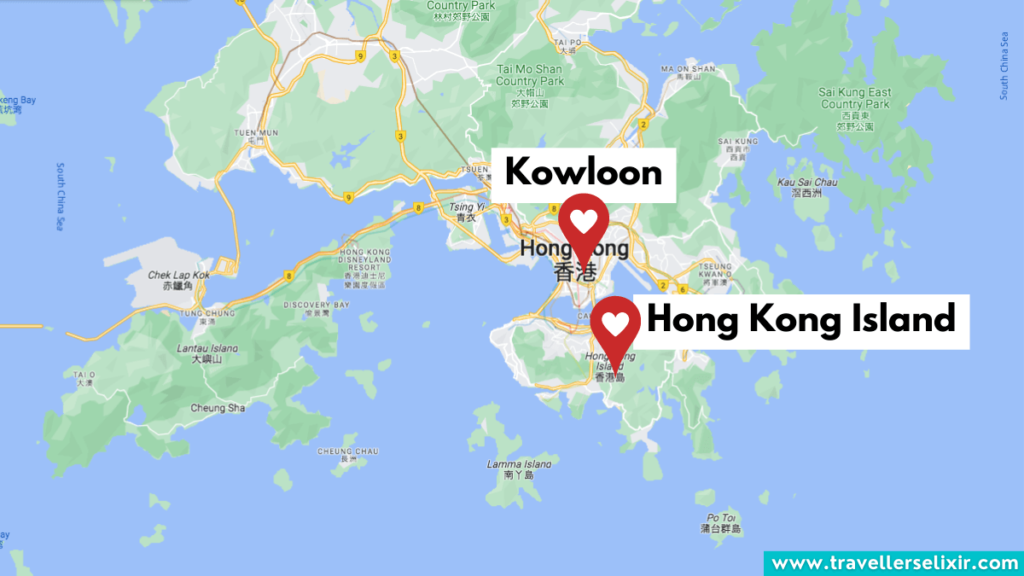 The first thing to note is that Hong Kong Island, as the name suggests, is an island that sits just off the mainland whereas Kowloon is on the mainland itself.
The two areas are split by the iconic Victoria Harbour and are very well connected.
No matter which area you choose, you'll still easily be able to visit the other by using public transport.
The MTR, which is the underground train system, and the Star Ferry are the two easiest ways to get between them.
I personally used both when I visited Hong Kong recently. The MTR is the quickest option and will literally get you there in minutes. It's also super modern and really efficient.
Taking the ferry is much slower but you'll get the absolute best views of the skyscrapers so it's worth doing at least once.
Which Is Cheaper? Kowloon Or Hong Kong Island
I definitely noticed a stark difference in prices when I visited Hong Kong recently.
Hong Kong Island was more expensive in pretty much every way possible from hotels to food and even the stores.
I found that Kowloon was a great place to grab a bargain and definitely felt like my money stretched a lot further. The markets are the best place to get your souvenirs.
If you're traveling on a strict budget then you should definitely choose to stay in Kowloon over Hong Kong Island as the prices are much cheaper and you can still easily get to Hong Kong Island to explore during the day.
There's plenty of lower cost mid-range hotels in Kowloon to choose from like The Otto Hotel.
Hong Kong Island is filled with luxury shopping malls, fancy hotels and upmarket boutiques so, as you can imagine, everything is more expensive.
Your hotel will cost a lot more in Hong Kong Island and so will your food. Pretty much everything is more pricey in Hong Kong Island.
Which Has Better Hotels?
As I already mentioned, the hotels are cheaper and more affordable in Kowloon compared to Hong Kong Island.
Hong Kong Island tends to have more upmarket, 5-star hotels whereas you'll find more mid-range and budget options in Kowloon.
It's worth mentioning though that Kowloon also has its fair share of fancy 5-star hotels too making it a great place to stay if you're wanting to stay in a more traditional and authentic area of the city.
Best Hotels On Hong Kong Island:
I actually ended up staying in an Airbnb in Kowloon on my last trip to Hong Kong. I managed to save a bit of money compared to a hotel and the Airbnb was pretty comfortable.
One thing I will say though is that the rooms are tiny in Hong Kong.
This is mainly to do with the cost of land in Hong Kong and the amount of people in the city but I was still super surprised at how small our apartment was.
To put it into perspective, the shower was literally hung over the toilet so you had to awkwardly try and stand underneath it. This was also literally inches away from the sink.
Atmosphere/vibes
When I visited Hong Kong, I noticed that Kowloon has a much older and more traditional feel to it than Hong Kong Island.
In Kowloon, you'll see a lot more cultural and traditional Chinese-style buildings.
There are also a lot of older buildings and neighborhoods and it definitely feels a lot less modern than Hong Kong Island.
I'd describe Kowloon as a more authentic area as it felt a lot more Chinese than Hong Kong Island. 
I watched loads of old movies growing up and Kowloon is the type of place that would feature in them.
Hong Kong Island kinda reminded me of Manhattan. It's filled with all the towering skyscrapers that form Hong Kong's iconic skyline.
This area is ultra-modern and even features some of the tallest buildings in the world including the International Commerce Centre.
Hong Kong Island definitely feels a lot more Western and international than Kowloon does.
In fact, if I just took a quick glance at a photo of it, I'd probably say it was Manhattan.
Central, which is an area of Hong Kong Island, is the financial hub of the city.
In the daytime, you'll see a lot of workers here as it is the location of all the international banks and corporate headquarters.
However at night, this area turns into one of the city's best nightlife spots.
Which Is Better For Shopping?
Kowloon is better for shopping as there are so many shopping malls and markets at different price ranges.
You'll find cheap markets where you can grab a bargain, huge shopping malls filled with every type of item you could imagine and shops from the biggest designers on the planet.
Some of the most popular spots are Sneaker Street, the Ladies Market or the Langham Palace Mall in Mong Kok. You can get some great bargains in Kowloon, that's for sure.
Mong Kok actually has a range of different shops and malls dedicated to different things. You'll find entire areas dedicated to just shoes, sportswear, electronics or clothing.
Ladies Market is an outdoor street market filled with street stalls where you can purchase clothes, shoes, bags, lighters, souvenirs and so much more.
I spent a good hour just wandering around and haggling for a few souvenirs to take home.
Hong Kong Island is also great for shopping but you'll struggle to find a bargain here. Everything is much more expensive.
You'll find plenty of shops and shopping malls in the Causeway Bay area as well as in Central, however the shops in Central tend to be more high-end.
Which Has Better Restaurants?
When it comes to food, you really can't go wrong with either. As I mentioned, the restaurants tend to be more pricey in Hong Kong Island.
Kowloon is a great area for foodies as there are so many delicious local restaurants and street food options. It's a great place to try out some authentic Chinese cuisine.
I was literally blown away by the choice in Kowloon! Temple Street Market was my favorite place to try out local street food.
Kowloon mostly features Chinese restaurants with very few international options.
You'll tend to find a lot more international restaurants in Hong Kong Island with more Western options compared to Kowloon. You can get pretty much any type of cuisine here.
Causeway Bay was one of my favorite places to eat on Hong Kong Islands as it had a great range of restaurants.
The restaurants in Hong Kong Island also tend to feel a lot newer and trendier than those in Kowloon.
Which Has More Things To Do?
A lot of Hong Kong's top attractions are located on Hong Kong Island. These include Victoria Peak, Ocean Park, Repulse Bay and Central Plaza.
Visiting Victoria Peak was one of the best things I did in Hong Kong. You can take the Peak Tram up to the top of the mountain for incredible views of the city.
When I visited it was a super cloudy and foggy day but the views were still amazing. I can't imagine how incredible this place would look on a clear, sunny day.
You'll also find Ocean Park on Hong Kong Island which is one of the city's best theme parks. I'd recommend hopping aboard one of the famous ding-ding trams.
You can also spend some time relaxing on the beach at Repulse Bay.
Kowloon also has plenty of things to do and you'll also find some iconic attractions here.
You can take a walk along the famous promenade in Tsim Sha Tsui which includes the Avenue of the Stars (it's basically Hong Kong's version of the Hollywood Walk of Fame).
This area is a bustling waterfront filled with boutiques, shopping malls, parks and more.
One of my favorite things about Kowloon is that it offers great views of Hong Kong's iconic skyline.
You don't have to climb a mountain to see the views in Kowloon, you can simply look out across the harbor.
The best time to do this is during the nightly Symphony of Lights Show where the skyscrapers on Hong Kong Island put on a glittering light show.
Kowloon is also a great place to experience traditional Chinese culture. You'll find many historic sites and temples dotted around.
Which Has A Better Nightlife?
Without a doubt, the nightlife is much more fun and vibrant in Hong Kong Island.
To be honest, I found the nightlife in Hong Kong Island to be off the charts as one of Hong Kong's best areas for nightlife, Lan Kwai Fong, is located here.
This area is made up of a few streets filled with pubs, bars and nightclubs that really come to life after dark.
If you want to make the most of the nightlife on Hong Kong Island then I'd really recommend getting a hotel in the area rather than in Kowloon.
It can be really difficult and expensive to get back to Kowloon late at night as the public transport stops running.
With that being said, it's also worth mentioning that Kowloon also has a pretty lively nightlife scene.
You'll find various rooftop bars in Kowloon that provide breathtaking views across the harbor so you can sip on a cocktail and enjoy the view of Hong Kong's skyscrapers as they light up at night.
The nightlife in Kowloon does feel more calm and casual compared to Hong Kong Island.
In Kowloon, you'll also find bustling night markets or several venues with live music.
---
And that's it!
Thanks for reading this post which compares Hong Kong Islands vs Kowloon to help you decide where the best place is to stay.
It goes without saying that Hong Kong is hugely Instagrammable so don't forget to bring along your best Hong Kong Instagram captions as you'll need them.
Related Posts: