Thailand is a tropical paradise that offers everything from stunning beaches to bustling cities.
With so much beauty to capture, it's no wonder that Thailand is a favorite destination for Instagrammers.
But with all these amazing photos, you'll need the perfect caption to make them stand out.
That's why I've put together this list of the best Thailand Instagram captions that will take your photos from ordinary to extraordinary.
P.S. Feel free to follow me on Instagram (@travellerselixir) and tag me in your post!
Best Thailand Instagram Captions
These captions work for any place you're visiting in Thailand including Bangkok, Phuket, Chiang Mai, Pai, Pattaya, Koh Samui, Krabi and more.
Funny Thailand Captions & Thailand Puns
What a Thai to be alive!
Bangkok-a-doodle-doo
She's my cherry Pai
The game ended in a Thai
Thai and stop me
Once Udon a time
Chitty, chitty Bangkok
Wat the hell?
This is the best Thai food I've ever pad
It sure is rice to be here!
Phuket, we're going to Thailand!
Eye of the Thai-ger
I'm coconuts for Thailand
Can we stop for a minute, I need to Phi Phi
I'm tongue Thai'd
I think, therefore Siam
I'm having a Thai-riffic time in Bangkok
Pattaya cake
Keep calm and Karon
Come and tuk-tuk me into bed
Let's Thai the knot and move to Thailand
What are you talking a-baht?
Wat a view!
You can't Thai me down
Koh my god!
That beach is Railay nice
Don't be Krabi!
My trip to Thailand really was the Thai-cing on the cake!
I'm a-baht to catch my flight to Bangkok
Getting my vitamin sea in Thailand!
Well you tuk-tuk your time
Bangkok is a really en-Thai-sing city
I'm having the Thai-m of my life in Thailand
Northern Thailand is the best part of the country – Chiang Mai mind
Wat the heck! This temple is stunning
Life's a beach so I'm living it up in Phuket!
Up Next: Vietnam Instagram Captions
Cute Thailand Captions For Instagram
Follow your heart they said. My heart led me to Bangkok
Thailand is calling and I must go
Bangkok stole my heart…and my taste buds!
Just another day in paradise…or as they call it here, Thailand
Amazing journeys begin with the simple decision to go
They say 'do what you love' so I travelled to Thailand
Thailand stole my heart but the spicy food stole my tastebuds!
It's bad manners to keep Thailand waiting
Exploring Thailand one tuk-tuk ride at a time
If heaven had a beach, I'm pretty sure it would look a lot like the ones on Koh Samui
When in Bangkok, do as the locals do…and eat ALL the street food
I'm all about the palm trees and 80 degrees
I may have left my heart in Bangkok but at least I came back with a suitcase full of souvenirs
Life's too short to not eat mango sticky rice in Thailand
I thought I knew what relaxation was…until I set foot on Koh Tao
My daily workout routine in Thailand: walking to the nearest street food stall and back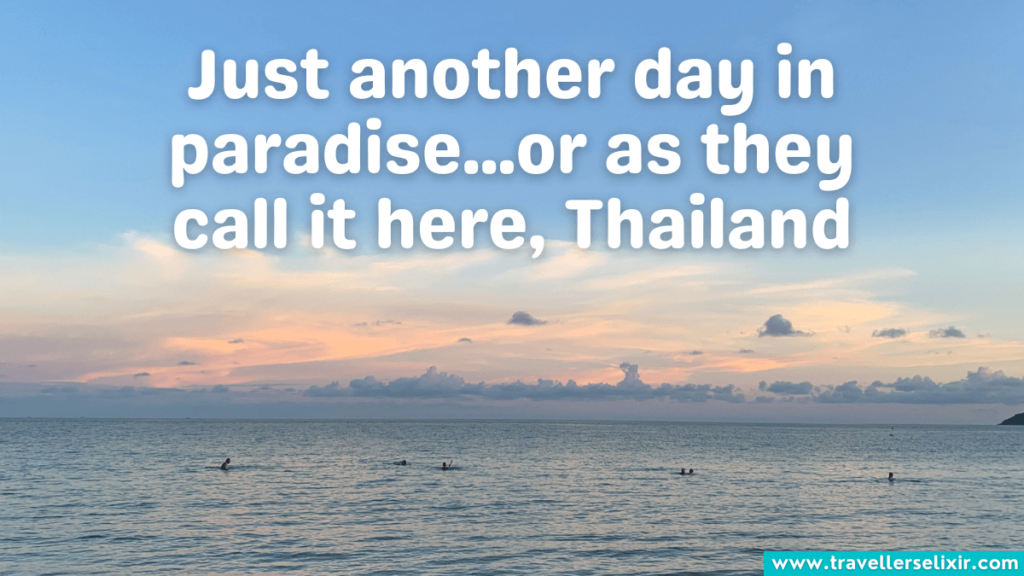 The only thing hotter than the weather in Bangkok is the food
I came for the beaches but stayed for the cocktails…and the sunsets…and the street food
I thought I was a beach person until I visited Thailand…now I'm a beach AND a jungle person!
Thailand: the land of smiles and endless exploration
Bangkok: Where the tuk-tuks are wild and the adventures are endless
Forget fine dining, give me all the street food goodness
My bucket list just got longer after exploring Thailand
You May Also Like: Bali Instagram Captions
Short Thailand Captions
Thai food is my soulmate
I came, I saw, I got lost in Thailand
Chasing waterfalls and dreams in Thailand
Postcard from Thailand
Thai street food = heaven on earth
Island life is the best life
Sawatdee-kha from Thailand
Lost in Bangkok
Found peace in Phuket
In love with Thailand
Island hopping in the Andaman Sea
Thailand tales
The Land of Smiles
Meanwhile, in Bangkok…
Sun, sand and smiles
Adventure awaits in Thailand
Living like a local in Chiang Mai
Up Next: Philippines Captions For Instagram
Beautiful & Inspirational Captions For Thailand
Island hopping in Thailand is like a treasure hunt, but instead of gold, you find crystal-clear waters and soft sand beaches
From the neon lights of the night market to the intricate details of the Grand Palace, Bangkok is a feast for the eyes
Thailand, where every moment feels like a dream come true
Exploring the hidden gems of Thailand is like uncovering a treasure trove of beauty
From the mountainous north to the tropical south, Thailand is a land of endless beauty and wonder
Koh Samui, where every beach is a postcard and every sunset is a masterpiece
Thailand is a place where every day feels like an adventure waiting to happen
Thailand has captured my heart and I don't think I'll ever get it back
Koh Samui has a way of making you forget about everything else and just live in the moment
I never knew paradise was a place on earth until I visited Koh Phi Phi
Phang Nga Bay, where the emerald green waters and towering limestone cliffs will take your breath away
In Thailand, the colors are brighter, the smiles are wider and the experiences are richer
The limestone cliffs and turquoise waters of Krabi are a feast for the eyes and soul
Discovering the hidden corners of Thailand is like finding pieces of magic hidden in plain sight
Exploring Thailand has taught me to appreciate the journey as much as the destination
In Thailand, even the simplest things are infused with beauty and grace
Koh Phi Phi, where the vibrant marine life and stunning beaches are straight out of a fairytale
Thailand has a way of making you feel alive, with every sense heightened and every moment unforgettable
You May Also Like: South Korea Instagram Captions
Thailand Quotes For Instagram Captions
"Behind a bend of the Maenam, the entire town of Bangkok appeared in sight. I do not believe there is a sight in the world more magnificent or more striking." – Ludovic Marquis de Beauvoir
"Thailand is not just a place, it's a state of mind. A place where ancient traditions blend seamlessly with modern life, and where the beauty of the land is matched only by the warmth of its people." – Traveller's Elixir
"I'd love to visit Thailand someday just for the street food and the energy of a city like Bangkok." – Bobby Flay
"Thailand is a symphony of senses. From the vibrant colors of the bustling cities to the aromatic smells of the street food, every moment here is a feast for the senses." – Traveller's Elixir
"Bangkok is a rejuvenating tonic; the people seem to have found the magic elixir." – Bernard Kalb
"The beauty of Thailand lies not just in its breathtaking landscapes, but also in the kindness and hospitality of its people. Here, strangers become friends and memories last a lifetime." – Traveller's Elixir
"Bangkok is the queen of 3 a.m., the spiritual home of those hours that are dead in most places of the world but lit up here with a carnival intensity." – Pico Iyer
"Thailand is a place of contrasts. Where ancient temples stand alongside modern skyscrapers, and where the tranquil beaches of the south meet the lush jungles of the north. It's a place where anything is possible." – Traveller's Elixir
"The world is a book and those who do not travel read only a page" – Saint Augustine
"In Thailand, time seems to stand still. The pace of life is slow, the people are friendly, and the natural beauty of the land is awe-inspiring. It's a place where you can escape the hustle and bustle of the world and truly find peace." – Traveller's Elixir
"Bangkok, like Las Vegas, sounds like a place where you make bad decisions." – Todd Phillips
"Thailand is a land of smiles, where the sun shines bright and the people are even brighter. Here, every day is a new adventure, and every moment is a chance to experience something amazing." – Traveller's Elixir
"I've been visiting Thailand for more than 20 years but didn't fall in love with it until I visited Phuket Town in Phuket. The northern part of Phuket is one of the most fascinating places I've ever been, and largely unspoilt and unknown." – Tony Parsons
"Thailand is a place of contrasts, where ancient traditions and modern innovations blend seamlessly. It's a place where you can explore the rich history and culture of the past while also experiencing the excitement and energy of the present." – Traveller's Elixir
"Thailand was built on compassion." – Bhumibol Adulyadej
"The beauty of Thailand is not just in its stunning landscapes, but also in the generosity and kindness of its people. Here, hospitality is not just a custom, it's a way of life." – Traveller's Elixir
"Thailand was a revelation to me; the landscapes, the culture, the food and the people." – Fiona Bruce
"Thailand is a place where dreams come true. Whether you're seeking adventure, relaxation, or something in between, this magical land has something to offer everyone." – Traveller's Elixir
"One of the dreams on my wish list is to spend more time in Thailand." – Kevin Kwan
"Thailand is a place of inspiration. From the vibrant colors and intricate details of the ancient temples to the natural beauty of the land, every moment here is a work of art waiting to be captured." – Traveller's Elixir
Up Next: Maldives Instagram Captions
Thailand Hashtags For Instagram Likes
#thailandtravel
#thailand_allshots
#thailandtrip
#adayinthailand
#thailandonly
#thailandinstagram
#amazingthailand
#thailand_ig
#travelthailand
#explorebangkok
#thailandluxe
#bangkokspirit
#bangkoktrip
#bangkoklife
#phuketthailand
#phukettrip
#phuketlife
#kohsamuiisland
#kohphangan
You May Also Like:
---
And that's a wrap on my list of the best Thailand Instagram captions!
I hope you found the perfect caption to accompany your stunning photos and share your amazing experiences with your followers.
Whether you're trying out delicious street food in Bangkok or lounging on a pristine beach in Phuket, Thailand is a country that offers endless opportunities for adventure and beauty.
Related Posts: