I actually spent 5 months living in Thailand and I've traveled the country extensively over the last few years so I know it pretty well.
During my time here, I've consistently been looking out for the best turtle spots as I just love meeting these charming creatures up close (but not too close).
In this guide, I'd love to share with you all of the best places to see turtles in Thailand that I've personally visited so I know they're epic.
I've even included a few locations where you can see baby turtles hatching!
Best Places To Swim With Turtles in Thailand
Whilst wildlife encounters can never be guaranteed, your chances of swimming with turtles in Thailand are pretty high.
The most common species of turtle found in Thailand are the green turtles and the hawksbill turtles.
Based on first hand experience, I think the best place to swim with turtles in Thailand is in the Similan Islands (one of Thailand's most beautiful locations). 
For the best chance of seeing turtles, I'd recommend joining a Similan Islands snorkeling tour like this one which leaves from Phuket (this is what I did).
Your experienced guides will know the exact spots and locations where you can find turtles without fail so it's definitely the best option if you really want to see turtles.
Aside from the Similan Islands, there are many other locations across Thailand where you can swim with turtles from Phuket to Koh Tao.
Below I've summarized all of the best snorkeling spots including both Thai islands and locations on the mainland.
I've also included handy links to the best rated tours. These tours are all with reputable companies and have excellent reviews so you can put your mind at ease.
Phuket
Phuket is Thailand's largest island and is located in the Andaman Sea, on the western coast of Thailand.
I absolutely love Phuket, it's one of my favorite places in Thailand to just sit back and relax.
The beaches are vibrant, the nightlife is super fun and it's also close to many of Thailand's most beautiful locations.
You can occasionally see turtles hanging around the beaches in Phuket itself. I managed to see one whilst swimming out near Kata Beach.
But if you really want to see a lot of turtles then you'll need to travel to one of the nearby islands.
The best place to go snorkeling from Phuket is on the Similan Islands which are a small set of islands located in the Andaman Sea, just 120 km northwest of Phuket island. 
It's quite hard to get there on your own so I'd recommend joining a snorkeling tour like this one. This is what I did and I can't say enough good things about it!
The tour will pick you up from anywhere in Phuket and take you over to the Similan Islands for the day. 
You'll be able to spend most of the day there swimming with turtles and relaxing on the white sandy beaches.
The tour takes you to several different spots on the islands throughout the day so you'll get to see as much as possible.
If you're not in Phuket, you can also join this tour to the Similan Islands which leaves from Khao Lak.
My Experience Swimming With Turtles In Similan Islands
Swimming with turtles in the Similan Islands was an incredible experience!
The water was unbelievably clear and I got to witness the turtles gracefully gliding through the sea with their intricate shell patterns.
It was so fascinating to observe them in their natural habitat and I felt a mix of excitement and wonder that I'll always remember.
Check out what you can expect from snorkeling in the Similan Islands in the video below:
Another great snorkeling location which you can access from Phuket is on the Surin Islands, which are a group of 5 islands located in the Andaman Sea off the coast of western Thailand.
These beautiful islands feature some of the best scenery I've ever seen in Thailand and are also a fantastic snorkeling location where you can usually see turtles in the shallow reefs.
I literally saw about 5 or 6 turtles within minutes of getting into the water. I swear this place is some kind of magical turtle sanctuary!
These islands are actually considered to be one of the best diving spots in Thailand due to the diversity of marine life found there. 
I'd recommend booking a tour to the Surin Islands like this as they will pick you up from anywhere in Phuket. I did this one and really enjoyed it.
Whilst snorkeling in the Surin Islands you will be able to see barracudas, reef sharks, leopard sharks, sea turtles, rays and pufferfish.
Occasionally you can even spot a manta ray or whale shark.
My Experience Snorkeling in the Surin Islands
Snorkeling with turtles in the Surin Islands was like a dream come true!
The water was like a giant aquarium as it was so clear and so blue – it literally looked unreal.
I was in complete awe the whole time as I swam alongside multiple turtles, watching them glide gracefully through the water, searching for seagrass.
Whilst snorkeling around here I also saw a ray, a barracuda, several starfish, vibrant corals, a few reef sharks and a ton of tropical fish.
It was genuinely one of the favorite experiences in Thailand and I'd love to do it again if I had the chance.
Check out what you can expect when snorkeling in the Surin Islands in the video below:
Check out my ultimate guide on where to see turtles in Phuket for more snorkeling spots located in Phuket.
Koh Tao
Koh Tao is a small island located on the western shore of the Gulf of Thailand. It's so small that it doesn't even have an airport so you'll need to fly into nearby Koh Samui and take a ferry over.
Koh Tao is world famous for its tropical coral reefs which are home to a range of species including whale sharks, rays and turtles.
Both hawksbill and green turtles gather around this island to breed so it's the best place to find them.
My personal favorite way to see the turtles is to go snorkeling as this allows you to swim alongside the turtles and get the best view. (Remember not to get too close though).
I'd recommend joining a snorkeling tour like this one as the experienced guides will take you to the best spots and locations where the turtles love to hang out.
They take you to a range of snorkeling points including Shark Bay.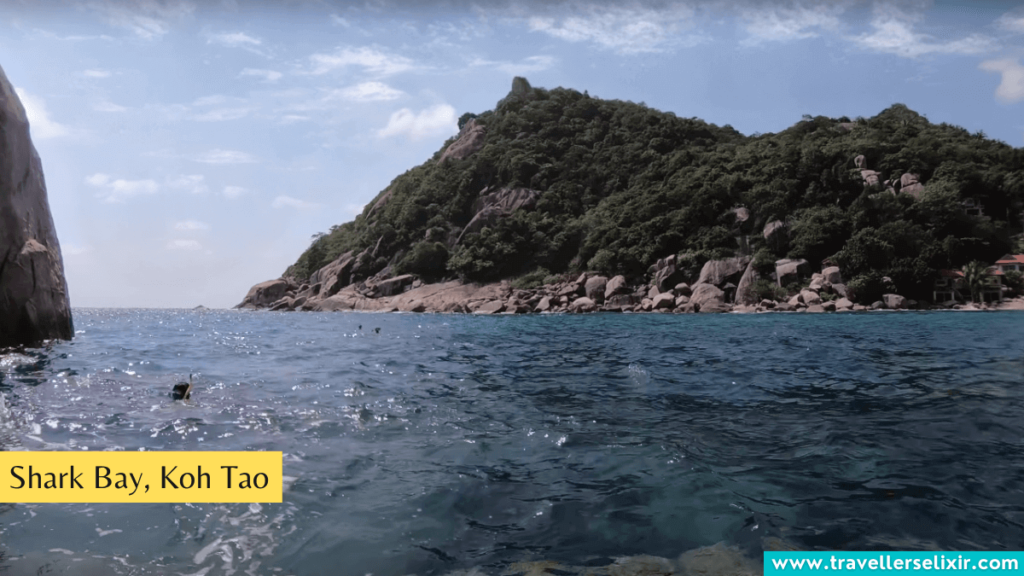 Shark Bay was the absolute highlight of my Koh Tao trip! It is a super famous snorkeling spot where you can swim with turtles but also blacktip reef sharks (don't worry, it's not dangerous).
My Experience Snorkeling on Koh Tao
I'd heard so many incredible things about snorkeling in Koh Tao so I decided to give in and made the journey over to the island.
Luckily at the time I was living in Koh Samui and it's just a short ferry ride over to Koh Tao so I just visited for the day to go snorkeling at Shark Bay.
As soon as I put on my snorkel gear and jumped in, I saw several turtles gracefully gliding through the water. They were so chill and friendly!
I then spotted a group of blacktip reef sharks swimming in the distance. I couldn't believe my eyes!
They just went about their business, completely unbothered by my presence. It was like being in a nature documentary.
I'm not gonna lie, I was a little bit wary of visiting Koh Tao as I'd heard some pretty dodgy things about it.
Many people think the island has some sort of curse as several backpackers have passed away on the island over the years. It's up to you to decide for yourself!
Check out the sorts of sights you can expect when snorkeling at Shark Bay in Koh Tao in the video below:
Check out my ultimate guide on where to see turtles in Koh Tao for more ideas.
Khao Lak
Khao Lak is a small town located on the mainland just 1 hour north of Phuket.
I visited Khao Lak on a day trip whilst I was staying in Phuket. It's pretty easy to get to.
Khao Lak is a top location if you're interested in conservation as they have a sea turtle conservation center.
All 7 different species of turtle are actually endangered so it's so important that we do all we can to help their chances of survival.
Baby turtles face more challenges than ever including:
Eggs are often crushed by beach activities.
Birds take the eggs whilst looking for a meal.
Development on the beaches damage breeding grounds.
Ocean pollution.
Some of these baby turtles struggle to make it to the ocean because of this and need extra help from volunteers. This is where the turtle sanctuary comes in.
They actually nurse the baby turtles for 6 to 8 months before releasing them out into the wild.
You can actually go to the conservation center and visit the baby turtles by joining this turtle conservation tour.
On this tour, you'll get the chance to try out bamboo rafting where you'll float down an idyllic river enjoying the stunning rainforest views around you.
You'll then make a stop at the turtle conservation center to see the baby turtles and learn more about what they do.
My Experience Seeing Turtles in Khao Lak
I visited the conservation center in Khao Lak and I'm so glad I did as we got to see these super cute baby turtles there up close.
They were so tiny and adorable with their little flippers wiggling around. The center was all about helping these baby turtles grow strong before they could be released into the ocean.
We even learned about their life cycle and how important it is to protect them. It was such an eye-opening experience!
Koh Lanta
Koh Lanta is an island which lies off the west coast of Thailand, between the Phi Phi Islands and the mainland.
The best place for swimming with turtles near Koh Lanta is on the small uninhabited island of Koh Rok which lies just south of Koh Lanta.
To get there, I'd recommend joining a one day Koh Rok snorkeling tour from Koh Lanta.
This tour makes the whole process super easy for you so you can just focus on swimming with the turtles and not think about transport.
Koh Rok is renowned for its diverse marine life which has been able to prosper given the fact that the island is uninhabited so the creatures that live there remain undisturbed.
Koh Rok is the perfect place to jump in the water and snorkel right alongside turtles. It's a magical experience that you won't forget.
Check out the huge sea turtle spotted whilst snorkeling in Koh Rok in the video below:
Phi Phi Islands
The Phi Phi Islands, which are often considered to be one of the most beautiful places in the world, are a group of islands located between Phuket and Koh Lanta.
After visiting for myself recently, I can totally agree! The islands are absolutely stunning.
The best place to swim with turtles in the Phi Phi Islands is at the Turtle Rock dive site which is located on the second largest island, Phi Phi Ley.
Both divers and snorkelers have a great chance of seeing turtles here.
Snorkelers will see turtles as they come up to the surface to breathe. Divers can see them swimming around rocks and rummaging for food.
Check out the sort of sights you can expect whilst diving at Turtle Rock in the video below:
Tips For Swimming With Turtles
First time swimming with turtles?
To ensure the turtles remain safe, there's a few key things to bear in mind when swimming with them in Thailand.
Remember that all of the different turtle species are endangered so it's important that we do all we can to help their chances.
Don't be too loud. Try to be as quiet as possible when swimming up to a turtle as loud noises will scare them away.
Do not touch the turtle. Turtles are wild animals and should be respected.
Do not get too close. This might scare the turtle and they could bite you if they get really scared (don't worry this is super rare!).
Do not feed the turtles. They don't need help finding food.
Always approach a turtle from the side. This gives them a clear view of you and a clear path ahead of them if they want to swim onwards.
Don't disrupt the turtle's natural behavior. You can enjoy the turtles by watching them do their thing but try not to disturb them.
These key tips protect both you and the turtles.
---
And that's it!
There are lots of turtle beaches in Thailand which give you the chance to swim alongside the turtles and observe them in their natural habitat.
Don't forget your waterproof camera so you can capture some memories to take home with you.
If you liked this post, you may also like this:
Related Posts: