If you're an adventurous spirit who loves to explore the beauty of nature then you know that a good caption can take your safari photos from great to amazing.
Whether you're taking snaps of majestic elephants, stealthy lions or towering giraffes, you want your Instagram post to capture the essence of your safari experience.
That's why I've put together this list of the best safari Instagram captions that will make your followers roar with envy.
P.S. Follow me on Instagram (@travellerselixir) and tag me in your photo for a share!
Best Safari Instagram Captions
Cute Safari Captions For Instagram
Where the wild things are
Come on a safari with me
Another day, another grand adventure
I came, I saw, I went on safari and found my spirit animal
I bless the rains down in Aaaaafrica
In the jungle, the mighty jungle, the lion sleeps tonight
Taking a walk on the wild side
I'm wild about this safari
On safari, the only rush hour traffic you'll encounter is a herd of wildebeest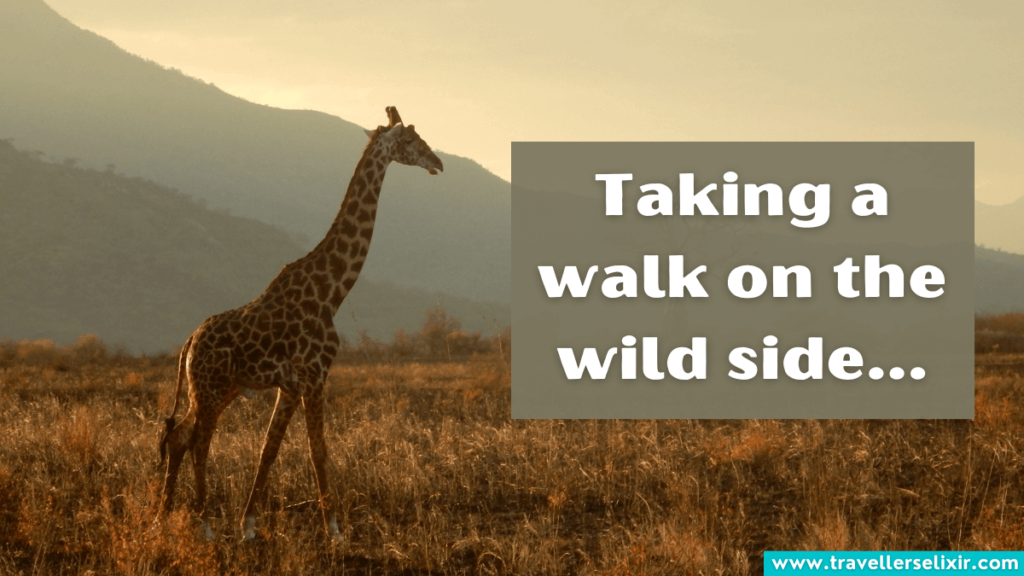 Mother Nature is my kind of girl
Safari tip: Always stay in the jeep unless you want to be a snack
Africa stole my heart
Feeling wild and free on my safari adventure
We're going on an adventure!
The world is a beautiful place and there's no better way to experience it than on safari
I'm not a morning person, but I'll wake up at dawn for a safari any day
Safari dreams do come true
Safari sunsets and wild animals stole my heart
I went on a safari and all I got was this cool Instagram post
There's something magical about watching animals in their natural habitat
Safari success: Spotted the big five and I'm feeling alive
Being surrounded by animals in their natural habitat is the most peaceful feeling in the world
All my worries and stress just melted away on safari. I guess that's what happens when you're surrounded by majestic animals
This is where I belong – surrounded by the wild and untamed beauty of Africa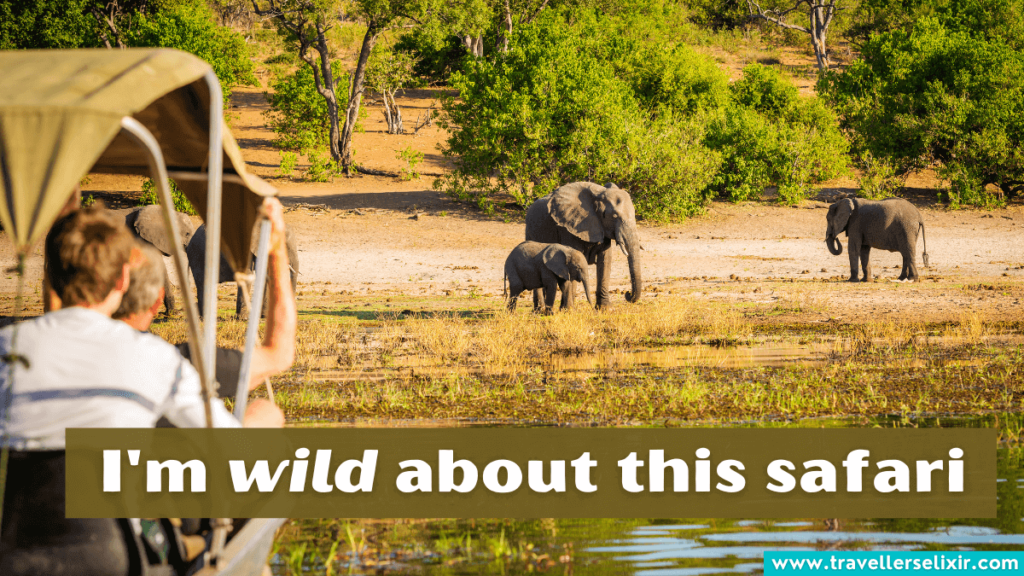 On a safari, even the smallest creatures leave the biggest impressions
Up Next: Desert Instagram Captions
Funny Safari Captions & Safari Puns
Safari good time
This safari is not kitten around
Sorry for lion to you like that
A long came a giraffe
Don't listen to him, he's lion
That was roar-some!
Toucan play at that game
I ain't lion when I say that safari was amazing!
That was ele-phantastic!
Tree-t yo'self
The view is tree-mendous!
I herd that you're going on safari…
You're giraffing me crazy
Well this safari has my seal of approval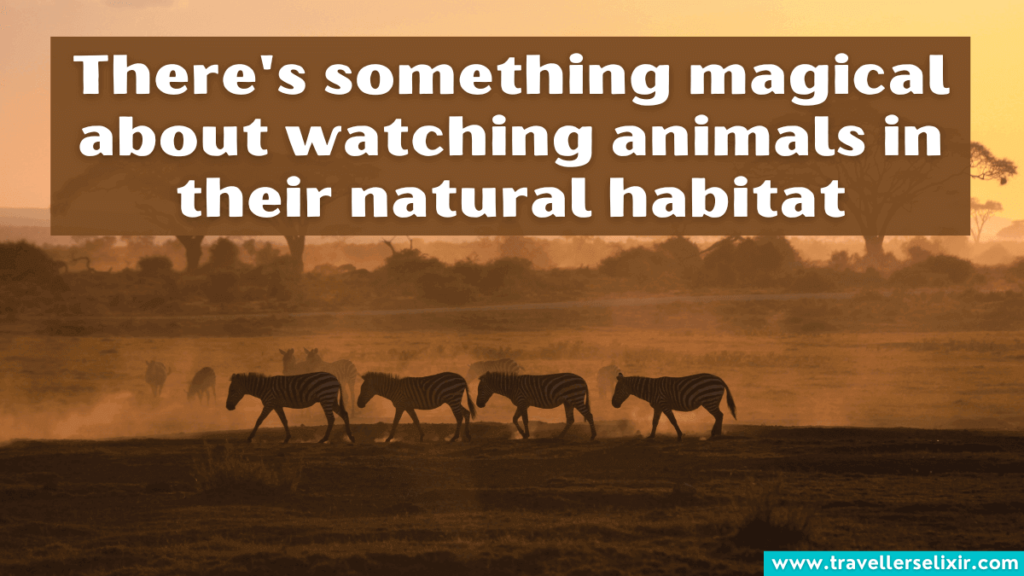 Oh deer…
Jeep in the savannah
This is panda-monium
Jeep in the jungle
I zebr-et you're gonna go far!
Your argument is irrelephant!
This safari is a total game-changer!
You May Also Like: Disney World Instagram Captions
Short Safari Captions
Where the lion sleeps tonight
Going wild
The animal kingdom
The thrill of the chase
Let's get wild!
An escape into the unknown
Roaming with lions
Unforgettable moments in the wild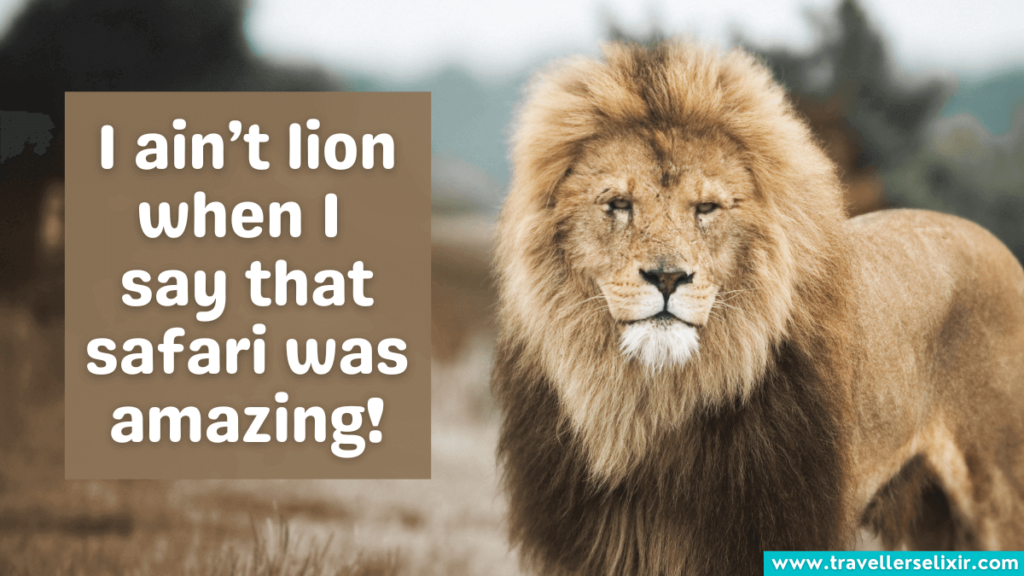 Call of the wild
Embracing the wilderness
The call of the savannah
Savannah sunsets
Safari hair, don't care
Beyond the city limits
Memories in the making
Into the wild
Discovering the African bush
Next Up: San Diego Instagram Captions
Inspirational & Beautiful Safari Captions
You know you are truly alive when you're living among lions
I'm convinced that the best things in life are wild and free, just like the animals on safari
Nature is the closest place to heaven on earth
There's nothing like the feeling of pure awe and amazement when you see a majestic animal on safari
Going on a safari is not just about seeing animals, it's about connecting with the earth and all of its inhabitants
Life is a safari so explore it with a sense of adventure and wonder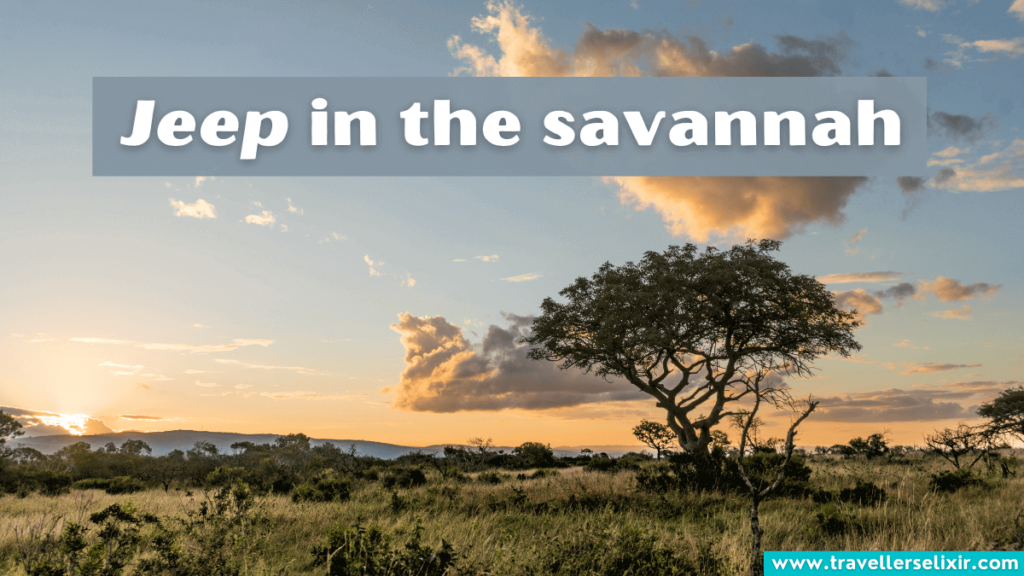 Nature is not a place to visit, it is home
The most valuable lessons I've learned in life have come from the natural world and a safari is the ultimate classroom
A safari is not just a journey, it's an awakening of the senses
Life is a journey and a safari is one of the greatest adventures you can take
My heart longs for the African savannah
Going on a safari is like pressing the pause button on life and immersing yourself in the present moment
I went on a safari and came back with a new appreciation for the wonders of the world
On safari, time stands still and you're immersed in the natural world around you
Sometimes the greatest adventures are the ones that take you out of your comfort zone, like a safari
I went on a safari and came back with a heart full of gratitude and wonder
There's nothing like seeing the majesty of nature up close and personal on a safari
Going on a safari is like stepping into a different world
You May Also Like: Wyoming Instagram Captions
Safari Quotes For Instagram Captions
"If I've ever seen magic it's been in Africa." – John Hemingway
"A safari is not just a journey into the wild, but a journey into the soul of Africa." – Traveller's Elixir
"They say an elephant never forgets. What they don't tell you is you never forget an elephant." – Bill Murray
"The love of all living creatures is the most noble attribute of man." – Charles Darwin
"In the stillness of the savannah, I found the rhythm of my heart." – Traveller's Elixir
"I never knew of a morning in Africa when I woke up that I was not happy." – Ernest Hemingway
"One cannot resist the lure of Africa." – Rudyard Kipling
"The beauty of a safari lies in the unexpected moments of wonder and awe that take your breath away." – Traveller's Elixir
"There is something about safari life that makes you forget all your sorrows and feel as if you had drunk half a bottle of champagne – bubbling over with heartfelt gratitude for being alive." – Karen Blixen
"I hope you have an experience that alters the course of your life because, after Africa, nothing has ever been the same." – Suzanne Evans
"On a safari, time stands still and the world is reduced to the magic of the moment." – Traveller's Elixir
"Nothing but breathing the air of Africa, and actually walking through it, can communicate the indescribable sensations." – William Burchell
"If there were one more thing I could do, it would be to go on safari once again." – Karen Blixen
"Going on a safari is not just an adventure but a journey of the senses that leaves an imprint on your soul." – Traveller's Elixir
"Every time I look at a zebra, I can't figure out whether it's black with white stripes or white with black stripes, and that frustrates me." – Jodi Picoult
"Everything in Africa bites, but the safari bug is worst of all." – Brian Jackman
"In the vast expanse of the African wilderness, I found a deep connection to the rhythm of life itself." – Traveller's Elixir
"Africa has her mysteries, and even a wise man cannot understand them. But a wise man respects them." – Miriam Makeba
"People must feel that the natural world is important and valuable and beautiful and wonderful and an amazement and a pleasure." – David Attenborough
"A safari is not just about seeing animals, but about immersing yourself in the sights, sounds, and smells of the wild." – Traveller's Elixir
"The only man I envy is the man who has not yet been to Africa – for he has so much to look forward to." – Richard Mullin
"To witness that calm rhythm of life revives our worn souls and recaptures a feeling of belonging to the natural world. No one can return from the Serengeti unchanged, for tawny lions will forever prowl our memory and great herds throng our imagination." – George Schaller
"On a safari, you don't just observe nature, you become a part of it." – Traveller's Elixir
"There is a language going on out there – the language of the wild. Roars, snorts, trumpets, squeals, whoops and chirps have meaning derived over eons of expression…we have yet to become fluent in the language – and music – of the wild." – Boyd Norton
"The eye never forgets what the heart has seen." – African Proverb
"A safari is not a trip, it's a pilgrimage to the heart of the African continent." – Traveller's Elixir
"It was wildest, untouched Africa, and it was magic." – Jane Goodall
Up Next: Orlando Instagram Captions
Safari Hashtags For Instagram Likes
#safariphotography
#safaribaby
#safariparty
#safarilife
#safaripark
#safariafrica
#safarigallery
#safaritour
#africansafari
#safaristyle
#photosafari
#wildlifesafari
#safariworld
#safaritrip
#safaritime
#africasafari
You May Also Like: Six Flags Instagram Captions
---
And that's it! I've covered some of the best safari Instagram captions that you can use to add a little extra flair to your wildlife adventure posts.
Whether you're heading to the savannahs of Africa, the rainforests of South America or the national parks of North America, these captions will help you capture the essence of your trip and share it with the world.
And don't forget to follow me on Instagram (@travellerselixir) and tag me in your photo for a share on my story.
Related Posts: