From the snow-capped peaks of the Grand Tetons to the colorful geysers of Yellowstone National Park, Wyoming is a photographer's paradise.
But finding the right words to capture the beauty of this majestic state can be a challenge.
That's why I've curated this list of the best Wyoming Instagram captions to help you share your Wyoming adventure with the world.
P.S. Follow me on Instagram (@travellerselixir) and tag me in your photo for a share!
Best Wyoming Instagram Captions
These captions work for any place you're visiting in Wyoming including Yellowstone National Park, Cheyenne, Devil's Tower, Grand Teton National Park and more.
Cute Wyoming Captions For Instagram
My heart belongs in Wyoming
The last of the Old West
Got my cowboy hat and boots, all ready for my trip to Wyoming
Follow your heart even if it takes you all the way to Wyoming
What happens on the ranch, stays on the ranch
The one where I go to Wyoming
Time to get a new cowboy hat
Disconnect from Wi-Fi. Reconnect with nature
This trip is as wild as the Wild West
Left my heart in Wyoming, better go back and get it
Who needs money when you've got trees, mountains, and rivers?
There's no Wi-Fi in nature. But I promise you'll find a better connection
Home is where the ranch is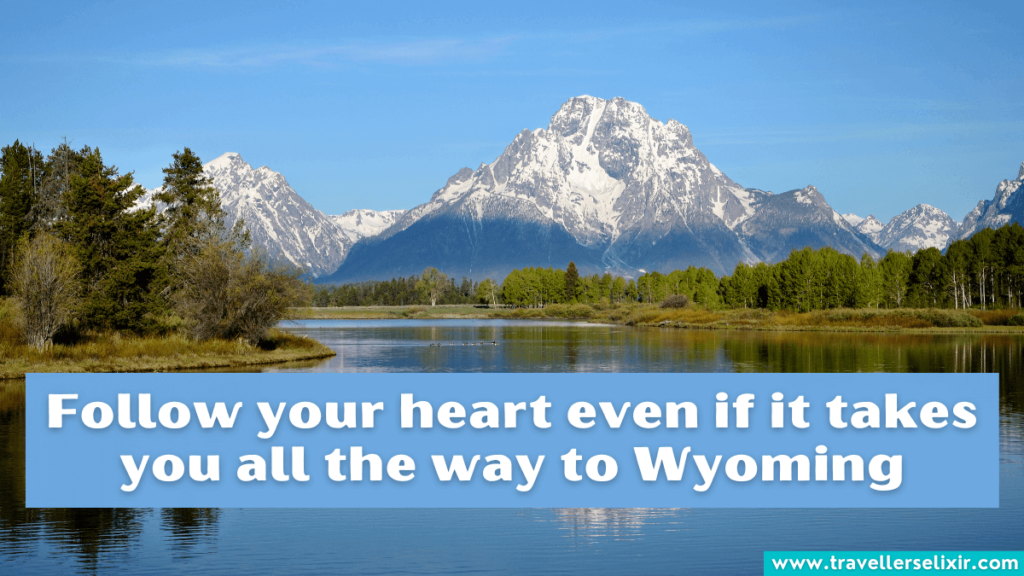 Up Next: Yellowstone National Park Instagram Captions
Funny Wyoming Captions & Wyoming Puns
Wyo doing that?
Wyoming: home of the world's most famous geyser and the world's best beef jerky
It's the one under Montana
Let's play hide and peak in Wyoming
Wyoming, you rock!
Hiking in Wyoming is like being in a National Geographic documentary except the soundtrack is just my heavy breathing
Can't com-plain in Wyoming
The views in Wyoming are tree-mendous
Who needs a gym membership when you can hike up a mountain in Wyoming?
Taking a peak around Wyoming
Taking a walk on the wild side
Wow Devil's Tower, I'll never take you for granite!
Wyoming: where you can see more wildlife than people
You May Also Like: South Dakota Instagram Captions
Short Wyoming Captions
​​Wonderful Wyoming
Where nature rules
Wyoming is always a good idea!
Yee haw!
Take me away to Wyoming
Where the buffalo roam
Majestic mountains
Meet me at Devil's Tower
Exploring the Old West
Wild and free in Wyoming
Wyoming, I'm yours!
Up Next: Utah Captions For Instagram
Wyoming Quotes For Instagram Captions
"In Wyoming, the beauty of our mountains is matched only by the grit of our people." – Liz Cheney
"Wyoming is where the mountains touch the sky and the heart touches the soul." – Traveller's Elixir
"I'm fortunate to live in Wyoming, one of the most beautiful, pristine places in the world." – John Barrasso
"I would like to live to a ripe old age and raise watermelons in Wyoming." – Lou Reed
"Study nature, love nature, stay close to nature. It will never fail you." – Frank Lloyd Wright
"Wyoming is a place of rugged beauty, where nature and wildlife reign supreme. It's a reminder that there is still magic left in this world." – Traveller's Elixir
"I identify with Wyoming, I love the state of Wyoming, I love the people. It's a fantastic state." – Erik Prince
"In Wyoming, nature is the artist and the canvas is infinite. Every turn in the road reveals a masterpiece." – Traveller's Elixir
"My favorite place in the whole world is Jackson Hole, Wyoming." – Miguel Ferrer
"I've lived out West some…I've always liked the High Plains areas – eastern Colorado, eastern Wyoming, western Nebraska." – Charles Frazier
"Wyoming is not just a place, it's a state of mind. It's where the wilderness meets the sky and the spirit is free to roam." – Traveller's Elixir
You May Also Like: Salt Lake City Captions For Instagram
---
I hope this list of the best Wyoming Instagram captions has inspired you to explore the natural beauty of this stunning state and capture some unforgettable moments to share with your followers.
Whether you're hiking through rugged mountains or exploring historic towns, Wyoming offers endless opportunities for adventure and Instagram-worthy photos.
Related Posts: