Welcome to South Dakota, where the Great Plains meet the Black Hills and the beauty of nature is truly unmatched.
But let's be honest, a picture is only as good as its caption. So if you're looking for the perfect Instagram caption to showcase your South Dakota adventures, you're in luck!
I've compiled a list of the best South Dakota Instagram captions that are sure to capture the essence of your experience and leave your followers wanting more.
P.S. Follow me over on IG (@travellerselixir) and tag me in your photo for a story share!
Best South Dakota Instagram Captions
These captions work for any place you're visiting in South Dakota including Mount Rushmore, Deadwood, Badlands National Park, Custer State Park, Crazy Horse Memorial and more.
Cute South Dakota Captions For Instagram
Doing this sweet thing called visiting South Dakota
Nature is the closest place to heaven on Earth
South Dakota officially has my heart
Another day, another grand adventure
It's bad manners to keep South Dakota waiting
South Dakota: where the cows outnumber the people and the sunsets are always on point
On a date with mountains…
Checking out the Wild West in Deadwood
The one where I go to South Dakota
It's a South Dakota thing, you wouldn't understand
I want adventure in the great wide somewhere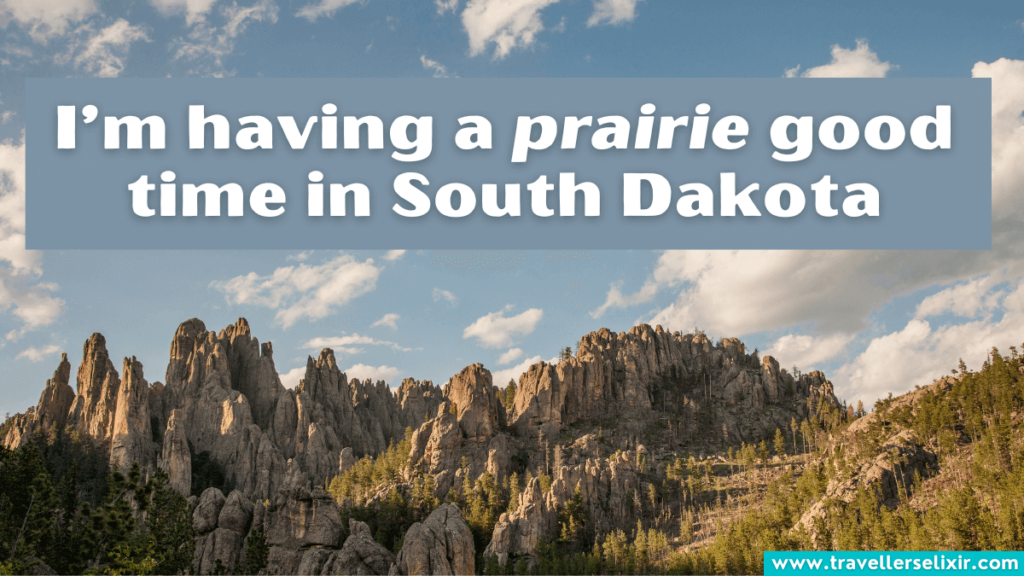 Up Next: Minnesota Captions For Instagram
Funny South Dakota Captions & South Dakota Puns
In face you didn't know, I'm in South Dakota
South Dakota, you rock!
I'm having a prairie good time in South Dakota
I found my soulmate in South Dakota: the delicious buffalo burger
It's just a mountain, get over it
Lost my terrain of thought at Badlands National Park
The Black Hills are just hill-areas!
You May Also Like: Wyoming Captions For Instagram
Short South Dakota Captions
Meanwhile, in South Dakota…
Exploring the midwest
Think outside – no box required
Wild west wonders
The hills are calling
Daydreaming in South Dakota
Mother Nature is my kind of girl
P.S. I love South Dakota
Fresh air, don't care
South Dakota, do you know her?
Badlands bound
Up Next: Yellowstone Captions For Instagram
Mount Rushmore Instagram Captions
What rock group has 4 men that don't sing? Mount Rushmore
Great faces, great places
I'm Lincoln we should go to Mount Rushmore
"Do what you can, with what you have, where you are." – Theodore Roosevelt
Does anyone else think this mountain kinda looks like faces? Weird, right!?
I just can't face it right now
So where can I get one of these?
If you Rushmore we might get there on time!
The beauty of Mount Rushmore before it was carved was un-president-ed
In face you didn't notice, I'm at Mount Rushmore
Mount Rushmore rocks!
"Believe you can and you're halfway there." – Theodore Roosevelt
Face-to-face
I thought Mount Rushmore was going to be bigger but turns out it's just a rock with some faces on it
It's crazy how nature made that…..
"We are not makers of history. We are made by history." – Martin Luther King Jr.
Coming face to face with something great
"Perseverance and spirit have done wonders in all ages." – George Washington
You May Also Like: Washington DC Captions For Instagram
South Dakota Quotes For Instagram Captions
"I always thought of myself as a good old South Dakota boy who grew up here on the prairie." – George McGovern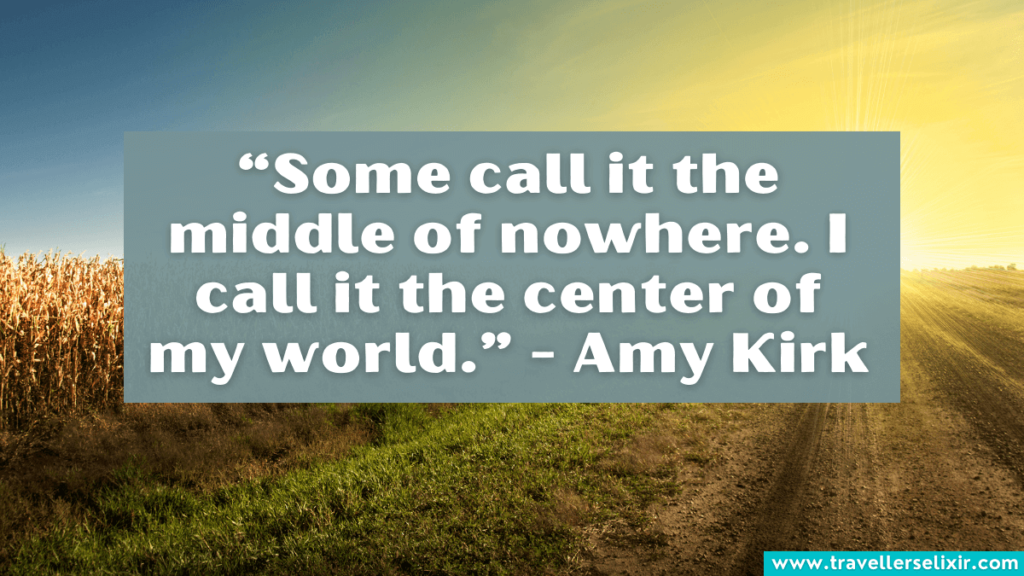 "Coming from a country that's rapidly changing, I love the idea of a place like South Dakota where nothing has really changed." – Chloe Zhao
"I love to drive in the Black Hills of Wyoming and South Dakota with Mount Rushmore as the central stop." – Dana Perino
"Some call it the middle of nowhere. I call it the center of my world." – Amy Kirk
"South Dakota was a place where you could take risks. You could break barriers and get away with it." – Jessi Combs
"Life is a journey, take time to enjoy every step." – Carl 'Dub' William Niemann
"The wilderness holds answers to questions man has not yet learned to ask." – Nancy Newhall
"In nature, nothing is perfect and everything is perfect. Trees can be contorted, bent in weird ways, and they're still beautiful." – Alice Walker
Up Next: Portland, Oregon Instagram Captions
---
I hope you enjoyed my list of the best South Dakota Instagram captions!
Whether you're hiking through the Badlands or exploring the historic streets of Deadwood, there's no shortage of beauty to capture in South Dakota.
With these captions, you can share your experiences with the world and inspire others to visit this incredible state.