With iconic landmarks, world-class museums and vibrant neighborhoods, there's no shortage of things to capture in DC.
But once you've taken that perfect shot, the next challenge is finding the perfect caption to accompany it on Instagram.
I've spent hours coming up with the most entertaining, insightful and downright hilarious Washington DC Instagram captions that will make your posts stand out.
P.S. Don't forget to follow me on Instagram (@travellerselixir) and tag me in your photo for a share!
Best Washington DC Instagram Captions
Funny Washington DC Captions & Washington DC Puns
Everything in this city is a clue according to National Treasure
A woman's place is in the house. The White House
I'm having a monumentally good time in DC
Wow, Washington DC is George-ous!
I thought the DC in Washington DC stood for 'Da Capitol'
Came to Washington DC Obama self
Having a cherr-ific time in DC!
Time to leave Washington DC… Bi-den
Washington DC Trumps all other cities!
My Washington DC puns are Hillary-ous
I'm George Washing-DONE with your attitude!
DC, where the traffic is as slow as the political process
Washington DC, I can't stop Lincoln about you!
I'll cherry-sh visiting DC forever
Has anyone else ever noticed that the Washington Monument looks absolutely nothing like George Washington?
DC, a city where the national bird is not the eagle, but the lobbyist
DC: where even the squirrels are political
I'm feeling monument-al after exploring DC
DC: where the monuments are larger than life and the politicians are smaller than you'd expect
Up Next: Philadelphia Instagram Captions
Cute Washington DC Captions For Instagram
But first, let's go sightseeing in Washington DC
Two minutes in Washington DC and I'm already convinced I should run for president
Feeling pretty presidential in Washington DC
DC is the city that never sleeps…because everyone's too busy working overtime
Washington DC is always a good idea
Just a girl who decided to go for it
I came, I saw, I got lost on the National Mall
Don't be shocked when your history book mentions me
All the heart eyes for cherry blossoms and beautiful sights
If you want to feel small, try standing next to the Washington Monument
Making memories and seeing all the monuments
I learnt more about American history in one day in DC than in four years of high school
Today's forecast: 100 percent chance of museum tours, sightseeing, and cherry blossoms
It's raining pink and white petals!
Cherry blossom season is the best season
DC: where even the pigeons have an opinion on politics
It's cherry blossom season, people!
I didn't come to DC to take sides, I came to take selfies
Such a weird feeling, knowing that the President is probably somewhere in there, walking around in his bathrobe
I walked so much in DC, I'm pretty sure I could have just run for office instead
If you want to fall in love with Washington DC, you just have to come here once
Visited the Lincoln Memorial and got a tan from his reflective head
I asked a local for directions and ended up in a museum about museums
You can leave Washington DC, but it will never leave you
I came to DC to see the monuments but all I got was this selfie with a squirrel
DC knows how to do a half-smoke right
In DC, you don't just visit museums – you get lost in them
DC: where you can walk 10 feet and be in a different state of mind (and sometimes an actual different state)
Visited DC and got a masters in political science just by walking around
You May Also Like: Virginia Instagram Captions
Short Washington DC Captions
Follow me to DC
I'd rather be in Washington DC
Finding the soul of a nation
Talking politics in Washington DC
Follow me to the Lincoln Memorial
Monumental memories in DC
Strolling down Penn Avenue
It's your time to bloom
My favorite color is cherry blossom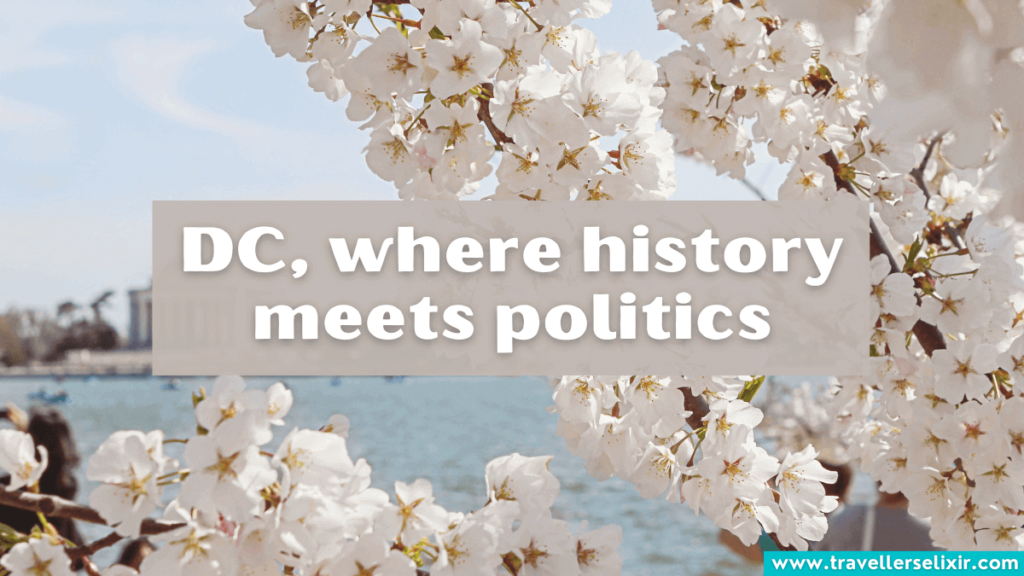 DC, where history meets politics
Lost in the beauty of DC
Dear America, you're so beautiful
A city of stars and stripes
Bloom, baby, bloom
A capital experience
Meet me in DC
Wanderlust and city dust
My kind of city
Living history in DC
Up Next: Chicago Instagram Captions
Inspirational & Beautiful Washington DC Captions
Ask not what your country can do for you, ask what you can do for your country
DC, a city that inspires me to dream big and believe in myself
I came, I saw, I fell in love with Washington DC
The Lincoln Memorial, a symbol of freedom and unity, never fails to move me
Exploring the nation's capital, one monument at a time
Following the blossoms in Washington DC
Let your dreams bloom like the cherry blossom of Washington DC
The cherry blossoms in full bloom make DC even more magical
DC is a city that never stops inspiring me, no matter how many times I visit
A city of contrasts, where history meets modernity and tradition meets innovation
Feeling patriotic in the heart of America
DC, where every street corner is a work of art and every moment is worth savoring
Born to make history and beautiful change
Washington DC, thank you for making me feel so alive
The dream is free. The hustle is sold separately
DC, a city where diversity and inclusivity are celebrated every day
You May Also Like: Atlanta Instagram Captions
Washington DC Quotes For Instagram Captions
"Never stop believing that fighting for what's right is worth it." – Hillary Clinton
"DC is more than just a city, it's a living museum that tells the story of America's past, present and future." – Traveller's Elixir
"In Washington DC politics dominate even the most casual conversations." – Armstrong Williams
"Washington DC is a city of endless discovery, where every turn reveals a new chapter in the story of America." – Traveller's Elixir
"In DC, you don't just see history, you become a part of it, as you stand in awe of the monuments and memorials that pay tribute to the heroes of our past." – Traveller's Elixir
"I was raised in Washington DC in a household where one parent was a Republican and the other was a Democrat, so I got both sides." – Sandra Bullock
"Washington DC, a city that reminds us of the power of democracy, the beauty of history and the strength of our nation." – Traveller's Elixir
"You can practically smell the bills becoming laws. You can taste the sweet sugar of bureaucracy at work." – Leslie Knope
"Visiting DC is like taking a journey through time, as you walk in the footsteps of great leaders and visionaries." – Traveller's Elixir
"You want a friend in Washington? Get a dog." – Harry S. Truman
"Washington DC is a city that invites you to explore its history, savor its diversity and embrace its vibrancy." – Traveller's Elixir
"Washington is a city of Southern efficiency and Northern charm." – John F. Kennedy
"Walking through the streets of DC, you can feel the energy of a city that has played a pivotal role in shaping the course of history." – Traveller's Elixir
"Do you think that when they asked George Washington for ID that he just whipped out a quarter?" – Steven Wright
"In DC, you don't just visit landmarks, you immerse yourself in the soul of a nation and the spirit of its people." – Traveller's Elixir
"There is no solitude in the world like that of the big city." – Kathleen Norris
"There's something magical about DC, a city that seems to embody the very essence of what it means to be American." – Traveller's Elixir
"I have never felt salvation in nature. I love cities above all." – Michelangelo
"Visiting DC is like discovering a hidden gem, a city that holds secrets and stories that are waiting to be uncovered." – Traveller's Elixir
"In DC, you can't help but feel a sense of patriotism and pride as you explore the city's historic landmarks and institutions." – Traveller's Elixir
Up Next: Pittsburgh Instagram Captions
Washington DC Hashtags For Instagram Likes
#washingtondc
#washingtondcfood
#washingtondctrip
#washingtondclife
#washingtondc🇺🇸
#washingtondcphotography
#dceats
#dcfoodie
#dclife
#dcblogger
#dctrip
#dcbound
#dcfoodies
#visitdc
#lincolnmemorial
#washingtonmonument
#nationalmall
You May Also Like: New York City Instagram Captions
---
I hope you enjoyed my list of the best Washington DC Instagram captions and found some inspiration for your next social media post.
From witty puns to insightful quotes, there's a caption for every type of photo you take in the nation's capital.
Related Posts: