Welcome to the Windy City, where skyscrapers meet the shores of Lake Michigan and deep dish pizza reigns supreme.
But let's be real, coming up with a creative and catchy caption can be just as challenging as taking the perfect photo.
That's why I've come up the best Chicago Instagram captions to help you showcase your Windy City adventures in the most memorable and engaging way possible.
P.S. Follow me on Instagram (@travellerselixir), tag me in your photo & I'll share it on my story!
Best Chicago Instagram Captions
Funny Chicago Puns
I've never bean to Chicago before
I bean thinkin' about you
You gust correctly…I'm in Chicago!
Chicago: Bean there, done that
Chicago, where have you bean all my life
I'm deep dish-appointed I didn't eat more pizza in Chicago
Blown away by the Windy City!
Finally made it to Chicago. It's a boat time!
I'm in it to wind it
I'm Chica-GOBSMACKED by this city!
In Chicago, I'm in the Loop
I wind to Chicago last week actually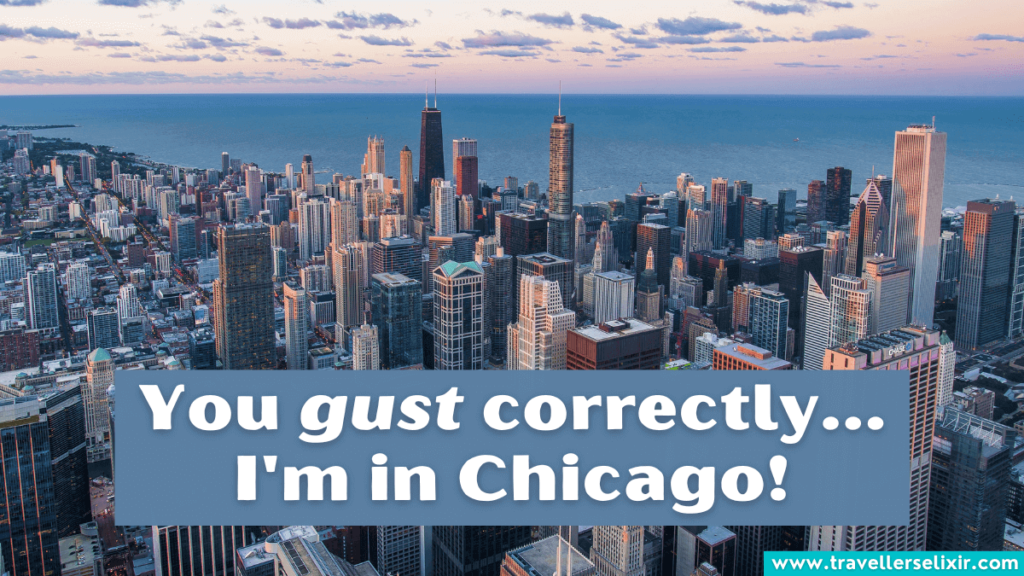 I love Chicago, but I'm ready to get the L out of here
I've bean loving Chicago since day one
Chica-go on then…
A trip to Chicago is an L-evated experience
Chicago stole a pizza my heart!
Chicago, I lake you a lot!
I gust we'll see how it goes
Pier pressure brought me here (Navy Pier)
Chicago, you're a pizza art
I had a blast on Navy Pier – it was a pier-fect day
I didn't think it was possible to love a city as much as I love Chicago – that's a tall order!
I had a field day at Wrigley Field!
Chicago, I'm shore going to miss you!
I had a tower-ific time at Willis Tower in Chicago
Up Next: Michigan Instagram Captions
Funny Chicago Instagram Captions
Windy City? More like "hold on to your hat, your phone, and your sandwich" city
I'm just a tourist, standing in front of the Bean, asking it to love me
The only thing deeper than the deep dish pizza in Chicago is my love for this city
Chicago, where the lake is the beach and pizza is the religion
Chicago, you're so windy you blew my hairstyle back to the 90s!
Chicago, where every restaurant is BYOB: Bring Your Own Blanket (it's cold out here!)
Don't mind me, just trying to take a selfie with the entire skyline in the background
I took the stairs at the Willis Tower and now I feel like I deserve a deep dish pizza
I didn't know what true love was until I took a bite of Chicago's deep dish pizza
Chicago: the only place where it's acceptable to put ketchup on a hot dog…just kidding, I know it's not
Chicago, you're like a hairdryer on full blast – but I still love you!
Just a small-town girl living in a deep-dish world
Chicago calories don't count right? RIGHT!?
I didn't think it was possible to fall in love with a city but then I visited Chicago and had their pizza
Just your average day in Chicago: admiring the architecture, eating deep dish pizza and pretending to know how to pronounce 'Goethe'
I thought I knew what wind was until I visited Chicago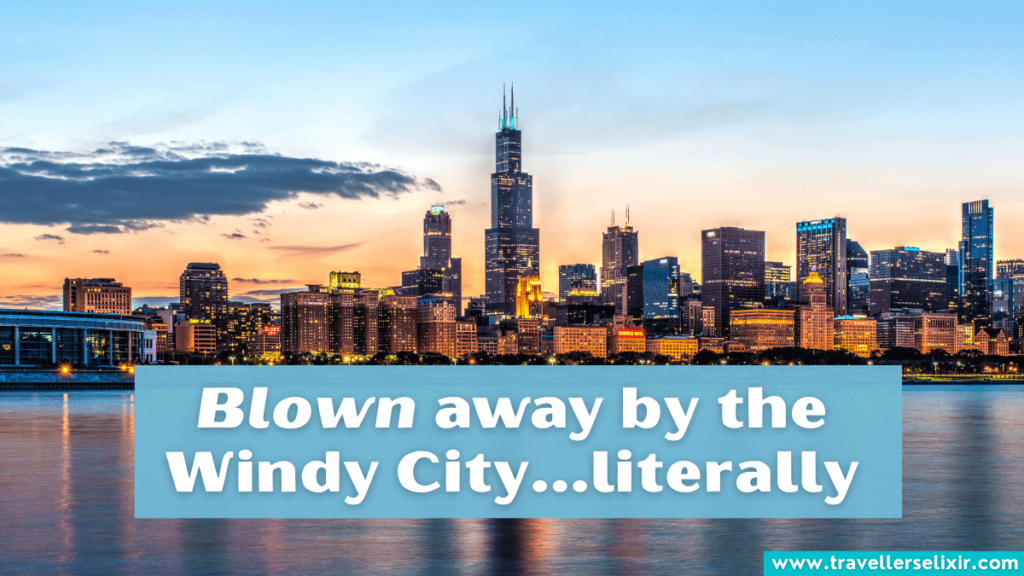 Chicago, the only place where you can have a pizza for breakfast, lunch and dinner
I was blown away by the amazing food and culture in Chicago but I never expected to be literally blown away by the wind!
I thought the Bean in Chicago was just a giant mirrored sculpture – turns out it's also a great place to check my hair!
You May Also Like: Boston Instagram Captions
Cute Chicago Captions For Instagram
Chicago you have my heart
All you need is love and skylines
I fell in love, his name is Chicago
Chicago, you make my heart sing like a Blues Brother!
Chicago, you've got a loop around my heart
Stuck in this Chicago loop
Things ain't so bad in the windy city
I think I left a piece of my soul in Chicago – and I'm totally okay with that!
I don't always eat pizza, but when I do, it's deep dish from Chicago
Started from the bottom, now we here (Skydeck)
Big cities can have big hearts too
Once upon a time in Chicago
Either you love Chicago or you are wrong
I left a piece of my heart in Chicago – but that just means I'll have to come back and visit again soon!
Theater in Chicago will always be my first love
I never knew I could fall in love with a city until I visited Chicago
You never forget your first day in Chicago
I never knew how much I needed Chicago in my life until I visited
Happiness is…holding tickets that say Chicago
There's nothing quite like the feeling of being in the heart of Chicago
Every corner of Chicago has a story to tell
Chicago, you've got me in a state of euphoria – I'm already dreaming of my next visit!
Up Next: Wisconsin Instagram Captions
Short Chicago Captions
Meet me in Windy City
Chicago let's do it
Daydreaming in Chicago
Magnificent Mile, magnificent city
Bright lights, city nights
I came, I saw, I deep-dished
Sweet home Chicago
Pizza paradise
P.S. I love Chicago
Cityscape dreams
Life's better by the lake
Urban adventures
Chicago skyline steals the show
Cool beans
My kind of town
Chicago, I'm in love
Chicago, you look great
Chicagoland adventures
Friends, drinks and Chi-Town
Exploring the Windy City
Meet me in Chicago
You cannot stop Chicago
Chicago is calling and I must go
Up Next: Cincinnati Instagram Captions
Inspirational & Beautiful Chicago Captions
Follow your heart, even if it takes you all the way to Chicago
Exploring Chicago made me realize that sometimes the most beautiful things in life are the things we stumble upon unexpectedly
A concrete version of paradise
Every time I visit Chicago, I leave feeling inspired and motivated to be the best version of myself
Dear Chicago, I will never get over you
Chicago, a city that embraces diversity and inspires creativity
Visiting Chicago was a dream come true. I've never felt so alive and inspired by a city before
In Chicago, I found the courage to pursue my dreams and the inspiration to chase after them
You can leave Chicago, but it will never leave you
Chicago, you're like a beautiful painting that I never want to stop looking at
I've traveled to many places but there's something special about Chicago
Chicago, where every street corner feels like a new opportunity waiting to be discovered
Hello Chicago, your lights are fireflies in my heart
The art, the architecture, the history…Chicago is a city that feeds the soul
Chicago, you are a city full of surprises and I'm grateful for every moment I spent exploring your vibrant streets
I'm just a small-town girl with big-city dreams
I came to Chicago as a tourist but left feeling like a local
Chicago, you stole my heart the moment I stepped off the plane
Chicago, you showed me that there's beauty to be found in every corner of the city
From the stunning skyline to the deep dish pizza, I'll always hold the memories of this city close to my heart
Chicago, a city that embraces change and celebrates progress
Once upon a time, in the enchanted land of Chicago
Somewhere over the rainbow you will find Chicago
There's something special about visiting Chicago. It's not just the beauty of the city but the energy and inspiration it brings
Let the city set you free
I left my heart in Chicago – and I'm pretty sure it's still there!
You May Also Like: Washington DC Instagram Captions
Chicago Quotes For Instagram Captions
"I'd rather be a lamppost in Chicago than a millionaire in any other city." – William A. Hulbert
"Chicago is more than just a city, it's a canvas that invites us to paint our dreams and aspirations on its skyline." – Traveller's Elixir
"It's one of the greatest cities on the planet. My heart beats differently when I'm in Chicago. It slows down and I feel more at ease." – Jeremy Piven
"Eventually, I think Chicago will be the most beautiful great city left in the world." – Frank Lloyd Wright
"Chicago is a town, a city that doesn't ever have to measure itself against any other city. Other places have to measure themselves against it. It's big, it's outgoing, it's tough, it's opinionated, and everybody's got a story." – Anthony Bourdain
"Chicago is like a symphony, each neighborhood a different instrument that comes together to create a beautiful melody of diversity and culture." – Traveller's Elixir
"Chicago's neighborhoods have always been the city's greatest strength." – Jane Byrne
"Chicago does not go to the world, the world comes to Chicago!" – Peter Orner
"Chicago is a city of lights but it's the people who shine the brightest." – Traveller's Elixir
"Going to Chicago was like going out of the world." – Muddy Waters
"The best food is in Chicago. There are great restaurants everywhere, from fancy places to burger joints." – Steve Carell
"Chicago is not just a city, it's a character with a story to tell, a history to share and a future to inspire." – Traveller's Elixir
"You know what they say about Chicago. If you don't like the weather, wait fifteen minutes." – Ralph Kiner
"I adore Chicago. It is the pulse of America." – Sarah Bernhardt
"Chicago is a city that never sleeps but it's also a city that never stops dreaming." – Traveller's Elixir
"I must confess a shameful secret: I love Chicago best in the cold." – Erik Larson
"Chicago is not just a city, it's a state of mind – a place where dreams are born and ambition knows no limits. In the Windy City, anything is possible." – Traveller's Elixir
"My first day in Chicago, September 4, 1983. I set foot in this city, and just walking down the street, it was like roots, like the motherland. I knew I belonged here." – Oprah Winfrey
"I'm impressed with the people from Chicago. Hollywood is hype. New York is talk. Chicago is work." – Michael Douglas
"Chicago is a city of neighborhoods, each with its own unique flavor and charm. It's like a patchwork quilt, where every square is different but comes together to create something beautiful." – Traveller's Elixir
"Sometimes words are just music themselves. Like 'Chicago' is a very musical sounding name." – Tom Waits
"In Chicago, the architecture is not just a backdrop, it's a testament to the vision and ingenuity of its people." – Traveller's Elixir
"I miss everything about Chicago, except January and February." – Gary Cole
"Let me tell you something. I'm from Chicago. I don't break." – Barack Obama
"But when I go to Chicago, I know I'm home." – Hank Sauer
"Chicago is a city that's always changing but its heart remains constant, beating with the rhythm of its people." – Traveller's Elixir
"Theater in Chicago will always be my first love." – William Petersen
"Chicago still remains a Mecca of the Midwest – people from both coasts are kind of amazed how good life is in Chicago, and what a good culture we've got. You can have a pretty wonderful artistic life and never leave Chicago." – Harold Ramis
"In Chicago, the world is at your fingertips and the opportunities are endless." – Traveller's Elixir
"It is hopeless for the occasional visitor to try to keep up with Chicago – she outgrows his prophecies faster than he can make them. She is always a novelty; for she is never the Chicago you saw when you passed through the last time." – Mark Twain
"In Chicago, every corner tells a story, every building has a soul and every moment is an opportunity to create a new memory." – Traveller's Elixir
"Chicago seems a big city instead of merely a large place." – A.J. Liebling
"Chicago is an October sort of city even in spring." – Nelson Algren
"We're Chicago – we can do anything, damn it." – Elva Rupio
Up Next: Seattle Instagram Captions
Chicago Hashtags For Instagram Likes
#chicagogram
#chicagofood
#chicagoeats
#chicagoblogger
#chicagofoodie
#chicagolife
#chicagoarchitecture
#chicagoshots
#chicagophotography
#chicagoskyline
#chicagoland
#chicagoillinois
#chicagofoodies
#chicagostyle
#chicagopizza
#visitchicago
#chicagotravel
#chicagotrip
You May Also Like: Pittsburgh Instagram Captions
---
And that's a wrap on my list of the best Chicago Instagram captions!
From famous landmarks to hidden gems, Chicago offers an endless array of photo opportunities that are sure to wow your followers.
Whether you prefer funny, sentimental or thought-provoking captions, there's something for everyone in this list.
Related Posts: