Welcome to the Steel City, where the bridges are endless, the fries are topped with coleslaw and the Instagram opportunities are never-ending.
If you're a lover of all things Pittsburgh, you know that capturing the essence of this city in a single photo is no easy feat.
That's why I've put together this list of the best Pittsburgh Instagram captions that are sure to make your followers a double-tap.
P.S. Follow me on IG (@travellerselixir) and tag me in your photo for a share on my story!
Best Pittsburgh Instagram Captions
Cute Pittsburgh Captions For Instagram
Heading to Pittsburgh, be back never
No, mom, I haven't picked up a Pittsburgh accent yet
This girl is ready for some Steelers football!
Came all the way to Pittsburgh just for a Pittsburgh salad!
If you don't like Pittsburgh, you can take a walk… across one of our many bridges
Here for the views and bridges (yes all 446 of them)
Pittsburgh: you can't pronounce any of the river names, but boy are they beautiful
My sense of direction leads me one way: to Pittsburgh
Pittsburgh – where the locals are friendly, the bridges are stunning and fries is a food group
Just visited Pittsburgh and my calves have never been more toned
Bridge spotting in the City of Bridges
Pittsburgh – where we put fries on everything except our pizza. We're not savages
Who needs Hollywood when you have the Hollywood Theater in Pittsburgh?
I came, I saw, I conquered…the incline
Just visited Pittsburgh and I feel like I need a degree to understand the local slang
I'm not saying Pittsburgh has the best views, but have you seen the inclines?
Up Next: Philadelphia Instagram Captions
Short Pittsburgh Captions
Living that Pittsburgh life
I'd rather be in Pittsburgh
Go Steelers!
Heading to the 'Burgh
It's a Burgh thing
Steel City vibes
Pittsburgh is always a good idea!
Blessed and Steelers obsessed
Little moments, big memories
Incline adventures
Cityscape dreams
Bridges for days
Take me back to Pittsburgh
Yinzer for life
Daydreaming in Pittsburgh
This is my happy place
Burgh life, best life
P.S. I love Pittsburgh
There is no cure for Pittsburgh
You May Also Like: Boston Instagram Captions
Funny Pittsburgh Captions & Pittsburgh Puns
Black and gold till I'm dead and cold
I steel believe!
Pittsburgh, you're steel-ing my heart!
I'm not arguing, I'm just speaking Pittsburghese
I wish I'd spent more time in Pittsburgh, Heinz sight is a wonderful thing
I steel can't get over how amazing Pittsburgh is
Taking a Pitt stop because why not?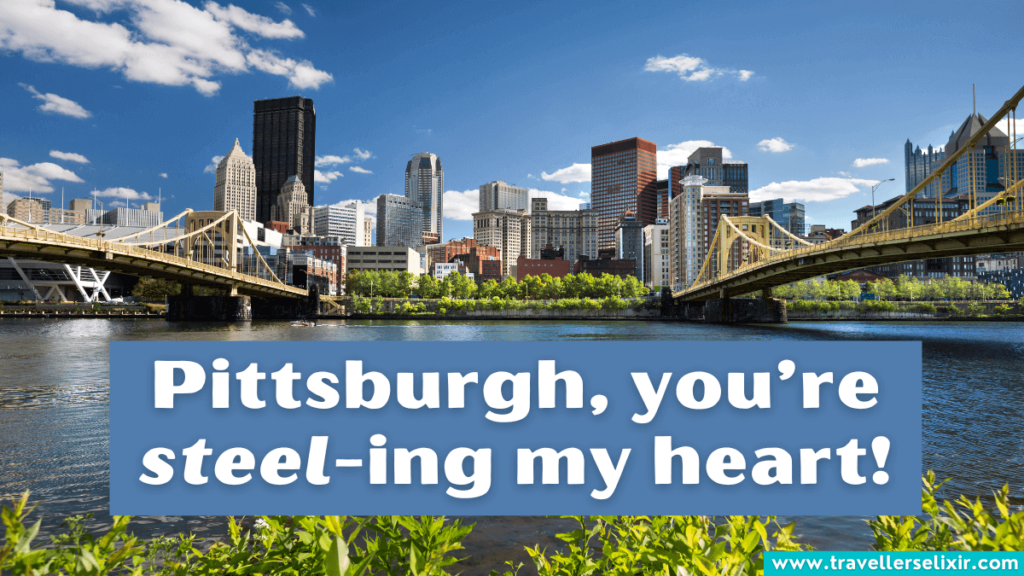 Yinz better believe it!
Pittsburgh, will yinz be mine?
Bridges, burgers, and beer – the three B's of Pittsburgh
Bridges be crazy
You May Also Like: New Jersey Instagram Captions
Inspirational & Beautiful Pittsburgh Captions
My heart belongs in Pittsburgh
Getting wonderfully lost in Pittsburgh
From the inclines to the bridges, Pittsburgh has a way of making you feel like you're on top of the world
Fill your life with experiences, not things. Have stories to tell, not stuff to show
Dear Pittsburgh, I will never get over you
You never forget your first day in Pittsburgh
There's something about Pittsburgh that makes you feel like you're part of the family
For those who never go, never know!
Pittsburgh stole my heart, but at least I know it's in good hands
Pittsburgh may have its ups and downs but the views are always worth the climb
Good times with even better people
Hello Pittsburgh, your lights are fireflies in my heart
Up Next: Cincinnati Instagram Captions
Pittsburgh Quotes For Instagram Captions
"I would always reserve a special place in my heart for Pittsburgh." – Willie Stargell
"Pittsburgh felt like the perfect size of a city to me. There's enough to do, but it's not like living in a circus. I also really loved how sports-enthusiastic Pittsburgh people are: how proud of their sports they are." – Joel Edgerton
"Pittsburgh is a city that never forgets its roots, even as it grows and evolves into a modern metropolis." – Traveller's Elixir
"I love Pittsburgh because it's a humble city. It's really grounded in its rich history and culture." – Kyle Abraham
"I just wanted to say hi to Pittsburgh as well because I miss it." – Jackie Evancho
"I loved working in Pittsburgh – the theater there is amazing, so many different types of theater." – Casey Cott
"I could never imagine myself living anywhere but Pittsburgh." – Bruno Sammartino
"Pittsburgh is a very unique place." – Andrew W.K.
"Pittsburgh's beauty is not just in its architecture but in the way its people have built and rebuilt their community with grit, determination and heart." – Traveller's Elixir
"Just growing up in Pittsburgh and knowing different neighborhoods, having family there and just loving it, it's like no other place." – Wiz Khalifa
"I am a Pittsburgh girl at heart." – Beth Ostrosky Stern
"There's so much that I like about Pittsburgh, actually. The cultural district and museums are wonderful, and I encourage everyone to check them out. And the food is excellent, too!" – Troy Polamalu
"Travel makes one modest. You see what a tiny place you occupy in the world." – Gustave Flaubert
"Pittsburgh was a wonderful place to grow up – diverse and complex, one could go from one culture to a completely different one in just a few blocks. It was a whole world in one city." – Frances Arnold
"Pittsburgh is a football town." – Ben Howland
"In Pittsburgh, the people are as warm and welcoming as the glow of the city's skyline, always ready to share a smile and a story with those who visit." – Traveller's Elixir
"I love the city of Pittsburgh." – Le'Veon Bell
"I learned how to navigate the world, and life's potholes, in Pittsburgh." – Frances Arnold
You May Also Like: Chicago Instagram Captions
Pittsburgh Hashtags For Instagram Likes
#pittsburgh
#pittsburghpa
#pittsburghfoodie
#pittsburghfood
#pittsburghbeautiful
#pittsburghblogger
#pittsburgheats
#pittsburghphotography
#pittsburghproud
#pittsburghstrong
#pittsburghrestaurants
#pittsburghhistory
#pittsburghpro
Up Next: Cape Cod Instagram Captions
---
I hope this list of the best Pittsburgh Instagram captions has given you plenty of inspiration for your next photo adventure in the Steel City.
Whether you're a born-and-raised yinzer or a visitor experiencing Pittsburgh for the first time, there's always something new to discover and capture on Instagram.
And remember, the best way to experience Pittsburgh is to live it – so put down your phone and take in all the sights, sounds and flavors this city has to offer.
Related Posts: