With its charming lighthouses, quaint villages and stunning beaches, Cape Cod is a photographer's paradise.
I've rounded up the best Cape Cod Instagram captions to help you showcase your love for this beloved destination.
So whether you're snapping a photo of a lobster roll, a beach sunset or a historic windmill, I've got you covered. Let's dive in!
P.S. Follow me on IG (@travellerselixir) and tag me in your photo for a share!
Best Cape Cod, Massachusetts Instagram Captions
Funny Cape Cod Captions & Cape Cod Puns
Cape Cod and carry on
Talk to the sand
Cape Cod is calling me on my shell phone
Sea-sing every moment in Cape Cod
Happy as a clam
Sea you soon, Cape Cod
Oh my cod!
Cape Cod is jawsome!
Cod we stay here forever please!
No-fin compares to the Cape
Me and Cape Cod were mermaid to be
Cape me away
Getting some vitamin sea in Cape Cod
Up Next: Wisconsin Instagram Captions
Short Cape Cod Captions
Cape Cod chillin'
Sandy toes and sun-kissed nose
Salt water is good for the soul
'Tis the season to go swimming
Ready to eat all the lobster
Life is better at the Cape
Cape Cod is for lovers
Beach hair, don't care!
I lost my heart to the Cape
Once upon a time in Cape Cod
Take me back to the Cape
You May Also Like: Boston Captions For Instagram
Cute Cape Cod Captions For Instagram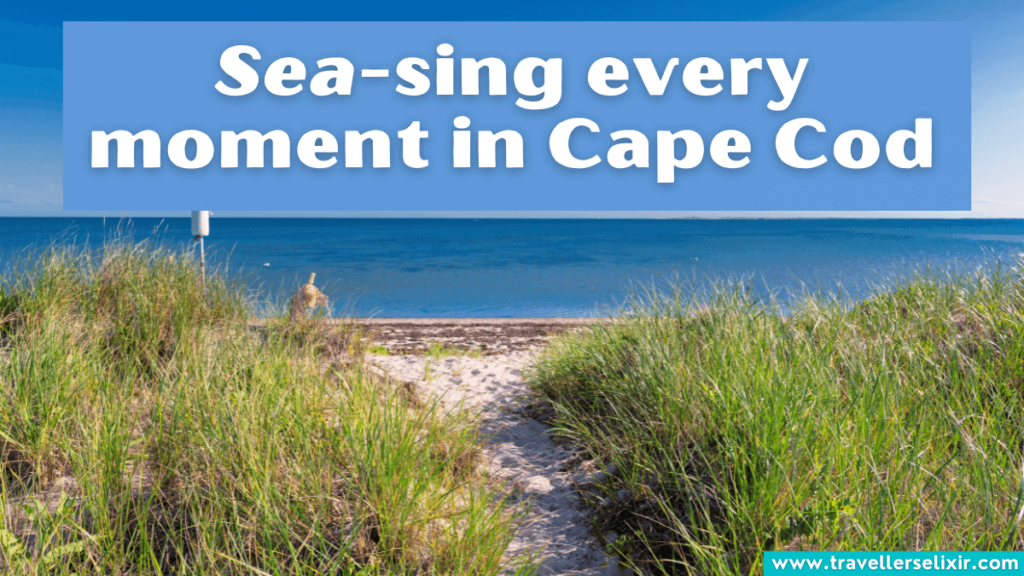 Falling in love with Cape Cod, one clam at a time
It's always five o' clock in Cape Cod
Happier than a seagull with a French fry
It's a Cape thing, you wouldn't understand
Sorry for what I said when I wasn't lying on a beach in Cape Cod
I know exactly where my heart is: Cape Cod
Relationship status: In love with sunsets and this Cape
I miss being in Cape Cod and never knowing what day of the week it is
Life is better with sand between your toes and a lobster roll in your hand
Up Next: Minnesota Instagram Captions
Inspirational & Beautiful Cape Cod Captions
May you always have a shell in your pocket, and sand in your toes
Headed to the Cape for the sunshine and good times
Sun, sand, and sea – the perfect Cape Cod trifecta
Just another day in paradise – aka Cape Cod
Nothing soothes the soul like the sun and the sand
The sand may brush off, the salt may wash away, the tans may fade…but my memories of Cape Cod will last forever
Am I in Cape Cod or heaven?
Nothing beats a Cape Cod sunset
Our memories of Cape Cod will linger on, long after our footprints in the sand are gone
I found paradise in Massachusetts
Cape Cod: where the ocean meets the horizon and my worries disappear
Up Next: Maine Instagram Captions
Cape Cod Quotes For Instagram Captions
"Heaven seems closer in a little house beside the Cape Cod waters." – Beverly Baldwin Nightingale
"Cape Cod is where the sun-kissed sand meets the salty sea and memories are made to last a lifetime." – Traveller's Elixir
"Cape Cod – it truly is heaven on Earth." – Kate Scott
"There's something special about Cape Cod – a place where time seems to stand still and the beauty of nature takes center stage." – Traveller's Elixir
"My soul will remain on the Cape long after I am gone." – Crystal Stirton Keyes
"Smell the sea, and feel the sky. Let your soul and spirit fly." – Van Morrison, 'Into The Mystic'
"Visiting Cape Cod is like stepping into a postcard. The picture-perfect scenery is truly breathtaking." – Traveller's Elixir
"Nothing soothes the soul like a walk on a Cape Cod beach." – Unknown
"The Cape is the best part of my entire year." – Ashley A.
"The serene beaches, the quaint towns and the delicious seafood – Cape Cod is a slice of heaven on earth." – Traveller's Elixir
"A little slower, sweetheart. Cape Cod is freezing over." – Rick Riordan
"A visit to Cape Cod is not just a trip, it's a journey to a simpler way of life. It's a reminder to slow down, take a deep breath and savor the moment." – Traveller's Elixir
Up Next: New Jersey Instagram Captions
---
Thanks for joining me on this journey through the best Cape Cod Instagram captions!
I hope you found some inspiration for your next post and I can't wait to see your photos from this beautiful region.
Remember a great caption can truly make your post stand out and engage your followers so don't be afraid to get creative and showcase your love for Cape Cod.
Related Posts: