If you're lucky enough to find yourself in the beautiful state of Maine, you know that every moment is a picture-perfect opportunity waiting to happen.
Whether you're wandering through charming coastal towns, exploring rugged mountain ranges or indulging in some mouthwatering seafood, I've got you covered.
I'll be diving into the best Maine Instagram captions that will not only make your followers double-tap but also capture the essence of this captivating state.
P.S. Follow me on Instagram (@travellerselixir) and tag me in your photo for a share.
Best Maine Instagram Captions
These captions work for any place you're visiting in Maine including Portland, Augusta, Acadia National Park, Bar Harbor and more.
Cute Maine Captions For Instagram
Me and Maine: Love at first sight
Maine: The land of lobsters, lighthouses and no cell service. Talk about a digital detox!
Once upon a time in Maine
Forget the gym – I got my daily workout in Maine by climbing rocky cliffs and dodging aggressive seagulls
Here for the views and lobster rolls
Maine is proof that the most beautiful places are often the ones that require an extra layer of bug spray
When life gives you lemons, trade them for lobsters in Maine
Enjoying life one lighthouse at a time
Maine: where 'roughing it' means staying in a cozy cabin with WiFi and a gourmet coffee maker
Never met a lighthouse I didn't like
Falling hard for Maine…and these lobster rolls
I went to Maine expecting peaceful hikes but ended up in a staring contest with a curious moose
Relationship status: In love with sunsets and this state
Maine's motto: Eat lobster, be happy, repeat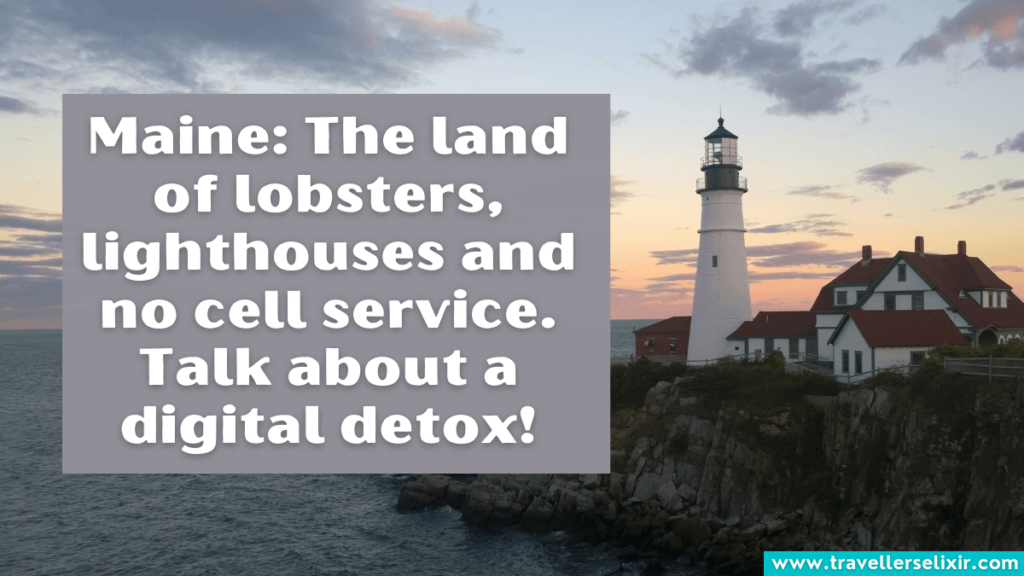 Maine: where 'traffic jam' means getting stuck behind a family of ducks crossing the road
In Maine, we don't count calories, we count lobster claws
Channeling my inner lobster roll enthusiast in the great state of Maine!
Just a girl who loves lighthouses
I came to Maine for the scenic views but I stayed for the blueberry pie. Best decision ever!
Spent a day in Maine and now I'm officially a 'lobster-tarian'
When in Maine, it's important to master the art of balancing a lobster roll in one hand and a blueberry pie in the other
They say money can't buy happiness but it can buy a lobster dinner in Maine and that's pretty close
Take me to Maine and I won't want to order lobster anywhere else in the world
Maine: the only place where I get excited over rocks!
I've got 99 problems but finding a lobster roll in Maine ain't one
I left a piece of my heart in Maine, probably at the bottom of a lobster trap
You May Also Like: Minnesota Instagram Captions
Funny Maine Captions & Maine Puns
The world is your lobster!
Maine shore is pretty!
Maine-iacs just wanna have fun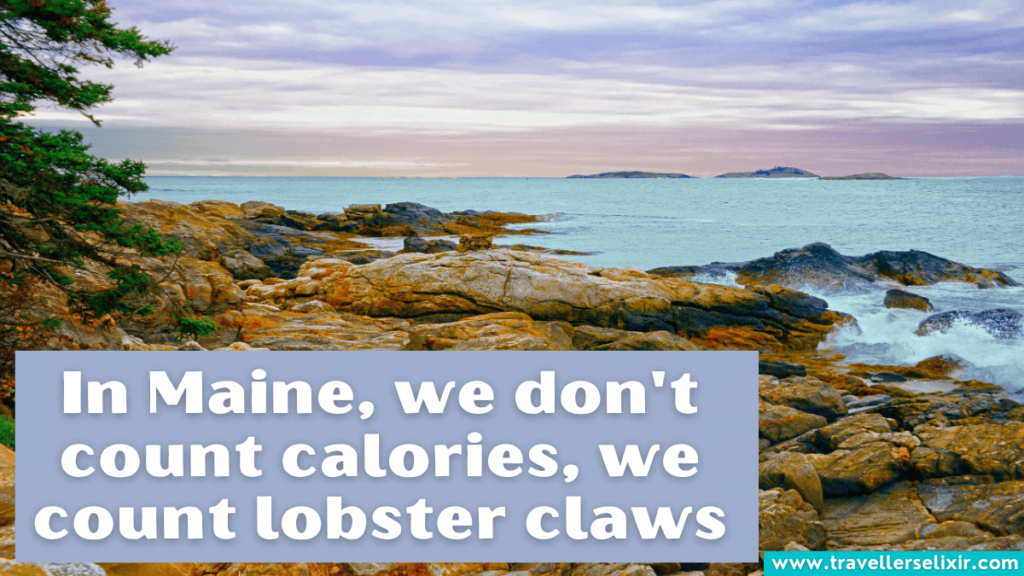 Shell yeah, I'm going to Maine!
Maine: where every day is a claw-some adventure
Found myself a good catch in Maine
I'm just a small fish in this big Maine world…but hey, at least I'm delicious!
Shell we dance?
It was Maine-t to be!
This trip was Maine-ly filled with lobster and laughter
I love my Maine squeeze
Maine: where the lobsters have better manners than some people I know
Seas the day! Order the lobster
Getting moos-talgic about my adventures in Maine
Warning: visiting Maine may cause an uncontrollable urge to break into spontaneous renditions of 'Rock Lobster'
I can sea clearly now
What the shell?
May the forest be with you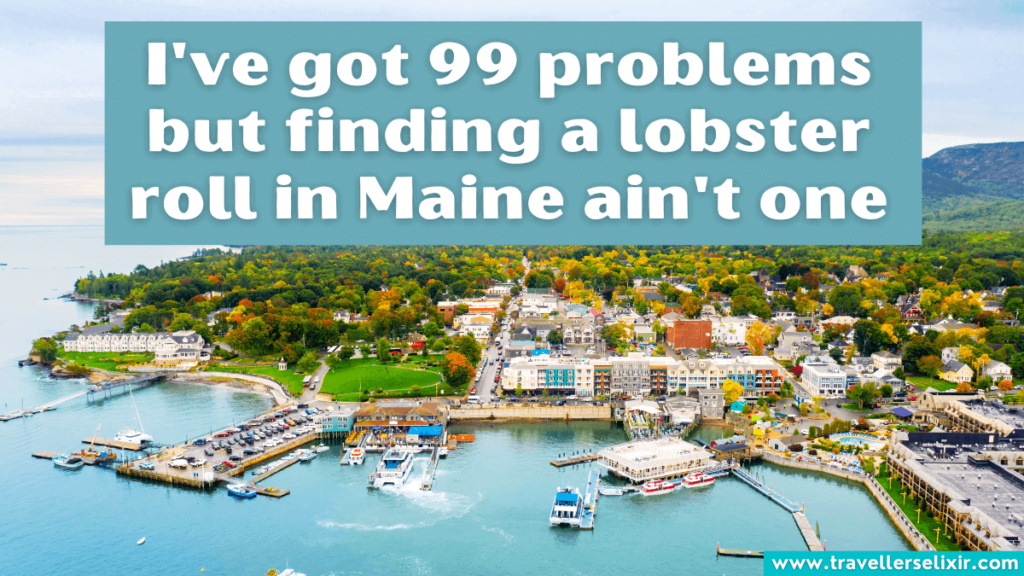 Had a whale of a time in Maine! No seriously, I spotted a few whales while whale watching
Seas the day in Maine and let the ocean waves wash your worries away
Let's shell-ebrate the good times in Maine
Feeling lobster-licious in Maine where butter is the key to happiness
I'm on a roll in Maine
Feeling a little shellfish tonight
Dear Maine, thanks for reminding me that mosquitoes can be Olympic-level athletes
Up Next: South Dakota Captions For Instagram
Short Maine Captions
Maine has my heart
Lobster rolls & evening strolls
Coastal dreams
I want a little bit of Maine
Pine-scented bliss
I've got a crush on Portland
Fresh air therapy
I found paradise in Maine
Maine magic
Endless horizons
I really, really like Maine
Wild and free
Did somebody say lobster?
Nature's canvas
The lighthouse, the sea and me
Salty kisses
I wonder if Maine misses me too
Seaside wonders
Nature never goes out of style
You May Also Like: Cape Cod Captions For Instagram
Inspirational & Beautiful Maine Captions
Discovering the perfect harmony between pine-scented forests and salt-kissed air
The ocean breeze puts my mind at ease
Exploring Maine with wide-eyed wonder and a heart full of gratitude for this beautiful world
Maine, where dreams are woven into the tapestry of golden sunsets and crashing waves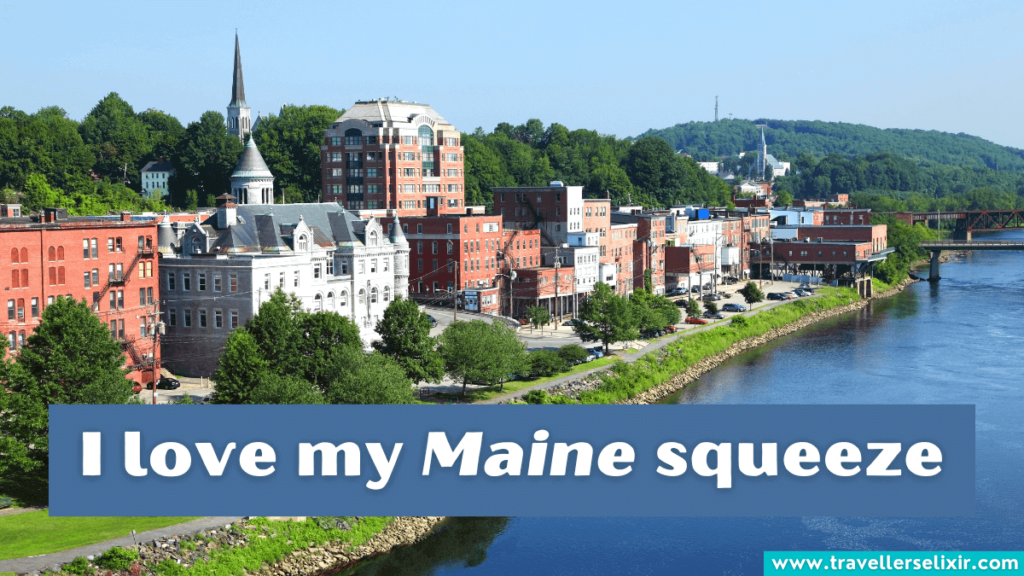 Finding solace in Maine's picturesque towns and the gentle whispers of the sea
Dear Maine, thank you for making me feel tiny, humble, inspired, and salty…all at once
Exploring Maine's hidden gems and falling in love with its rustic allure
Off to Maine I go, to lose my mind and find my soul
Unleashing my inner adventurer in Maine's wilderness
Lost in the beauty of Maine's hidden trails, finding peace in nature's embrace
Maine's lighthouses guided me to moments of pure wonder and awe
Maine is calling and I must go
Maine, the place where dreams meet the sea and a sense of wonder is always in the air
Sailing through the coastal splendor of Maine, where every wave carries a story to tell
Lost in the beauty of Maine's enchanting landscapes
I hope to be as free as the ocean
Maine, where time slows down and the world becomes a breathtaking masterpiece
Always down to take the scenic route
Embracing the coastal charm of Maine, where every moment feels like a fairytale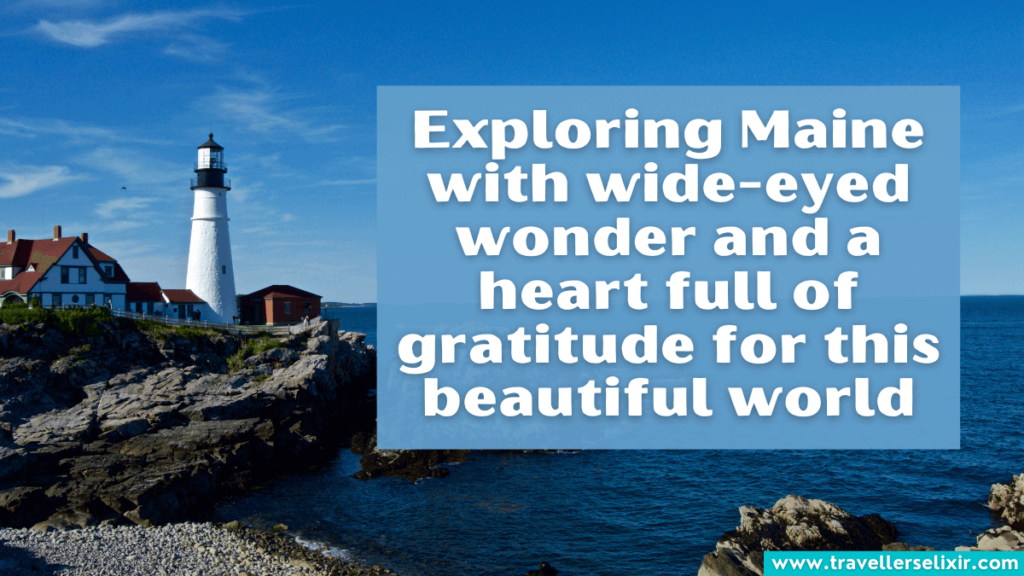 Maine cast its spell on me and now I'm forever under its coastal enchantment
I would give the greatest sunset in the world for one sight of the Maine coastline with you
Nothing soothes the soul like a day by the water
Leaving a piece of my heart in Maine's coastal embrace, forever longing to return
You May Also Like: Wisconsin Captions For Instagram
Maine Quotes For Instagram Captions
"In Maine's embrace, I found solace amidst the whispering pines and crashing waves, a reminder that beauty can heal the soul." – Traveller's Elixir
"Did you ever see a place that looks like it was built just to enjoy? Well, this whole state of Maine looks that way to me." – Will Rogers
"Maine, where the rugged coastline dances with the gentle tides and the mountains stand tall as guardians of nature's secrets." – Traveller's Elixir
"I would really rather feel bad in Maine than good anywhere else." – E.B. White
"Maine is a beautiful place that I paradoxically want to hoard to myself and share with everyone I meet." – John Hodgman
"Visiting Maine is like stepping into a painting, where every stroke of nature's brush reveals a breathtaking masterpiece." – Traveller's Elixir
"Maine is a movable music festival in the summertime." – Sue Hubbell
"There's a certain kind of magic in Maine, where the air feels fresher, the moments feel sweeter and time slows down to let you savor it all." – Traveller's Elixir
"When life gives you lemons, order the lobster tail." – Ziad K. Abdelnour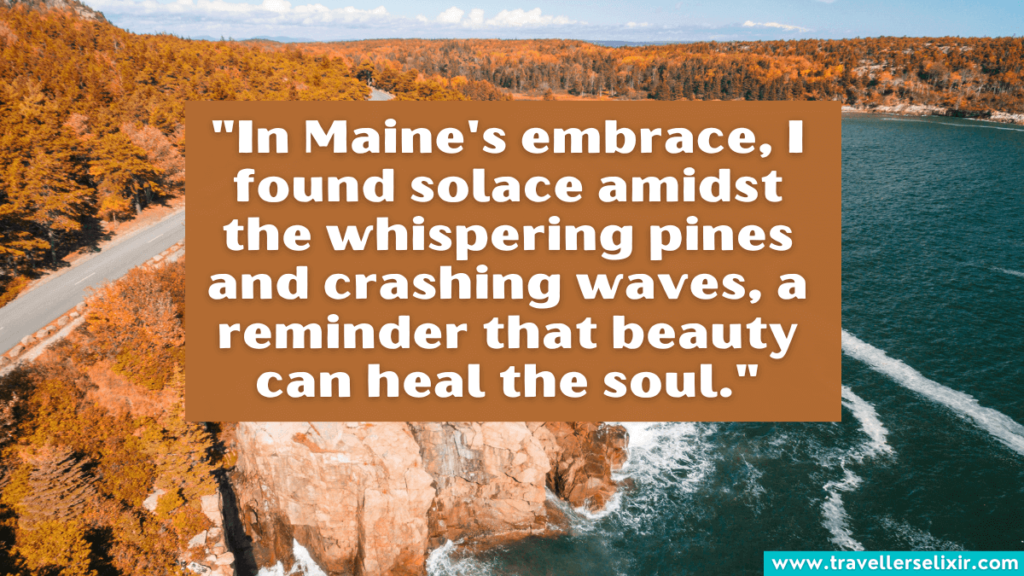 "The spirit of Maine has infected me." – John Hodgman
"Lost in the wilderness of Maine, I discovered the untamed beauty that exists within me." – Traveller's Elixir
"There's a quality of life in Maine which is this singular and unique. I think. It's absolutely a world onto itself." – Jamie Wyeth
"Maine's landscapes are a symphony of colors, where the vibrant blues of the ocean blend seamlessly with the fiery hues of autumn." – Traveller's Elixir
"There's nothing more beautiful than the way the ocean refuses to stop kissing the shoreline, no matter how many times it's sent away." – Sarah Kay
"I looked along the San Juan Islands and the coast of California, but I couldn't find the palette of green, granite, and dark blue that you can only find in Maine." – Parker Stevenson
"In this part of the world, only Maine gives winter the welcome and the worship it should have." – Tom Allen
"The sea, once it casts its spell, holds one in its net of wonder forever." – Jacques Yves Cousteau
"Maine whispers stories of forgotten legends, inviting you to unravel its mysteries and create your own tale of adventure." – Traveller's Elixir
"Should fate unkind send us to roam, the scent of fragrant pines, the tang of salty sea will call us home." – State of Maine song
"Located on the East Coast of the United States, Maine is famous for its wild, untamed scenery. Rocky, windswept beaches line the coast." – Robin S. Doak
"By discovering nature, you discover yourself." – Maxime Lagacé
"In Maine, nature holds the key to unlocking your soul's wanderlust, igniting a fire within that can never be extinguished." – Traveller's Elixir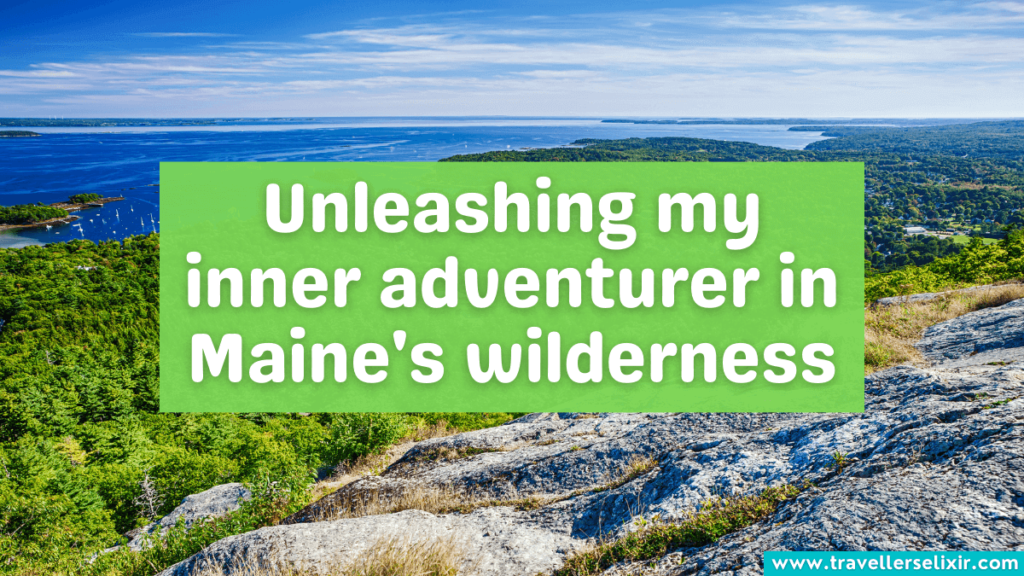 "Maine is a joy in the summer. But the soul of Maine is more apparent in the winter." – Paul Theroux
"She said it's the one thing that brings us all together. That I can have my toe in the ocean off the coast of Maine, and a girl my age can have her toe in the ocean off the coast of Africa, and we would be touching. On opposite sides of the world." – Megan Miranda
"Maine's beauty is an invitation to be fully present, to soak in every breathtaking view and cherish the simple pleasures of life." – Traveller's Elixir
"I felt like I'd been misplaced in the cosmos and I belonged in Maine." – Terry Goodkind
"Lighthouses are not just stone, brick, metal, and glass. There's a human story at every lighthouse; that's the story I want to tell." – Elinor DeWire
"Maine out of season is unmistakably a great destination: hospitable, good-humored, plenty of elbow room, short days, dark nights of ice crystals." – Paul Theroux
"Visiting Maine is like falling in love with a place that feels like home, even if you've never been there before." – Traveller's Elixir
Up Next: Michigan Captions For Instagram
Maine Hashtags For Instagram Likes
#maine
#mainelife
#mainething
#mainecoast
#mainephotography
#maineliving
#mainetheway
#mainefood
#mainemade
#portlandmaine
#maine_igers
#maineoutdoors
#maineisgorgeous
#mainephotographer
#mainelobster
#mainer
#mainesummer
#mainevacation
You May Also Like: West Virginia Captions For Instagram
---
As your Maine adventure comes to an end, I hope these Instagram captions have added a touch of magic to your memories.
From stunning landscapes to mouthwatering seafood, let these captions capture the essence of your Maine experiences.
Related Posts: