From the awe-inspiring sand dunes of Sleeping Bear to the mesmerizing sunsets over Lake Michigan, there's no shortage of Instagram-worthy moments to be found in Michigan.
Whether you're a Michigander looking for fresh caption inspiration or a curious traveler eager to explore this gem of the Midwest, I've got you covered.
I've come up with the absolute best Michigan Instagram captions including Michigan puns and quotes that will take your posts from ordinary to extraordinary.
Best Michigan Instagram Captions
These captions work for any place you're visiting in Michigan including Detroit, Lake Michigan and more.
Cute Michigan Captions For Instagram
All you need is love…and the lake
Never met a lake I liked so much
Michigan: the only place where I get excited over a lake
Fill your life with lakes, not things
Beaches, bonfires and barefoot adventures
Warning: Michigan sunsets may cause excessive 'oohs' and 'ahhs' and sudden bursts of Instagram envy
You can take the girl out of Michigan but you can't take the Michigan out of the girl
Either you love Michigan…or you're wrong
'Tis the season to be freezin'
My hands may be cold but at least my heart is warm
In Michigan, time spent in nature is like pressing the 'refresh' button for the soul
I came, I saw, I conquered the Great Lakes
It's a Detroit thing, you wouldn't understand
If Michigan had a signature fragrance, it would be a delightful mix of freshwater, cherry blossoms and a hint of fudge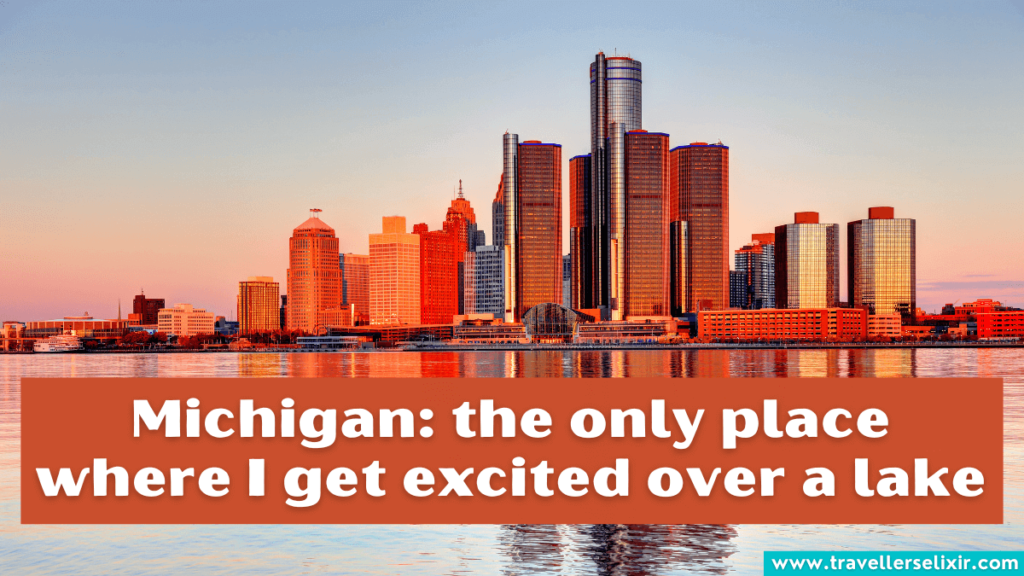 Michigan, you've stolen my taste buds!
What happens on the deck, stays on the deck
Brb, running away to Lake Michigan
Just touched down in the land of lakes and fudge
Paradise found in the Great Lake State
Up Next: Chicago Captions For Instagram
Funny Michigan Captions & Michigan Puns
Michigan, I lake you a lot
Would you lake to go to Michigan?
Michigan, you float my boat
Lake me away to Michigan
Hooked on Michigan. Like, for reels
Water you doing?
Lake a fish out of water
I'm falling for Michigan, leaf me alone!
Michigan's beaches are shore to make you smile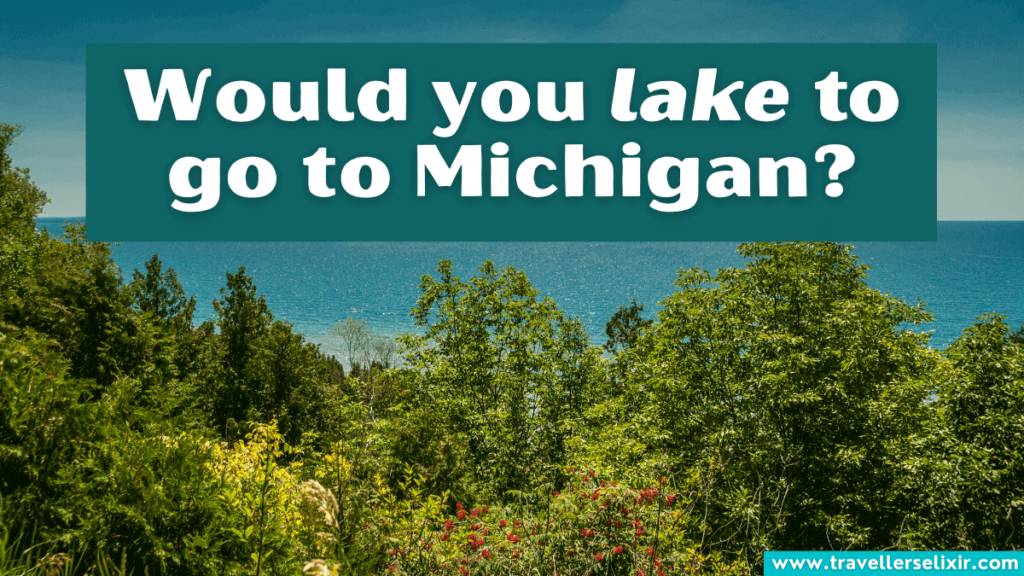 Walking through Detroit like a boss, pretending I'm in a rap music video
Michigan, you're a catch
Let minnow if you need anything
Let's taco 'bout Michigan's food scene – it's nacho average culinary adventure
Michigan, you're trout of this world!
Michigan's fall colors are the real tree-t!
Keeping it reel at the lake
Beach you to it!
Talk to the sand
You May Also Like: Toronto Captions For Instagram
Short Michigan Captions
Lakeaholic
Decks, docks and flip flops
Take me to Detroit
Mitten state wanderlust
Lake hair. Don't care
Michigan love affair
You cannot stop Detroit
I left my heart in Michigan
Another day, another dip
Cityscape dreams in Detroit
Cold hands, warm heart
Pure Michigan bliss
Meet me in Michigan
Waterfalls and wilderness
I'm on lake time
Chasing Great Lakes
Falling hard for Detroit
Worry less, paddle more
Just keep paddling!
Up Next: Ohio Captions For Instagram
Inspirational & Beautiful Michigan Captions
You can leave Michigan but it will never leave you
Michigan's sunsets are like love letters written in the sky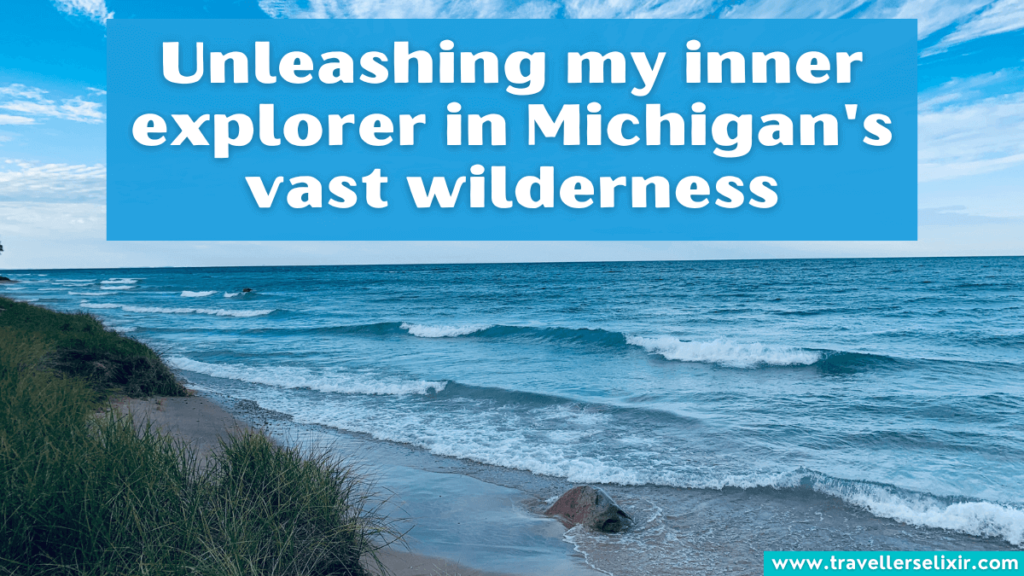 Roaming through Michigan's hidden gems, uncovering the secrets of nature's breathtaking wonders
Michigan is calling and I must go
Mackinac Island, a place where time stands still and horse-drawn carriages carry dreams to new horizons
Lake Michigan has my heart
Unleashing my inner explorer in Michigan's vast wilderness
Michigan sunsets are like cotton candy skies, painting the horizon with pastel dreams
Lost in the enchanting beauty of Michigan
Life takes you down many paths but the best ones lead to the beach
Me and Michigan: Love at first sight
Embracing the serenity of Michigan's lakeshores, where every ripple carries whispers of tranquility
I want to be wild, beautiful and free. Just like Michigan
Detroit, thank you for making me feel so alive
Making memories and heart-shaped wishes in the land of cherries
Just a girl who loves Michigan
Not every lake dreams of being an ocean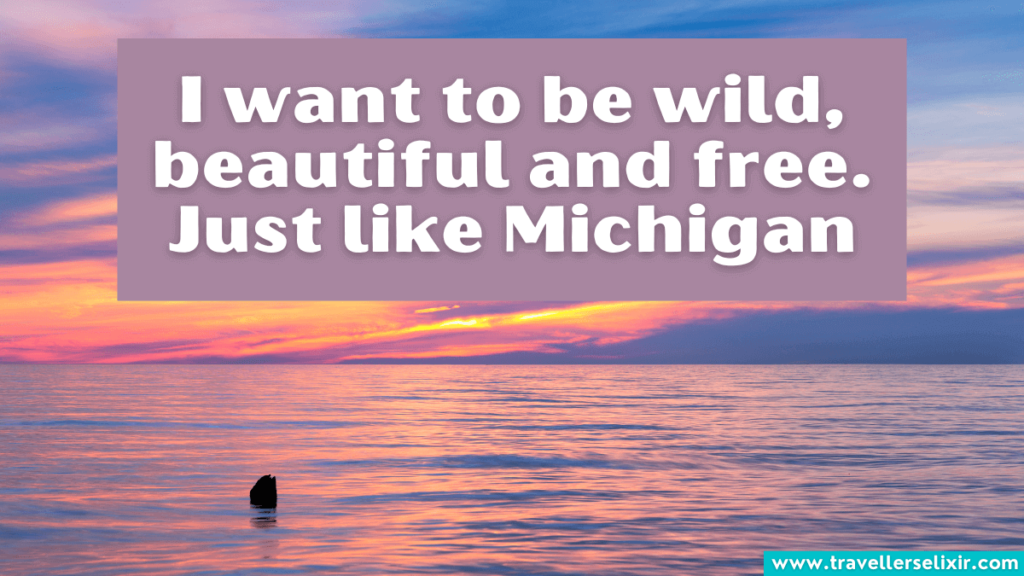 You May Also Like: South Dakota Instagram Captions
Michigan Quotes For Instagram Captions
"Michigan has such grandiosity. It has all those all-Americans." – Keith Jackson
"Michigan's landscapes are love letters from the universe, reminding us to pause, breathe and marvel at the magnificence that surrounds us." – Traveller's Elixir
"We need to continue to make the case that Michigan is where you ought to be." – Jennifer Granholm
"I think Michigan keeps you sane and on an even keel through the ups and downs. In Michigan, I do fireworks, shovel snow and live life." – Jeff Daniels
"There is a certain magic in the air of Michigan, where the harmony of water, woods and wildlife dances together, creating a symphony of awe." – Traveller's Elixir
"Nowhere on Earth has more soul than Detroit." – Mayer Hawthorne
"In Michigan's embrace, I found a sanctuary of natural wonders and kind-hearted souls, where every step is a brushstroke on the canvas of my soul." – Traveller's Elixir
"I want to live in a land of lakes where the great waves break and the night runs into the day." – Lord Huron
"If I had to describe the scent of Michigan in spring and summer, it wouldn't be a particular smell – blooming wildflowers or boat exhaust off the lake – it would be a color: green." – Viola Shipman
"As I wandered through Michigan's enchanting trails, I realized that sometimes, the best destinations are not the ones on the map but the ones that awaken our inner compass." – Traveller's Elixir
"This couldn't be just a lake. No real water was ever blue like that." – Dorothy Maywood Bird
"Even the southeast side of Grand Rapids must bow to the beauty of a Michigan fall." – Daniel Abbott
"Visiting Michigan is like diving into a world where time slows down and the beauty of nature paints a masterpiece on your heart." – Traveller's Elixir
"California is beautiful to look at, but you can't be a part of it like you can in Michigan." – Jennifer Granholm
"In the land of Great Lakes and endless horizons, I discovered that the truest adventures are found in the depths of our own curiosity." – Traveller's Elixir
"There is a gentleness in Michigan that you just can't replicate." – Jennifer Granholm
"Every time I come to Detroit, I feel the same energy every time. The people are vibing. They're outgoing and loving. They're solid, and a lot of people aren't like that." – Algee Smith
"Michigan, where the whispers of the lakes and the rustle of the forests awaken a sense of wonder within, reminding us that we are but a small part of something truly grand." – Traveller's Elixir
"Michigan, with its delicious American name. How lucky one must be to live there." – Gary Shteyngart
"I deeply appreciate the people of Michigan. I love their grit. I love the way they face life. I love the family values they have." – Ernie Harwell
"A star is born in the teeth of the Lake Michigan wind." – Brent Musburger
Up Next: Montreal Captions For Instagram
Michigan Hashtags For Instagram Likes
#michigan
#michiganders
#michiganphotographer
#puremichigan
#michiganmade
#michigander
#michiganawesome
#michiganstate
#michiganphotography
#lakemichigan
#michiganblogger
#michiganwinter
#michiganfood
#michigansunset
#michigangirl
#michigansummer
#michiganlove
#michiganoutdoors
#michiganview
#michiganfoodie
You May Also Like: Minnesota Instagram Captions
---
And there you have it, dear readers! We've reached the end of our journey through the best Michigan Instagram captions.
I hope this guide has provided you with a plethora of creative, engaging and downright awesome caption ideas to accompany your Michigan adventures on social media.
Related Posts: