Welcome to the vibrant and diverse city of Toronto! From the iconic CN Tower to the bustling streets of Kensington Market, Toronto is a photographer's paradise.
But let's be real, coming up with the perfect caption to complement your stunning shot can be a challenge. That's where I come in!
I've spent hours coming up with this list of the best Toronto Instagram captions that will help elevate your social media game.
P.S. Follow me on Instagram (@travellerselixir) and tag me in your photo for a share!
Best Toronto Instagram Captions
Cute Toronto Captions For Instagram
Toronto, where the maple syrup flows like wine
Toronto is always a good idea
I wonder if Toronto misses me too
Hello Toronto, your lights are fireflies in my heart
Exploring Toronto one Tim Hortons stop at a time
My first time in Toronto but definitely not my last
When in doubt, take a selfie with the CN Tower in the background. It's the law
I'm just a small-town girl with big city dreams
All you need is love and the Toronto skyline
Why settle for a regular city skyline when you can have one with a giant metal rod sticking out of it?
I came to Toronto for the views, but stayed for the Timbits
Toronto, where the views are as sweet as the maple syrup
Exploring Toronto, one poutine at a time
I would give the greatest sunset in the world for one sight of the Toronto skyline with you
Started from the bottom, now we here (CN Tower)
Toronto, you make my heart skip a beat
I thought I was a coffee connoisseur until I came to Toronto and discovered the magic of Tim Hortons
Sorry for what I said when I wasn't checking out the views from CN Tower
Toronto, you're so pretty it hurts
I never knew what true love was until I met Toronto's poutine
Sorry not sorry but Toronto maple syrup is the only acceptable topping for pancakes
When in Toronto, you must try poutine, bagels and, of course, maple syrup – all in one sitting if possible
I'm not saying Toronto is the centre of the universe but the CN Tower sure makes it look that way
Up Next: Niagara Falls Instagram Captions
Short Toronto Captions
Take me to Toronto
Toronto let's do it
6ix sense
Oh, Canada!
The sky's the limit
Poutine please
Bright lights & Toronto nights
Cityscape dreams
I'm a Torontonian now!
Toronto is calling and I must go
Adventures in the 6ix
Life is better in Toronto
6ix side
Urban beauty
A concrete version of paradise
P.S. I love Toronto
Toronto, my happy place
Toronto, eh
Toronto, my kind of city
You May Also Like: Vancouver Instagram Captions
Inspirational & Beautiful Toronto Captions
Follow your heart, even if it takes you all the way to Toronto
My favorite thing: Going where I've never been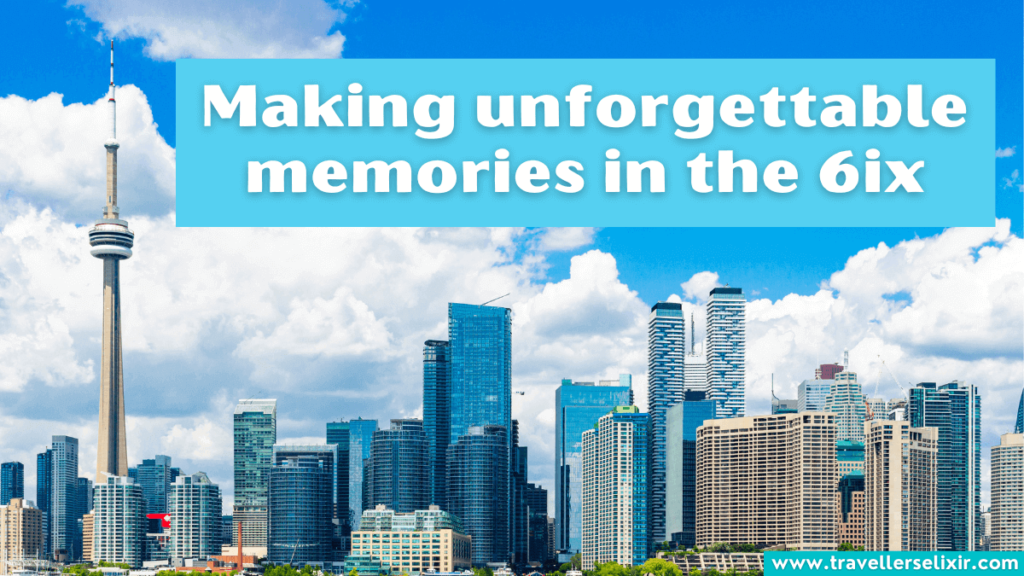 I can't get enough of Toronto's skyline
You can leave Toronto but it will never leave you
Big cities can have big hearts too
Every corner of Toronto is a new adventure waiting to be discovered
You never forget your first day in Toronto
Toronto stole my heart and I'm not even mad about it
From the Queen's Quay to Kensington Market, I'm loving every inch of Toronto
Making unforgettable memories in the 6ix
Toronto is a city that captures your heart and never lets go
I didn't believe in love at first sight until I saw the Toronto skyline
Let's find some beautiful place to get lost in
Toronto fills my soul with inspiration and wonder
They say 'do what makes you happy' so I bought a ticket to Toronto
Toronto: where you can feel like a tourist in your own city, no matter how long you've lived here
Toronto is a city of contrasts. One minute you're walking through a concrete jungle, the next you're surrounded by lush parks and greenery
Up Next: Montreal Instagram Captions
Funny Toronto Captions & Toronto Puns
Canada is the best, isn't it Trudeau?
Because I had nowhere else Toronto
Feelin' sappy in Toronto
I don't always wear a jacket in May, but when I do, it's because I'm in Toronto
I thought Canadians were supposed to be polite but Toronto drivers had other plans
There's so much to CN do in Toronto
I love Toronto a latte
I asked a Torontonian for directions and they said 'Go north, eh.' Thanks for the help bud
Don't go bacon my heart
Time to syrup some fun in Toronto!
Cana-duh
Life is better when we hockey stick together
Why did the raccoon cross the street in Toronto? To get to the nearest trash can obviously
Puck-er up
Maybe she's born with it, maybe it's maple leaves…
I was going to make a joke about Toronto's weather but I just couldn't frost myself
Toronto: where even the squirrels look like they have somewhere important to be
You May Also Like: Alaska Instagram Captions
Toronto Quotes For Instagram Captions
"Toronto is home; nothing beats home." – Ellen Wong
"I always tell people that if I move anywhere it would be Toronto." – Kendrick Lamar
"Toronto is not just a city, it's an experience that leaves an indelible mark on your soul." – Traveller's Elixir
"I hated it at first, because I hate the cold even though I'm from a cold area, but I love Toronto. I think it's gorgeous. I think it's an amazing city." – Madeline Brewer
"The fact that over 50 per cent of the residents of Toronto are not from Canada, that is always a good thing, creatively, and for food especially. That is easily a city's biggest strength, and it is Toronto's unique strength." – Anthony Bordain
"Toronto's skyline is a canvas, painted with the dreams of its people." – Traveller's Elixir
"There are some cities that you go to that bring something out of you. Toronto is one of them." – Kevin Owens
"In Toronto, you can find a little bit of everything – and that's what makes it so special." – Traveller's Elixir
"I believe the world needs more Canada." – Bono
"Toronto is the embodiment of the phrase, 'the whole is greater than the sum of its parts'." – Traveller's Elixir
"I travel the world, and I can see in Toronto the cooking is very personal. These people cook with their hearts." – Alain Ducasse
"Toronto is a city that never sleeps, always pulsating with life and energy." – Traveller's Elixir
I like B.C. because it's so beautiful, but I think Toronto's the greatest place because every corner of the world is here." – Rupi Kaur
"In Toronto, every street is a story waiting to be told and every person a character worth knowing." – Traveller's Elixir
"It's easy for me to care about Toronto, because Toronto is a community that cares about itself. It represents the world." – Yo-Yo Ma
"Toronto is like a mosaic – every neighborhood, every person, adding their unique piece to the city's beauty." – Traveller's Elixir
"Toronto's beauty is not just in its towering skyscrapers but in the small moments that make up life in the city." – Traveller's Elixir
"When I'm in Canada, I feel this is what the world should be like." –  Jane Fonda
"Toronto is a city that never ceases to amaze – a place where anything is possible." – Traveller's Elixir
"Toronto is a special city, and the environment is perfect for the arts; free and alive." – Emory Cohen
"Toronto is not just a city, it's a feeling – one that leaves you breathless with its energy and potential." – Traveller's Elixir
"A lot of people don't know this, but Toronto is probably the most multicultural city in North America." – Stephen Amell
"Toronto is a city that welcomes all, regardless of where you come from or who you are." – Traveller's Elixir
"My dream is for people around the world to look up and to see Canada like a little jewel sitting at the top of the continent." – Tommy Douglas
"Canada is a great country, one of the hopes of the world." – Jack Layton
"Toronto is a city that embraces change, diversity and progress with open arms." – Traveller's Elixir
"If people ask me, 'What do you think could improve in Toronto dining,' I'd say there's nothing to improve on." – David Chang
"In Toronto, every step you take is a journey through history, culture and progress." – Traveller's Elixir
"Toronto is my favorite city in the world." – Pooh Bear
"Toronto is like a box of chocolates – every bite, every neighborhood, a unique and unforgettable experience." – Traveller's Elixir
You May Also Like: New York City Instagram Captions
Toronto Hashtags For Instagram Likes
#toronto
#torontolife
#torontofood
#torontoeats
#torontoblogger
#torontophotographer
#torontofoodie
#torontophoto
#torontonightlife
#torontophotography
#toronto_insta
#torontocanada
#torontostyle
#torontoliving
#torontoculture
#torontolove
#tastetoronto
#torontoontario
#torontodowntown
#torontomapleleafs
Up Next: Washington D.C. Instagram Captions
---
And there you have it, folks!
I hope this list of the best Toronto Instagram captions has inspired you to capture the beauty and charm of this incredible city.
From witty one-liners to heartfelt expressions, there's something for everyone on this list.
Related Posts: