Are you looking to add a little je ne sais quoi to your Montreal Instagram posts? Well, look no further!
From the charming cobblestone streets of Old Montreal to the colorful murals in the Plateau, this city is a photographer's dream.
That's why I've put together a list of the best Montreal Instagram captions that will make your followers say "ooh la la!"
P.S. Follow me on Instagram (@travellerselixir) and tag me in your photo for a share!
Best Montreal Instagram Captions
Cute Montreal Captions For Instagram
You had me at bonjour
Excuse my French, but I'm in Quebec
Here for the views and poutine
Montreal is always a good idea
On the search for the best poutine in Montreal
Falling in love with as many cities as possible
I think I fell in love with Montreal
When in Montreal, you've gotta embrace the "joie de vivre" and eat all the carbs
Because life is too short to not indulge in gravy-covered fries
Montreal, thank you for making me feel so alive
Montreal, where even the pigeons have a certain je ne sais quoi
Relationship status: In love with sunsets and this city
I've never felt more French-Canadian than I do after downing a whole bag of poutine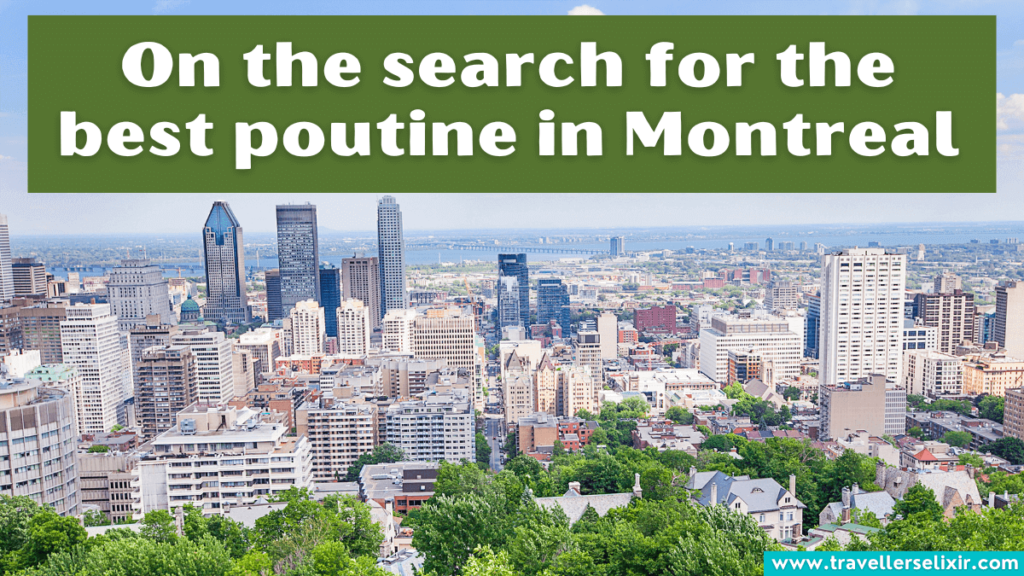 Never coming home, staying in Quebec
I'm pretty sure I left a piece of my heart in Montreal, probably at the bottom of a poutine bowl
I'm pretty sure Montreal's streets are made of maple syrup because I've never seen anything so sweet
Montreal has a certain je ne sais quoi
Home is where the maple leaf is
Canada, the worlds best kept secret
The only thing colder than Montreal's winters is my ex's heart
My favorite part of Montreal? The fact that carbs don't count here
Can't decide if I'm more in love with the bagels or the accent here in Montreal
Just out here pretending I'm a French Canadian with my bad accent and love for baguettes
I've never met a croissant I didn't like but in Montreal they're just extraordinaire
Up Next: Toronto Instagram Captions
Funny Montreal Captions & Montreal Puns
Montreal is a oui bit different
Sorry, I can't come to the phone right now. I'm too busy stuffing my face with Montreal bagels
I always be-leaf in you, Canada
I Canada believe this place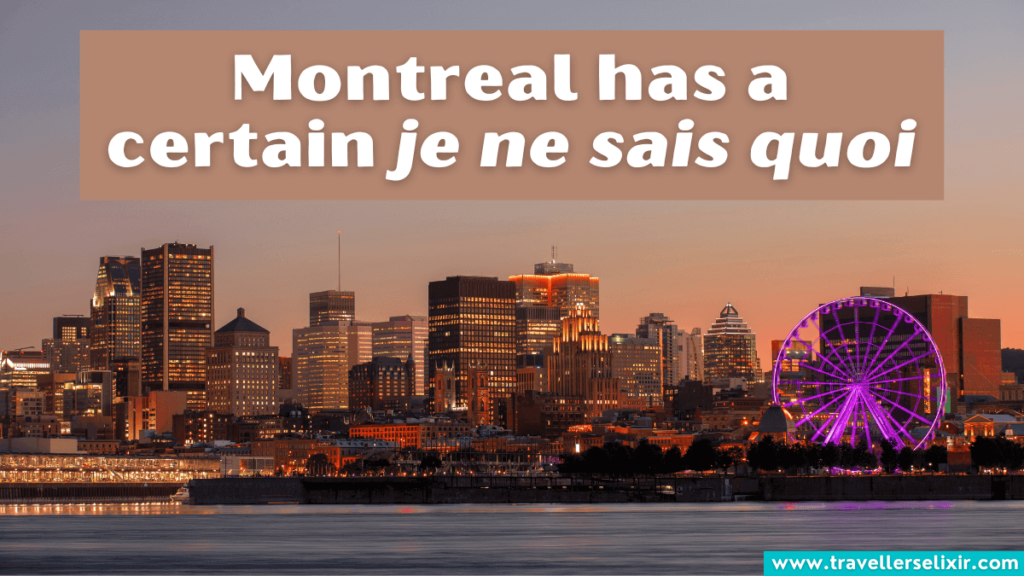 Canada is great, isn't it Trudeau?
Just poutine it out there that I love Montreal!
Every corner of Montreal is a perfect photo-op even the ones with me stuffing my face with maple syrup
Finally found a city where it's socially acceptable to eat a whole pizza by myself. Thanks, Montreal!
Montreal, thanks for poutine up with me
I'm having a oui-ly good time in Montreal
Currently trying to learn French by ordering my coffee in Montreal. So far, I've only managed to embarrass myself
I may have gained 10 pounds in Montreal but it was worth it
Quebec to basics
I'm having a poutine-ly good time in Montreal
You May Also Like: Vancouver Instagram Captions
Short Montreal Captions
Pardon my French
The heart of Quebec
Montreal, je t'aime
Montreal let's do it
Montreal, mon amour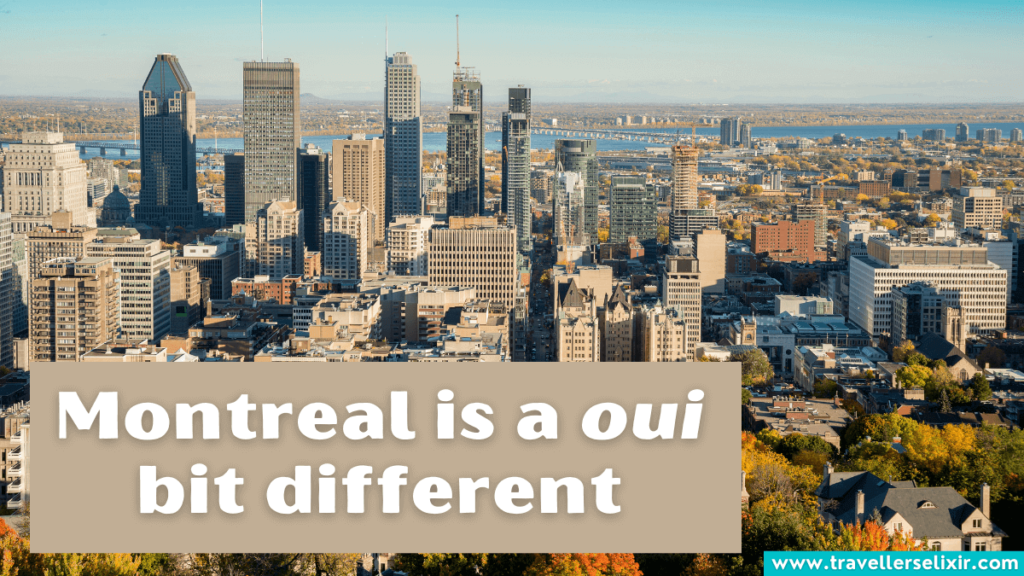 Bagels and beyond
Bright lights, big city
So many bagels, so little time
Daydreaming in Montreal
French influence, Canadian charm
My kind of city
I want a little bit of Montreal
Montreal, you have my heart
I really, really like Montreal
Architectural eye candy
Meanwhile, in Quebec…
Up Next: Niagara Falls Instagram Captions
Montreal Quotes For Instagram Captions
"Exploring Montreal is like embarking on a love affair: it's full of excitement, wonder and unexpected moments of pure bliss." – Traveller's Elixir
"Montreal, this wonderful town…pearl of Canada, pearl of the world." – Mikhail Gorbachev
"Montreal is a great city, a terrific city." – Robert De Niro
"Montreal is a city that captures your heart and never lets go, with its charm and beauty woven into the very fabric of its streets." – Traveller's Elixir
"Without Montreal, Canada would be hopeless". – Anthony Bourdain
"Visiting Montreal is like stepping into a painting, with its colorful streets and stunning architecture that seem almost too perfect to be real." – Traveller's Elixir
"This is my home territory. I still find it the most colorful and exciting city on the continent. I love Montreal. I love the clash of the two cultures, I love the scenery – I love every blessed centimeter of Montreal, if that doesn't sound too extravagant. It's a city I'm very attached to." – Irving Layton
"Montreal is a city of contrasts: the hustle and bustle of modern life mingling seamlessly with the timeless beauty of its historic landmarks." – Traveller's Elixir
"Let us be French, let us be English, but most importantly let us be Canadian!" – John A MacDonald
"Montreal is a city that invites you to slow down, take a deep breath and savor the moment, reminding you that sometimes the best experiences are found in the simplest pleasures." – Traveller's Elixir
"My dream is for people around the world to look up and to see Canada like a little jewel sitting at the top of the continent." – Tommy Douglas
"In Montreal, every corner tells a story and each story is woven into the tapestry of this magical city, creating a rich and vibrant cultural mosaic." – Traveller's Elixir
"I feel like family in Quebec and Montreal, and by the way, Montreal is my favourite city in the world! It's the only place that combines all the good things about Europe and America, with none of the bad!" – Holly Cole, Jazz Singer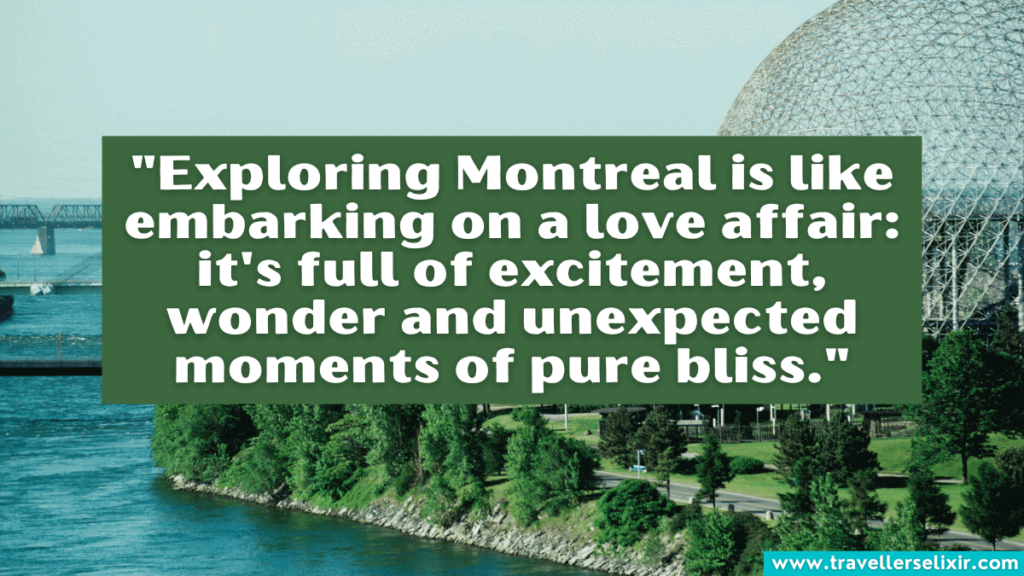 "Visiting Montreal is like discovering a hidden gem, with its vibrant neighborhoods, rich culture and stunning architecture waiting to be explored." – Traveller's Elixir
"There's something about Montreal that makes you feel alive: the energy of the streets, the warmth of the people and the beauty of the city all coming together in a perfect symphony." – Traveller's Elixir
"Canada is one of the most impressive countries in the world." – Barack Obama
"I'll be a Quebecker-Canadian. I'm from Quebec, and every time I go to a country, I say that. It's my roots, my origins, and it's the most important thing to me." – Celine Dion
"Canada's the best country in the world." – Justin Bieber
"Montreal is a city that leaves an indelible mark on your soul, with its beauty, charm and joie de vivre reminding you to always embrace the present moment." – Traveller's Elixir
"Montreal is just so multicultural and ethnic and diverse, and it's what makes us special. I say 'us' like I still live there, but I still do feel like a Montrealer." – Antoni Porowski
"Montreal is a city that wears its history proudly, yet remains vibrant and full of life, constantly reinventing itself for each new generation." – Traveller's Elixir
You May Also Like: Maine Instagram Captions
Montreal Hashtags For Instagram Likes
#montreal
#montréal
#montrealcity
#montrealfood
#montreallife
#montrealmoments
#montrealphoto
#montrealblogger
#montrealphotography
#montrealeats
#montrealfoodie
#montrealworld
#montrealjetaime
#montrealcanada
#montrealnightlife
#montreal_gallery
#montreality
#montrealer
#montrealstyle
#montrealpics
Up Next: Philadelphia Instagram Captions
---
And that concludes my list of the best Montreal Instagram captions!
I hope that these captions have inspired you to capture the beauty and charm of this vibrant city.
Whether you're a local or a visitor, Montreal has something for everyone to discover and share on Instagram.
Related Posts: