If you're visiting Montreal, Quebec then you're bound to have hundreds of stunning photos that you'll want to post to Instagram.
Nothing goes better with a beautiful photo than a cute caption.
To save you the trouble of thinking up a caption yourself, I've put together this list of the best Montreal Instagram captions.
Just copy and paste the Montreal caption straight into Instagram.
Best Montreal Instagram Captions
Cute Montreal Captions For Instagram
You had me at bonjour
Excuse my French, but I'm in Quebec
Here for the views and poutine
Montreal is always a good idea
On the search for the best poutine in Montreal
Falling in love with as many cities as possible
I think I fell in love with Montreal
Montreal, thank you for making me feel so alive
Relationship status: In love with sunsets and this city
Never coming home, staying in Quebec
Home is where the maple leaf is
Canada, the worlds best kept secret
Recommended Travel Resources:
Accommodation: Booking.com is MY FAVOURITE choice for booking hotels.
Flights: I use Kayak to find the BEST flight deals.
Tours and activities: I use GetYourGuide and Viator to find the BEST tours and activities.
For more tips, check out my Best Travel Resources that will save you money and time.
Funny Montreal Captions & Montreal Puns
Montreal – it's a oui bit different
I always be-leaf in you, Canada
I Canada believe this place
Canada is great, isn't it Trudeau?
Just poutine it out there that I love Montreal!
Montreal, thanks for poutine up with me
I'm having a oui-ly good time in Montreal
Quebec to basics
Short Montreal Captions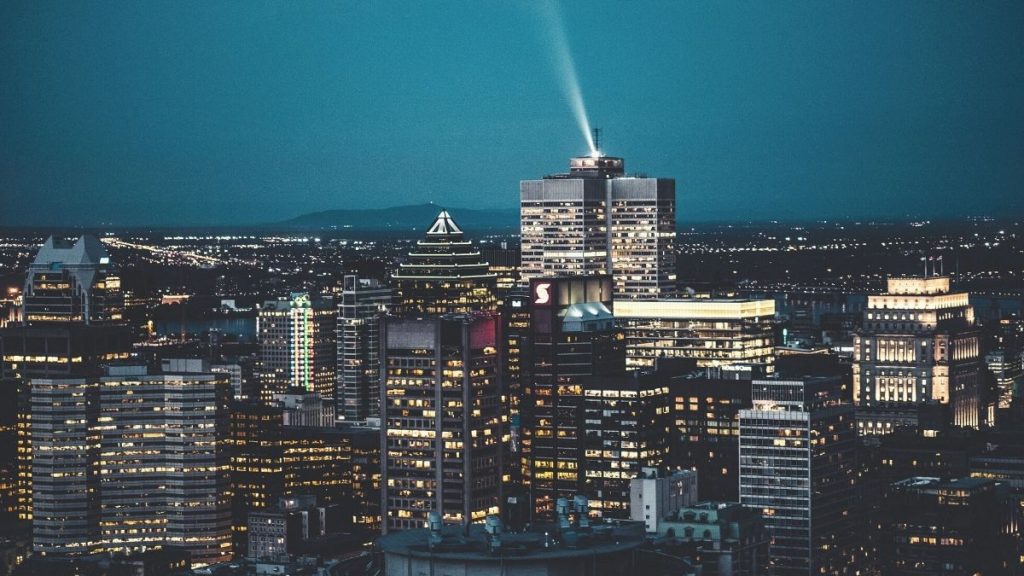 Pardon my French
Montreal, je t'aime
Montreal let's do it
Bright lights, big city
Daydreaming in Montreal
My kind of city
I want a little bit of Montreal
Montreal, you have my heart
I really, really like Montreal
Meanwhile, in Quebec…
Montreal Quotes For Instagram Captions
"Montreal, this wonderful town…pearl of Canada, pearl of the world." – Mikhail Gorbachev
"Montreal is a great city, a terrific city." – Robert De Niro
"Without Montreal, Canada would be hopeless". – Anthony Bourdain
"This is my home territory. I still find it the most colorful and exciting city on the continent. I love Montreal. I love the clash of the two cultures, I love the scenery – I love every blessed centimeter of Montreal, if that doesn't sound too extravagant. It's a city I'm very attached to." – Irving Layton
"Let us be French, let us be English, but most importantly let us be Canadian!" – John A MacDonald
"My dream is for people around the world to look up and to see Canada like a little jewel sitting at the top of the continent." – Tommy Douglas
"I feel like family in Quebec and Montreal, and by the way, Montreal is my favourite city in the world! It's the only place that combines all the good things about Europe and America, with none of the bad!" – Holly Cole, Jazz Singer
"Canada is one of the most impressive countries in the world." – Barack Obama
"I'll be a Quebecker-Canadian. I'm from Quebec, and every time I go to a country, I say that. It's my roots, my origins, and it's the most important thing to me." – Celine Dion
"Canada's the best country in the world." – Justin Bieber
"Montreal is just so multicultural and ethnic and diverse, and it's what makes us special. I say 'us' like I still live there, but I still do feel like a Montrealer." – Antoni Porowski
---
Hopefully this list gave you plenty of ideas for cute Montreal Instagram captions.
There's a caption here for any photo, from puns to beautiful quotes.
Feel free to copy and paste these Instagram captions for your Montreal photos.
Related Posts: