If you're visiting Vancouver then you're bound to have hundreds of stunning photos that you'll want to post to Instagram.
Nothing goes better with a beautiful photo than a cute caption.
To save you the trouble of thinking up a caption yourself, I've put together this list of the best Vancouver Instagram captions.
Just copy and paste the Vancouver caption straight into Instagram.
Best Vancouver Instagram Captions
Cute Vancouver Captions For Instagram
Once upon a time in Vancouver
Happiness is…. holding tickets that say Vancouver
Vancouver is always a good idea
All you need is love and the Vancouver skyline
Home is where the maple leaf is
Oh, Canada, oh Canada. It doesn't get much more Canada than this
Dear Vancouver, I will never get over you
Here for the mountain views and ocean air
All you need is love and an umbrella
Sorry for what I said when I wasn't watching the sunset over English Bay
Recommended Travel Resources:
Accommodation: Booking.com is MY FAVOURITE choice for booking hotels.
Flights: I use Kayak to find the BEST flight deals.
Tours and activities: I use GetYourGuide and Viator to find the BEST tours and activities.
For more tips, check out my Best Travel Resources that will save you money and time.
Funny Vancouver Captions & Vancouver Puns
Vancouver, I'll BC-ing you later
I always be-leaf in you, Canada
I Canada believe how beautiful Vancouver is
Vancouver is great, isn't it Trudeau?
Nice to peak you Vancouver
Hi Canada, it's ice to meet you!
Vancouver, it's snow nice to meet you!
To summit all up, this trip has been amazing
To be pacific, I love Vancouver the most
Vancouver is so beautiful, I lost my terrain of thought
Vancouver definitely wins best in snow
Short Vancouver Captions
I left my heart in Vancouver
Meanwhile, in Canada…
Mountain air & ocean breeze
Meet me in Stanley Park
I really, really like Vancouver
Wander often, wonder always
Take me to Vancouver Island
P.S. I love Vancouver
Just another rainy day in Vancouver
The sky is the limit
I've always been drawn to city skylines
Mama, I made it!
Cold nights, city lights
Inspirational & Beautiful Vancouver Captions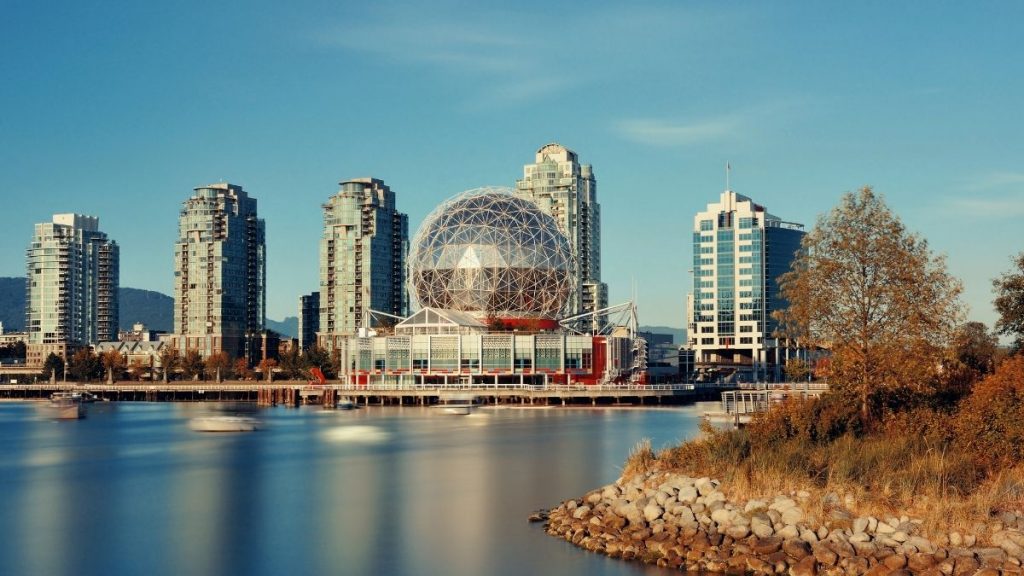 Somewhere between living and dreaming, there's Vancouver
Canada: The world's best kept secret
Follow your heart, even if it takes you all the way to Vancouver
Watching the sunset over Vancouver is something I'll never forget
They say 'do what makes you happy' so I bought a ticket to Vancouver
Vancouver is the only place where I still smile even when it rains
I would give the greatest sunset in the world for one sight of the Vancouver skyline with you
Before it's your favorite place, it's a place you've never been
Vancouver Quotes For Instagram Captions
"I love just how beautiful Vancouver is. I mean, everywhere you look it's just mountains and ocean." – Emma Bell
"Vancouver is gorgeous; I've never been to any place like it." – Jason Ralph
"Vancouver is one of my favorite places on Earth. It's gray and rainy there a lot of the time, but for some reason, even though it's gray and rainy, I feel like it's a sunny day." – Billy Campbell
"Canada is one of the most impressive countries in the world." – Barack Obama
"My dream is for people around the world to look up and to see Canada like a little jewel sitting at the top of the continent." – Tommy Douglas
"I'm amazed every time I come back to Vancouver at how much it's changed. You go away for a month and there's three more tall buildings." – Bryan Adams
"Canada is not a country for the cold of heart or the cold of feet." – Pierre Trudeau
"I absolutely adore Vancouver, it's really been my second home." – Tamlyn Tomita
"Vancouver is the square root of negative one. Technically it shouldn't exist, but it does. I can't imagine living anywhere else." – Douglas Coupland
"My favorite place in the world to run is Stanley Park in Vancouver. One loop around there is perfect." – Matthew Morrison
"I came from Canada, where it's freezing cold for seven months out of the year." – Rachelle Lefevre
"I love the whole layout of Vancouver and the super-friendly people who live there." – Hannah Teter
"Canada is a great country, one of the hopes of the world." – Jack Layton
"I believe the world needs more Canada." – Bono
"It is beautiful in Vancouver; let's face it. I mean, you have the ocean. There's mountains." – Eric Close
"I have been to Canada several times. It was autumn when I visited Vancouver, and I will always remember the colour of the trees in British Columbia were stunning." – Natalie Dormer
---
Hopefully this list gave you plenty of ideas for cute Vancouver Instagram captions.
There's a caption here for any photo, from puns to beautiful quotes.
Feel free to copy and paste these Instagram captions for your Vancouver photos.
Related Posts: