Alaska, the Last Frontier, is a place where nature reigns supreme, inviting us to embrace its majesty and capture its essence through the lens of our cameras.
Whether you're planning a trip to witness the dancing auroras, explore icy glaciers or encounter magnificent wildlife, I've got you covered.
I'll be diving into the best Alaska Instagram captions that will enhance your stunning photos and leave your followers yearning for their own Alaskan adventures.
Best Alaska Instagram Captions
These captions work for any place you're visiting in Alaska, including Denali, Hubbard Glacier, Kenai Fjords National Park, Glacier Bay National Park, Nome, Anchorage and more.
Cute Alaska Captions For Instagram
Did you really come to Alaska if you didn't try a reindeer sausage?
No, mom, I haven't been eaten by a bear yet
I asked the Northern Lights to do a dance for me and they replied, 'Electric slide or the Macarena?
On a hunt for the Northern Lights
Pretending to be Elsa in Alaska
I hope I don't bump into a grizzly
When the Northern Lights said 'Hey, wanna dance?'
Alaska: where 'Ice Ice Baby' is more than just a throwback song, it's a weather forecast
When life gives you snow, make snow angels
Not every paradise is tropical
Well, would you look at the Northern Lights…
I left my heart in Alaska
This was worth waking up early for
The Northern Lights showed up and said 'prepare to have your jaw drop'. I think I lost my jaw somewhere in the snow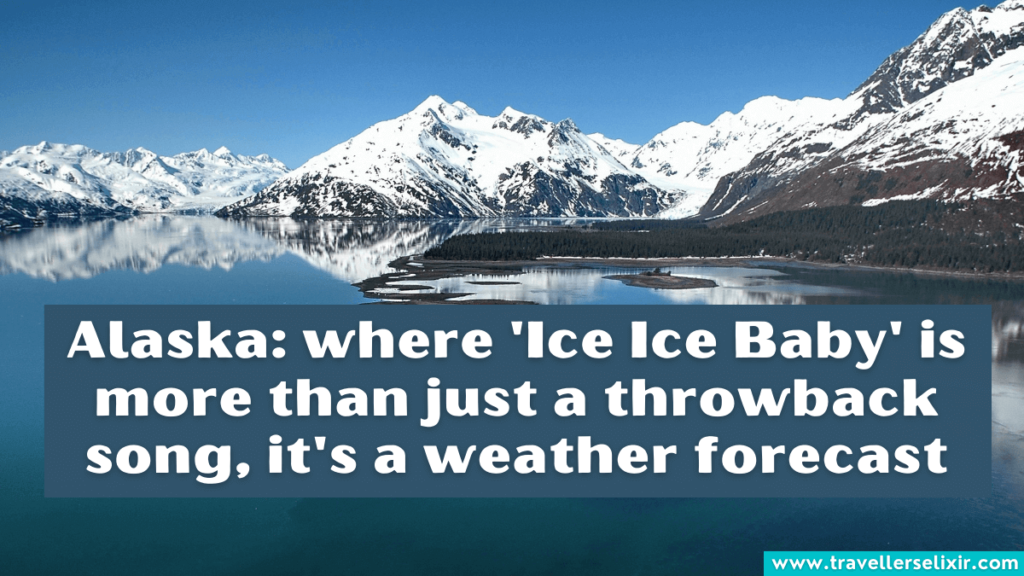 Life's too short for boring landscapes. Alaska keeps my camera and heart wild
'Tis the season to be freezin'
Proof that magic exists: me, standing under the Northern Lights with a goofy grin on my face
Enjoying life one glacier at a time
From now on sweet dreams are made of fjords and hiking in Alaska
The Northern Lights whispered 'take a picture, it'll last longer' so I did and now my camera roll is looking extra celestial!
Like Elsa said, the cold never bothered me anyway
Meet you at the Hubbard Glacier
Up Next: Glacier Instagram Captions
Short Alaska Captions
Northern Lights and Alaskan nights
Ice and paradise
Alaska love affair
Chasing the Northern Lights
Alaska adventures
Alaska hair, don't care
Alaskan soul
Alaska calling
The Last Frontier
Wanderlust ignited
Follow me to Alaska
What a wonderful world!
Majestic mountains
Wild and free
Glacier dreams
Find me on Denali
Wild at heart in Alaska
Wilderness wonders
Always Alaska
Land of the Midnight Sun
Alaska adventures
Meanwhile, in Alaska
Chasing auroras
Glacier hair, don't care
Oh baby, it's a big, wild world 
You May Also Like: Mountain Captions For Instagram
Funny Alaska Captions & Alaska Puns
Alaska, I love you snow much
Warning: Alaska may cause an uncontrollable urge to rename your pets 'Moose' and 'Bear'
There's no place like Nome
Just an ice-olated adventurer in Alaska, breaking the ice and melting hearts
Did Juneau that you're my hero?
Visiting Alaska is like stepping into a real-life postcard. Just don't lick the glaciers, they taste a bit icy
Not sure if my mom knows I'm here, Alaska later
A visit to Alaska is a Homer run
Note to self: Don't challenge a salmon to a swimming contest in Alaska. They always win
I don't know, but Alaska
I asked the Northern Lights for dating advice and they said 'It's all about that magnetic attraction, baby!'
Anchorage away
I always feel Whittier in Alaska
May the North be with you
This place is Totem-ly awesome
Date night with the Northern Lights
Nome Sweet Nome
Relax and get a glacial
I can't a-fjord a trip to Alaska right now
Alaska's mountains are hill areas
Seafood in Alaska is the reel thing
It's hard to be crabby when the food is so good
Moosing around in Alaska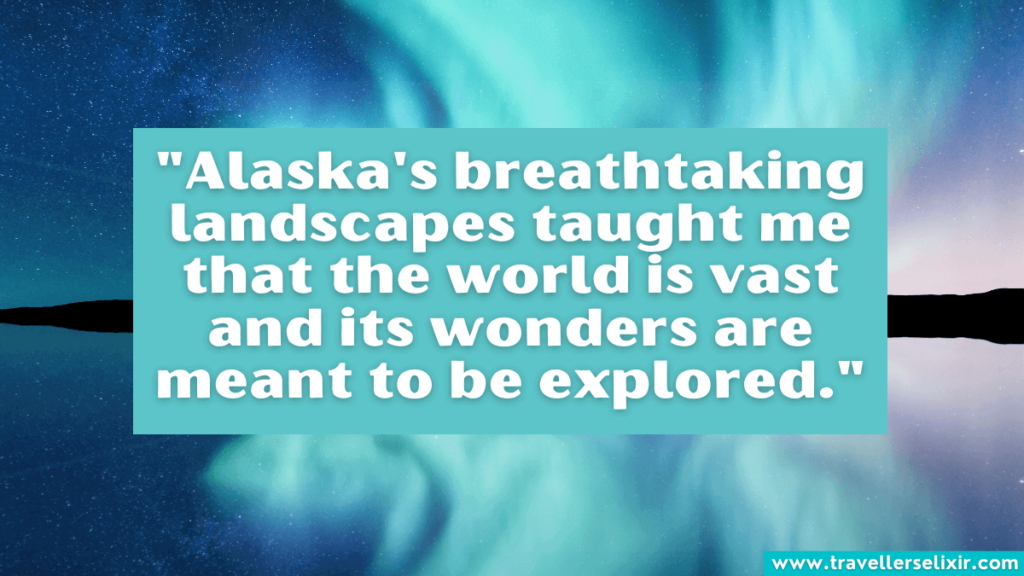 You simply moose visit Alaska!
I just can't bear to be away from Alaska for too long
It definitely wasn't a moose-take to come to Alaska
You May Also Like: Aspen Captions For Instagram
Inspirational & Beautiful Alaska Captions
Lost in a dream in Alaska
In a world full of sunsets, be the Northern Lights
Embracing the wild spirit of Alaska, where mountains became my playground and glaciers my companions
Somewhere between living and dreaming, there's Alaska
Alaska, you're a wild muse, fueling my imagination and filling my heart with untamed joy
Getting lost in the beauty of the Alaskan wilderness
Alaska, you painted my world with hues of awe and wonder. Forever grateful for this soul-stirring journey
Outside looks like a real-life snow globe
Alaska's magic is written in the dancing lights of the auroras and whispered in the whispers of towering pines
I'm not the same since seeing Denali in the snow
Alaska: where my soul found solace in the vastness of nature and my spirit soared with every mountaintop view
Alaska, the land of icy wonders and warm hearts
Lost in the wild beauty of Alaska, where every step feels like a fairytale come true
The Northern Lights appeared and suddenly my night sky turned into a disco ball for the stars!
I know exactly where my heart is: Alaska
Feeling like a small dot in Alaska's grand canvas, humbled by the magnificence that surrounded me
I want a little bit of Alaska
Alaska stole my heart and left me forever enchanted by its untamed allure
Up Next: Gatlinburg Captions For Instagram
Alaska Quotes For Instagram Captions
"To the lover of wilderness, Alaska is one of the most wonderful countries in the world." – John Muir
"Moose are the squirrels of Alaska." – Tim Moon
"Alaska's breathtaking landscapes taught me that the world is vast and its wonders are meant to be explored." – Traveller's Elixir
"John Muir, the famous naturalist, wrote in his journal that you should never go to Alaska as a young man because you'll never be satisfied with any other place as long as you live. And there's a lot of truth to that." – Tom Bodett
"We have a great life here in Alaska, and we're never going back to America again!" – Homer
"Yeah. If I were your age, startin' fresh… Alaska. It's the last frontier. Up there, you can be anything you want." – El Camino
"In Alaska, time becomes irrelevant as the captivating landscapes carry you on a journey through eternity." – Traveller's Elixir
"Nobody is accidentally in Alaska. The people who are in Alaska are there because they choose to be, so they've sort of got a real frontier ethic. The people are incredibly friendly, interesting, smart people." – Marcus Sakey
"Alaska isn't about who you were when you headed this way. It's about who you become." – Kristin Hannah
"Alaska, where the untamed whispers of nature echo through the mountains and the serenity of solitude paints the sky." – Traveller's Elixir
"Despite everything, every piece of Alaska sang to me. I remembered every curve in the trails, every tree in the forest. It was familiar to me, comfortable. The more I thought about leaving it, the less I liked the idea. This was my home." – Summer Lane
"The Bermuda Triangle got tired of warm weather. It moved to Alaska. Now Santa Claus is missing." – Steven Wright
"Alaska is our biggest, buggiest, boggiest state." – Edward Abbey
"Visiting Alaska is like stepping into a dream, where reality merges with the surreal and nature's beauty reigns supreme." – Traveller's Elixir
"Alaska was the cure to the disease of my despair." – Summer Lane
"Two kinds of flocks come up to Alaska, Cora. People running to something and people running away from something. The second kind – you want to keep your eye out for them." – Kristin Hannah
"Alaska, a place where time stands still and every moment is etched with the grandeur of nature's artistry." – Traveller's Elixir
"The light in Alaska in particular is so beautiful. So beautiful! Such incredible light." – Sebastiao Salgado
"The tall cityscape that was Anchorage encroached on the wide skies. It was like a giant walking and uninhabited, unclaimed land." – Suzy Davies
"Just try to be healthy and enjoy Alaska. That's the best thing." – Keith Morris
"Finding solace in Alaska's embrace, I learned that true freedom lies in the wild and uncharted territories of the heart." – Traveller's Elixir
"But at the time, I just saw Alaska up there. And it was big, just like I wanted to be." – John Green
"I went to Alaska as a young man just looking for adventure. And like so many of us in the '70s, we found it." – Tom Bodett
"In Alaska, I discovered that wanderlust is not just a desire to travel, it's a hunger to connect with the soul of the world." – Traveller's Elixir
"Historically, Alaska is a place that has attracted those fed up with conventionality." – Bill O'Reilly
You May Also Like: Lake Tahoe Captions For Instagram
Alaska Hashtags For Instagram Likes
#alaska
#alaskalife
#alaskaphotography
#alaskaadventure
#alaskaliving
#alaskaadventures
#alaskasummer
#alaskawildlife
#alaskalove
#alaskadaily
#alaskatravel
#alaskagirl
#travelalaska
#alaskawinter
#alaskaproud
#alaskabound
#explorealaska
#sharingalaska
#alaskascenery
You May Also Like: Seattle Instagram Captions
---
As we come to the end of our Alaskan Instagram caption journey, I hope you've found inspiration and excitement within these carefully crafted words.
Alaska, with its vast wilderness and extraordinary landscapes, offers endless opportunities for breathtaking photographs and unforgettable memories.
From the towering peaks of Denali to the sparkling ice fields of Glacier Bay, this captivating land has a way of leaving an indelible mark on our souls.
Related Posts: