Philadelphia, also known as Philly, is a vibrant city with a rich history, a thriving arts scene and a delicious food culture.
From the iconic Liberty Bell to the colorful murals that decorate the streets, Philly is a city that has something for everyone.
I've compiled this list of the best Philadelphia Instagram captions to help you showcase your love for this incredible city.
P.S. Follow me on Instagram (@travellerselixir) and tag me in your photo for a share!
Best Philadelphia Instagram Captions
Cute Philadelphia Captions For Instagram
It's bad manners to keep Philadelphia waiting
You'll find me with a Philly cheesesteak
Is it just me or does the Liberty Bell look like it's seen some things?
Dear Philly, you're my absolute favorite
Follow your heart even if it takes you all the way to Philadelphia
Happiness is not a state of mind but a trip to Philadelphia
Just another day in Philly, trying to avoid getting hit by a rogue cheesesteak
You can leave Philly, but it will never leave you
Just a girl who loves Philadelphia
I never knew I needed to try a Wawa hoagie until I visited Philly
Here for the views and cheesesteaks
Hi Philly, nice to meet ya!
Did anyone else notice that the Liberty Bell had a huge crack in it!?
I may have left Philly but their cheesesteaks will always have a special place in my heart (and my stomach)
Enjoying life one Philly cheesesteak at a time
No, of course I didn't come all the way to Philly just for a cheesesteak…
I ran up the steps of the Art Museum and now I'm convinced I'm the next Rocky Balboa
Philly is the best! FACT
I left my heart in Philly, better go back and get it
Philly has me feeling like a real boss, walking the same streets as Benjamin Franklin and Will Smith
Cheesesteaks: because who needs a healthy heart anyway?
If only taking a picture made this cheesesteak last longer
I don't know why everyone's getting so excited about this old bell…
Walking down South Street with my besties, eating soft pretzels and feeling like a true Philly girl
I'm not saying I have a favorite bell but the Liberty Bell definitely has my vote
If you can navigate Philadelphia's streets, you can navigate anything life throws at you
I didn't think I'd get emotional over a bell but here we are
Up Next: Boston Captions For Instagram
Funny Philadelphia Captions & Philadelphia Puns
Drive care-Philly
Are you feeling Philly?
Spill the Liber-tea
I'd give up my first-born for a Philly cheesesteak right about now
I know it's cheesy, but I love Philadelphia
When in Philly, do as the Philadelphians do: eat a cheesesteak the size of your head
I think Philly cheesesteaks are really grate
This Philly cheesesteak was definitely not a mis-steak!
Just hanging out with my main bell, Liberty
Don't go steakin' my heart
The Liberty Bell is such a joker, it cracked me up!
I think the Liberty Bell needs a chiropractor, it's been cracked for centuries
Philly: where the streets are lined with history and your arteries are lined with cheese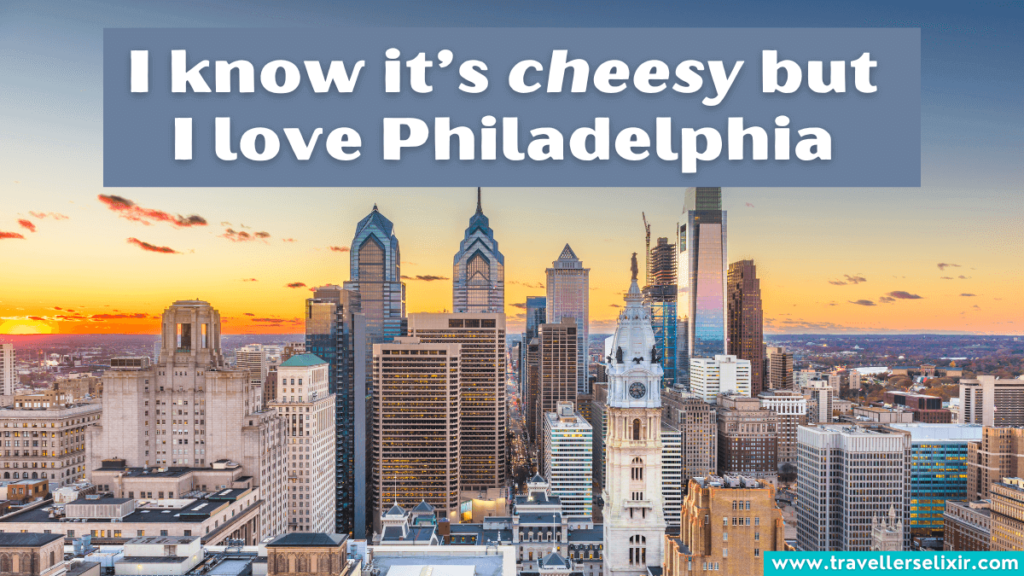 Coming to Philly and not visiting The Linc is ill-eagle right?
I'm Phil-ing fine!
Philly rings my bell
Can you bell-ieve it?!
I've seen some big bells in my time but the Liberty Bell takes the cake
You May Also Like: New Jersey Instagram Captions
Short Philadelphia Captions
Life, liberty, and cheesesteak
The City of Brotherly Love
Meet me in Philly
Meanwhile, in Philadelphia…
Feeling Philly proud
Cheesesteak paradise
Calories don't count in Philadelphia
Philly let's do it
Philly feels like home
Go big or go home
Philadelphia, I'm yours!
Fly, Eagles, Fly
Philadelphia is always a good idea!
Up Next: Pittsburgh Captions For Instagram
Beautiful & Inspirational Philly Instagram Captions
Philly may be the city of brotherly love but I fell in love with the city itself
I never knew I could love a city so much…until I visited Philly
Philly is a city that left me breathless with its beauty and soul
Discovering Philly's hidden gems and feeling like a local for a few days was pure magic
There's nothing like walking the streets of Philly with a cheesesteak in hand and a smile on your face
A city filled with art, culture and amazing food – what's not to love about Philly?
From the cobblestone streets to the colorful murals, Philly is a city that captured my heart
Exploring Philly's streets and finding something new around every corner
Walking down Philly's streets and feeling like I stepped into a dream
From the art museums to the parks, Philly is a city of endless beauty
If only we could all be as resilient as the Liberty Bell, surviving for over 200 years with a giant crack
You May Also Like: Denver Captions For Instagram
Philadelphia Quotes For Instagram Captions
"New York is a place where people go to reinvent themselves; Philadelphia is a place where people discover who they are." – Chef Peter McAndrews
"Philadelphia is more than just a city, it's a journey of discovery that leaves you with a heart full of memories." – Traveller's Elixir
"I'll only get a cheesesteak in Philadelphia. No one else does it right." – Kevin Hart
"Home is here in Philadelphia. I never like to be away too long." – Grace Kelly
"All things considered, I'd rather be in Philadelphia." – W.C. Fields
"The beauty of Philadelphia is in its soul, with each neighborhood and community adding its own unique flavor to the city." – Traveller's Elixir
"I love the dignity in the name Philadelphia, but at heart, we're Philly." – Lisa Scottoline
"I love Philadelphia. I was shocked at what a great city this is. For me, it is the cat's pajamas. I love everything about it." – George Dzundza
"Philly's streets are like a canvas, painted with the colors of the city's diverse culture and rich history." – Traveller's Elixir
"I never walked through the streets of any city with as much satisfaction as those of Philadelphia. The neatness and cleanliness of all animate and inanimate things, houses, pavements, and citizens, is not to be surpassed." – Frances Wright
"I'd like to see Paris before I die… Philadelphia will do." – W. C. Fields
"City of brotherly love, place I call home" – Neil Young
"Philadelphia is like a book, with each page offering a new adventure and every chapter revealing a different facet of the city's beauty." – Traveller's Elixir
"I love everything about Philadelphia, and its food is like the city itself: real-deal, hearty, and without pretension." – Lisa Scottoline
"I'm proud to be from Philadelphia." – Sherman Hemsley
"I love everything about this city, Philadelphia." – Nick Foles
You May Also Like: Indianapolis Captions For Instagram
Philadelphia Hashtags For Instagram Likes
#philadelphia
#philadelphiafoodie
#philadelphiaphillies
#philadelphia_ig
#philadelphia_citylife
#philadelphiapa
#philadelphiafood
#philly
#phillyphilly
#phillyfood
#phillyfoodie
#phillycheesesteak
#phillyeats
#phillyphotographer
#phillygram
#phillyspecial
#phillypulse
#phillylove
#phillyblogger
#howphillyseesphilly
Up Next: Nashville Captions For Instagram
---
As you can see, Philadelphia is a city full of history, culture and excitement.
From the colorful murals and world-class museums to the iconic landmarks and tasty food, there's no shortage of amazing things to see and do in Philly.
With the help of this list of the best Philadelphia Instagram captions, you'll be able to capture and share your experiences in this incredible city with the world.
Related Posts: