If you're an Ohioan or have ever visited the Buckeye State, you know there's a lot to love about this Midwest gem.
From picturesque rural landscapes to vibrant cityscapes, Ohio is bursting with Instagram-worthy moments but finding the perfect caption can be a challenge.
That's why I've scoured the depths of Instagram to bring you the best Ohio Instagram captions that will elevate your posts to the next level.
P.S. Follow me on IG (@travellerselixir) and tag me in your photo for a share on my story!
Best Ohio Instagram Captions
These captions work for any place you're visiting in Ohio including Cleveland, Columbus, Cincinnati and more.
Cute Ohio Captions For Instagram
Just a girl who loves Ohio
Being an adventurer in the Midwest
There's no time to be bored in Cincinnati
All you need is love and a trip to Cleveland
I do believe it's time for another adventure
Ohio: where the weather is made up and the seasons don't matter
Ohio on a sunny day is my idea of heaven
Relationship status: In love with sunsets and this state
Ohioans know how to handle snow better than Game of Thrones characters
I think I fell in love with Ohio
They say 'do what makes you happy' so I bought a ticket to Ohio
I wonder if Ohio misses me too
Ohio: where the state bird is the construction crane
In Ohio, we know how to live in the moment. And by moment, we mean the 5 minutes of sunshine we get before the next storm hits
Did somebody say Cleveland?
Ohio: the only state where 'Go Bucks!' is an acceptable greeting
I can finally tick 'visit the Rock & Roll Hall of Fame' off my bucket list
Ohio has more roller coasters than mountains but that's okay
In Ohio, we have four seasons: almost winter, winter, still winter and construction
Ohio, I can't help falling in love with you
Ohio: the land of the free and the home of the chili spaghetti
Up Next: Cincinnati Instagram Captions
Short Ohio Captions
The Buckeye State
Daydreaming in Ohio
Meet me in Cleveland
Take me to Ohio
Wander often, wonder always
Lake Erie vibes
Meanwhile, in Ohio…
Once upon a time in Cleveland
Ohio is always a good idea!
Ohio, you have my heart
Oh the places you'll go
I really, really like Ohio
Small town life
Buckeye state
Ohio state of mind
P.S. I love Ohio
Ohio proud
You May Also Like: Indianapolis Instagram Captions
Funny Ohio Captions & Ohio Puns
Oh Hi Yo
Ohi-Woah, Ohio is beautiful!
I'm Ohio-ver the moon to be here
I'm having a great Day-ton in Ohio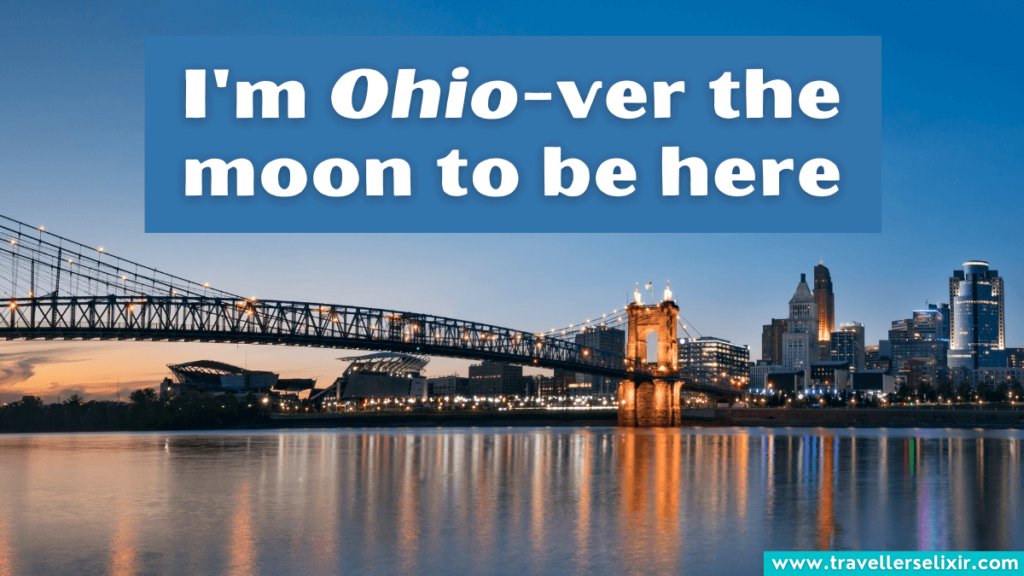 I never want to Cleve Ohio
Hi from Ohio
Cleveland is so Erie
Ohio: where we put the 'oh' in 'ohio-my gosh that's beautiful!'
You May Also Like: West Virginia Instagram Captions
Ohio Quotes For Instagram Captions
"Ohio is where city lights and country nights meet in perfect harmony." – Traveller's Elixir
"Saturday night in Toledo, Ohio is like being nowhere at all. All through the day how the hours rush by, you sit in the park and you watch the grass die." – John Denver
"Ohio's beauty is like a hidden gem, waiting to be discovered by those who seek it out." – Traveller's Elixir
"Akron, Ohio is my home. It will always be remembered. Akron, Ohio is my life." – LeBron James
"Ohio's charming towns and picturesque countryside will steal your heart and make you never want to leave." – Traveller's Elixir
"They are all fighters and won't give up. That is what makes Ohio State so good." – Amy Orlando
"I haven't been everywhere, but it's on my list." – Susan Sontag
"Ohio may not be the first place that comes to mind when you think of travel destinations, but once you visit, you'll wonder why it took you so long to discover this hidden gem." – Traveller's Elixir
"Cleveland, Ohio, is the real deal." – Machine Gun Kelly
"Visiting Ohio is like taking a step back in time, where simpler pleasures and heartfelt hospitality reign supreme." – Traveller's Elixir
"If you don't like the weather in Southern Ohio, just wait 15 minutes." – R. Alan Woods
"Visiting Ohio is like experiencing a little slice of heaven on earth." – Traveller's Elixir
"Travel far enough, you meet yourself." – David Mitchell
"When the end of the world comes, I want to be in Cincinnati." – Mark Twain
"From the rolling hills of Amish Country to the sandy shores of Lake Erie, Ohio's natural beauty is simply breathtaking." – Traveller's Elixir
"Cincinnati is a beautiful city; cheerful, thriving, and animated." – Charles Dickens
"I love Ohio." – Dave Chappelle
"Ohio's people are just as warm and welcoming as its stunning landscapes." – Traveller's Elixir
Up Next: Michigan Instagram Captions
Ohio Hashtags For Instagram Likes
#ohio
#ohiostate
#ohiogram
#ohioexplored
#ohiofindithere
#ohiocity
#columbusohio
#ohiophotography
#ohionature
#ohiomade
#ohioblogger
#ohioriver
#ohioisbeautiful
#ohioigers
#ohiobeautiful
#ohiogirl
#clevelandohio
#ohiolove
#ohiofood
#ohiolife
You May Also Like: Pittsburgh Instagram Captions
---
I hope that my selection of the best Ohio Instagram captions has inspired you to showcase the beauty and diversity of the Buckeye State through your social media posts.
Whether you're snapping a photo of a stunning sunset over Lake Erie or capturing the excitement of a Cincinnati Reds game, there's no shortage of opportunities to share your love for Ohio on Instagram.
With the right caption, you can make your posts stand out and connect with others who share your appreciation for this incredible state.
Related Posts: