Let's set the scene. You're dreaming about a place with beautiful beaches, epic scenery, a charming old town, delicious food and a great atmosphere…but does this place even exist?
Yep, it does. That's Lagos, Portugal. I was lucky enough to visit Lagos recently and was insanely blown away by how beautiful it was and I want to share it with you.
This ultimate Lagos travel guide includes where to stay, things to do, how to get there, when to visit and much more.
P.S. I update this post regularly to make sure everything is up to date!
Why You Should Visit Lagos
The Algarve as a whole is one of the most stunning places I've ever seen in Europe (and probably the world).
There are so many amazing towns in this region that have so much to offer including Albufeira, Tavira, Portimão, Praia da Luz, Praia da Rocha, Vilamoura and so many more.
Lagos and Albufeira are the most popular with tourists and many people actually have a hard time choosing between them. 
I ultimately ended up choosing Lagos as it sounded more laid-back and relaxing compared to Albufeira which kinda sounded like the Algarve's answer to Las Vegas.
Lagos is also one of the most picturesque towns in the whole of Europe with beaches that will literally make you want to sell your house and move there.
The coastal scenery is absolutely breathtaking and I must have spent at least half of my vacation standing on top of those epic clifftops admiring the view.
There are so many instagrammable spots in Lagos that you'll have a hard time putting your camera down, especially at sunset. The sunsets in Lagos are literal magic.
As well as views, Lagos is one of the best Algarve towns for indulging in the local culture and cuisine.
Some other towns, like Albufeira, cater so much to tourists that the whole place doesn't feel very Portuguese anymore. It's just full of international restaurants and British-style pubs.
Lagos feels super Portuguese and you can easily try some of the country's most famous dishes and snacks. Make sure you try a tasty pastel de nata (cream tart) or I'll be having a word.
💡 Helpful Tip: Make sure you book your tickets to Lagos, Portugal and not Lagos, Nigeria. I'm sure you'll still have a great time but it's not quite the same thing…
Where To Stay In Lagos
Deciding on the right area and the right hotel can really make or break a vacation.
When I visited Lagos I stayed in the old town area at Tivoli Lagos. I really enjoyed my stay there as it was close to all the action but still very peaceful.
I'd recommend Tivoli Lagos to anyone looking for a mid-range 4-star hotel that won't break the bank but still has everything you need.
The old town is one of the best places to stay in Lagos if you want to be right in the heart of town, close to all the restaurants and bars. It's the busiest part of town so some people might find it a bit loud.
For something more peaceful and quiet, you could try staying by the marina.
It's just a short walk from the old town but it is much more relaxed and laid-back. You'll also find some really fancy upmarket hotels there.
There's still a good variety of restaurants and bars here but less than in the old town.
If you're planning on spending a lot of time by the beach then you may prefer to stay right by Lagos's longest beach, Meia Praia.
This area is peaceful and quiet making it ideal for a relaxing beach vacation. It is a little further out from the old town though.
Things To Do In Lagos
As well as world famous beaches, there are actually so many other fun things to do in Lagos that will keep you busy all vacation long.
Ponta da Piedade
One of Lagos's most famous sights is Ponta da Piedade which is a collection of rock formations that, over thousands of years, have formed sea arches, caves & grottos. 
This place is super beautiful and makes for great photos so bring along your best Algarve Instagram captions because you'll be needing them!
You can actually explore the caves by heading out onto a kayaking tour. I actually did this recently when I visited Lagos and really enjoyed it.
You get such a unique perspective of the rocks from the sea and it's so fun to actually be able to go inside them. Our guide also took us to a hidden beach that is impossible to get to by land.
Lagos is great if you love water sports as there are so many opportunities to get out onto the water. If you don't want to get wet then book onto a boat tour instead.
Old Town
Another great activity is exploring the old town. It's filled with cobblestone streets, gorgeous Portuguese architecture, charming little alleys and lots of authentic-looking shops and restaurants.
There's also a lot of history to explore in Lagos! Make a visit to the Castle of Lagos, the old fort that's only accessible by drawbridge and even the old slave market.
Day Trips
If you're visiting for more than just a day or two then I'd really recommend doing a day trip from Lagos to another Algarve town.
There are also many other scenic towns that you can visit that aren't too far from Lagos.
I personally visited Portimão when I was in Lagos. It's a slightly larger city filled with a lot of history, a scenic waterfront and a lot of shopping streets!
Other fantastic day trips include Sagres, which is the most south-westerly point of Europe, and Silves, which was the ancient capital of the Algarve.
You can also make a trip to Benagil Cave which is a natural wonder not too far from Lagos and also makes a perfect day trip or activity.
Lagos Beaches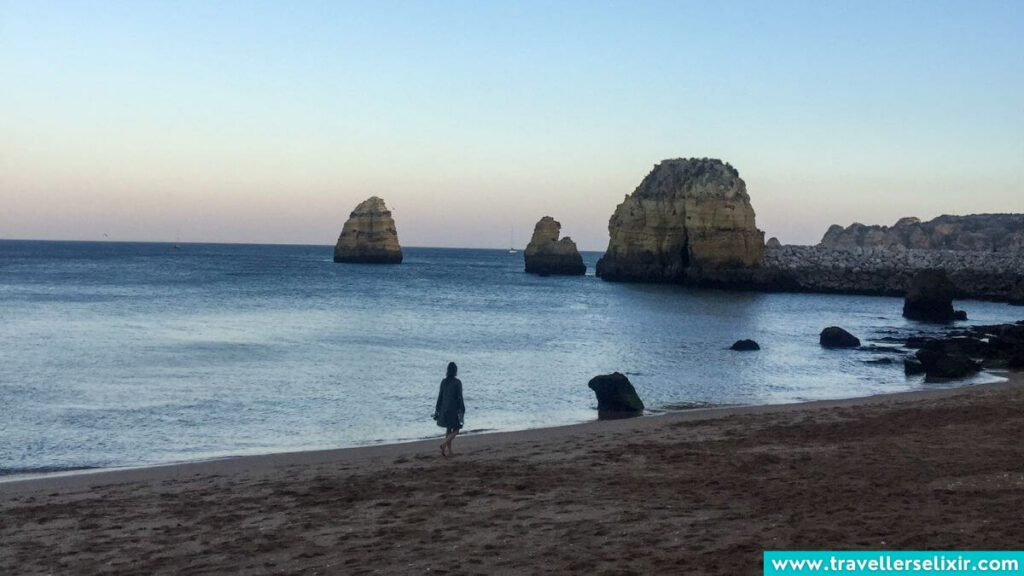 Undoubtedly, if you're planning a trip to Lagos then you probably love beaches (I mean, who doesn't?).
Well luckily for you, the beaches in Lagos are often considered to be some of the best in the whole world and after seeing them for myself, I have to agree.
Some of Lagos's beaches, like Praia da Dona Ana and Praia do Camilo, are world famous.
They feature soft golden sand, crystal clear waters and they're surrounded by stunning jagged cliff tops.
A lot of the beaches have long wooden staircases that lead you down from the cliff tops to the beachfront below.
The beaches in Lagos are beautiful however they can get quite crowded as they're really small and really famous.
Luckily there's a great alternative and that is Meia Praia which is Lagos's longest beach at over 4 km in length!
This beautiful beach features long stretches of sand with plenty of room for everyone so you'll never have to fight for a spot.
I actually spent a lot of my time relaxing on this beach when I visited Lagos as the other beaches were just too busy.
Meia Praia was so peaceful and just what I was looking for.
Make sure you take a stroll along the beaches at sunset. The sunsets in Lagos are the most breathtaking thing I've ever seen. Seriously.
💡 Insider Tip: The ocean that surrounds Lagos is icy cold! You'll be in for a bit of a shock when you take your first dip in the sea as the waters of the Atlantic Ocean are pretty chilly.
How To Get To Lagos
Lagos is located on Portugal's southern coast 300 km south of Lisbon.
The closest airport is Faro Airport (FAO) which is 91 km away from Lagos. You can get international flights from all over the world here.
Once you arrive, it takes around an hour to get to Lagos by car.
You can easily get from Faro Airport to Lagos by car, bus or train. Taking a car is the fastest option but it is pricey (€80+). 
The bus/train is much cheaper (~€15) but takes twice as long.
Some travelers come to Lagos from other parts of Portugal such as Lisbon or Porto. Taking a train or bus tends to be the best way to travel to Lagos from these cities.
When To Visit Lagos
Lagos is a great place to visit year round as it has hot, dry summers and very mild winters.
The best time to visit is between June and September as the weather is hot and it almost never rains.
Lagos is still great in winter although it might not be quite hot enough to sunbathe on the beach.
It's still pleasant though and you can spend more time exploring the old town, the hiking trails and other nearby towns.
Check out the table below for the average temperatures year round.
| Month | High | Low |
| --- | --- | --- |
| January | 16˚C (60˚F) | 8˚C (46˚F) |
| February | 16˚C (60˚F) | 9˚C (48˚F) |
| March | 18˚C (64˚F) | 10˚C (50˚F) |
| April | 19˚C (66˚F) | 12˚C (54˚F) |
| May | 21˚C (70˚F) | 14˚C (57˚F) |
| June | 24˚C (75˚F) | 16˚C (60˚F) |
| July | 25˚C (77˚F) | 17˚C (63˚F) |
| August | 26˚C (79˚F) | 18˚C (64˚F) |
| September | 25˚C (77˚F) | 17˚C (63˚F) |
| October | 23˚C (73˚F) | 15˚C (59˚F) |
| November | 19˚C (66˚F) | 11˚C (52˚F) |
| December | 17˚C (63˚F) | 9˚C (48˚F) |
Although the weather is best during the summer months between June and September, this is also the busiest time of year to visit.
Thousands and thousands of tourists visit from all over the world so it can feel very packed especially on the famous beaches.
As you can imagine, this is also the most expensive time to visit as prices will be higher during the peak season.
To save money and beat the crowds, you might want to consider visiting in May, June or October. The weather is still pretty warm but it's a bit cheaper and less crowded.
The driest month is August – Lagos doesn't usually get any rain at all during this month.
The wettest month is November but even during this month you can only expect 2 days of rainfall.
Wind
I visited Lagos in July which is one of the hottest months of the year but I always found myself shivering in the evenings because of the wind.
As Lagos is a coastal town, it does get really windy especially in the evenings.
I didn't bring any jumpers with me so I actually had to go and buy one because I was getting so cold in the evenings!
It's fine in the day when the sun is out but after dark that icy wind can make you a bit cold so my advice is to bring along a jumper.
Winter
The winter months could be a great time to visit Lagos if you're not that bothered about sunbathing on the beach or swimming in the ocean (it'll be too cold for that).
The weather is very mild during the winter, prices are low and the main attractions are much quieter than in the summer.
It could be a great time of year to bag yourself a bargain!
Where To Eat in Lagos
Lagos has a fantastic range of restaurants offering a range of international cuisines as well as many Portuguese restaurants. There is definitely something here for everyone.
When I visited Lagos, I ate so many different types of food including Portuguese, Japanese, Indian and Italian!
Most of the restaurants are located in the old town which is where you'll find the biggest variety but there are many other restaurants in other parts of Lagos too including by the marina.
Top Food Picks
My favorite restaurant in Lagos is Maharaja Tasty Indian which, in my opinion, serves the best Indian food on the planet (and I eat a lot of Indian food).
Make sure you try their garlic naan and bombay potatoes (my mouth is watering just thinking about it).
Another great restaurant I went to was My Sushi which is an all you can eat sushi restaurant offering fresh Japanese cuisine that is super delicious.
It is really popular so make sure you make a reservation.
There are also plenty of restaurants in Lagos where you can try some traditional Portuguese dishes.
Some of the best ones are Tasca Jota or Restaurante Calhou.
History Of Lagos
I'm a bit of a history buff and I love knowing all about the history of a place before visiting. I personally think you get so much more out of the trip when you know a bit about it.
Here's a brief overview of the history of Lagos (which spans over 2,000 years!).
Lagos was actually originally named Lacóbriga and over the course of its 2,000 year history, it's seen a lot of change.
It's been ruled by various different groups including the Carthaginians, the Romans and the Moors.
One of its most significant inhabitants were the Moors who came from North Africa. They ruled over Lagos between the 8th and 13th centuries.
Many of the structures built by the Moors can still be seen today including the old fortified city walls and the Castle of Lagos.
In the 13th century, the Moors were defeated and Lagos was taken back over by the Portuguese.
One constant that remained throughout the change in rulership was the Chapel of São João Baptista which is actually the oldest church in the whole Algarve, built in 1174.
Over the years, Lagos served as a very important town and was often the place where famous navigators and explorers would set out to explore the seas.
In fact, Henry the Navigator actually set sail from Lagos on many important expeditions to expand Portugal's empire.
Due to its ideal location and economic importance in 1576 it was named the capital of the Algarve. This lasted until 1755 when a huge earthquake and tsunami destroyed part of the town.
During darker times, Lagos was the site of Europe's first and largest slave market. The market building still remains but today is a museum and art gallery.
Historically, slaves were brought here from Africa and distributed throughout Europe.
---
And that's it!
Thanks for reading this ultimate Lagos travel guide that hopefully told you everything you need to know about Lagos, Portugal.
I can honestly say that Lagos is one of the best places I've ever visited so I know you're going to have a great time.
Related Posts: