I recently spent a whole week in Lagos, Portugal exploring the town, the surrounding area and the many beaches.
It's quickly risen to one of the best places I've ever visited and I want to share all of my favorite things about it with you!
In this post, I'll cover the top places to visit in Lagos including the best time to visit them, how to get there and some insider tips to help make the most of your time.
What Is Lagos Portugal Best Known For?
Lagos is a beautiful coastal town located on the southwestern coast of Portugal. It's known for its stunning beaches, interesting history and vibrant cultural scene.
By far the most popular tourist attractions in Lagos are its many long sandy beaches including Praia da Dona Ana, Praia do Camilo and Praia do Pinhão.
These beaches are surrounded by towering cliffs and crystal-clear waters, making them a perfect spot for sunbathing, swimming and even surfing.
When I visited these beaches, I really never wanted to leave. They're so stunning.
Lagos is also steeped in history with evidence of human settlement dating back to the Roman times.
The city was once an important center of trade and exploration and many of its historic buildings, such as the Lagos Castle, the Fort of Ponta da Bandeira and the Church of Santa Maria, still remain today.
Anyway, without further ado, here are the top places to see in Lagos, Portugal.
1. Ponta da Piedade
One of the most interesting places to visit in Lagos is the Ponta da Piedade rock formations.
Ponta da Piedade is a beautiful section of coastline formed naturally over thousands of years by the winds and the tides.
It features impressive rock formations, sea arches, caves and grottoes which can be explored by land or sea.
What you see today is the result of thousands of years of erosion which has left behind the iconic golden cliffs with some reaching up to 20 meters high.
These rocks are pretty unique in shape and many of them actually have nicknames too! Look out for the elephant, the kissing couple and the titanic!
You can view this natural wonder from above on the cliff tops or below by joining a kayak tour or a boat tour.
When I visited Lagos, I did both. I hiked along the top of the cliffs one day which was really something very special as the views are just out of this world!
We walked along the trail for a good 40 minutes passing by all of Lagos's most famous beaches.
What makes it even more beautiful is the crystal clear waters of the Atlantic Ocean. It didn't really feel real and looked like something out of a magazine.
You can see all the way up and down the Algarve coastline for miles and miles. At the headland area, there is a lighthouse and a long staircase that leads you down to sea level.
💡 Insider Tip: If you're walking along the cliff tops then be careful. There are no fences or barriers up here so don't venture too close to the edge as some of the cliffs can be a little unstable.
The best time to visit is undoubtedly sunset as the sunsets in Lagos are some of the best I've ever seen. I was so mesmerized by them.
During my trip, I came out here most days for sunset as it was just so breathtaking and I kinda felt like I was in a fairytale.
Words seriously don't do it justice at all – you NEED to see it for yourself!
How To Get There
I took an Uber from Lagos old town to the lighthouse then walked back along the cliffs towards the old town.
The Uber cost €6 and the walk back took around 40 minutes. I really enjoyed it and thought it was a good way to do it as it didn't tire me out too much.
If I had walked there and back it would have been 1 hour and 20 minutes of walking in the hot sun which might have been too much.
Alternatively, if you're visiting during July, August or September, there is a tourist train that costs €4 per person that will take you from the old town to Ponta da Piedade.
If there's more than 1 of you then it's actually cheaper to get the Uber so that's what I'd recommend.
Unfortunately there's no public transport route.
2. Kayaking Tour Around The Caves
One of the most fun things to do in Lagos, Portugal is join a kayaking tour around the caves of Ponta da Piedade.
I did this kayaking tour when I visited and absolutely loved it. It really was one of the highlights of the whole trip.
On the tour we were taken out into the sea to paddle around the cliffs, through the tunnels and sea arches and into the caves and grottos themselves.
You get the most magnificent view of the rock formations of Ponta da Piedade from the sea, let me tell you!
One advantage of heading out on a kayak is that as well as seeing the caves and grottoes, you'll also come across many secluded beaches.
Our guide took us to one hidden beach that's inaccessible by land so we were the only people there.
Our guide was really great as he spoke very good English and made the whole thing really fun.
He also told us so many interesting things about the caves and he often pointed out the rocks that have nicknames such as the elephant and the kissing couple!
Another plus is that the guides will often take you to spots that you might not have been able to find on your own as they know the area super well.
Kayaking Tour Around Lagos Caves
Boat Tour
If kayaking doesn't sound like your idea of fun then there are also plenty of boat tours in Lagos that will take you around the grottos and caves of Ponta da Piedade instead.
This offers a much more relaxing experience as kayaking around for a few hours can be tiring.
I did notice though that the boats aren't able to enter a lot of the caves as they're too big!
If you're in a kayak, you can go into all the caves which is pretty cool and one of the reasons I enjoyed it so much.
3. Praia do Camilo
Another one of the best places to go in Lagos is Praia do Camilo which is a secluded, picturesque beach located along the Lagos coastline.
To get to the beach, you'll need to walk down a long wooden staircase of around 200 steps that winds down the cliffs.
This staircase is a great place to stop and take photos so make sure you bring along your best Algarve Instagram captions.
I mean the staircase leading down to the beach is a sight in itself as you get a panoramic view of the Algarve coastline and beach below.
I must have been stood on it for ages and ages admiring the view.
The beach itself is also picture perfect with soft golden sand and pristine crystal clear waters.
The beach is actually divided into two smaller beaches by an enormous rock formation. It has a small tunnel running through it so you can easily access both sides.
The cliffs surrounding the beach also offer protection from the wind meaning the waters are really calm so it's a great spot for swimming.
The water is almost transparent here making it great for snorkeling too! It's a great place to explore the ocean and you'll even sometimes see little fish in the water if you're lucky.
One thing to note is that Praia do Camilo is a very small beach and as it is also one of Lagos's most famous beaches, it gets very busy so you'll have to arrive early to get a spot!
When I arrived there wasn't much room left for us so I just admired the view for a bit and carried on walking to the next beach.
You'll find that the beach is much quieter at sunset which is also one of the best times to visit.
Everyone seems to go for dinner around sunset time meaning the beaches tend to be pretty empty.
4. Benagil Cave
One of the best day trips from Lagos is to the famous Benagil Cave.
You've probably seen photos of it online. It's basically a huge sea cave with a hole in the roof.
It's very fascinating and incredibly beautiful so it is well worth a visit if you have the time.
It's pretty impressive up close but one thing I will say is that it does get very busy. This cave is one of the Algarve's most popular tourist destinations so people come from all over to see it.
And at the end of the day, it's just one cave so space is super limited.
How To Get There
Benagil Cave sits 43 km east of Lagos which would take around 40 minutes by car.
The easiest way to get from Lagos to Benagil Cave is via a tour.
I'd recommend booking onto this boat tour which will take you there from Lagos.
Not only will you get to enjoy the scenic views of Lagos's impressive coastline but you'll also stop inside Benagil Cave.
Taking a tour like this one makes the whole thing super easy and you don't have to worry about transport at all. It's really relaxing.
It also features small groups which is great as on some of the boat tours they try to pack about 50 people into one small boat and you can't see anything!
Even if you make your own way to the town of Lagoa, you'll still need to get on a boat tour to access the cave as it's not safe to swim there from the beach due to strong currents.
I found the public transport in the Algarve to be pretty awful so booking a tour or a taxi/Uber is the best way to get there.
Boat Tour From Lagos To Benagil Cave
5. Lagos Old Town
Another one of the best places to visit in Lagos is the old town which is actually the historic center that used to be a very important hub for both trade and exploration.
You'll find many interesting and historically significant buildings here including a church, a fort and the old slave market.
To be honest, the best way to explore the old town is to just get lost! That's what I did.
This way you'll also come across lots of random buildings that you wouldn't have found otherwise.
A plus is that the streets in the old town are mostly pedestrianized so it's pretty easy and safe to wander around.
6. Praia da Dona Ana
Another one of Lagos's best beaches is Praia da Dona Ana which is super secluded as it's wedged in between two enormous cliffs. 
This beach is pretty unique as it's surrounded by enormous rock formations that not only look really cool but also provide some shelter from the wind.
When I visited, I thought that it felt very natural and untouched. You won't really find much on the beach, there's no restaurants, bars or vendors.
It's just the sand and the sea which is something I really loved about this beach.
It's often regarded as one of the best beaches in the whole of the Algarve and it's often the beach you'll see on all the postcards.
Praia da Dona Ana is actually the largest beach along the Ponta da Piedade coastline however it is still only 160 meters in length so it does get very packed, especially in the summer.
Make sure you arrive early to get a spot!
It's a great place to sunbathe and you can always take a dip in the sea whenever you like. One thing I noticed though is that the water in Lagos is absolutely freezing!
How To Get There
You'll find Praia da Dona Ana nestled amongst the rocks of Ponta da Piedade, sitting around 20 minutes from the old town by foot.
You can either get an Uber to drop you off for a few euros or walk if you're feeling up to it.
You can then access the beach itself by descending down one of the two sets of steps that lead down the cliff face to the beach.
You'll also get impressive views from the top of the cliffs here as you can see all of the surrounding area which is very beautiful.
7. Go Dolphin Watching
One of the best family-friendly activities in Lagos is to go dolphin watching.
Not many people know this but there is actually a resident population of dolphins that live in the waters around Lagos all year round.
You'll be able to spot 2 different species of dolphin in Lagos: the common dolphin and the bottlenose dolphin.
The best way to see dolphins in Lagos is by joining a dolphin watching tour as it can be difficult to spot dolphins on your own and they aren't often spotted from the shore.
Getting out onto the water on one of these tours is the best way to almost guarantee you'll see dolphins.
The knowledgeable guides will take you to the best spots and locations where you're bound to spot dolphins and they'll give you lots of interesting information about them too.
Seeing dolphins out in their natural habitat really is one of those once-in-a-lifetime experiences that you just don't forget so I'd really recommend it if you have the time.
Dolphin Watching Cruise in Lagos
8. Igreja de Santo António
One of Lagos's most important points of interest in the old town is the Igreja de Santo António which is a stunning church.
It looks pretty good from the outside but the inside is what makes it so special.
Go inside to see the beautiful and intricate wooden carvings that cover the walls in a baroque gilded woodwork style. It's pretty impressive.
9. Mercado de Escravos
Whilst it's not the most fun place to visit, I'd recommend also checking out the Mercado de Escravos which is the old slave market.
It represents a darker time in Portugal's history as it is the place where hundreds of slaves were sold each year.
It was actually Europe's first ever slave market and dates back to 1444 when the first group of slaves were brought over from Africa to be sold here.
Today it houses a museum where you can learn all about the history of it and what went on here. It's also one of Lagos's oldest buildings which makes it pretty significant.
10. Forte da Ponta da Bandeira
Another fun thing to do in Lagos is visit the Forte da Ponta da Bandeira which is an old fort that sits along the coast overlooking the Praia da Batata beach.
Lagos was once the administrative capital of the Algarve so this fortress was built around 1690 to defend the town from pirates and the Spanish.
You can enter the fort by crossing over the moat using the drawbridge. It kinda feels like you're back in ancient times!
It's also possible to go inside the fort if you want. Inside you'll find a small museum, a chapel, tons of traditional blue and white tiles and an exhibition area with local artwork.
This fort once served as one of Lagos's most important defenses and is a super interesting place to see.
11. Lagos Marina
Another nice place to visit in Lagos is the marina which is filled with tons of boats & yachts and is lined with a pretty little promenade.
The Lagos Marina, or Marina de Lagos, is actually an award winning marina that was built back in 1994.
It sits pretty close to the main town of Lagos so it's easily accessible and is a great place to wander around and explore.
Additionally, there is a promenade filled with restaurants, cafes and bars. I ate here a few times during my trip as it's really peaceful and much quieter than the bustling old town.
You also get a really great view of the sunset here.
There's so much to see at the marina as it has space for up to 462 boats! During the daytime, there is a constant hum and the marina really comes to life.
In the evenings, it's a great place to sit back and relax as you'll also come across live music in the bars along the promenade.
The whole area feels very modern which is a nice contrast to the old town and it has a really laid back atmosphere.
Opening Bridge (Ponte Basculante)
One of my favorite things about the marina is the opening bridge that leads up to it. The official name of the bridge is Ponte Basculante.
Most of the time it serves as a bridge that helps people get from one side of the river to the other (classic bridge).
However when a large boat that can't fit under approaches, the bridge will split into two and open up to allow the boat to pass by.
It was really fun to sit and watch the bridge opening and closing for passing boats. Just make sure you get off the bridge before it opens (don't worry, you get lots of warning).
12. Meia Praia
Another one of the best things to do in Lagos is visit the Meia Praia beach.
Meia Praia is actually one of the longest beaches in the whole of the Algarve at just over 4 km!
It's the perfect beach if you're looking for some peace and quiet or if you're wanting to take a long beach walk or run.
Meia Praia does attract a lot of people but my favorite thing about it was that it never gets overcrowded as it's so long so there is plenty of room for everyone.
The sand just seems to stretch on forever and ever.
It is also very close to the main town of Lagos meaning it's super convenient and easy to get to.
I stayed at the Tivoli Lagos Algarve Resort which has its own beach club that you can visit for free if you stay at the hotel. I visited it several times during my stay and absolutely loved it.
To make things super easy, they even run a free shuttle bus each day to take you there and back.
The sand at Meia Praia is super soft and golden. I was also impressed at how immaculately clean it was! It seems like they really take care of this place.
It's also perfect for swimming as the sea is pretty calm here. There's no rocks in the ocean at all so it's great for everyone.
Insider Tip
Unlike Praia da Dona Ana and Praia do Camilo, this beach is not surrounded by cliffs. This does mean that it can get a bit windy on the beach so that's something to bear in mind.
I had to leave most of my things in my bag because they kept flying away due to the wind!
You'll need to anchor your parasol into the ground and make sure any loose items that may blow away are secured.
There is an upside to the wind however as it makes this beach a great place for certain activities like as windsurfing and paragliding.
13. Jardim da Constituição
Another great place to visit in Lagos, Portugal is the Jardim da Constituição which is a garden filled with palm trees, benches, grassy areas and it offers scenic views of the Atlantic Ocean.
You'll also be able to spot the old city walls running through the garden. These walls once enclosed the town and protected Lagos from attack but today only part of it remains.
You'll also find the Castelo dos Governadores which is an old 17th century castle that used to be where the Governors of Lagos lived. Today it's empty but it looks pretty cool.
It was actually originally built by the Arabs so looks a bit different to other buildings that you'll find in Portugal.
I really enjoyed just wandering around this garden as it's so peaceful and usually pretty quiet.
There isn't tons of things to see and do in the park but it does provide a really peaceful atmosphere and if you're into history then you'll enjoy seeing the old walls.
14. Explore The Rock Tunnels
One of my personal favorite things to do in Lagos is explore the rock tunnels on the beaches.
I didn't know about this before I arrived in Lagos and kinda stumbled across it by myself but I'm so glad I did!
You'll find that many of the beaches are located in a row and they're connected together by rock tunnels that you can walk through.
It's a pretty fun walk and it provides some incredible views. My favorite time to visit is at sunset as the beaches are pretty deserted and the sky looks absolutely incredible.
How To Get There
To start the walk, you want to head to Praia da Batata beach which is located right on the edge of the old town.
From here, you simply just have to walk up the coastline towards Ponta da Piedade along the beaches until you can't go any further.
Many of the beaches you'll pass have staircases which lead up the cliff face back up onto the trail which runs along the top.
You can take one of these at any point but I really enjoyed just walking along the beaches.
15. Visit The Beach Arch
Another one of the best things to do in Lagos is visit the beach arch on the Praia dos Estudantes beach.
This ancient arch sits in the gap between two cliff faces and there's a gap beneath it that you can walk through.
Apparently this arch forms a bridge that was once part of the old Pinhão Fortress.
Unfortunately the rest of the fortress was destroyed in an earthquake in the 1700s and this arch is all that still remains.
The first time I tried to visit the arch, it was high tide so the beach was covered in water and I couldn't get anywhere close to it.
The next time I came back at low tide and, voila, I could walk right through it! You can check the tide times on tide-forecast.com.
How To Get There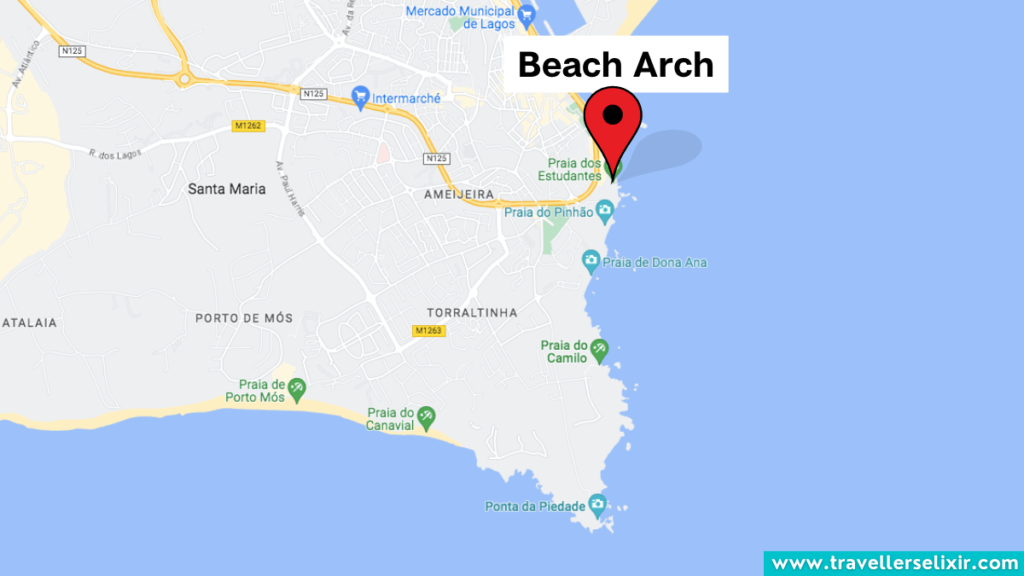 The arch is located on the Praia dos Estudantes beach which you'll find just before Praia do Pinhão.
The arch is listed as 'Lagos Roman Bridge' on Google Maps.
The easiest way to get there is to enter the beach at Praia da Batata and then walk along the sand, going through the rock tunnels, until you reach Praia dos Estudantes.
The walk should only take a few minutes.
---
And that's it!
Thanks for reading this post all about the best things to do in Lagos, Portugal.
I personally think that Lagos is one of the Algarve's best towns but many tourists also choose to visit Albufeira. Check out my guide on Lagos vs Albufeira to decide which is right for you.
Related Posts: