Ponta da Piedade is a natural wonder located in the Algarve town of Lagos, Portugal.
These impressive rock formations line the coast and have, over thousands of years, formed hidden caves, grottoes and sea arches.
You can walk along the cliff tops and look out onto the Atlantic Ocean or sail out onto the water itself and explore the hidden caves and grottoes by sea.
This complete guide to Ponta da Piedade will give you all the information you'll need including how to get there, the best ways to see the cliffs and more.
About Ponta da Piedade Lagos
Being completely honest, Ponta da Piedade was one of the main reasons that I came to Lagos in the first place.
I'd seen photos of it all over Instagram and I thought that it looked almost too good to be true. Well, after visiting Lagos, I can tell you that this place is definitely real!
Ponta da Piedade is essentially a headland area that has been formed over thousands of years by rock formations that run along the coastline of Lagos.
The rocks are golden in color and some reach as high as 20 meters!
Many of the rock formations have been given funny nicknames over the years, including the camel, the titanic, the elephant and the kissing couple.
These impressive rocks have become one of the Algarve's most popular tourist attractions with people coming in from all over the world to see them.
They're one of the most photogenic spots in Lagos so bring along your best Algarve Instagram captions because you'll be needing them!
There isn't much at the headland itself apart from a lighthouse, a car park and a restaurant.
You will find a fantastic walking trail though that I absolutely loved walking along – it was one of the highlights of my whole trip.
The best part of the cliffs is located on the eastern side of the lighthouse. This is also where you'll find a long staircase which leads down the cliff face towards the coves by the sea.
From sea level, you'll get an impressive view of the cliffs and you can easily hop onto a boat tour from here to explore the caves themselves.
💡 Insider Tip: Don't get too close to the edge as the cliffs can be unstable in some areas. Just stick to the main designated walkways and you'll be fine.
Ponta da Piedade Caves
By the sea, the rocks have formed caves, grottoes and sea arches that can be explored by kayak.
You can also explore the caves on a boat tour but the boats are too big to go inside some of the caves so you don't get to see quite as much.
I explored the caves by kayak and our guide was so great at pointing out the rocks and explaining where the names come from. He spoke excellent English and was really friendly.
Ponta da Piedade Beach
Whilst there isn't a specific 'Ponta da Piedade beach', you'll find several beaches dotted along the rocky coastline.
You can see them from the cliff tops above or you can head down towards them if you like.
Apart from a few, most of the beaches have long staircases which lead down from the cliff tops to the shore.
There are a few which aren't accessible by land though so if you don't see a staircase, don't bother trying to get down as you don't want to hurt yourself.
When I visited I saw several people trying to climb down the rock faces to get to the beach but it looked kinda scary so I wouldn't try it myself.
I did actually get to visit one of the inaccessible beaches during the kayaking tour that I did which was pretty cool.
There was nobody else on the beach apart from just my group!
Ponta da Piedade Hike
One of the best ways to visit Ponta da Piedade is by hiking along the top of it.
There are many footpaths which follow along the top of the cliffs offering mesmerizing views of the ocean and the Algarve coastline.
You can see all the way to Sagres in the west and Carvoeiro in the east. The view is even better at sunset!
I made it my mission every single day to come up here to watch the sunset as it was just too good to miss out on.
It's worth knowing that Ponta da Piedade is a very popular tourist site so you will find lots of other people up there, especially in the middle of the day.
It's quite a large area though and when I visited, I didn't feel like it was too busy to enjoy. There's plenty of space for everyone and it still felt very peaceful.
You'll also notice a set of stairs that leads down the cliff face towards the sea.
Take this staircase if you fancy seeing one of Ponta da Piedade's beautiful coves from the land without having to get out onto the water.
When you reach the bottom, you'll notice that there is nowhere to go from here so you will have to either climb back up the staircase or take a boat.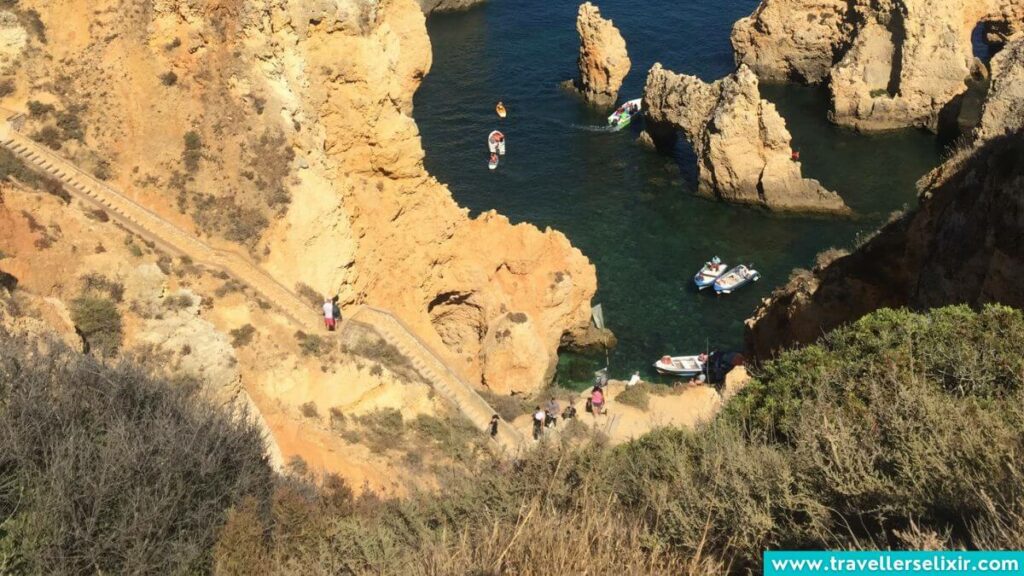 The staircase is pretty long, it's 182 steps so think carefully before heading down to the bottom as it'll be a long walk back up.
I chose not to go down the staircase as I didn't want to tire myself out walking back up and I'd booked onto a kayak tour around the caves the next day so I didn't feel like I was missing out on seeing the cave at all.
The Boardwalk
One thing I will say is that the majority of the footpaths which line Ponta da Piedade are rocky. It really is a hike with loose footing, some steeper bits, lots of ups and downs etc.
I tripped up way more times than I'm willing to admit so make sure you go slowly and wear comfortable shoes. Leave the flip flops at home for this one.
The walk may not be suitable for everyone especially if you have mobility issues, are in a wheelchair or have very young children.
In fact, most of it features an open cliff face so you'll want to be careful with kids up here.
There is also a flat wooden boardwalk that runs across part of the cliff tops. This area is really safe and away from the edge and has a railing so is perfect for kids.
There are also no steps (it's completely flat) so it is suitable for people in a wheelchair.
The boardwalk extends across the cliff tops starting at the lighthouse then heading westward towards Praia do Barranco do Martinho and even further to Praia do Canavial and Praia de Porto de Mós.
This boardwalk follows the coastline and there are several viewpoints along the way meaning you can still enjoy the views even if you don't fancy doing the full hike.
Ponta da Piedade Hike Map
Here's a map I put together of the best Ponta da Piedade hike: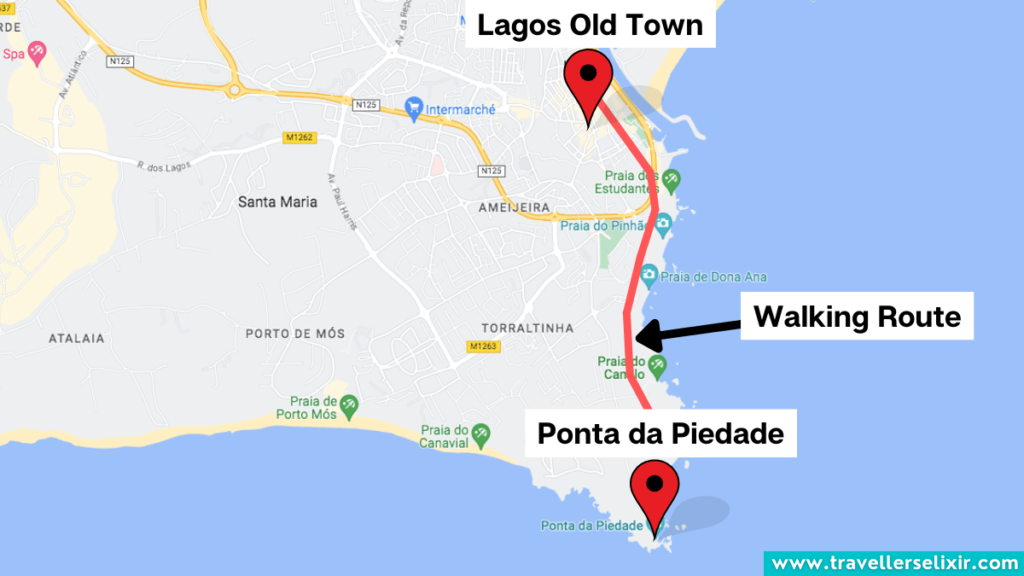 The best route would be to start at the lighthouse and walk back towards the town of Lagos.
You'll get stunning views of the ocean along the way and of the beautiful beaches and coves from above.
When I did this hike, I took an Uber from my hotel in the old town to the lighthouse at Ponta da Piedade then walked back along the cliff tops.
The Uber only cost €6 euros so it was completely worth it for me.
The walk from the lighthouse back to the old town takes around 40 minutes and it can be pretty hot up there so take lots of water.
It's also super windy so tie up your hair (I wish I did) to avoid having hair all over your face in all of your photos.
Ponta da Piedade at Sunset
Although most people visit during the day time, you can also visit Ponta da Piedade at sunset.
This is actually one of the best times to visit as the sunsets in Lagos are just magical.
I headed up there a few times during my trip with one of them being at sunset and I'm so glad I did because it was actually one of my favorite days of the whole trip.
The sky looks like something out of a dream. It fades down from blue to pink and purple – I've genuinely never seen such a beautiful sky.
Visiting Ponta da Piedade by Sea
Another incredible way to visit Ponta da Piedade is via the sea! You can join a boat tour or if you're feeling more adventurous you can join a kayaking tour or hire a stand up paddleboard.
This allows you to actually navigate through the cliffs and explore the hidden coves, grottoes and beaches! Many of these tours also have snorkeling stops or stop by at a hidden beach.
It is also possible to just hire a kayak or paddleboard and then head out on your own but I definitely wouldn't recommend it.
The seas can be a bit harsh at times so it's always best to go with a guide that knows what they're doing and can help you out if you come into any difficulties.
Plus, the rocks are sharp and you could easily hurt yourself here if the conditions weren't great.
Ponta da Piedade Kayak Tour
I did this group kayaking tour at Ponta da Piedade. We kayaked around the caves for a few hours and stopped by one of the hidden beaches, Praia da Balança.
Our guide told us that it was impossible to get to the beach by land so we were pretty much the only people there.
It was a really fun adventure and suitable for beginners (I'd never kayaked before). It's really worth doing if you have time as seeing the little caves for yourself is very impressive.
One thing I will say is that the kayaking tours are much more active than the boat tours.
It was quite tiring by the end but not too strenuous. We were out there for a couple of hours so by the end, I was quite achy and ready for a rest.
The main upside to doing a kayak tour over a boat tour is that you can often go into the smaller caves that the boats can't enter as they're too big.
Some of the hidden caves are really small and the only way to go in is by kayaking. I'd have been so disappointed if I had missed out on them.
Most kayaking tours last between 2 and 2.5 hours. This usually includes stopping off at one of the beaches half way through for a rest and then a support boat will pull you back at the end.
I was soooooo thankful for the support boat because the thought of kayaking all the way back was just too much!
Another great thing about the kayaking tours is that they depart from Praia da Batata which is right next to the fort in the old town of Lagos.
This means you don't need to travel all the way up to Ponta da Piedade (40 mins by foot).
Kayak Tour Pricing
The kayak tours tend to cost around €35 per person. If you choose to do a stand up paddle boarding tour instead, they cost a little bit more around €40 each.
You can either book a ticket online or you can head down to the Praia da Batata beach and book yourself onto a tour.
I'd recommend booking online though as you don't have to worry about being overcharged (vendors love to double the price when they realize you're a tourist) and you'll be guaranteed to get a spot.
Book Your Lagos Kayaking Tour Now!
Ponta da Piedade Boat Tour
Boat tours are a really relaxing way to see the caves and grottoes of Ponta da Piedade.
There is no hard work involved at all so you can just sit back and relax whilst cruising along the impressive coastline looking out for the caves.
These tours always have a guide who narrates the journey, ensuring you don't miss anything and tells you about the history and facts of the place.
As I said, one downside is that the boats can't enter a lot of the caves as the boat is too big. You can still see the caves from the outside and enjoy the rock formations.
I'd recommend booking onto a boat tour online to ensure that you're guaranteed a place. The tours do get fully booked during the summer so booking online is the best way to ensure you don't miss out.
You can also book onto a tour at the marina or from the old town of Lagos but sometimes they sell out and you have to be careful you don't get overcharged.
Boat Tour Pricing
Prices for boat tours around Ponta da Piedade start at around €22 per person. They can be more if they include food and drinks or other activities.
You can also join a smaller boat tour at Ponta da Piedade itself. There is a long staircase by the lighthouse that leads down to the sea.
At the bottom of the staircase, there's usually various small boats hanging around waiting for tourists that have come to the bottom and realized there's nowhere else to go but back up the 182 steps!
You can easily jump onto one of these small boat tours and explore the caves. These tend to be shorter length tours though but the smaller boats are better at getting into some of the caves.
How to Get to Ponta da Piedade
Getting to Ponta da Piedade is relatively easy but, being completely honest, the Algarve doesn't have great public transport routes.
Taxis and Ubers tend to be the easiest way to get around but there are a few other options.
Lagos to Ponta da Piedade
There are a few different ways to get to Ponta da Piedade from the old town in Lagos which is where most of the hotels are located.
Here's the options:
Take a taxi/uber
Take the tourist train
Walk
Unfortunately there is currently no bus service that runs the route from Lagos.
Taxi/Uber
Taking a taxi or an Uber is by far the easiest way to get to Ponta da Piedade. This is what I did when I visited Lagos.
Ask the driver to take you to the lighthouse as this is located at the headland area and is where you'll want to start your hike.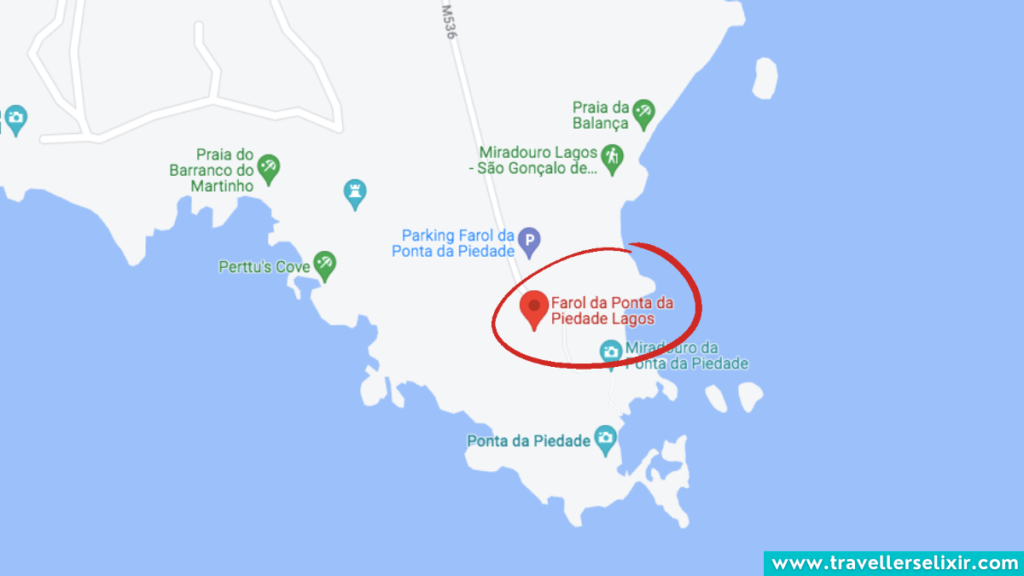 If you're staying in the main town of Lagos, it will only cost you around €6 in an Uber.
Traditional taxis may charge a bit more and you may have to haggle as some drivers do try and rip off tourists unfortunately.
That's why I prefer using Uber or Bolt as you get a better price and you don't have to haggle with the driver at all.
Walk
Another way to get to Ponta da Piedade from Lagos is simply by walking. I did this once and really enjoyed it.
The walk is 2.5km and will take you around 40 minutes from the old town.
If you're up to walking, it is a really beautiful walk as you'll pass by some of Lagos's most famous and beautiful sites including the Praia do Camilo and Praia Dona Ana beaches.
It can be tough in the heat so make sure you bring plenty of water and wear comfortable shoes.
You also need to bear in mind that you'll probably walk back so it'll be the same walk each way and it'll take 1 hour 20 minutes overall.
Tourist Train
The third option is taking the tourist train which only runs during peak tourist season in July, August and September.
During the summer, this tourist train runs from the main town of Lagos to Ponta da Piedade. The journey only takes around 7 minutes.
Just to be clear, it's not actually a train. It's one of those cars with carriages that has been made to look like a train.
You can catch it from the marina or from the Avenida dos Descobrimentos which is the promenade that lines the river.
There are 11 departures each day and the train usually runs from 9.45am until 7:50pm.
It costs just €4 per person each way or you can purchase a day pass for €5.50. Children under 4 years old can ride the train for free.
You can check the timetable here on their website. The train carries up to 56 people and it also has 4 spots for wheelchairs.
Lisbon to Ponta da Piedade
To get to Ponta da Piedade from Lisbon, you'll first need to get from Lisbon to Lagos.
Lagos is 300 km south of Lagos and it takes around 2 hours and 50 minutes to get there by car but the trains and buses tend to take just under 4 hours.
Due to the long journey times, an overnight trip to Lagos would be better than a day trip.
Here's the different ways you can get from Lisbon to Lagos:
By taxi/uber
By bus
By train
There are several direct buses and trains which leave Lisbon every single day and arrive in Lagos.
Here's what you need to know:
The bus takes 3 hours 50 minutes and costs around €8 each way.
The train takes 3 hours 40 minutes and costs around €12 each way.
I'd recommend booking your ticket with Omio as they offer the best prices for Portugal travel and it's super easy to book.
I've used them several times to book train and bus tickets and have always had the best experience.
A taxi or Uber will be really expensive (€200+) so I wouldn't really recommend it unless you're a millionaire.
There are also several sightseeing tours which include pick up and drop off in Lisbon. These are cost effective if you want to see a lot in one day and offer a relaxed experience.
This tour from Lisbon actually includes all your transport and takes you to Ponta da Piedade, Benagil Cave and Albufeira all in one day.
Ponta da Piedade Parking
There is a car park at Ponta da Piedade which is ideal for anyone using a hire car. You can leave your car in the car park whilst you explore the headland.
It's located right by the lighthouse so you can easily find it. It is listed as 'Parking Farol da Ponta da Piedade' on Google Maps.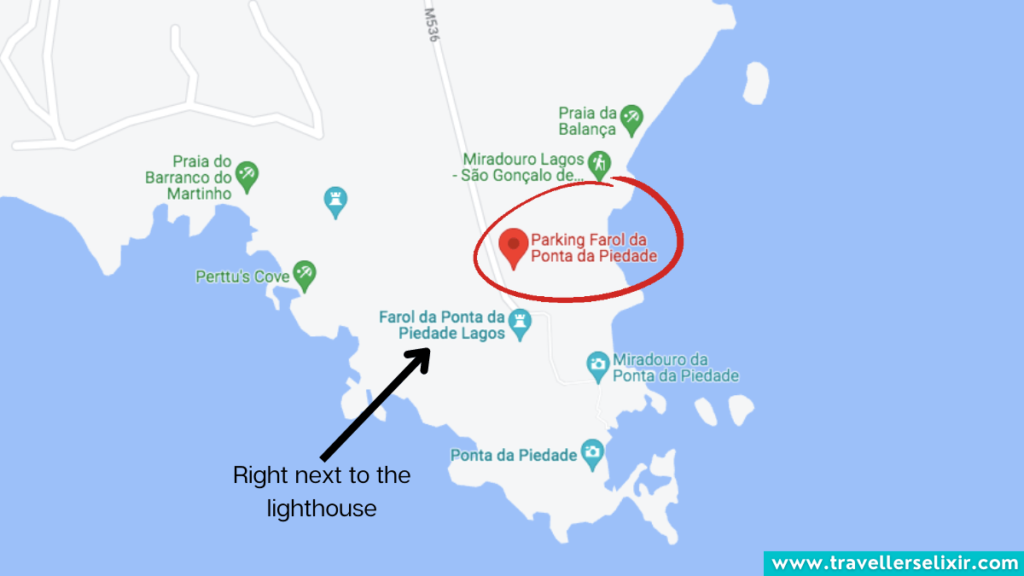 Parking is free here however it does fill up quickly especially in the summer so it is best to arrive early if you can.
Ponta da Piedade Hotels
There aren't any hotels located right along Ponta da Piedade but there are a few located pretty close by.
The ones listed below are the closest ones.
Best Ponta da Piedade hotels:
These hotels are around a 15 to 20 minute walk from Ponta da Piedade or just a couple of minutes in a taxi.
Ponta da Piedade vs Benagil Cave
Without a doubt, Ponta da Piedade and Benagil Cave are the two most popular tourist attractions in the Algarve but they are 40 minutes apart.
They're both equally as beautiful and worth visiting but if you only have time to visit one, which should you choose?
For me personally, I'd choose Ponta da Piedade over Benagil Cave as it's easier to visit from Lagos and there's more to see.
Benagil Cave is really impressive but it's just one cave that gets super crowded.
A lot of the boat tours will also just sail around the cave not even giving you the chance to get out and explore by yourself.
Getting to Benagil Cave from Lagos is also much longer than getting to Ponta da Piedade so you'll waste less time on the road.
Ponta da Piedade has numerous caves, grottoes, hidden beaches and a cliff top walk so you could easily spend a good half day exploring it.
Also, due to how spacious it is, it feels less crowded at Ponta da Piedade and as there's so many caves, you're sometimes the only one in there!
It's really close to Lagos old town too (just a 10-minute drive) and you even have the choice to walk there if you're feeling up to it.
That's why I'd pick Ponta da Piedade over Benagil Cave but, of course, the choice is completely up to you.
If you have the time then Benagil Cave would make an excellent day trip from Lagos so try to include it if you can.
---
And that's it!
Thanks for reading this complete guide on Ponta da Piedade in Lagos, Portugal which really is one of the best things to do in Lagos.
You definitely won't regret seeing this historic natural wonder with your own eyes. Enjoy!
Related Posts: