After a whole month of living in Lisbon, I was ready for a change of scene and what better place to visit than the stunning Algarve town of Lagos?
Getting from Lisbon to Lagos is actually pretty easy if you know how but I must have spent hours and hours researching it before I made the trip.
In this guide, I'll explain exactly how to get to Lagos from Lisbon by train, bus, car or plane and I include all the prices, travel times, timetables and key things to know.
Best Way To Get From Lisbon To Lagos, Portugal
The distance from Lisbon to Lagos is 305 km (189 miles) as Lisbon is located in central Portugal whereas Lagos is located on the southern coast.
There are several ways that you can travel from Lisbon to Lagos.
Here's an overview of the options:
By train: 3 hours 40 minutes to 5 hours and 40 minutes, €12 – €18
By bus: 3 hours 50 minutes, €5 – €10
By taxi/uber: 2 hours 45 minutes, €208
By rental car: 2 hours 45 minutes, ~ €97
By flight: 4 hours, €43 – €52
*Prices are per person, one-way
Below I'll go into more detail on each of these options giving you all the information you'll need including exact costs, how to book and other key things to know.
Can You Take A Day Trip To Lagos From Lisbon?
A day trip from Lisbon to Lagos is possible however a weekend trip would be better as the travel times are fairly long.
You'll spend at least 5 and a half hours of the day traveling to and from Lagos if you go by car.
If you go by bus or train then your travel time is even higher at around 7 hours and 40 minutes which is a lot and doesn't leave you with much time to see Lagos.
If you do want to do a day trip from Lisbon to Lagos then I'd recommend booking onto a day tour like this.
This tour includes all of your transport to and from Lisbon and you'll get to see all of the Algarve's most famous sites including Lagos, Benagil Cave, Ponta da Piedade and Albufeira.
It makes the whole day super relaxing and enjoyable so you can just sit back and enjoy the views! Plus as you'll travel by car, you won't spend too much of your day traveling.
Bus To Lagos From Lisbon
Traveling from Lisbon to Lagos by bus is easily the cheapest option and it's also one of the fastest options too.
The bus from Lisbon to Lagos takes 3 hours and 50 minutes and costs between €5 and €10 each way.
I noticed that it's cheaper to travel on a weekday rather than on a weekend. Weekday prices are usually around €5 whereas you'll pay €8 to €10 on a weekend.
💡 Helpful Tip: Although this option is generally referred to as a 'bus', it's actually more like a coach.
The main bus company that runs this route is Flixbus.
I've actually traveled with Flixbix several times in Portugal and can't say enough good things about them. Their coaches are super comfortable, on time and reliable.
The bus from Lisbon to Lagos is direct so you don't need to change buses at any point which is super helpful. This is much better than the train where you do need to change (more on that later).
The buses usually leave from Lisbon Oriente Station and arrive at the central bus station in Lagos (Terminal Rodoviário).
The bus station in Lagos is located in the main town itself. I was actually able to walk directly to my hotel from here and it only took me 4 minutes!
The Lisbon Oriente Station is on the red metro line and is also close to Lisbon Airport so it's pretty easy to get to from the city center.
Rede Expressos also run the route from Lisbon to Lagos. Their ticket prices vary considerably in price with some being as cheap as €5 and some as much as €21.
Most of their buses depart from Lisbon Sete Rios which is a bit more central than Lisbon Oriente Station.
Lisbon To Lagos Bus Timetable
There is no strict timetable for the Flixbus buses from Lisbon to Lagos so it varies each day.
On average, there's usually between 4 and 6 departures each day with the earliest leaving at around 7:30 AM and the latest leaving at 6:15 PM.
Rede Expressos offers more departure times as their buses leave every half an hour to an hour throughout the day.
How To Book
It's best to book your ticket in advance online to ensure you are able to get a ticket (as the buses can get very busy in the summer).
I'd recommend booking on Omio as it offers the best prices and it's super easy to use.
I've used Omio several times for booking travel across Portugal and was really impressed with how easy it made the whole thing.
Simply input your departure & arrival points as well as your dates and Omio will give you an overview of all the trains and buses that leave that day so you can easily compare them.
You can also book online directly with Rede Expressos if you want to use their buses but their website is in Portuguese which can make booking a bit more difficult than with Omio which is completely in English.
Train From Lisbon To Lagos
Another way to get there is by train, however unfortunately there are no direct trains from Lisbon to Lagos.
All of the trains stop in the town of Tunes which is located on the southern coast of Portugal just 57 km (35 miles) from Lagos so you'll need to change trains here.
Overall, the train from Lisbon to Lagos takes between 3 hours and 40 minutes and 5 hours and 40 minutes depending on the train you choose.
As you can see, train times on this route vary significantly.
On average, the trains from Lisbon to Lagos cost between €12 and €18 one-way.
There's not much difference in price between weekday and weekend, it costs pretty much the same whichever day you choose.
Weirdly, I noticed that the faster trains actually tend to be cheaper than the longer trains (no idea why). I spent ages checking various dates on Omio and found this rule to be generally true.
Most of the trains depart from either Lisbon Entrecampos Station or Lisbon Santa Apolonia Station.
All of the trains arrive into the main train station in Lagos which is very close to the marina and within close walking distance to the main town area.
This service is run by Comboios de Portugal which is the main train provider in Portugal.
There's between 11 and 13 departures from Lisbon to Lagos each day meaning there's so many options to choose from.
The earliest trains leave at around 7:45 AM and the last train leaves at around 6:40 PM.
Changing Trains in Tunes
As I mentioned, you do need to change trains in Tunes.
It's actually super easy to change trains here as there are plenty of signs pointing you in the right direction and lots of other travelers will be doing the same thing.
How To Book
The best place to book train tickets from Lisbon to Lagos is on Omio. I'm kinda lowkey obsessed with this website as it makes traveling around Portugal so easy!
(I actually lived in Portugal for a few months, traveling around extensively and Omio made the whole thing soooooo easy!)
After you've inputted your dates, Omio will show you all the different train and bus options so you can compare them and pick the best option for you.
Make sure you book your ticket in advance as not only will get you a cheaper price, you'll also ensure you get a ticket.
The trains can get very booked up in the peak summer months of July, August and September.
Is It Better To Take The Train Or Bus From Lisbon To Lagos?
It's better to take the bus instead of the train from Lisbon to Lagos as it's a faster and cheaper option.
The bus from Lisbon to Lagos costs, on average, half as much as the train.
The bus costs between €5 and €10 whereas the train costs between €12 and €18 so you'll make a saving by taking the bus.
Additionally, the bus is generally quicker than the train. The journey time by bus will usually take around 3 hours and 50 minutes.
Train times vary significantly. The fastest train will get you there in 3 hours and 40 minutes (which is only 10 minutes faster than the bus) but the longest train will take 5 hours and 40 minutes which is significantly longer than the bus.
I've traveled around Portugal a lot recently and I pretty much only travel by bus as it's just so much cheaper and faster than the train.
The buses are also really comfortable, modern and clean so I really enjoy riding on them.
Lisbon To Lagos By Taxi/Uber
The drive from Lisbon to Lagos takes approximately 2 hours and 45 minutes.
This means that traveling from Lisbon to Lagos by car is by far the fastest way to get there as the quickest train will still take 3 hours and 40 minutes.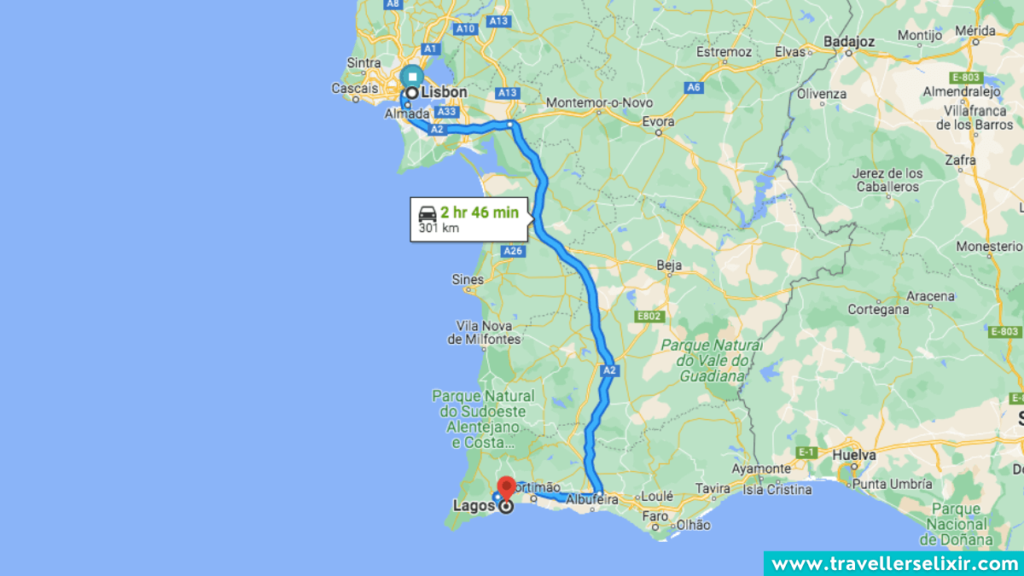 If you're wanting to save time and go by car then I personally think that using a ride-sharing app like Uber or Bolt is the easiest way.
I use Bolt a lot in Portugal and I've always found it to be super reliable, clean, comfortable and the drivers are always really friendly.
I've also found that it's so much cheaper than a traditional taxi (by a long shot) and a little bit cheaper than Uber as well.
How Much Is A Taxi From Lisbon To Lagos?
A taxi from Lisbon to Lagos will cost between €367 and €429. Smaller cars fall on the cheaper end of the scale whereas the larger cars will be more expensive.
These are quotes based on the taxi booking website kiwitaxi.com.
As I said, I personally use Bolt as it's much cheaper than a taxi. You can make a huge saving this way.
I checked this journey on the Bolt app and was quoted €208 which is €159 cheaper than taking a regular taxi.
Lisbon To Lagos By Rental Car
Another way you can travel from Lisbon to Lagos is by hiring a car.
Rental cars in Portugal are relatively cheap and cost less than taking a taxi. This is also one of the fastest ways to get from Lisbon to Lagos as the journey takes just 2 hours and 45 minutes.
Route By Car
The best route is to travel down the A2 freeway.
You can use Google Maps to find the best route. These roads are really well maintained and have many service stops along the way.
Cost
Prices for rental cars do vary depending on the length of hire, the driver's age and if you want to pick up and drop off the car in the same location.
You can use rentalcars.com to check your options as they offer really great prices and make booking super simple.
As an example, if you pick the car up in Lisbon and drop it off in Lagos, the price is around €54 to rent it for one day.
It's usually much cheaper if you drop the car off in the same location so if you pick it up and drop it off in Lisbon, the price drops to just €7.50 for one day which is a huge saving!
As well as the cost of renting the car, you also need to factor in the cost of gas. For the journey from Lisbon to Lagos, expect to pay around €20 for gas.
To get this number, I used the Citroen C1 car as an example and used this fuel cost calculator.
Tolls
Another cost you need to factor in is tolls. Yep, unfortunately the main road from Lisbon to Lagos has tolls on it (and they're not cheap).
These days a lot of the roads use an electronic system so you don't need to have any change on you.
You can just head to a local post office or a registered Payshop after the journey to pay the toll.
💡 Insider Tip: Check with your hire car company first as some of them pay the tolls for you and include it in the price.
Other roads still have the classic toll booths but they do allow you to pay by card (I'd still recommend having some cash on hand just in case).
The A2, which is the main road you'll use to get from Lisbon to Lagos, is a toll road so it's really difficult to avoid them.
I used this toll road calculator to predict how much you'll pay in tolls on this route and it quoted me €23.50 which sounds about right given what I know about Portugal's tolls.
Yep, the tolls in Portugal are not cheap!!!
Total Cost By Rental Car
The total cost by rental car really will vary depending on how many days you keep the car for.
If you're doing a day trip from Lisbon to Lagos then expect to pay a total of around €94.50.
This cost estimate includes the cost of your hire car, the cost of gas and the cost of tolls both ways of the journey.
If you're just traveling one-way i.e. from Lisbon to Lagos only then it will cost around €97.50.
This estimation includes the cost of the car rental with pick-up in Lisbon and drop-off in Lagos, gas and the tolls.
In this scenario, you're only traveling one-way so you're only paying for the gas and tolls once whereas in the first example you paid them twice as you drove back up to Lisbon.
Overview of costs involved for a rental car:
One day rental car cost (pick-up & drop-off in Lisbon): €7.50
One day rental car cost (pick-up Lisbon, drop-off Lagos): €54
Tolls cost one-way: €23.50
Fly From Lisbon To Lagos
The final option when it comes to transportation from Lisbon to Lagos is to go by plane.
This option is kinda awkward so I wouldn't really recommend it but I'll give you all the info anyway.
The first thing to know is that Lagos doesn't have an airport so you'll have to fly into the closest airport which is Faro Airport (FAO).
The Lisbon to Lagos flight takes just 45 minutes then getting from Faro Airport to Lagos takes around an hour.
You'll also need to factor in the time that it takes to get to Lisbon Airport and the time you'll spend waiting for your flight in the airport.
It takes around 20 minutes to get from Lisbon city center to Lisbon Airport and most airports recommend you arrive 2 hours before a domestic flight.
This takes the total travel time up to just over 4 hours meaning you won't really save any time by taking a flight instead of a bus or train.
The main airline that flies this route is Tap Air Portugal and they do offer some cheap flight prices.
The flight from Lisbon to Lagos costs between €43 and €52. This cost does include carry-on luggage but expect to pay an additional €15 if you have any checked luggage.
---
And that's it!
Thanks for reading this post on how to get from Lisbon to Lagos. I hoped it helped!
Lagos is one of the most popular towns to visit in the Algarve but have you also considered Albufeira?
I wrote a comparison of Lagos and Albufeira to help other travelers decide which one suits them better. I think you might like it.
Related Posts: