If you're planning an Algarve vacation then you might be struggling to choose between Lagos and Albufeira. I know I was.
In this guide, I'll cover all the key differences between them to help you decide which one you should visit. It includes activities, nightlife, beaches, atmosphere and more.
Lagos Vs Albufeira – Summary
In a hurry? Here's a quick overview of the key differences between Lagos & Albufeira:
Albufeira is better for nightlife as they have lots of bars, nightclubs and a vibrant nightlife scene that goes on until the early hours of the morning.
Albufeira is better for families as there's more things to do including water parks and theme parks.
Albufeira feels more tourist-centric. It's more commercialized and tailored to international tourists particularly Brits.
Lagos is better for experiencing authentic Portuguese culture and food.
Lagos is better for anyone looking for a relaxing, laid-back vacation.
I personally think Lagos has better beaches, they're more beautiful and unique.
Albufeira is bigger than Lagos so it has a wider range of hotels, restaurants and bars to choose from. It is mostly geared towards British tourists so has lots of British pubs and international restaurants.
You'll also find a gazillion Brits there and barely any Portuguese people at all so if you're looking for an authentic, Portuguese experience…Albufeira isn't it.
Although it's smaller, Lagos still has a good selection of restaurants, bars and hotels so there's still plenty of choice.
Lagos also has a much more authentic vibe and actually feels like a Portuguese town. You can try the local cuisine, explore history and experience the culture.
Both towns have stunning beaches with white sand and crystal clear waters that are perfect for all ages.
The Ponta da Piedade rock formations in Lagos are definitely a highlight for me. Exploring the hidden caves by kayak was definitely one of the best parts of my whole trip.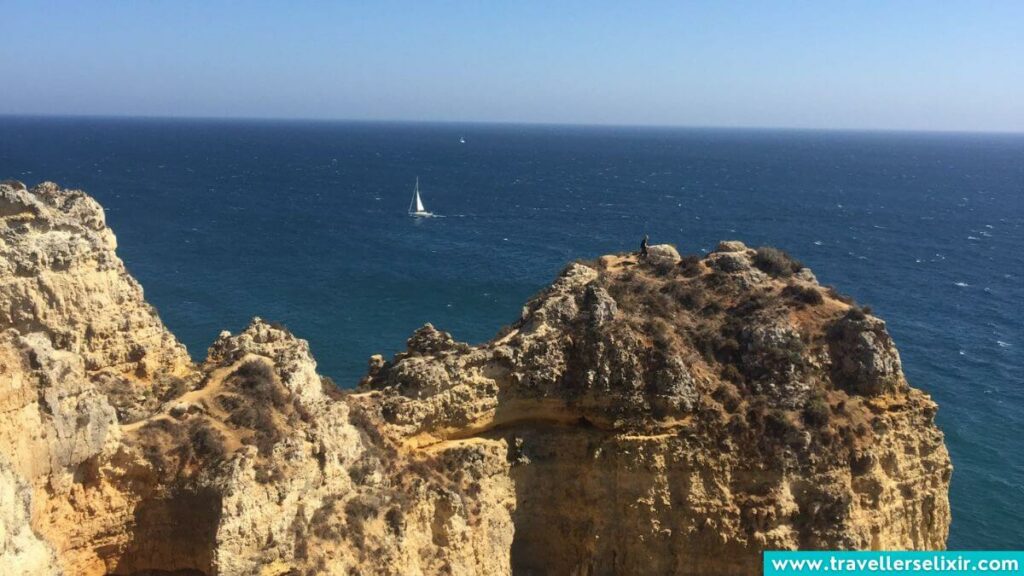 Albufeira does definitely have more to do in terms of activities. There are plenty of water sports, water parks, theme parks, adventure activities and more.
I'd say that it's more suited to families with kids as no child will ever run out of new things to do in Albufeira.
Lagos has less to do compared to Albufeira but it still has enough to keep you occupied. There are plenty of water sports such as kayaking through hidden caves as well as endless beaches and walking routes.
My Opinion
Personally, I prefer Lagos over Albufeira. When I travel, I want to get a feel for how the locals live so Lagos ticks all the boxes.
Whilst Albufeira really is a lovely place, it is really busy and touristy which just wasn't what I was looking for.
I had such an amazing time in Lagos and would recommend it to anyone looking for a laid-back trip.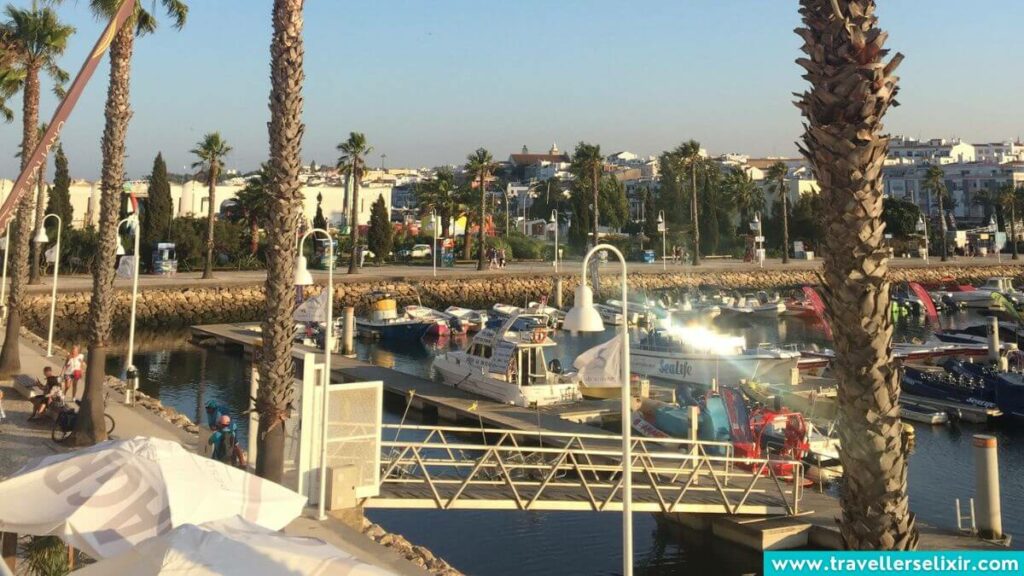 If you're heading to the Algarve to party then definitely choose Albufeira as it has everything you're looking for and I think you'd be a bit disappointed by the nightlife options in Lagos.
I went to several bars in Lagos and they're very casual and quiet.
To give you an example, one evening we went to the bar in our hotel after dinner so it wasn't even super late. It was probably around 8PM.
There were only a few people at the bar and they had a singer doing some covers of lots of famous songs (like 'My Heart Will Go On' by Celine Dion).
A couple with a young child got up to do some ballroom style dancing and had their 5-year old son record them on their phone.
That's kinda the vibes in Lagos. Don't expect to be partying until the early hours, everyone had left by 10PM.
Lagos or Albufeira For Families
If I'm being super honest, I think families would love both Lagos and Albufeira. There really is no wrong choice here.
Having said that, as a whole, I'd say Albufeira is better suited to families because there's more things to do, especially for kids.
Albufeira has water parks like Zoomarine which make for a perfect fun family day out. You can also take part in a range of water sports in Albufeira and make the most of their beaches.
There's tons of international food options in Albufeira too so there's sure to be something that your kids will like. You'll find pizza, burgers and chicken nuggets in most restaurants.
(I know me and my brother were so awkward when we were kids. He would only eat margarita pizzas and I would only eat cheese sandwiches. I feel bad for my parents haha)
Lagos doesn't have water parks but it does have lots of activities that kids will enjoy. There's plenty of beaches including the super spacious Meia Praia which just seems to go on forever.
You can do a range of water sports like kayaking, stand up paddle boarding and more.
The Verdict: Albufeira is better for families with kids as there's more things to do.
Which Is Bigger – Lagos or Albufeira?
Both Lagos and Albufeira are very popular in the summer months (June, July and August) with their populations more than doubling due to the influx of tourists.
Lagos is definitely smaller with a population of 22,000 local residents whereas Albufeira has almost twice as many people with a population of over 40,000.
As I said, these numbers more than double every year during the summer when the tourists arrive for the holiday season meaning it can get pretty busy.
I visited Lagos during July and it was definitely busy but it didn't feel overrun by tourists. There was still plenty of space on the beaches and in the restaurants.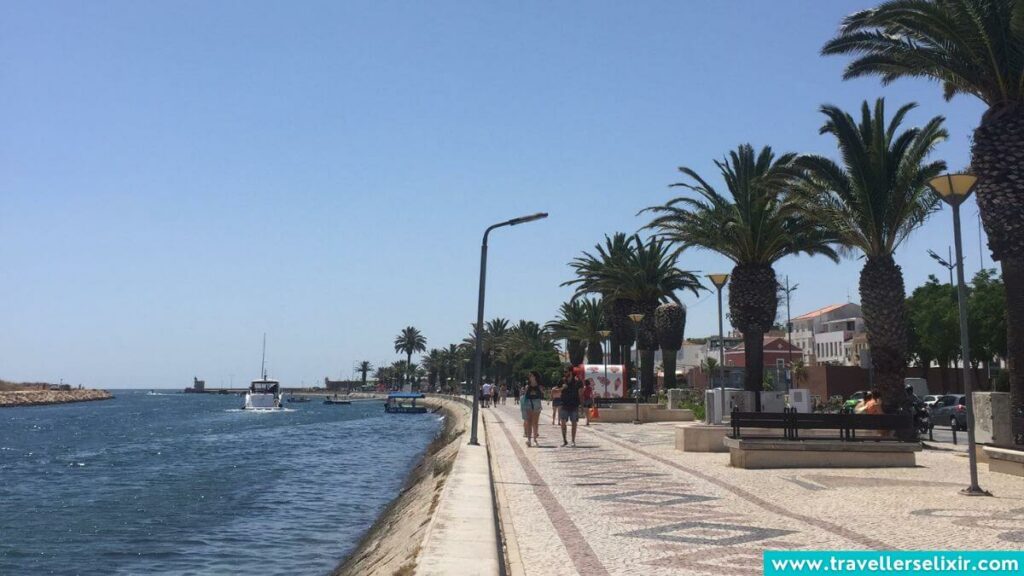 Albufeira has a very lively nightlife scene that comes complete with hundreds of restaurants, bars and nightclubs so there is plenty of choice.
Although smaller, Lagos is still a busy town with plenty of choice when it comes to restaurants and bars however it does have slightly less choice compared with Albufeira.
I actually stayed in Lagos for a week and never felt like I'd run out of choices. There were tons of restaurants still to choose from and, if anything, I wished I was able to stay longer so I could try more of them!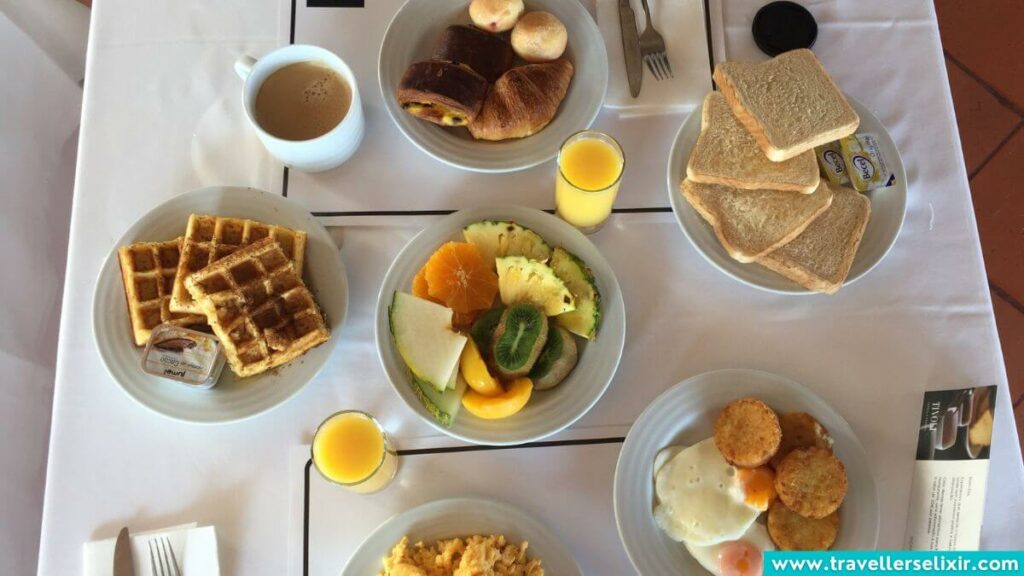 The Verdict: Albufeira is bigger and busier than Lagos and has more hotels, restaurants and bars.
What Is The Atmosphere Like? Lagos vs Albufeira
Both Lagos and Albufeira have a fun, enjoyable and lively atmosphere.
As I mentioned, Albufeira gets a lot of tourists from the United Kingdom in the summer and some people I've spoken to said that it feels almost overrun by the Brits and can feel like a British resort town.
(Not to bash on the Brits, they're great – I literally am one)
You also get a lot of people coming for boozy stag and hen parties (that's a bachelor/bachelorette party for you Americans).
I guess what I'm saying is that Albufeira isn't a classy, sophisticated place. It's where you go to have a good time, drink one too many drinks and let loose.
Albufeira gets really busy and really loud, especially in the evenings along the main strip where you'll find plenty of fun clubs, parties and bars.
It feels a lot less Portuguese than Lagos as it has tons of international restaurants (especially British pubs streaming the football), fast food restaurants like McDonalds and more.
In a nutshell, Albufeira feels very touristy whereas Lagos feels a lot more authentic and has a real Portuguese vibe to it.
Having said that, there are some areas of Albufeira that do have a more authentic feel such as the old town where you can explore a bit of history and take some cute photos for Instagram.
My favorite thing about Lagos was that I actually felt like I was in a real Portuguese town and not back home in England.
Yes, there were still a lot of tourists but there were also lots of locals and the main old town area was really charming.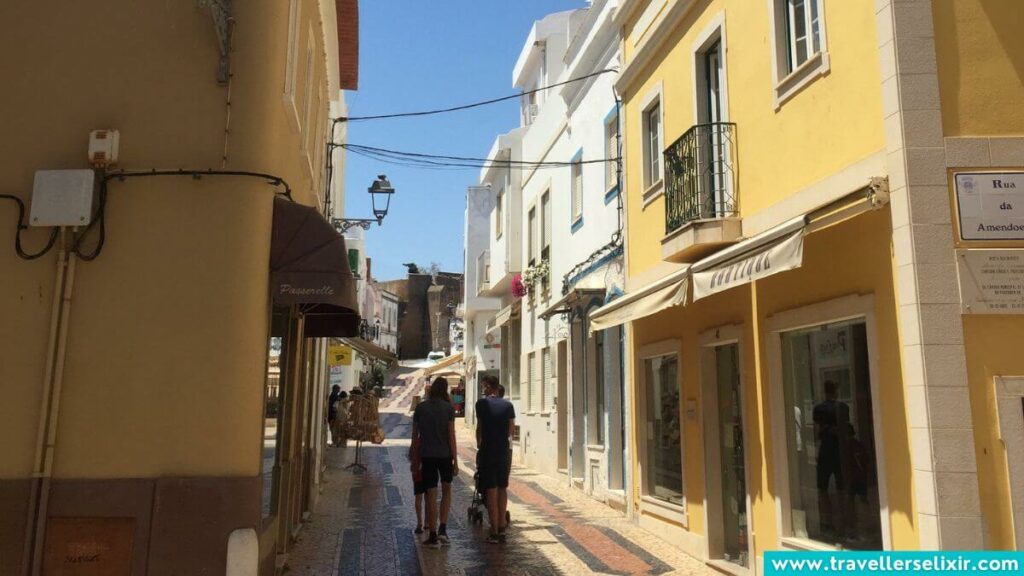 It felt less overrun by tourists and more quaint, peaceful and, well, Portuguese.
Lagos has a very scenic old town which is perfect for taking a relaxing stroll. I took a walk around the narrow cobbled streets of Lagos pretty much every single day and never got bored.
In fact, it actually inspired me to come back to Portugal to live here for a few months (which I'm currently doing!)
It is a very picturesque little town with a promenade that stretches along a canal that leads up to the world-famous beaches with white sand and hidden coves.
Oh and did I mention the sunsets? They're heaven. I've never been so mesmerized by the sky than I have in Lagos.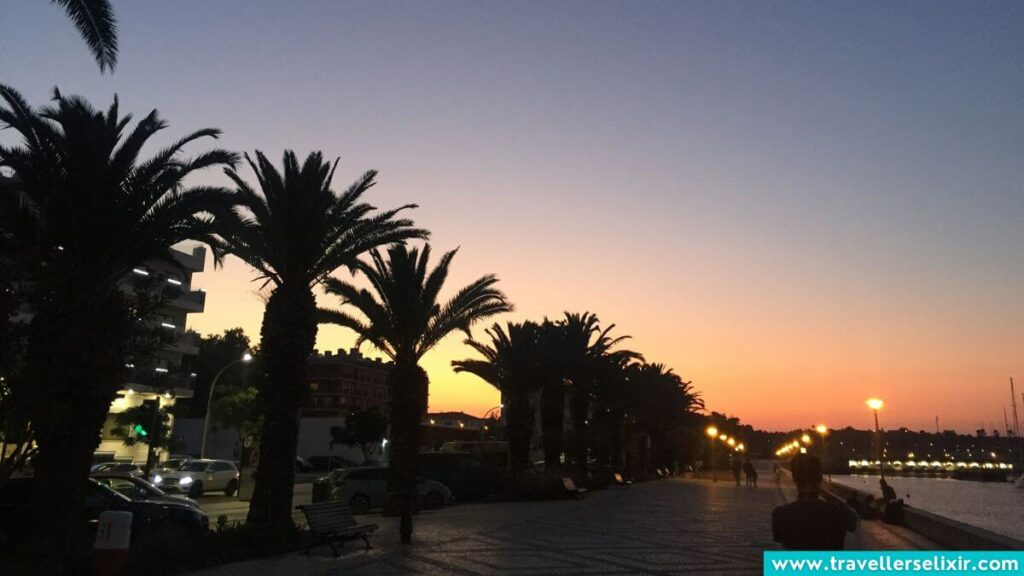 The Verdict: Lagos is more authentic and relaxing whereas Albufeira is more busy and touristy.
How Easy Is It To Get There?
Assuming that you're flying into Portugal then you'll actually land at the exact same airport whether you choose Lagos or Albufeira.
Neither of them have their own airports and the closest one to both towns is Faro Airport which actually serves the whole of the Algarve region.
When you land in Faro Airport, you can either take a bus or a taxi to your final destination.
Getting from Faro Airport to Lagos or Albufeira is pretty easy but it is a bit long.
Albufeira is closer to the airport than Lagos so if you take the bus, it will stop here first.
If you're taking a taxi then Albufeira will be closer to the airport than Lagos.
Here's the distances from the airport:
Albufeira: 40 minutes (46 km)
Lagos: 1 hour (91 km)
One thing you do need to know though is that the bus station in Albufeira is approximately 4 miles out of the town so when you arrive, you will need to take another bus/taxi into the town center.
This of course adds extra cost, time and effort. If you're going to be taking a taxi then you don't need to worry about it.
The bus station in Lagos is right in the middle of town so when you get off the bus, you will likely be able to walk straight to your hotel.
When I got to Lagos, it literally only took me 4 minutes to walk from the bus station to my resort which was the Tivoli Lagos Algarve Resort.
From Lisbon Or Porto
If you're coming to the Algarve from Lisbon, then be aware that the train ride is long.
Here's how long it'll take you by train:
You can cut the journey time by around an hour if you take the bus instead of the train.
After traveling Portugal extensively, I've come to learn that the trains are really slow here and taking the bus is pretty much always quicker.
A bonus is that the buses are also much cheaper than the trains!
If you're coming from Porto then it'll take you even longer. Porto to Albufeira takes around 5.5 hours and Porto to Lagos will take you over 7 hours by train or bus.
The Verdict: It's slightly quicker to get to Albufeira as it's closer to the airport than Lagos.
Which Has More Things To Do?
Both Lagos and Albufeira have some excellent things to see and do that will certainly keep you occupied for your entire vacation.
They both have a charming old town, beautiful beaches, a wide range of water sports and a ton of restaurants and bars.
Overall I'd definitely say that Albufeira has a wider range of activities available and it does have some things that you won't find in Lagos like theme parks.
If you're traveling with kids then you might find that Albufeira suits them better as there are several waterparks and theme parks.
Things To Do In Lagos
Lagos does have some pretty impressive sights to see, especially in the old town. I actually spent a whole week in Lagos and never ran out of things to do.
I really enjoyed seeing the old medieval castle and the fortified walls that surround the old town.
You'll also find a large fort located right by the ocean that can be accessed by walking across a drawbridge over a moat.
Other sights include the Igreja de Santo António church and the historic slave market.
Kayaking around the hidden coves was actually one of my favorite things to do in Lagos (this is the tour I did).
It was really fun to actually get out onto the water and explore the caves as I'd never done anything like it before.
You can also explore the rock formations of Ponta da Piedade by land. I actually thought this area was one of the most beautiful places I've ever seen!!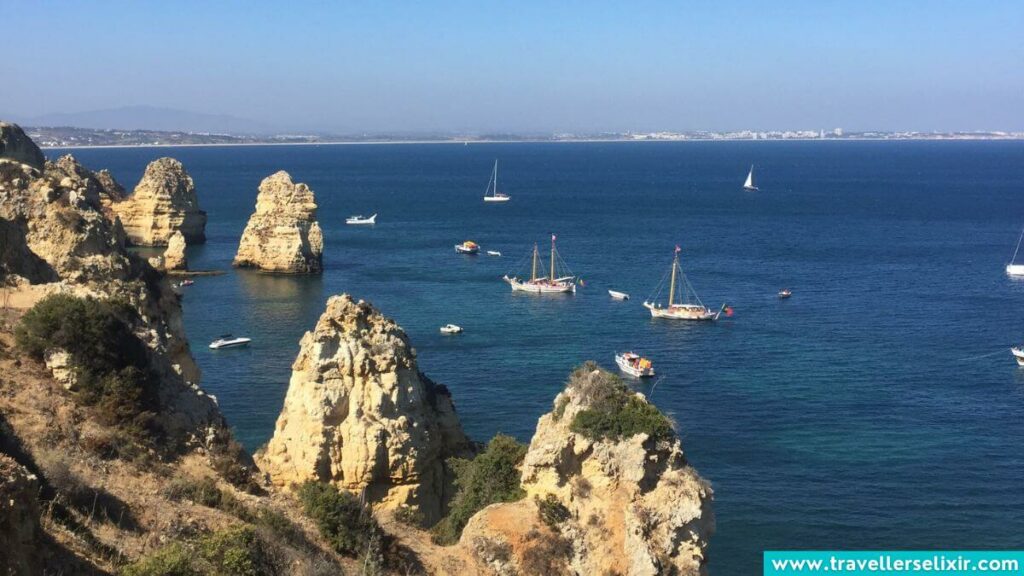 Lagos is also pretty close to many other scenic Algarve towns like the Benagil Cave, Sagres, Silves, Portimao and more. These all make perfect day trips from Lagos.
I did a day trip to Portimao and really enjoyed it. They have a scenic riverfront area with lots of cafes and shops. I very much enjoyed grabbing an ice cream and relaxing for a while.
You can also head over to the marina in Lagos which is a great spot for sunset and it has a bridge that opens and closes as the boats pass (just make sure you don't get stuck on it when it opens!).
Things To Do In Albufeira
Albufeira also has some great things to do and see. It also has its own old town where you can visit the Sant'Ana Church, the Museum of Sacred Art and the Albufeira Igreha Matriz.
If water sports are your thing, then Albufeira definitely won't disappoint you.
Best Albufeira activities:
Other popular activities include horse riding on one of Albufeira's stunning beaches. You can explore one of the lagoons on horseback and witness all of the glorious nature and wildlife.
You can also head to the Zoomarine water park where you can swim with dolphins, watch a seal show or hit the water slides. Kids absolutely love this place (I guarantee they'll be talking about it all year).
If you're in Albufeira to party then head out on a party boat! They're super common and give you the chance to get out of town to really let loose.
There's no judgment at all on these boats so make sure you bring along your worst dance moves.
Which Has Better Beaches? Lagos or Albufeira
The Algarve as a whole is home to some of the most beautiful beaches in the world so whether you pick Lagos or Albufeira, you definitely will not be disappointed.
I personally think the beaches in Lagos are more beautiful than those in Albufeira. If I'm really honest I'd rate Lagos's beaches as some of the best in the whole world!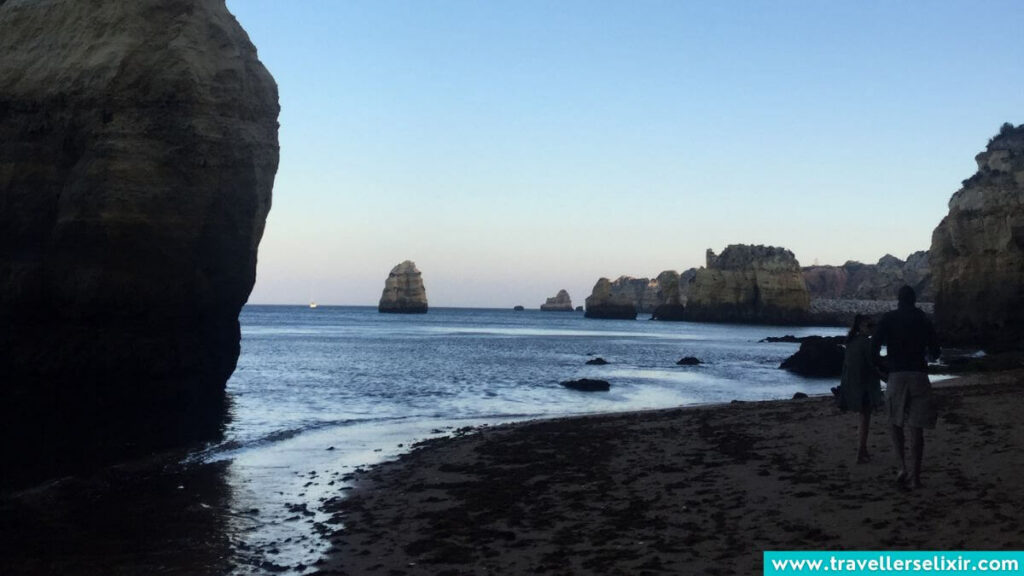 Lagos Beaches
One thing that Lagos has that Albufeira doesn't is the impressive rock formations of Ponta da Piedade.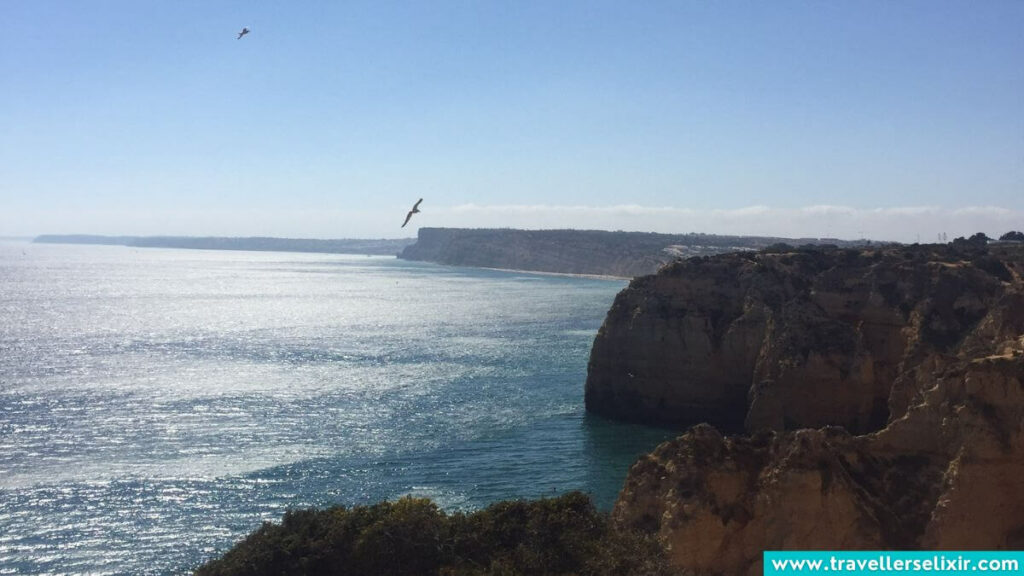 You can explore these rocky cliffs by walking along the top or by the sea (I did both). You can explore the hidden coves and grottoes on a kayak or boat tour.
I did this kayaking tour around the caves and can't say enough good things about it. The guides were super informative and were very attentive.
It wasn't too tiring either and, as someone who has never kayaked before, I found that it wasn't too difficult.
If you're not interested in kayaking then you can explore the caves on a boat tour like this.
This is a much more relaxing way to see the caves but I will say that I noticed a lot of the boats were too big to get into a lot of the smaller caves and grottoes.
Some of the best beaches in Lagos include Praia Dona Ana, Praia do Camilo and Praia Pinhão.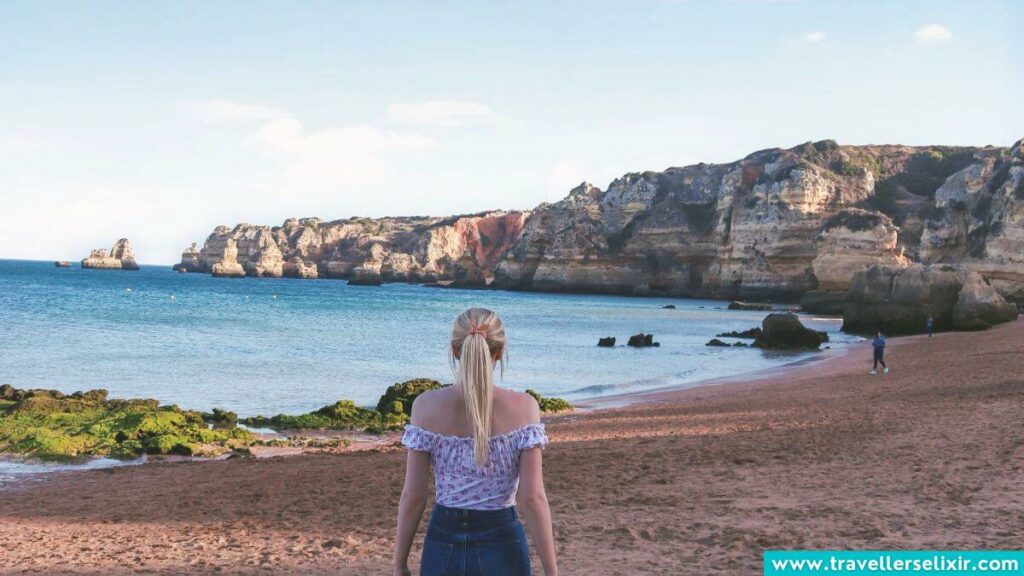 These beaches are absolutely beautiful but, just a heads up, they are very small and very famous so they can get quite crowded.
When I was there I noticed that the beaches are really busy in the day but get almost deserted around sunset.
I personally thought sunset was the best time to visit anyway but I guess everyone else was at dinner so I had the whole place to myself.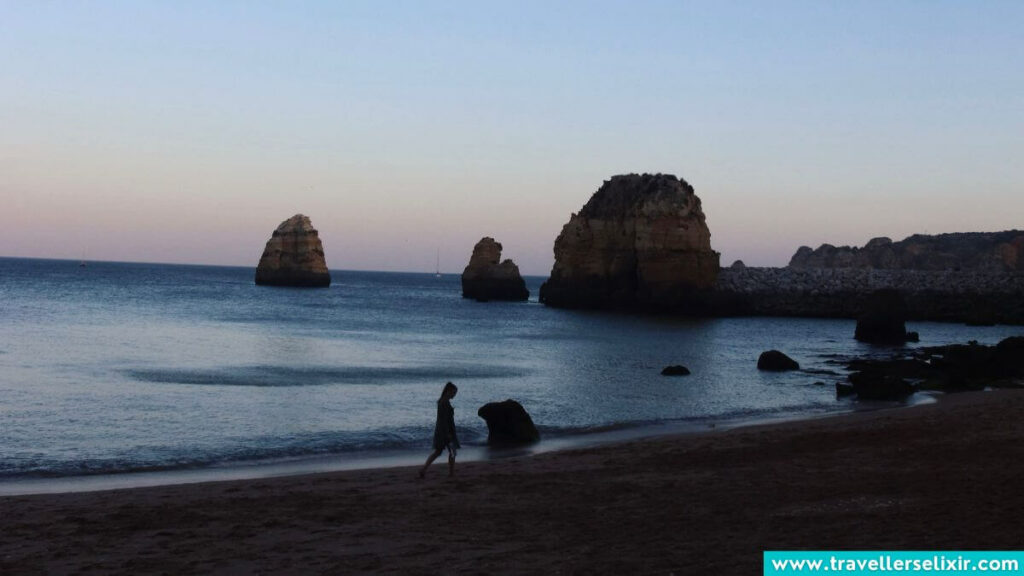 If these stunning beaches surrounded by white cliffs don't sound like your thing then Lagos also has Meia Praia which is a wide, sandy beach that stretches for miles – it's so big that there is room for everyone.
I visited Meia Praia during peak tourist season and it was so spacious that I felt like I was the only one there!
Most of Lagos's beaches are pretty close to the old town so you can easily walk there which is great as you don't have to spend loads of money on transport.
Albufeira Beaches
Although I think Lagos has better beaches, Albufeira also has some beautiful beaches too.
My favorite things about them is that they are all located close to the main town area and close to the hotels too which makes things super easy. No expensive transport each day.
These include Praia da Falésia, Albufeira's longest beach at 6km, which is great for long beach walks, sunbathing and water-sports!
Another favorite beach in Albufeira is Praia dos Pescadores which is situated right in front of Albufeira's old town.
It is one of the main beaches in the area and does get very popular in the summer. It's also super easy to access – there is even an escalator leading down to the beach from the surrounding cliffs!
You'll love the beautiful golden sand and glistening ocean water in Albufeira and the whole town has a super friendly atmosphere with plenty of restaurants and water sports to keep you occupied all day long.
The Verdict: Both Albufeira and Lagos have beautiful beaches but Lagos just edges Albufeira as they are more beautiful and unique.
Which Has Better Food/Restaurants?
As a general rule, I'd personally say that Lagos is better for authentic Portuguese food and Albufeira is better for international food.
Both towns have a wide range of options to suit all travelers and you certainly won't be disappointed whichever one you choose.
Food in Lagos
If you're wanting to sample some traditional Portuguese food then you can easily do that in Lagos. Try out Tasca Jota or Restaurante Calhou.
Lagos does also have an excellent range of restaurants offering a range of international cuisines as well as the many Portuguese restaurants.
Some favorite international choices include Maharaja Tasty Indian and My Sushi. You can dine within the old town itself or by the marina.
My Sushi had some of the best sushi I've ever had *chefs kiss*! We got lucky the first time we went as there was only one table left and after that we saw lots of people queuing up!
Make a reservation if you want to dine here to avoid any disappointment.
Food in Albufeira
Albufeira is set up really well for international tourists and you can get pretty much anything you want here.
It can be difficult to get traditional, Portuguese food in Albufeira though as most of the restaurants cater to the tourists.
You'll probably still be able to get a traditional Portuguese pastel de nata though!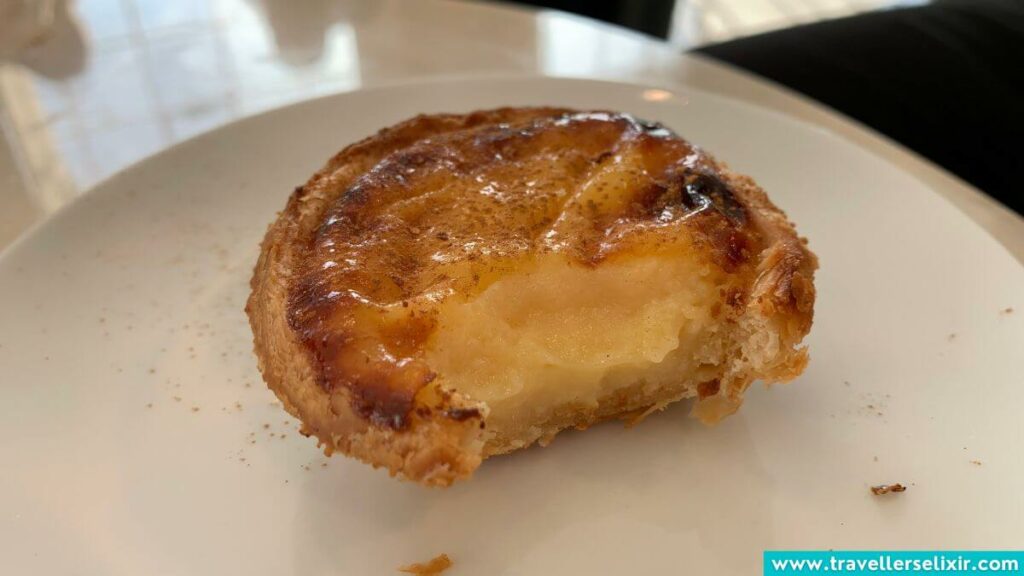 You'll find a lot of British pubs and other international restaurants in Albufeira. Expect lots of pizzas, burgers, pasta etc.
Some of Albufeira's top rated restaurants include The Indian Sizzler, Restaurante Vila Joya and Uzonj Restaurante-Grill.
The Verdict: Lagos is better for food overall as you can get authentic Portuguese food and international options. Albufeira mainly serves international food.
Lagos or Albufeira For Nightlife
If you're coming to the Algarve for nightlife then, without question, you should choose Albufeira over Lagos.
Albufeira is the main party town in the Algarve. Lots of young people come to Albufeira every single year to hang out in the many bars, clubs, beach bars and nightclubs.
It can get a bit rowdy here in the evenings but it does guarantee a pretty good night out.
The nightlife hub of Albufeira is along 'the Strip' where most of the bars and clubs are located.
Along the Strip, you'll also find many tattoo parlors (if you fancy tattooing a bee on your knee), fast food restaurants for that greasy late-night burger, cheap (but strong) drinks, karaoke bars and so much more.
One thing I will say is that I found the drinks to be very strong in the Algarve. They certainly don't hold back with the alcohol.
Albufeira even has tons of those shops where you put your feet into a fish tank so they eat the dead skin off your feet (and for some reason these places stay open until really late!).
Albufeira is perfect for young adults or those that want to spend the whole night partying. The bars tend to get busy after 8pm and usually stay open until around 4am so it's possible to party all night long.
Albufeira is ideal if you're going on a 'lads holiday', a girls trip, a stag/hen party (bachelor/bachelorette party) or just wanna have some fun with your friends.
This type of nightlife isn't for everyone so if this doesn't sound like your thing and you're after a more relaxed vibe, then head to Albufeira's old town after dark.
It is a lot quieter and more sophisticated than the Strip making it perfect for couples, older adults or families that aren't looking to get sloshed and party until the early hours.
Lagos does also have a lively nightlife scene but it is much more limited compared to Albufeira and it's way more laid back.
Lagos is a lot more relaxing with smaller bars and pubs where you can grab a casual drink. It feels a lot more sophisticated and family friendly compared to Albufeira.
You won't really find many nightclubs in Lagos and not many places will stay open until the early hours.
If you're looking to dance, party and get black-out drunk then I'd avoid Lagos as it's not really the scene.
The Verdict: Albufeira is better than Lagos for nightlife as it has plenty of bars and nightclubs that stay open late. Lagos has a much more tamed, casual nightlife scene.
Where To Stay – Hotels/Accommodation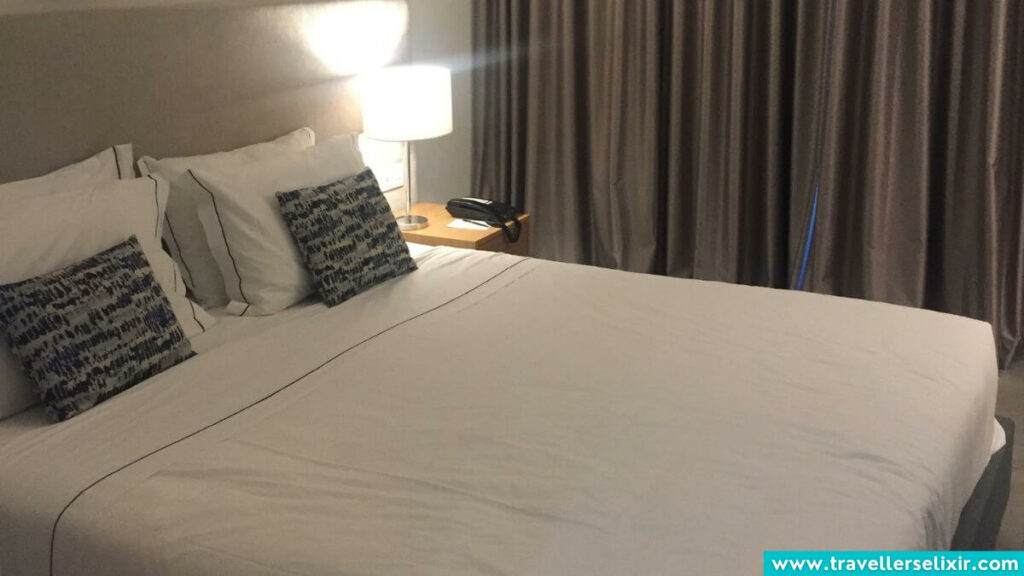 When it comes to places to stay, you'll be spoilt for choice in both towns. There is really no wrong choice here.
As a general rule, Albufeira has more mega-resorts whereas Lagos has more smaller, intimate hotels.
Where To Stay In Albufeira
Albufeira has a wide range of options all around the town. It has many big hotels and large resorts with most being within close walking distance to the main beaches.
For families, I'd recommend staying within the old town which is close to all the beaches and it's the most charming and authentic area of the town.
Here's some of the best hotels in the old town:
If you're in Albufeira to party until the early hours of the morning then I'd recommend staying along the Strip itself so you're close to all the action. This area is also great for families.
Here's some of the best hotels along the Strip:
Another popular place to stay is in the Oura area of Albufeira. You'll find many families staying here as it is close to the beaches.
There are many resorts and hotels here but it's not too busy and it's just a short walk to the Strip.
Here's some of the best hotels in Oura:
Where To Stay In Lagos
Whilst it does still have a fantastic range of hotels, there are definitely fewer options in Lagos compared with Albufeira as it's a smaller town.
Lagos tends to have more smaller hotels and less large complexes. They do feel a lot more intimate compared to the large resorts you'll find in Albufeira.
In my opinion, the best place to stay in Lagos is the old town. This is where I personally stayed when I visited Lagos and I loved it!
It's close to all the action and it's the most beautiful part of town. It really makes you feel like you're just living in a quaint Portuguese town.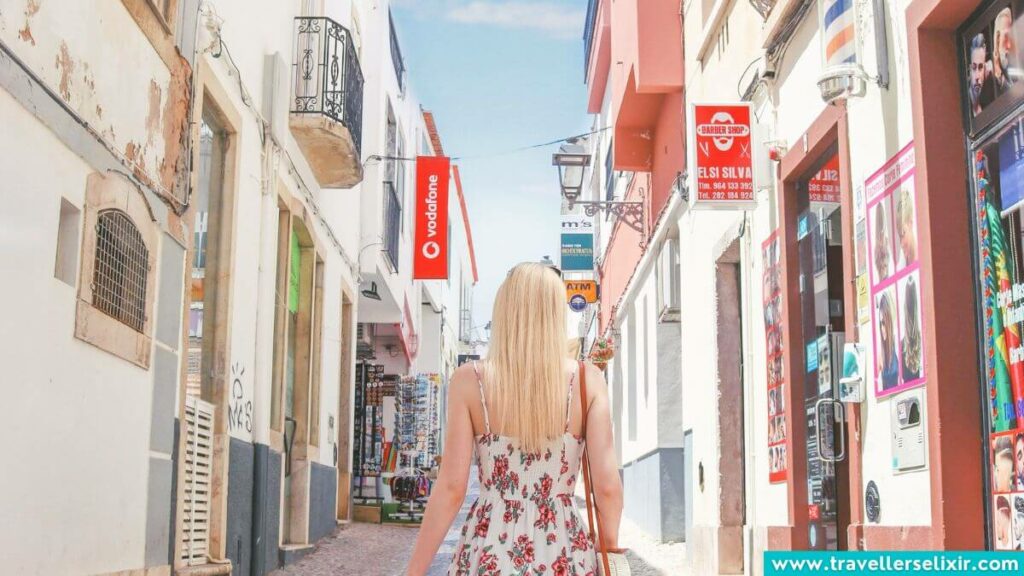 I stayed at Tivoli Lagos which is located within the old town and is only a 5 minute walk from the main area where all the shops and restaurants are located.
Tivoli also runs a shuttle bus to its beach club on the Meia Praia beach for free. I used the shuttle bus several times and it was super easy and convenient.
The best hotels in the old town area are:
Another great place to stay in Lagos is by the marina. This area is still only a short 5 to 10 minute walk to the old town and all of Lagos's most beautiful beaches.
It's a really relaxing part of town and ideal for anyone who wants to get away from the hustle and bustle.
There's a small complex with various restaurants and bars by the marina so you can easily get everything you need close to your hotel.
I actually walked up to the restaurants at the marina quite often from my hotel in the old town as I just loved the laid back feel of it all.
Here's the best hotels in the marina area:
Check out my complete guide for more info on where to stay in Lagos.
Whether you choose Albufeira or Lagos, make sure you book your accommodation well in advance.
It gets really busy during July and August in particular and the best places will usually be fully booked by then so ensure you book early.
The Verdict: Albufeira has more choices of where to stay including lots of large resorts. Lagos has more small, intimate resorts and hotels.
---
And that's it!
Thanks for reading this post which compares Lagos and Albufeira to help you decide which to visit.
As I said, I personally prefer Lagos over Albufeira as I tend to enjoy more authentic, local places over tourist-centric towns.
Related Posts: