I'm a bit of a Portugal fanatic and have visited way too many Portuguese cities to list here.
After drinking one too many glasses or port in Porto, you might be ready for a change of scene and what better place to choose than the Algarve town of Lagos.
In this post, I'll cover exactly how to get from Porto to Lagos by plane, train, bus and car including all the prices, journey times and how you can book.
How Do I Get From Porto To Lagos
Porto is located in northern Portugal whilst Lagos is located right on the southern tip of the country so as you can expect, it takes a while to get there.
Here's a quick overview of your options:
By train: €31 to €47, 7 hours 30 minutes
By bus: €20 to €25, 7 hours 50 minutes (cheapest)
By plane: €60 to €110, 4 hours 30 minutes (fastest)
By taxi: €420 to €712, 5 hours 10 minutes
By rental car: €148 to €162, 5 hours 10 minutes
*These prices are for a one-way journey.
Below I'll go into more detail on all of these options so you know exactly how you can make this journey for yourself.
By Train
One of the most popular ways to get from Porto to Lagos is by train.
The train from Porto to Lagos takes approximately 7.5 hours and costs between €31 and €47 for a one-way ticket.
There's no denying that the journey time is long. Even the fastest possible train still takes 6 hours and 37 minutes to get you there.
Unfortunately, there is no direct train from Porto to Lagos so you do need to change trains at some point.
The location of this change is usually either Lisbon or Tunes. On some trains, you may need to change trains twice so check your ticket carefully before booking.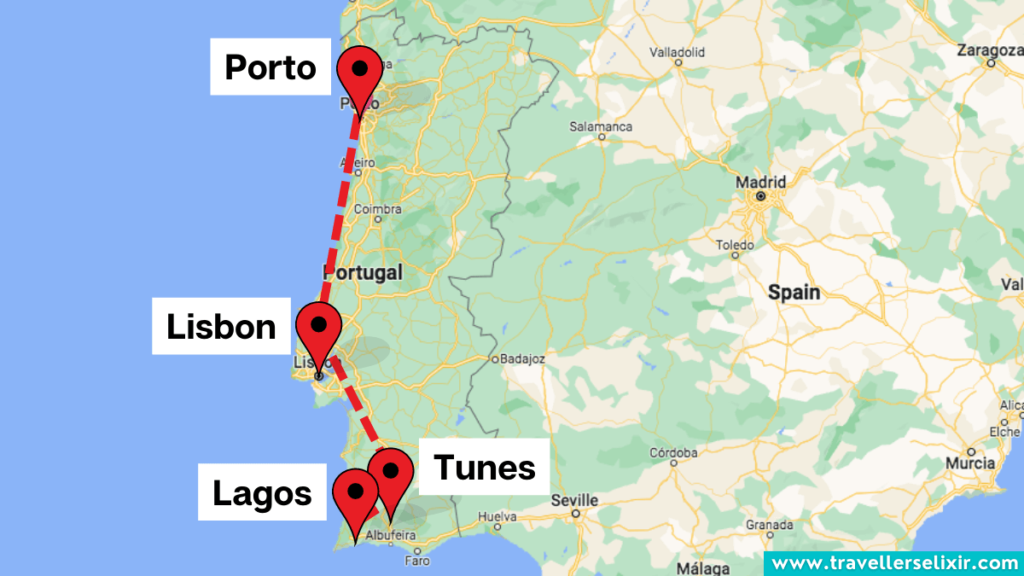 The trains will leave from either Porto Campanhã station or the Vila Nova de Gaia-Devesas station and they all arrive at the main train station in Lagos.
I personally have found that Portugal's train system is pretty good. The trains themselves are modern and clean so you should have a comfortable enough ride.
How To Book
I'd recommend booking your train ticket on the Omio website as they offer the best prices and it's super easy to use.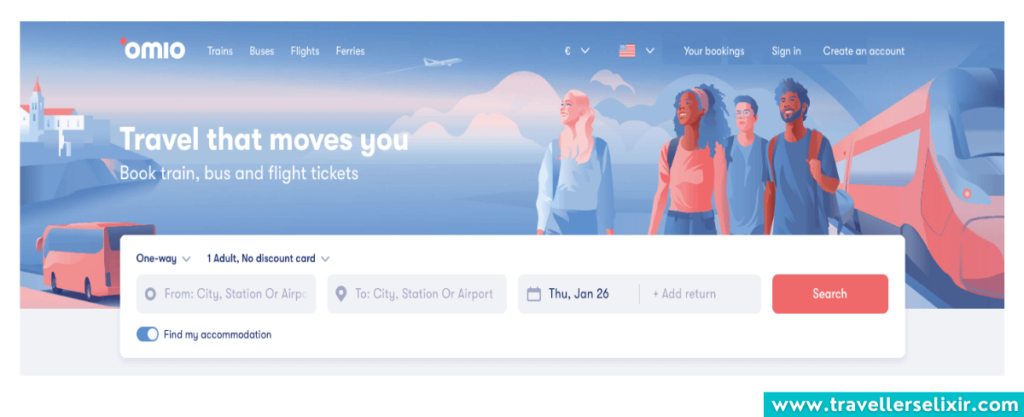 I've used it before when booking train and bus tickets around Portugal and can't say enough good things about it.
The prices on Omio are often much cheaper than the tickets on other train booking websites so I pretty much exclusively use this website for travel around Portugal now.
By Bus
By far the cheapest way to get from Porto to Lagos is by bus. Although this option is usually referred to as a 'bus', I'd personally say it's more like a coach.
The bus from Porto to Lagos takes approximately 7 hours and 50 minutes and costs between €20 and €25 one-way.
There's only usually a few departures each day with most departing in the morning or early afternoon.
Unfortunately there's no direct bus from Porto to Lagos so you will need to switch buses at Lisbon Oriente Station.
I actually personally prefer that it stops right in the middle because almost 8 hours on a bus is long and you'll be thankful for the break.
The only company that runs this route is Flixbus. Luckily, the whole process is pretty easy and you can book your ticket in just a few clicks online for a good price.
All of the buses depart from Parque das Camélias Terminal Rodoviário in Porto and arrive into the Central Bus Station in Lagos.
I've found that Portugal's buses are very looked after and modern so, even though it's a very long journey, you should be comfortable.
Just download a podcast or two and you'll be fine (or you could read up on all the top things to do in Lagos to prepare for your trip!).
How To Book
You can book your bus ticket from Porto to Lagos on the Omio website which, as I already mentioned, offers the best possible bus and train prices.
It's also super easy to use. All you need to do is input your start and end points and Omio will do the rest. Just select the time that suits you best.
I also have a guide on how to get from Lisbon to Lagos if that's also pat of your journey.
By Plane
The fastest way to get from Porto to Lagos is by plane.
The flight from Porto to Lagos takes just 1 hour and 5 minutes and costs between €20 and €59.

These ridiculously cheap prices are made possible by the one and only Ryanair.
Of course there is a catch (there always is) because nobody in their right mind is selling plane tickets for just €20.
Firstly it doesn't include a bag so unless you're traveling with just a very small backpack, you'll have to pay extra to bring your bag along.
For a cabin bag, it'll cost you another €22.77 and for a checked bag, it'll cost you another €32.22. I know right, the bag literally costs more than the actual flight (*facepalm*).
So assuming that you're bringing a bag with you, this brings the average cost of a flight from Porto to Lagos up to between €42.77 to €91.22.
(The higher price assumes you picked the most expensive flight and opted for a checked bag).
The other catch is that the plane actually lands in Faro, not Lagos. Lagos doesn't actually have an airport so the closest one is in Faro.
Getting from Faro to Lagos will take around 1 hour and will cost you between ~€15 if you use the shuttle bus.
I used the shuttle bus when I visited Lagos and it was really comfortable and easy to use.
You'll also need to factor in the cost and time of getting to the airport from Porto. This will take around 30 minutes and will only cost around €2 on the metro or a bus.
Factoring in the cost of getting to and from the airport, this brings the total cost of traveling from Porto to Lagos by plane up to €59.77 to €108.22.
The whole process will take you around 4.5 hours. This includes getting to the airport, waiting for your flight, the actual flight and getting to Lagos from Faro.
Even including all that, it's still the fastest option.
How To Book
You can also use the Omio website to book your flight from Porto to Lagos (can you tell I love this website??).
The site makes it really easy to compare different options.
After you've inputted your start and end point as well as your dates, it will bring up the time and cost of traveling by train, bus or plane so you can choose which works best for you.

Just make sure you book your flight to Lagos, Portugal and not to Lagos, Nigeria…
By Taxi
Ok so if you're a millionaire or something, you might be considering traveling from Porto to Lagos by taxi.
If you're not a millionaire then you might want to skip this section as it's very expensive.
By car, the journey from Porto to Lagos will take 5 hours and 10 minutes which is a good few hours quicker than the bus or train making it very appealing.
Bolt is the cheapest taxi app that I've found in Portugal (it's basically the same as Uber). I checked this route on the app and it quoted me €420.
And apparently that's a really good price because then I checked with a regular taxi and they quoted me €712!!
Totally not worth it in my opinion when you can get a bus for as little as €20 for the same journey.
But if you're some sort of celebrity that doesn't wanna travel with the rest of us, feel free to splurge.
By Rental Car
Your final option for getting from Porto to Lagos is by rental car. This is actually a really great option if you don't mind driving yourself.
You can hire a rental car for the day in Portugal for between €56 and €70 depending on the car you choose.
This package allows you to pick up the car in Porto in the morning and drop it off in Lagos the next day.
Of course, you also need to factor in the cost of your gas.
The price of gas will vary depending on the car you choose but as a rough estimate, using the Peugeot 2008 car as an example, this journey will cost you €45 in gas.
So in total for the journey, you'll pay between €101 and €115. This could be a really cost effective option if you're in a group as this cost would be for the group, not per person.
The best route to take is via the A1 and A2 roads. You can easily use Google Maps to find the best route.
Remember that in Portugal they drive on the right side of the road!
How To Book
I recommend booking your rental car through rentalcars.com. It's basically a price comparison website where they check all the main rental car websites to find you the absolute best price.
Tolls
Just a quick heads up, these roads do have tolls.
Some of the roads use an electronic system so you won't have to go fumbling around for any change.
After you've completed the journey, you can pay the toll at a local post office or at a registered Payshop.
Hint: It's also worth checking with your hire car company first as some of them will pay it for you!
Other roads do still have the classic toll booths but they will let you pay by card (I'd still recommend having some cash on hand just in case).
These toll roads are known as 'autoestradas' in Portugal so look out for this on road signs.
Both the A1 and the A2 are toll roads and these are the main roads that you'll use to get down to Lagos from Porto.
I used this toll road calculator to predict how much you'll pay in tolls on this route and it quoted me €46.80 which sounds about right given what I know about Portugal's tolls.
It's pretty pricey I must say!!
With the tolls included this brings the total price up to €147.80 to €161.80. Remember that if you're in a group, this price will be the total for all passengers.
Example:
If you're in a group of 4, that's just €37 to €40 each!
---
And that's it!
Thanks for reading this post on how to get from Porto to Lagos.
For more information on Lagos, check out my ultimate Lagos guide which includes everything you need to know about visiting Lagos if you're a newbie.
Related Post: