When I think of a megacity, the first thing that comes to mind is Bangkok.
With so many different areas to choose from, it can be difficult to know where to stay.
I actually spent 2 months living in Bangkok recently so I know a lot about the city and its different areas.
In this post, I'll explain exactly where to stay in Bangkok including an overview of each different area and what's best about it.
Riverside
Riverside is one of my favorite areas of Bangkok as it really gives you a feel of the old, traditional Bangkok.
This area runs along the famous Chao Phraya River and is incredibly scenic as it includes many of Bangkok's most famous sights including the Wat Arun temple and the Grand Palace.
During the day, you'll find that sightseeing opportunities are literally right on your doorstep as many of the best attractions are just a short walk away.
At night, you can head to one of Bangkok's sky bars like the 360 Lounge at Millennium Hilton. These offer mesmerizing views of the city that are unlike anything I've ever seen.
The city just lights up at night and from 32 floors up, you'll be able to see all the buildings, temples and palaces glittering in the moonlight.
There's also tons of little rooftop restaurants that offer great views of the river. Supanniga Eating Room, Tha Tien is one of my favorites as you get a great view of Wat Arun from here.
Best Hotels In Riverside
Another plus is that Riverside is home to some of the best hotels in Bangkok. This includes the 5-star Shangri-la hotel, the Peninsula Bangkok and the Orchid Sheraton.
You will also find The Mandarin Oriental whic is often considered to be one of the best hotels in the whole world. 
These hotels all offer incredible views of the river and Bangkok's most famous sights so they really are one of the best places to stay.
If your budget doesn't stretch as far as The Mandarin Oriental (I don't blame you, mine doesn't either) then you'll also find lots of budget friendly options in this area too including the Ibis Bangkok Riverside and the New Siam Riverside. 
Things To Do At Riverside
The main thing to do at Riverside is explore all of Bangkok's temples and palaces. This should be high on your list, especially if it's your first time in Bangkok.
Wat Pho, which is Bangkok's oldest temple, features the famous reclining Buddha and the Grand Palace is where Thailand's royal family live.
You'll also find a ton of amazing food options here ranging from fine dining to street food so there's something to suit everyone.
In the evenings, you can also head over to a night market. Asiatique, which consists of a large night market and a shopping mall, sits right by the river and is a great destination for shopping.
There's a free ferry that takes you across the river to Asiatique.
You can explore the riverside area both on the land and on the river itself by joining a river cruise or taking a water taxi.
You'll find that the river is always filled with boats and barges transporting people up and down its length and you can even have dinner on the river if you want!
The best thing about staying in Riverside is that you escape most of the traffic and congestion that fills Bangkok. If you stay further out, you'll spend a good amount of your time stuck in traffic.
It is the perfect choice if you want to do lots of sightseeing along the river.
The main downside is that it is very busy and touristy however no trip to Bangkok is complete without visiting Riverside at least once as this is where Bangkok's historical roots lie.
Silom
Silom is basically Bangkok's answer to Wall Street.
In the day, you'll see this area flooded with people in suits coming out of the many banks, financial institutions and office buildings.
But at night, everything changes and Silom really comes alive, turning into one of Bangkok's most notorious nightlife spots.
You'll also find Patpong here which is where you can find someone to go home with (if you know what I mean). This area is filled with clubs and go-go bars.
I found Patpong to be really sleazy and didn't like it at all but if that's your thing then go for it.
For something a bit more classy, head over to the Dome Sky Bar at Lebua State Tower.
This iconic building was made world famous when it appeared in the Hangover II movie. It's where the gang stayed when they visited Bangkok.
Its sky bar is considered to be one of the best in the world at 63 floors high. The main downside is that it gets incredibly crowded due to how famous it is.
Best Hotels In Silom
Silom is one of the city's most important financial districts so it features lots of soaring skyscrapers and has a very modern feel.
You'll also find many small malls, world-class restaurants and a wide range of hotels.
The top hotels in this area are Banyan Tree Bangkok, SO Sofitel Bangkok and Le Meridien Bangkok.
Things To Do In Silom
Silom is also the home of my favorite park in the whole of Bangkok, Lumpini Park.
There isn't much green space in Bangkok so this park is a really great place to escape all of that chaotic Bangkok traffic.
It is super peaceful and is surrounded by the skyscrapers of both Silom and Sathorn. The park is also home to a healthy lizard population.
You'll also find some great museums in Silom which give you the chance to learn more about Bangkok.
The whole area really comes alive at night and turns a vibrant shade of neon. At night you'll also find that tons of bustling markets appear, street food stalls pop up and nightclubs open their doors.
Although Silom is known to be the business center of the city, it acts as a great base for travelers.
It has great transport links so you can easily get all over the city.
Khaosan Road
Khaosan Road is often described as 'the center of the backpacking universe' so if you're a backpacker then you'll likely want to base yourself here.
This 1-km long road is a vibrant hub where travelers from all over the world come together.
You'll find a ton of budget hotels, mid-range hotels, bars, restaurants, massage parlors, market stalls and so much more.
This street has become so well known that it's basically an obligatory stop for most travelers and basing yourself here means that you'll be close to all the action.
There are a ton of shops and market stalls where you can prepare for your next adventure if you'll be continuing your travels.
From used books to travel gear and clothes, you'll find everything you need here and all at a cheap price.
This backpacking district is also great for meeting people, especially if you're a solo traveler.
You can easily make friends here and find people to continue your travels with. You'll find an international mix of travelers which makes it a super interesting place to be.
When I visited Khaosan recently I must have met people from at least 10 different countries!
Best Hotels On Khaosan Road
You'll find a lot of hostels along Khaosan Road which is ideal if you're traveling on a budget.
Some of the most top-rated hotels/hostels in this area are the Old Capital Bike Inn, Baankachitpan Hotel and Loogchoob Homestay. 
The hotels in Khaosan tend to be mostly geared towards adventurous backpackers.
Things To Do In Khaosan
Khaosan Road is mostly known for its nightlife scene. This street literally never sleeps.
On my first visit to Khaosan at night, I was in shock at how busy and loud the whole place was. There's so many clubs and bars that offer a night you'll never forget.
You know that you won't be able to hear a word that anyone is saying to you!
Some of the best-rated nightlife spots include the rooftop Gazebo Club and the Lava Club that promise a great night out.
And these days the fun doesn't end in Khaosan as its vibrant culture has recently started to spill over into the surrounding streets so the party literally never has to end!
Khaosan also has a staggering choice of food. You'll be overwhelmed with choice as they literally have everything you could imagine and all at a reasonable price.
One of my favorite things about Khaosan Road is that it has a carefree vibe and pretty much anything goes here.
It's essentially THE traveler hub of Southeast Asia as it caters to every traveler's needs and is perfect for those on a budget.
You'll find good cheap food, shopping bargains, a noisy but fun atmosphere and an endless supply of friends makes Khaosan Road the perfect place for backpackers.
Sukhumvit
Sukhumvit is a vibrant urban area of Bangkok that's known for its nightlife, shopping and cosmopolitan feel.
Sukhumvit Road, which is the longest in the whole of Thailand, is packed to the brim with shopping malls, restaurants, bars, clubs, hotels and so much more.
You'll find that there's not many tourist attractions or historical sights in Sukhumvit. It's more for shopping, eating and partying!
Best Hotels In Sukhumvit
Sukhumvit has an incredible range of places to stay from budget-friendly hostels to fancy 5-star hotels.
The top hotels in the area include The Okura Prestige Bangkok, Sofitel Bangkok Sukhumvit and Grande Centre Point Hotel.
Things To Do In Sukhumvit
Sukhumvit is known for having an incredible nightlife scene and after visiting myself, I have to agree.
One of my favorite nightlife spots in Sukhumvit is Octave Rooftop Bar which offers insane 360º views of the city.
It is perfect if you're looking for a more sophisticated night out as it has a classy, upmarket feel.
If you're looking for something a bit more playful then you can go to Soi Cowboy where you'll find many bars and clubs.
You'll also find my favorite shopping mall in Sukhumvit which is Terminal 21. This themed shopping mall allows you to travel around the whole world! 
Each level of the mall reflects a different world-famous city including London, Paris and Tokyo.
Sukhumvit also has many other shopping options including The Emporium Bangkok and EmQuartier Shopping Mall. You'll also find a ton of lively street markets in this area where you can grab a bargain.
Although Sukhumvit is Thailand's longest street, it is actually very easy to navigate.
The BTS Skytrain runs directly above it so you can easily just hop on and off to visit its immense choice of restaurants, shops, hotels and bars.
The only downside to Sukhumvit is that it can get very crowded but that's what a lot of people love about it. It has a loveable, hectic feel.
Siam
Siam is, undeniably, the center of shopping in Bangkok.
It is home to all of the city's best and most popular shopping malls including Siam Paragon, MBK Center, IconSiam and CentralWorld.
You'll also find a ton of other things to do here including fine dining restaurants, movie theaters, an aquarium and so much more!
If you love brand shopping then you just can't beat Siam as you can buy pretty much everything from designer to mid-range brands.
And, if you can't find what you're looking for, then you can head into one of the surrounding streets for budget-friendly fashion.
You'll also find that Siam is very compact in size, meaning you can easily walk from one mall to another to find whatever you're looking for.
Best Hotels In Siam
Some of the best hotels in Siam include Pathumwan Princess Hotel, Siam Kempinski Hotel Bangkok and Siam at Siam Design Hotel. 
I actually stayed in the Pathumwan Princess Hotel on my recent trip to Bangkok and absolutely loved it. It was modern, stylish and I kinda felt like I was some sort of celebrity.
Siam is a great location to stay in as it is located right in the heart of the city and getting around Bangkok is super easy via the BTS.
Things To Do In Siam
Aside from shopping, Siam is packed with other things to do and is especially great for kids.
You can head over to the movie theater and catch one of the latest releases or visit the famous waxwork models at Madame Tussauds.
Kids absolutely love the Sea Life aquarium and Kidzania.
You'll also find that Siam is great for food with so many different options. Choose from fast food joints to Michelin star restaurants – pretty much everything can be found here.
If you're unsure what to go for, head over to the basement of Siam Paragon where you'll find a large food court filled with restaurants.
I'm not gonna lie, Siam isn't the best for nightlife but it does have a few fancy sky bars that you might enjoy.
My favorite one in this area is Red Sky Bar where you'll get epic views of the city from 55 floors high.
Chinatown
If you're looking for an energetic atmosphere and an endless supply of street food then you'll want to stay in Chinatown.
While many countries have Chinatowns, none of them come anywhere close to Bangkoks as it is actually the largest Chinatown in the world and offers a fascinating mix of Chinese and Thai culture.
The first thing to know is that Chinatown is a food haven. The main high street, Yaowarat Road, is packed with market stalls and street-side restaurants where you can sample the best food that Bangkok has to offer.
As one of the greatest street-food destinations in the world, be sure to try some of their most popular dishes such as dim sum, stir-fried crab, sweet and sour shrimp and oyster omelets. For dessert, try some durian ice-cream!
They also have some really crazy stuff if you're feeling brave. When I visited Chinatown recently I saw tarantulas, scorpions, millipedes and mealworms!
Things To Do In Chinatown
As well as the food, Chinatown also has many other things to do and even has some temples that you can visit.
Wat Traimit, also known as the Temple of the Golden Buddha, is where you'll find the world's largest golden buddha!
You also can't miss the China Gate which might be a familiar looking sight if you've visited other Chinatowns around the world.
To be honest, Chinatown is a great place to just get lost and explore. It's made up of lots of narrow alleys and lanes filled with a bustling market atmosphere.
This place is a great stop for photography as you can capture some amazing street scenes. Make sure you bring along your best Thailand Instagram captions as you'll be needing them!
You can even visit during Chinese New Year for an extra special experience.
Best Hotels In Chinatown
Chinatown is the best place to stay in Bangkok if you're a foodie as you'll literally never run out of amazing dishes to try.
Some of the top hotels in Chinatown include Shanghai Mansion Bangkok, Grand China Hotel and Chinatown Hotel.
If you choose to stay here then I really recommend just getting lost. It really is a must-see area for anyone visiting Bangkok.
Pratunam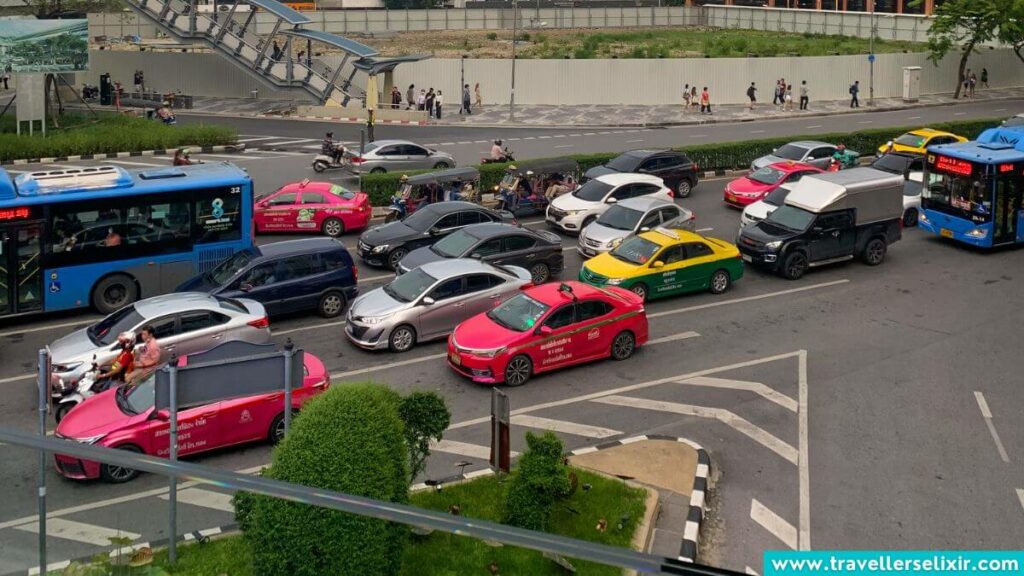 Pratunam is, hands down, the busiest and most chaotic area of Bangkok.
It is best known for its bargain shopping opportunities as this is where you'll find wholesale fashion outlets, markets, bazaars and so much more.
You'll find pretty much everything here, from fashion to tech. Lots of the shops here actually operate as wholesalers too and things can get super cheap when you buy in bulk.
Pratunam is also known for being super hectic and busy, the sea of people is endless.
Although some people may find this overwhelming as there really is no time to relax, for a lot of people, this is actually why they love Pratunam so much!
You should know that the traffic can get very intense here at rush hour and its often quicker to just walk to your destination.
Things To Do In Pratunam
Pratunam is the place to be if you're looking for a bargain. Head over to the Pratunam Market and the Platinum Fashion Mall.
The mall has over 2,000 shops filled with every single style you can imagine. Shopping is so popular here, in fact, that you'll often see people pulling along suitcases filled with all their new purchases.
You'll be glad to know that there are other things to do in Pratunam besides just shopping.
Pratunam is also home to one of Thailand's tallest buildings, the Baiyoke Sky Hotel. 
It's a must-see building as it is a very distinctive feature of Bangkok's skyline. Suan Pakkard Palace is another great stop.
I'm not gonna lie, Pratunam isn't as good for nightlife so if that's your thing then you may prefer Sukhumvit or Khaosan Road.
Best Hotels In Pratunam
Pratunam is one of Bangkok's best areas to stay in as it is very centrally located and it's close to other popular areas of the city like Siam.
You'll find a wide range of hotels here from budget accommodation that won't break the bank to top hotels that you'd be willing to sell your kidney for.
Some of the best hotels to stay in are Novotel Bangkok Platinum, Amari Watergate and Centre Point Pratunam.
Not only is Pratunam a budget-shopper's heaven, it's also famous for being colorful, frantic and completely crazy.
---
And that's it!
Thanks for reading this post on where to stay in Bangkok. After living in Bangkok for a few months, I really got to know the city and all of its different areas.
If you're planning a trip to Thailand soon then you might be wondering which time of year is best to visit Bangkok. 
I've visited Bangkok at various times of year and it really does make a difference visiting in the right season.
Related Posts: