If you're planning a trip to Bangkok then visiting a rooftop bar has to be on your itinerary.
One of the best is Octave Rooftop Lounge & Bar which I actually visited recently. I was blown away by the panoramic views of the city from above.
In this post, I'll tell you everything you need to know about Octave Rooftop Lounge & Bar including the menu, prices, dress code, happy hour, how to get there and more.
About Octave Rooftop Lounge & Bar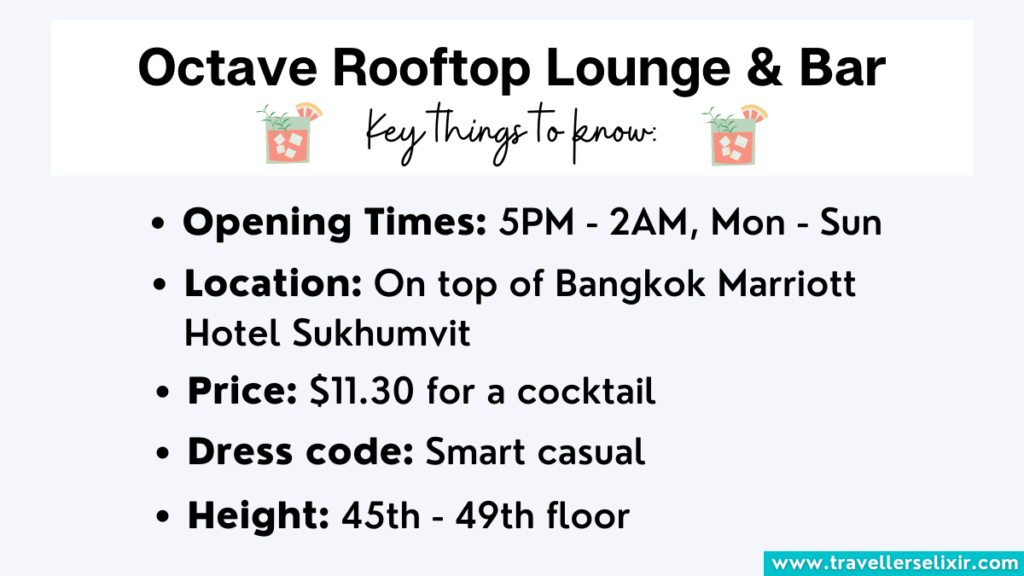 Octave Rooftop Lounge & Bar is located on the 45th to the 49th floor of the Bangkok Marriott Hotel Sukhumvit which is located right in the heart of the city.
As you can imagine, you'll get an unreal 360º panoramic view of the city from above. I can tell you from experience that it makes you feel like you're literally sitting in a cloud.
The bar is situated across several levels with the top one being my personal favorite as it offers the most impressive view.
The bar features a live DJ every single night and a wide menu featuring some of the best cocktails, mocktails and wines in the whole city.
There's also a restaurant too that serves a range of international dishes and seafood. You can expect exceptional service and delicious food but, be warned, it is pretty pricey.
Layout
The bar itself has 3 key areas, each situated on a different level.
The 1st floor of the bar is the lounge area which feels super relaxed and comfortable.
Here you'll find comfy-looking sofas that look out onto the views of the city. It's ideal for a casual dinner and for larger groups.
The 2nd floor is the balcony bar which is great for admiring the view and grabbing a casual drink. This level is a lot less busy than the top floor so it feels a bit more relaxed.
The 3rd floor really is the star of the show as it sits right on the rooftop underneath the stars. It's where you'll get the impressive 360º panoramic city views.
This level has a central blue bar where you can watch the waiters mixing your drink. They're very well trained so it's super fun to watch.
You can then grab a seat at one of the many tables that are dotted around the bar, each coming with an unforgettable view.
Another plus for this bar is that it's located right in the heart of the city in the bustling Sukhumvit area which is actually one of the best areas to stay in Bangkok.
Best Time To Visit
The best time to visit is, without a doubt, sunset.
The bar can get very busy around this time as everyone wants to be up there to watch the sunset so I'd recommend arriving at least an hour beforehand.
As Octave is situated across 3 levels it tends to be pretty easy to get a seat at most times of day but you may have to wait a little bit if you arrive at the busiest time (usually sunset).
This place is absolutely perfect for photos so bring along your best Thailand captions for Instagram because, let me tell you, you'll be needing them!
💡 Helpful Tip: Anyone under 20 years old must be accompanied by someone older than 20 and alcohol is only served to people who are at least 20 years old due to Thai law.
Octave Rooftop Lounge & Bar Dress Code
The official dress code at Octave Rooftop Lounge & Bar is smart casual. They ask that you don't wear sportswear, beachwear, slippers or sleeveless shirts for men.
By slippers, I assume they mean flip-flops/sandals because who in their right mind would show up to a bar in their slippers!
If you show up in one of these forbidden items then you might be turned away.
Having said that, I found the dress code to be fairly relaxed and lenient as I saw many people inside with sandals, trainers, huge backpacks, t-shirts etc.
To me, these didn't really feel like 'smart casual' but I didn't really care.
After looking at some of the reviews of TripAdvisor, I saw several guests say that the dress code was applied inconsistently.
A few guests reported being told to change out of their sandals but when they returned to the bar later in correct footwear, they saw many other people inside wearing sandals.
For this reason, I'd recommend avoiding flip flops and sandals just in case.
Octave Rooftop Lounge & Bar Menu
Octave Rooftop Lounge & Bar has a good range of food and drinks on their menu but I'd say that it's not the most extensive I've seen.
As an example, the menu only has 6 cocktails to choose from and 4 mocktail choices.
They do have a fairly extensive wine list with a range of wines from different regions. It's quite long but not quite as extensive as the one at Red Sky Bar.
The bar also serves some smaller snacks too if you get hungry.
At the main restaurant, they have a decent selection but again it's not extensive. As a vegetarian, I found that there were only 3 items for me to pick from which is less than ideal.
They mainly serve a lot of meat dishes like salmon, beef, tuna, chicken, pork and even oysters. There's a few salads, sliders and a small list of desserts.
On certain religious holidays, like Makha Bucha Day and Visakha Bucha Day, you're not able to order alcoholic drinks at the bar/restaurant and can only order soft drinks.
This is due to Thai law which prohibits the sale of alcohol on these religious days.
Octave Rooftop Lounge & Bar Menu Prices
Drinks are very pricey at Octave but it's the same story with pretty much every single rooftop bar in Bangkok.
You pay a premium for the incredible views (and it's totally worth it, trust me).
Although it's expensive, Octave Rooftop Bar is actually one of the more reasonably priced sky bars in Bangkok so you definitely won't have to sell any kidneys to enjoy an evening here.
You'll definitely need to put that kidney up on Ebay to go to the Dome Sky Bar at Lebua though!
For example, cocktails cost 390 baht ($11.30) and beers start at 250 baht ($7.30).
Here's an overview of the drinks prices at Octave Rooftop Lounge & Bar:
Cocktails – 390 baht ($11.30)
Mocktails – 280 baht ($8.15)
Spirits (e.g. vodka, gin) – 390 to 510 baht ($11.30 – $14.80)
Glass of wine – 480 to 560 baht ($13.90 – $16.25)
Beer – 250 baht ($7.30)
Soda – 160 baht ($4.65)
Fruit juice – 175 baht ($5.10)
Water (50cl) – 110 baht ($3.20)
Here's an overview of the food prices at Octave Rooftop Lounge & Bar:
Salad – 380 baht ($11)
BBQ pork ribs – 650 baht ($18.90)
Chicken tikka – 450 baht ($13)
Grilled lamb chops – 1,250 baht ($36.30)
Oysters – 990 baht ($28.75)
Salmon dish – 550 baht ($16)
Chicken wings – 490 baht ($14.20)
French fries – 320 baht ($9.30)
Prawn sliders – 520 baht ($15.10)
Wagyu beef sliders – 490 baht ($14.20)
Cheese & mushroom quesadilla – 450 baht ($13)
Mango sticky rice – 250 baht ($7.30)
Cheesecake – 350 baht ($10.15)
Please note that the above list is just a selection of things from the menu and not the whole menu.
I just picked some random things from the menu to give you an idea of what they have and how much it costs. The full menu is longer.
Bear in mind that there is also a 10% service charge that will increase your bill a little bit.
When Is Octave Rooftop Lounge & Bar Happy Hour?
The happy hour at Octave Rooftop Lounge & Bar is from 5PM until 7PM when you can get 2 for 1 drinks.
Visiting sky bars during happy hour is actually one of my top tips when it comes to having luxury experiences in Bangkok without breaking the bank.
I actually lived in Bangkok for a few months and I visited sky bars quite regularly. To keep costs low, I always went during happy hour to make a saving.
At Octave, it brings the cost down to just $5.65 per cocktail which is an absolute bargain especially considering the incredible views that you get.
Octave Rooftop Lounge & Bar Opening Times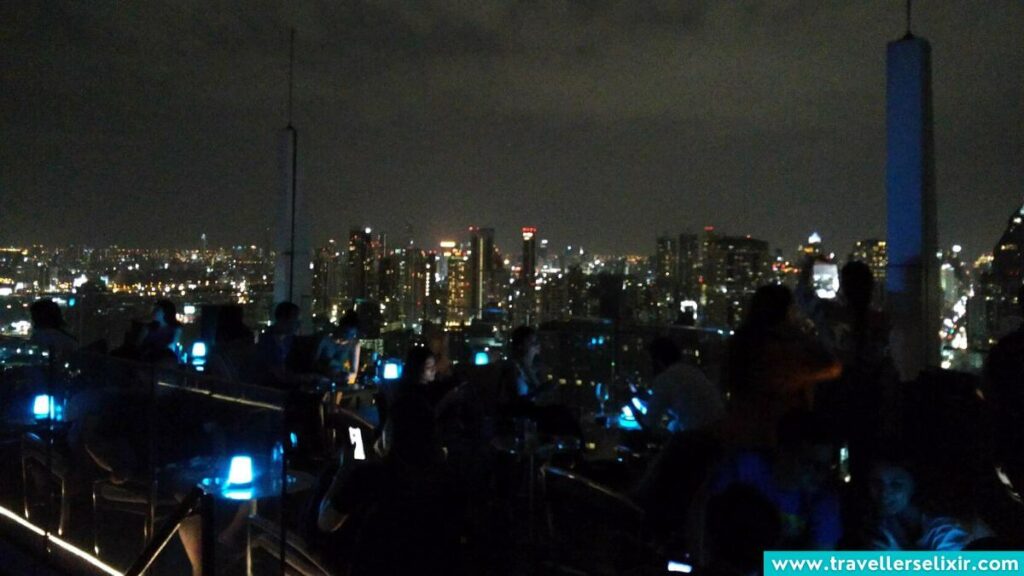 Octave Rooftop Lounge & Bar is open from 5PM until 2AM every day of the week.
If you want to be there at a specific time, e.g. sunset, then I'd suggest arriving at least an hour before.
When I visited, the bar was really busy and there were no seats left next to the edge. I had to wait 15 to 20 minutes for a seat to become available.
Luckily, I was moved to a good table just in time for sunset but if I'd arrived any later then I'd have missed out on the best sunset views.
Do You Need A Reservation For Octave Rooftop Lounge & Bar?
No, you don't need a reservation to go to Octave Rooftop Lounge & Bar. They operate on a walk-in only basis so it's not actually possible to reserve a table.
They do have an exception to this rule if you're in a group of more than 10 people. In this case, you are able to make a reservation.
As the bar is situated across 3 levels, it tends to be fairly easy to get a seat but the bar can get busy at peak times.
When I visited Octave recently, we got there just before sunset and there weren't any 'good' seats left.
We were initially seated close to the bar but it wasn't along the edge so we didn't get the best views.
After around 15 to 20 minutes, a table became available by the edge and we moved there just in time for sunset. We then spent the rest of the night there and really enjoyed the view.
How To Get To Octave Rooftop Lounge & Bar
Address: 2 Soi Sukhumvit 57, Sukhumvit Road, Bangkok 10110 Thailand.
Octave Rooftop Lounge & Bar is located on the top of the Bangkok Marriott Hotel Sukhumvit which is located right in the heart of the city.
You can easily get there by taxi, tuk tuk or by using the BTS.
It's pretty easy to get around Bangkok by taxi but be aware that many taxi drivers try to overcharge tourists so ask them to use the meter or use the Grab app (Asia's version of Uber).
I personally use Grab whenever I'm in Bangkok as it's super easy to use, fast and offers much better prices than traditional taxis.
Which BTS Station Is Closest To Octave Rooftop Lounge & Bar?
The closest BTS station to Octave Rooftop Lounge & Bar is Thong Lor which is just a 3 minute walk to the Bangkok Marriott Hotel Sukhumvit.
When you get to the hotel just get into the elevator and head up to the 45th floor.
From here, you can just walk up the stairs to the other levels of the bar including the rooftop itself which is on the 49th floor.
Octave Rooftop Lounge & Bar Review
I actually visited Octave Rooftop Lounge & Bar recently so here's my review…
As I mentioned, I lived in Bangkok for a few months so I ended up visiting a lot of different sky bars and Octave was definitely one of my favorites.
Firstly, I absolutely loved the views! As it's an open bar on the top of a hotel, you get a 360º view of the city.
I arrived just before sunset so I got an incredible view as Bangkok turned from day to night. At nighttime, the city turns into a glitterball as all the skyscrapers turn on their sparkly lights.
I genuinely felt like I could have just sat up there for hours and hours and never get bored.
The main downside to Octave was that it was really busy and you're not able to make reservations.
As I said, when I arrived, there weren't any seats left by the edge so I ended up sitting in a seat by the bar where you couldn't really enjoy the view.
We did get moved to a seat by the edge after 15 to 20 minutes which made up for it as we then got to spend the next hour or two enjoying the views that we came for.
The drinks were pretty good too. I ordered vodka and coke and it tasted pretty good and was fairly strong.
It was expensive, of course, but I didn't mind paying the premium to enjoy the views.
I also found that the staff were really attentive and promised to move us to a good table as soon as they could (and they kept their promise).
I definitely can't say the same for every sky bar I visited in Bangkok.
For example, at the Hi-So Sky Bar we were seated right at the back and were told by a waiter that he would move us to a good table at the front in 10 minutes.
1 hour later we were still sitting at the back and the waiter appeared to have forgotten about us and we watched as he seated several other guests who'd just arrived right at the front by the edge!
This definitely isn't the case at Octave so even if it's busy when you arrive, you should be given a good seat as soon as one becomes available.
---
And that's it!
Thanks for reading this ultimate guide to Octave Rooftop Lounge & Bar in Bangkok.
Visiting a sky bar in Bangkok really is one of those ultimate must-do activities.
If you'll be traveling to other areas of Thailand, then you might be interested in finding out where you can swim with turtles in Thailand. It's another must-do activity.
Related Posts: