Bangkok really is the definition of a megacity so it's not the sort of place that you can simply walk around.
To see all of Bangkok's best sights, you'll need to use some form of transport.
I actually spent 2 months living in Bangkok recently so I tried out pretty much every single mode of transport the city has to offer.
In this guide, I'll tell you all of the best ways to get around Bangkok including various different options for all types of traveler.
Getting Around In Bangkok
There are so many different ways to get around the city and it's hard to know which one is right for you.
In reality, you'll probably end up using a mixture of these options throughout your trip.
In a hurry? Here's a brief overview of the options:
BTS Skytrain: fast, cheap, reliable (6AM – midnight)
MRT: fast, cheap, reliable (6AM – midnight)
Taxi: comfortable, clean, more expensive (24/7)
Tuk Tuks: fun, fairly cheap, less comfortable (24/7)
Motorbike taxis: fast, fun, potentially dangerous (24/7)
In the rest of this post I'll go into more detail on each of these options including how much they cost, key things to know and scams to watch out for.
BTS Skytrain
The BTS Skytrain is a cheap, fast and reliable way to travel around the city. I actually used it a lot when I lived in Bangkok.
It's really easy to just hop on and hop, making it ideal for tourists.
With 2 lines and 60 stations, this elevated electric train can take you to all of the main areas of the city. 
It's a great way to avoid getting stuck in traffic as you'll simply zoom above the crazy traffic below.
BTS Lines
The BTS is made up of 2 lines: the Silom Line and the Sukhumvit Line.
The Silom Line runs from west to south from the National Stadium in Siam to Bang Wa.
The Sukhumvit Line runs from north to east from Mo Chit to Bearing.
The 2 lines meet at Siam Station where you can change lines if you need to.
You'll also find that the BTS lines are connected to the underground trains known as MRT at certain stations (more on that later).
Prices & Paying For Your Ticket
The BTS is a very affordable and cheap way to travel around the city and there are many different ways that you can pay for your ticket.
The easiest and best way is to purchase a Rabbit card. This is what I did and it made traveling around on the BTS so easy. 
After you've bought your Rabbit card, you can load it with money and pay for the BTS as you go. You simply tap and and out when you enter/exit the station and the amount will be deducted automatically.
The Rabbit card costs 100 baht to purchase and you can load it with up to 4,000 baht. If you're just visiting Bangkok for a few days then you'll probably only need to load it with a few hundred baht.
If you don't fancy buying a Rabbit card then you can also buy an individual ticket. Fares start at 15 baht for just one stop and reach around 50 baht for longer trips.
You can buy these individual tickets at the ticket machine. It's pretty easy, just look at the information board next to the ticket machine to locate your destination.
Next to your destination station, you'll see a number in a circle. This number is the one–way fare. You then select the fare on the ticket machine and pay by card or cash.
You should know that some of the machines only take coins so make sure you have some on you just in case.
You can also buy a one-day pass for the BTS. These are great for tourists who will be hopping on and off the BTS frequently. They cost just 150 baht and provide unlimited travel for one day.
Timings
The BTS trains are very frequent, I don't think I've ever waited more than 5 or 6 minutes for the next train to come even late at night.
The BTS operates from 6AM until midnight which should be ideal for most people. You may need to take a taxi home if you'll be staying out later than that.
You should know that the BTS does get very busy around peak times as it is how a lot of Bangkok's workers get to/from work.
At these times, the trains get incredibly crowded and you may even have to wait for another train to come occasionally.
There's been a few times where I've been squished up against some random person so avoid it during these times if you can.
Overall the BTS is a great way to travel around Bangkok if you're a tourist wanting to do some sightseeing.
It is very modern and has air conditioning in all of its carriages meaning it's super comfortable and makes a nice break from the heat of Bangkok.
Additionally, it is very clean as food isn't allowed onboard.
MRT
The underground MRT train is a fast, cheap and convenient way to travel around Bangkok.
It's made up of 53 stations on 2 lines (blue and purple). I used the MRT extensively when I lived in Bangkok and I'd actually say that it's my favorite way to travel around the city.
Whilst the BTS Skytrain travels above the city, the MRT is the train system that runs underground.
I prefer it over the BTS simply because it's cheaper and less crowded.
The MRT does connect to the BTS Skytrain and to the Airport Rail Link at certain stations.
Prices & Paying For Your Ticket
The MRT is very affordable. In fact, it's actually the cheapest way to travel around Bangkok.
My favorite thing about the MRT is that you can actually use your debit card to tap in and out so you never have to physically purchase a ticket.
This is so much easier than having to buy a ticket at the ticket machine every time or having to buy a prepaid card like on the BTS.
If you don't want to use your debit card to tap in and out then you can purchase a plastic token from one of the ticket machines in the station.
The fares vary depending on how far you're traveling, however for a single journey, you can expect to pay between 16 baht to 42 baht and if you change lines it can be up to 70 baht.
The MRT is a great way to travel around the city however the BTS may be better if you're sightseeing as the BTS connects better with Bangkok's top tourist attractions.
Timings
The MRT trains run from 6am until midnight and trains arrive every 5-7 minutes. 
Similar to the BTS, it can get very busy during peak times as a lot of workers use it to get to/from work.
During these hours, the carriages get very crowded.
Taxi
Taxis are by far the easiest and most comfortable way to travel around Bangkok but they're not always the fastest.
The traffic in Bangkok can be absolutely ridiculous at times and you could be sat in traffic for hours.
When I met up with one of my friends in Bangkok, he apologized for being late as he said he'd been stuck in a taxi that hadn't moved for half an hour.
In the end, he just got out and walked as it ended up being quicker that way.
Most taxis in Bangkok are modern and clean and the drivers are usually friendly. I had some really kind drivers in Bangkok who gave me tips on things to see and do.
It's also super easy to find a taxi in Bangkok, they're literally everywhere so finding one won't be a problem.
I personally mostly used Grab whilst I was in Bangkok as it's easier than having the hail a taxi down and it offered really great prices.
Using Grab means you never have to worry about being scammed by a driver trying to charge you 3x the normal price.
Prices
Taxis are pretty cheap in Bangkok. I was actually super surprised at how cheap they were when I first arrived.
For example, you could be driving for an hour and still only pay $10.
If you take a regular taxi then they will usually use a meter. The fare always starts at 35 baht and increases from there depending on the distance.
You sometimes will usually pay a surcharge if you get stuck in a traffic jam.
As an example, if you're traveling just a few kilometers, expect to pay around 50 baht.
If you're just traveling around the central area of Bangkok then your fare will rarely exceed 100 baht.
On certain roads there are tolls and the passenger always has to pay them so make sure you have some cash on you.
The tolls tend to cost between 25 and 70 baht.
Scams
The annoying thing about taxis is that a lot of drivers will try to overcharge you when they realize you're a tourist.
Even if you're not a tourist, if you're obviously not Thai then they might give it a go.
The best way to avoid getting scammed in a taxi is to make sure the driver uses the meter. Check with them before you set off.
Some drivers will say 'no meter', they might even tell you it's broken.
Please avoid these drivers like the plague as it's a very common scam in Bangkok. In fact, it's actually illegal to not use the meter in the city.
These kinds of drivers can often be found parked outside of fancy hotels and major tourist attractions.
Another potential scam is that some drivers will claim to have no change when you give them a large note.
To avoid this, try to carry change but if not tell the driver you will get out at a nearby shop to change money. Often the driver will give in and 'find his change'.
I actually just used the Grab app to avoid all of this hassle. Grab is basically Asia's answer to Uber.
It offers great prices (so you don't have to worry about being scammed) and is super easy to use. I really recommend it.
Practical Information
One thing you'll find is that some of the taxi drivers in Bangkok don't speak English.
If you use the Grab app then this shouldn't really be an issue as you just input your destination into the app so you don't even need to speak to the driver.
If you're just planning on jumping into a random taxi then my advice is to get the address written in Thai so you can show them.
The easiest way to do this is to type your address into Google Maps and it should provide the Thai address alongside the English.
Alternative Apps
As I said, I used Grab extensively when I lived in Bangkok.
Before using Grab, taxi drivers were constantly trying to overcharge me and I was finding it difficult to get a reasonably priced taxi. I guess I looked too much like a tourist.
They also have Uber in Bangkok but Grab is more popular.
There are tons of drivers hanging around the city at all times and whenever I ordered a car, it usually arrived within a few minutes.
Tuk Tuks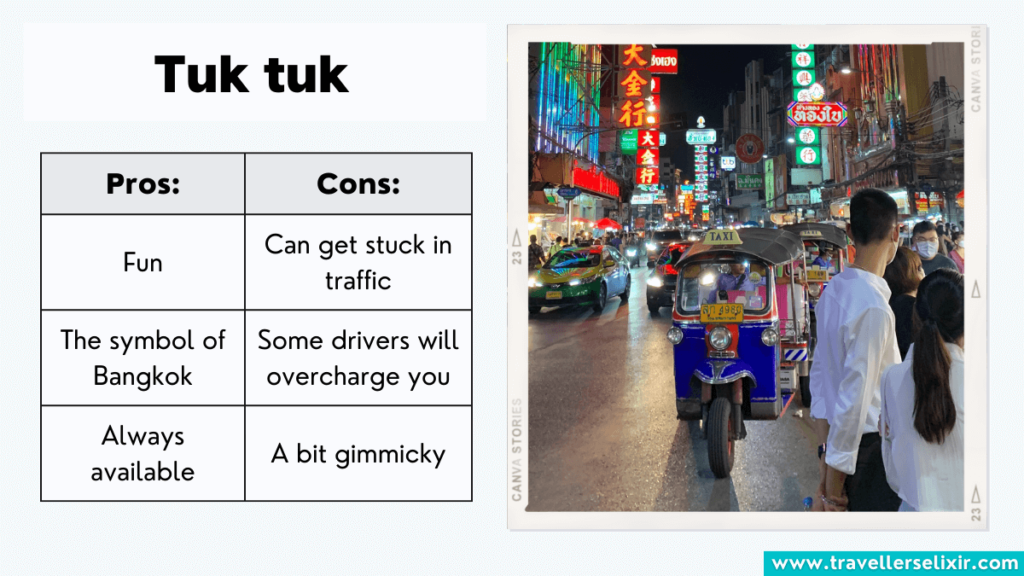 You've probably seen these all over Instagram and they really are one of the most fun ways to travel about Bangkok.
As a symbol of the city, no trip to Bangkok is complete without taking at least one short trip on one.
These days, tuk tuks are more of a novelty and a fun activity to do rather than being a practical way to travel. They essentially exist just for tourists – you'll never see a local using one.
They are open air so there's no air conditioning and they can be uncomfortable if you'll be traveling in one for a long period of time.
It's also worth noting that the streets of Bangkok can be dirty and as the tuk tuks are open, you might get a bit dusty. Avoid wearing your best clothes.
Prices
Fares for riding in a tuk tuk vary widely and negotiating is key. Basically the driver will just take a look at you and give a price based on what he thinks you can afford.
I imagine if you're dressed up to the nines then you'll get a ridiculous quote but if you look like a broke student then they might be more lenient with you.
Either way, the driver will usually start by quoting you a very high inflated price so be sure to haggle the fare down to something more reasonable.
For a short trip, expect to pay around 30 baht.
Scams
Scams are rare but not unheard of with tuk tuks.
Other than being drastically overcharged, some drivers will take you to random places along the way that you didn't ask to go to.
These tend to be shops that will pay the driver a commission if you buy something. It is a bit annoying, especially if you're in a hurry.
Other Information
Tuk tuks are one of Bangkok's most recognisable features and are very popular amongst tourists so I'd recommend giving one a go.
It is best to avoid taking one at peak times (7am-9am and 4pm-7pm) as you will likely get stuck in traffic for a long time.
And as the tuk tuks are open, it's a great opportunity to take some great photos of Bangkok. Make sure you have your best Thailand Instagram captions on hand because you'll be needing them.
Motorbike Taxi
The final way that you can travel around Bangkok is by motorbike taxi.
Motorbike taxis are the fastest way to travel around the city as they can weave in and out of gridlocked traffic, getting you to your destination fast.
They're great if you're in a hurry or if it's rush hour.
Similar to the tuk tuks, they are open so they're not the cleanest way to travel around. I wouldn't recommend taking one if you've just put on your best white dress to go to the Dome Sky Bar.
Practical Information
It's worth knowing that although they are very fast, the motorbike taxis can be dangerous.
One thing I noticed a lot when I lived in Bangkok is that some of the motorbike drivers will literally drive onto the pavements to get around the busy traffic.
There were several occasions when I was just walking down the street and suddenly a motorbike was racing towards me!
They usually avoid pedestrians but it's really just an accident waiting to happen.
Make sure you wear a helmet just in case as the police are known to actually fine tourists that they see not wearing one.
I'd also recommend sitting on the bike with your legs either side (no side-saddling) so that you don't fall off the bike if the driver makes a sharp turn.
You can also hold onto the bar on the back of the bike to keep yourself steady.
Prices
Motorbike taxis are fairly cheap but remember that the drivers will only take cash.
Fares tend to start at around 10 baht and vary depending on the distance traveled. For most journeys, you won't pay much more than 50 baht unless you're traveling a long way.
Make sure to negotiate with the driver to avoid being overcharged and agree the price before you set off.
Motorbike taxis are especially great for solo travelers but may not be ideal for large groups as only one person can ride on the bike.
If you're in a group then you'll need to find several drivers to take you all.
It's easy to spot the taxi drivers as they always wear orange vests and you'll usually find them hanging around on street corners or near BTS stations.
Don't just go up to anyone with a motorbike as they might just be a local and that would be a really good way to embarrass yourself.
---
And that's it!
Thanks for reading this post on all the different ways you can travel around Bangkok.
If it's your first time in the city then you might want to know exactly where to stay in Bangkok. 
Staying in the right area can really make or break your trip as you don't want to spend too much of your day traveling between areas.
Related Posts: