Located on the roof of Bangkok's 2nd tallest building, State Tower, Sky Bar at Lebua feels like it's sitting on top of the world.
I actually lived in Bangkok for a few months and I visited a lot of sky bars, some good and some bad.
In this post, I'll tell you everything there is to know about Lebua's Sky Bar in Bangkok including prices, dress code, opening hours, how to get there and more.
About Lebua Sky Bar Bangkok
The rooftop at Lebua, also known as The Dome at Lebua because it features a giant golden dome, actually features a range of rooftop restaurants and bars.
Sky Bar is definitely the star of the show as it's an open-air bar that sits under the stars and offers breathtaking 360º views of Bangkok from above.
I actually visited Sky Bar recently and was so impressed with the views. I mean it's literally located on the 63rd floor of a skyscraper so it's safe to say you'll get a good view.
This place is often rated as one of the world's best rooftop bars and it's also one of the world's highest open-air rooftop bars.
It features an illuminated LED bar that changes color throughout the night and an extensive cocktail menu that features several original cocktails that you can only get here.
One of the most famous cocktails is the 'Hangovertini' that was created specifically for the Hangover Part II movie.
Here's what you can expect from Lebua Sky Bar:
My Experience at Sky Bar Lebua
When we first got to the rooftop, we were ushered to a 'photography area' where you could stand by the edge and take some cool photos.
We took a few ourselves but then one of the staff members offered to take photos of us but I wish he hadn't.
The staff member was trying to direct me and my boyfriend and he ended up taking some of the worst and most cringiest photos I've ever seen (they're so bad!).
I noticed that the bar was extremely crowded so it looked like we weren't going to get a seat which at first I was ok with as the location was just epic.
And then the menu arrived. I took one look at the menu and decided it wasn't worth it. 1,150 baht ($33) just for 1 cocktail and I wasn't even going to get a seat!!!
I'd have to sell my left kidney to be able to afford drinks here.
This was my first trip to Bangkok and, to be honest, I was still a broke student at the time so spending that much just for one drink was too much.
I ended up leaving and going to Red Sky Bar instead, which offered the same epic views but a much more reasonable price tag.
The Sky Bar at Lebua is part of a 5-star luxury hotel and was made famous by being featured in The Hangover II movie.
Being super honest, I did look at staying at this hotel recently for my anniversary but ended up picking the Pathumwan Princess Hotel instead as it was cheaper and much more luxurious.
Lebua actually looks incredibly dated and I was surprised at how expensive it was given the dated feel.
I also read that most of the rooms feature one of those stunning curved balconies but the doors are locked and you're not allowed to go on it!
It kinda feels like the fame has gone to Lebua's head and they now charge extortionate prices for a mediocre experience.
Lebua Sky Bar Bangkok Dress Code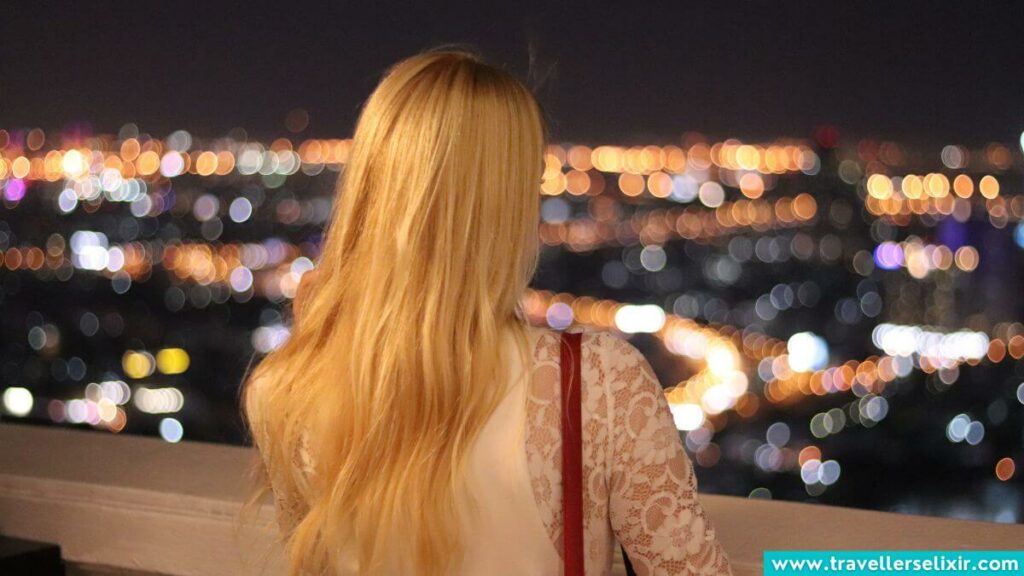 The official dress code at Lebua Sky Bar is 'smart casual'.
On their website they say you're not allowed to wear athletic or sports uniforms, slippers, beach sandals or flip-flops.
They also ask that men don't wear any sleeveless clothing, shorts or open shoes.
The dress code also applies to children but be aware that only children over the age of 7 are allowed inside the bar.
In general, I'd try to avoid the 'backpacker look'.
You're also not allowed to bring drones, tripods or really big bags.
Can I Wear Trainers To Sky Bar?
Based on their dress code, you can wear trainers to Sky Bar at Lebua.
Their dress code asks that you don't wear sandals or flip-flops and it also asks that men don't wear open-toed shoes.
The only other thing it says is that you shouldn't wear 'athletic or sports uniforms' which isn't super clear but I imagine it means you shouldn't wear sweatpants, work-out gear, football shirts etc.
To be on the safe side, I'd avoid wearing really sporty-type trainers if possible.
Can You Wear Jeans At The Sky Bar?
Yes, you can wear jeans at Sky Bar Lebua.
Jeans are not on their list of things you can't wear and my boyfriend actually wore jeans to the Sky Bar and was let in with no problem.
Lebua Sky Bar Menu
The Lebua Sky Bar menu is very extensive and features a range of cocktails, champagne, wines, whiskeys, spirits, a few mocktails and some bar snacks.
It's a decent menu but it's definitely not as extensive as some of the other sky bars in Bangkok like Octave Rooftop Lounge & Bar and Red Sky Bar.
The bar snacks are also limited with just a few options to choose from like lobster roll, calamari and tacos. It's a shame they don't do stuff like french fries as that would have appealed to me more.
Given the fame of Lebua, I actually thought their menu would be a bit wider.
They do have several original cocktails including the Hangovertini which sounds cool but it's just so expensive (more on prices later).
You can also try some of their more experimental cocktails such as the 'poptails' which are a mix of popsicle and cocktail.
Lebua Sky Bar Prices
The prices at Lebua Sky Bar are very high. It's the most expensive sky bar I've ever been to and by a long shot.
Standard cocktails at Lebua Sky Bar cost between 1,150 and 1,300 baht ($33 – $38).
Even soft drinks like a can of coke still cost 300 baht ($8.70).
Here's an overview of the drinks prices at Lebua Sky Bar:
Cocktails: 1,150 – 1,300 baht ($33 – $38)
Glass of champagne: 1,900 – 3,600 baht ($55 – $105)
Glass of wine: 980 – 1,900 baht ($28.50 – $55)
Vodka: 1,100 baht ($32)
Gin: 1,100 – 1,400 baht ($32 – $41)
Whiskey: 800 – 4,000 baht ($23 – $116)
Tequila: 1,100 – 6,800 baht ($32 – $198)
Champagne cocktails: 2,700 baht ($79)
Mocktails: 900 baht ($26)
As you can see, the prices vary a ton but one thing that's certain is they charge a lot!
At worst, you could spend $198 on just one glass of tequila or you could grab yourself a mocktail for a slightly better but still extortianate $26.
They also add on a 10% service charge and a 7% government tax so your actual bill will be 17% higher.
One thing I found kind of annoying at Lebua Sky Bar is that the waiters won't leave you alone until you order a drink and I found them to be very pushy.
They handed me a menu and tried to get me to pick something instantly. I kinda wanted to be left alone for a little bit so I could fully look at the menu and figure out the prices but they were really pushy.
I didn't like that at all and after seeing the prices, I decided to leave without buying anything.
I didn't like the atmosphere as it was too crowded and there were no seats available at all, the waiters were really pushy and the prices were extortionate so all in all I wouldn't recommend it.
Lebua Sky Bar Opening Hours
Sky Bar at Lebua is open every day from 5pm until 12am.
As far as I'm aware, there is no happy hour so don't expect any half price drinks, ever.
Do You Need A Reservation For Sky Bar Bangkok?
You don't need a reservation for Sky Bar at Lebua in Bangkok and you can't actually make one.
The bar has a walk-in only policy so you can't actually make a reservation. You can make a reservation for the adjoining restaurant but not for the bar itself.
During peak season after 9pm, there can be long queues getting into the elevator and heading up to the Sky Bar so you may end up waiting 10 to 15 minutes to get up there.
Unfortunately there's no way around this so I'd recommend getting there as early as you can.
What Is The Name Of The Sky Bar In Lebua?
The official name of the rooftop bar at Lebua is 'Sky Bar'.
Many people get confused as it's also often referred to as 'The Dome at Lebua' however this is the name given to the entire rooftop area which includes several bars and restaurants.
'Sky Bar' is specifically the name of the famous rooftop bar.
What Rooftop Bar Is In The Hangover Movie In Bangkok?
Sky Bar at Lebua is the rooftop bar featured in The Hangover II movie. This is actually what made the bar so famous.
In the movie, the gang actually stayed at the hotel and visited the rooftop bar.
Check out the video below which shows a scene from the movie that was filmed at Sky Bar:
How To Get To Lebua Sky Bar
Lebua Sky Bar Address: 63rd Floor, State Tower Bangkok, 1055 Silom Road, Bangrak, Bangkok 10500, Thailand.
There are various different ways that you can get to Lebua including by BTS, MRT, taxi or tuk tuk.
What's The Closest BTS Station To Lebua State Tower?
The closest BTS Skytrain station to Lebua State Tower is Saphan Taksin which is just 370m away.
After you exit the station, it's just a 6-minute walk to Lebua State Tower.
Alternatively you can take a taxi. Be prepared to haggle with the driver because as soon as you say you want to go to Lebua, they'll try to charge you at least 5x the normal price.
Insist they use the meter or, even better, use the Grab app (Asia's version of Uber) as this offers the best prices and you don't need to worry about being overcharged.
I now exclusively use Grab whenever I visit Thailand as it's just so easy and I always hated arguing with drivers who were trying to rip me off.
Lebua Rooftop Restaurants
As I said, the Dome at Lebua also features a range of rooftop restaurants too including Mezzaluna, Breeze and Sirocco.
Mezzaluna is a 2 Michelin-starred restaurant that sits on the 65th floor of the tower.
It offers modern cuisines and a fancy fine-dining experience and has been named as one of Thailand's best restaurants and also one of the world's top 100 restaurants.
Breeze is a Pan-Asian restaurant that serves delicious Asian food in an al fresco setting.
Sirocco is the world's highest rooftop restaurant. It offers 270º views of the Chao Phraya River and the city of Bangkok.
This restaurant serves delicious Mediterranean food and has been named as one of Thailand's best restaurants.
 They also have a live band every evening. If you're around for New Year's Eve, every year since 2015, Sirocco has hosted the highest ball drop in the world (872 feet).
---
And that's it!
Thanks for reading this post all about Sky Bar at Lebua.
I loved the views at Sky Bar but I wasn't really impressed with much else there.
Visiting Bangkok at the right time of year can really make the Sky Bar experience so much more enjoyable. I covered the best time of year to visit Bangkok in my ultimate guide.
Related Posts: