Welcome to the ultimate Koh Samet travel guide – your go-to resource for everything there is to know about this tropical paradise.
In this guide, you'll find detailed information on the best things to do, where to stay, how to get there and much more. This is all based on my own personal experience.
So whether you're looking for adventure, relaxation, or a little bit of both, this guide has everything you need to plan the perfect Koh Samet vacation.
So let's dive in and start exploring!
What Is Koh Samet Famous For?
Koh Samet is famous for its white sand beaches, crystal-clear waters and serene island atmosphere.
The island is a popular destination for travelers looking to escape the hustle and bustle of city life and immerse themselves in nature.
It takes just 3.5 hours to get there from Bangkok making it one of the closest Thai islands to the capital.
Koh Samet offers visitors the perfect blend of relaxation, adventure and natural beauty.
An interesting fact that I learned when I visited is that Koh Samet is actually named after the 'samet' trees that grow in abundance on the island.
In English, we call these types of trees 'cajeput'.
Is Koh Samet Worth Visiting?
Yes, Koh Samet is definitely worth visiting if you have the time as it's an absolutely beautiful island.
It's particularly perfect for beach lovers as the island boasts pristine beaches with crystal clear water and white sand.
Koh Samet is particularly known for its relaxed and laid-back vibe, making it a great place to unwind and recharge.
You can spend your days lounging on the beach, swimming in the ocean or trying out various water sport activities such as snorkeling or diving.
There are also plenty of restaurants and bars on the island where you can enjoy delicious Thai cuisine and drinks while watching the sunset.
In addition, Koh Samet is easily accessible from Bangkok, making it a popular weekend getaway destination for both locals and tourists.
If you're looking for a beautiful and relaxing island escape, Koh Samet is definitely worth a visit.
Koh Samet Entrance Fee
Koh Samet forms part of the Khao Laem Ya-Mu Koh Samet National Park which means that you have to pay an entrance fee when you enter the island.
You only have to pay the entrance fee once on the day that you arrive.
For foreigners, the fee is currently 200 baht (~$5.70) for an adult and 100 baht for a child (~$2.90).
For Thai nationals, the price is just 40 baht for adults and 20 baht for children.
It's a one time fee and you'll be asked to pay it shortly after you arrive.
What Is Koh Samet Like?
Koh Samet is a calm and peaceful island that isn't overly developed or commercialized.
I've visited other Thai islands before including Koh Samui which felt very built up and extremely tourist-centric but I didn't get this feeling in Koh Samet.
In Koh Samet, the locals just want you to have a good time and I generally found that they didn't try to overcharge me or rip me off (this happened a lot in Koh Samui).
It's a pretty small island as it measures just 6.8 km (4.2 miles) from north to south and there is just a single main road that runs through the island.
It's easy to get around Koh Samet by walking, hiring a motorbike or using a songthaew which is a taxi-style pick-up truck.
Most of the hotels, restaurants and bars are all in the northern area which is where most tourists tend to stay.
The most popular area is near to the Sai Kaew Beach. I stayed in an Airbnb just 5 minutes from the beach and found this area to be really busy and bustling.
Koh Samet is very popular for weekend trips and short getaways, especially for people who live in Bangkok.
This makes sense as they're aren't many Thai islands close to Bangkok and all the others require a flight but Koh Samet is easy to reach by bus/car and ferry.
I found that Koh Samet had a very 'undiscovered' feel. There weren't a ton of international tourists, there were lots of empty beaches and the whole island wasn't super developed.
I personally really loved this about the island as it felt like I was on my own little tropical island in the middle of nowhere. I love exploring places where few people go.
Amenities On The Island
There are a good range of amenities on the island with plenty of bars and restaurants to choose from. Many of them are located on the beach itself.
Koh Samet also has two 7-Eleven mini stores which are situated on the main street near to Sai Kaew Beach. They're literally right across from each other (typical Thailand).
Along this main road, you'll also find a range of other shops including souvenir shops, clothes, small supermarkets, cafes and more.
Beaches
One of the main things that people come to Koh Samet for is the beautiful beaches.
Koh Samet's beaches really are stunning. They all feature white sand, swaying palm trees and crystal clear waters that are perfect for swimming or doing water sports.
The most popular beach on the island is Sai Kaew Beach. This bar-studded beach is great for nightlife and has plenty of beachfront restaurants.
There's also several fancy resorts like Sai Kaew Beach Resort located on the beach itself.
Most of Koh Samet's beaches lie along the eastern shore of the island meaning you can easily hop from bay to bay.
Some great beaches to check out include Ao Phai, Ao Wong Duean and Ao Cho.
The main beach on the western shores is called Ao Phrao and is known to be the best sunset spot on the whole island.
Make sure to bring along your best Thailand Instagram captions as you'll be needing them!
The beaches get quieter and more secluded as you head south. I actually spent an entire day exploring the south of the island and found several completely empty beaches!
It was just me and the waves.
How To Get To Koh Samet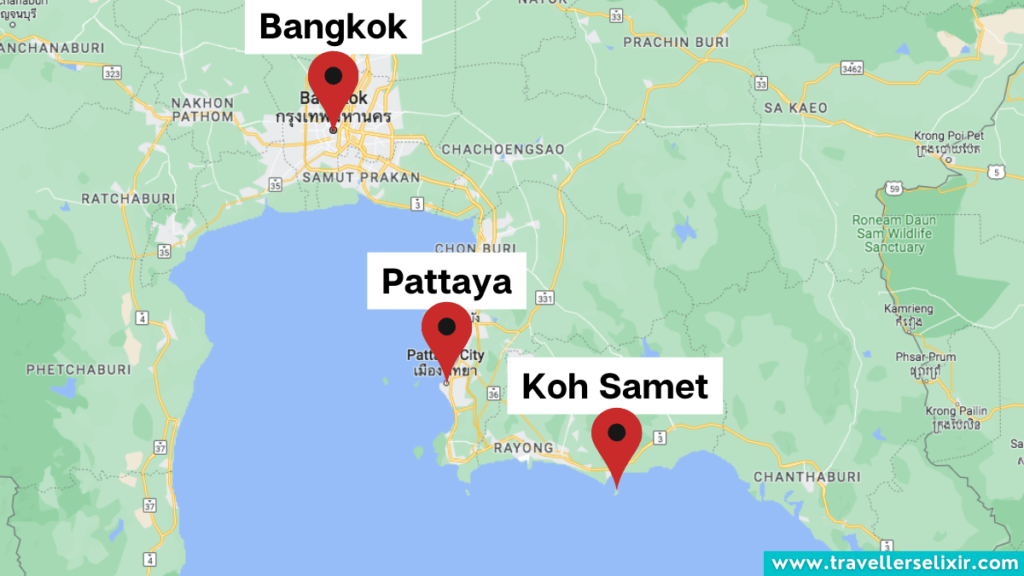 Koh Samet is located close to both Bangkok and Pattaya making it the perfect weekend getaway.
Koh Samet actually doesn't have an airport but it's close enough that you wouldn't need to fly anyway.
To get from Bangkok to Koh Samet, you can take a bus/car to Ban Phe which lies on the coast. From Ban Phe, you can then take the ferry over to Koh Samet.
The whole journey takes around 3.5 hours.
To get from Pattaya to Koh Samet, you'll do the same thing but Pattaya is actually much closer to Ban Phe so it's quicker to get there. The whole journey takes around 2.5 hours.
The ferry over to Koh Samet only operates between 7am and 6pm so if you arrive at the ferry pier after this time, it won't be running.
There are speedboats at the pier 24/7 so you can still get over to the island but it'll cost a bit more.
When To Visit Koh Samet
The best time to visit Koh Samet is during peak season which is between December and March when the weather is hot and dry.
Low season runs from May to October. Less people visit during these months as the weather is a bit more uncertain and it does rain from time to time.
I actually visited during August but found that it didn't rain that often. We got the odd heavy rainstorm but it only lasted around 20 minutes then dried up pretty quick due to the heat.
Visiting during low season is a great way to save money as hotel rates tend to be at their lowest.
Another bonus is that Koh Samet is known to be one of the driest islands in the whole of Thailand as it gets significantly less rainfall than other areas.
Here's the pros and cons of visiting in each season: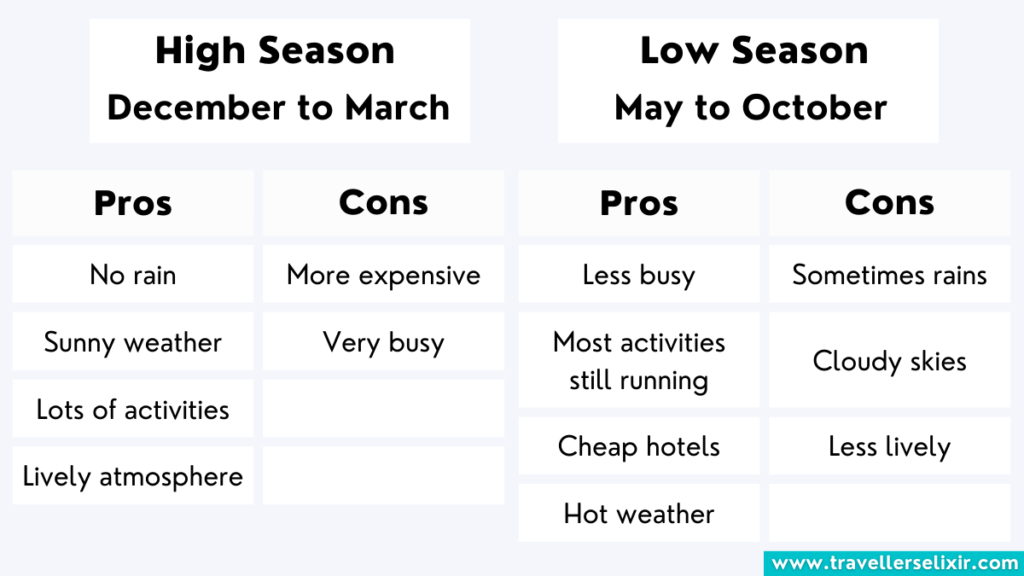 Things To Do In Koh Samet
Koh Samet has a fantastic range of activities to keep you busy.
One of my favorite things to do on Koh Samet is snorkeling.
There's a huge abundance of marine life located in the oceans that surround Koh Samet including colorful fish, rays, corals and even blue-tipped reef sharks.
You could also try your hand at various water sports like jet skiing or paragliding or if you like exploring hidden coves and beaches, head out on a kayak.
After dark, the island really comes to life and there's plenty going on. From rowdy bars with luminous paint or fire dancing shows on the beach, there's definitely something for everyone.
The many beaches are, of course, the main attraction. I'd recommend hiring a motorbike/ATV and heading to the south of the island to explore some of the lesser known beaches.
My personal favorite beach is Ao Cho as it's really natural and has a rickety-looking pier.
Where To Eat In Koh Samet
My favorite place to eat in Koh Samet is on the beach itself. The main beaches, including Sai Kaew and Ao Phai, are lined with restaurants so there's plenty of choice.
It's great if you like dining outdoors as many of the tables are set up on the beach itself so you can dine with your feet in the sand right by the ocean.
I would recommend checking the reviews on Google before choosing your restaurant as I found the food on the beach to be very hit-or-miss.
One night I got the best Pad Thai of my life and the next I was served a big slice of bread covered in ketchup and told it was a margarita pizza (lol, there wasn't even any cheese!).
There's a range of different foods available in Koh Samet from traditional Thai food to your favorite international classics.
Thailand, as a whole, isn't great for vegetarians or vegans but most restaurants will be happy to make a custom order if you can't find anything appropriate.
Best Restaurants in Koh Samet
My personal favorite restaurant in Koh Samet was Funky Monkey which is located near Sai Kaew.
It has a super relaxed atmosphere and serves a range of international foods – you can get Thai food, pizza and even a full English breakfast if you come in the morning.
The owner is also super friendly and happy to chat with customers.
Another restaurant that I loved was Buddy Bar & Grill. They have a fantastic range of options and are situated right on Sai Kaew beach!
Make sure you try one of their refreshing smoothies which are perfect after a swim in the sea or a long day of sunbathing.
Where To Stay In Koh Samet
Koh Samet has a wide range of places to stay including budget accommodation, mid-range hotels and extremely luxurious resorts.
Most people opt to stay in the northern part of the island as this is where most of the bars, restaurants and shops are located.
I actually stayed in an Airbnb in the northern area that was just a 5-minute walk to the beach.
I'd say it's a great place to stay especially if you're planning on going to bars a lot in the evening as you won't have to walk far to get back.
The best hotel in this area has to be Sai Kaew Beach Resort as it's located right on the beach and has a very modern, luxe feel to it.
This is also a great area to stay if you're on a budget as there's some really cheap hotels and guesthouses here for less than $50 per night. One of the best is Samed Villa Resort.
If you're a backpacker then you'll probably feel most at home at Ao Phai Beach as it's a known backpacker hotspot. There's several hostels and hotels located by the beach.
Koh Samet's best hotels are often located away from the main northern area.
You'll find several luxury resorts on the western side of the island near Ao Phrao and the island's only 5-star resort, Paradee Resort, is located right on the southern tip of the island!
Koh Samet Nightlife
Koh Samet has a pretty lively nightlife scene but it is restricted to certain areas of the island.
If you're a partygoer then you'll definitely want to stay in the northern area near Sai Kaew and Ao Phai.
These places really come alive after dark and get super lively. There are lots of bars lining the beaches that cater to budget travelers so expect cheap cocktails filled with booze.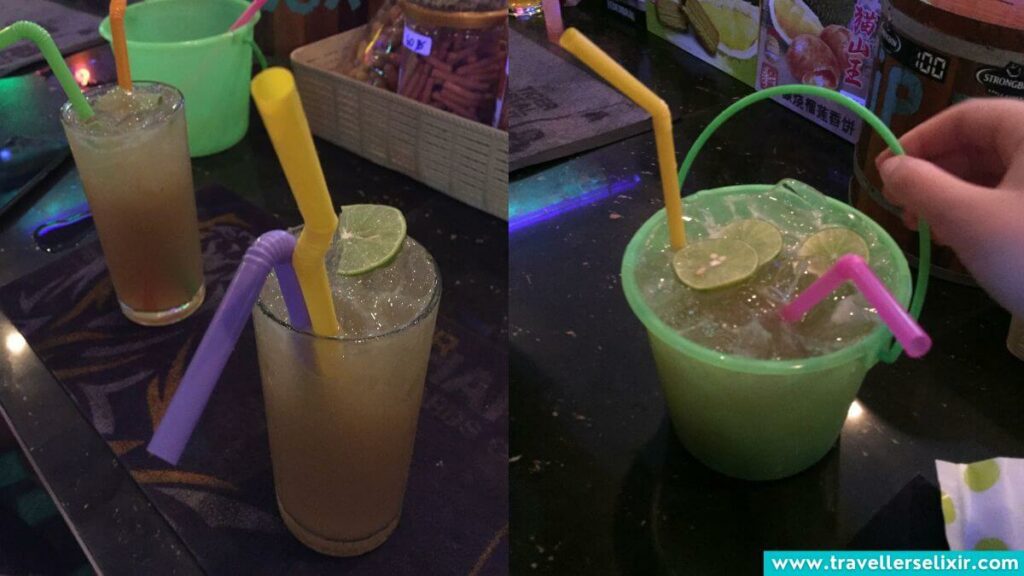 I got myself a bucket full of alcohol that cost just a few dollars and the bartender gave me a free shot too!
There are so many happy hour deals and promotions across the island so you definitely don't need to spend a lot to have a good time.
Most of the bars are located on the beach itself or beside it so it's a really fun ambience with beautiful views. It can get crowded at times but it has a super relaxed, island life feel.
If you're looking for something a bit more sophisticated and less rowdy then, don't worry, there's options for you too.
There's plenty of more casual bars located along the beaches or along the main road. One of my favorite places to relax is on one of the bean bags that rest on the beach.
Every evening, you'll also be able to watch a fantastic fire-dancing show right on Sai Kaew Beach itself. The show is completely free and super fun to watch.
My top pick for nightlife has to be Naga Bar. It's a hotspot for travelers so expect to meet backpackers from all over the world and several friendly locals.
It's a great place to meet people. I went a few times and always left with several new friends, a stained top and tons of photos that I don't remember taking.
Koh Samet is busiest on Friday and Saturday nights as many people come to the island from Bangkok for the weekend. It's much quieter on weekdays.
---
And that's it!
Thanks for reading my ultimate Koh Samet travel guide which hopefully gave you all the information you needed about Koh Samet.
If you're looking for other incredible Thailand experiences then check out my ultimate list of things to do in Thailand that has so many fun ideas.
Related Posts: