I recently visited Koh Samet which is one of Thailands' lesser known islands that sits just a few hours south of Bangkok.
As Koh Samet is a relatively small island, options for traveling around it are limited and it can be difficult to know how if you've never visited before.
In this guide, I'll tell you exactly how to get around Koh Samet by car, motorbike or on foot.
How To Get Around Koh Samet
Koh Samet is a weird elongated triangle shape where it's wide at the top then gets progressively narrower as you reach the southern tip.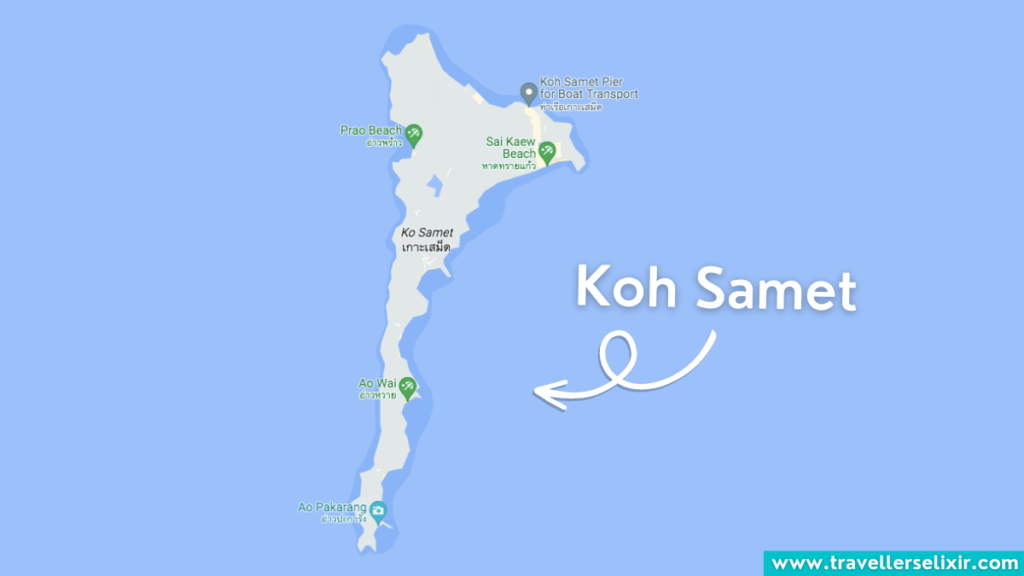 It's pretty tiny and measures just 6.8 km (4.2 miles) from top to bottom!
As you can imagine, there's no metro or train so you'll need to find another way to get around.
In a hurry? Here's the main ways you can get around Koh Samet:
Songthaew – Koh Samet's version of a taxi, relatively inexpensive.
Motorbike – offers flexibility but you do need to know how to ride one.
Walking – free but can be tiring.
In the rest of this post, I'll go into more detail on each of these options to help you use them yourself.
Songthaews on Koh Samet
Songthaews are the closest thing that Koh Samet has to a public transport system making it the main way to get around the island.
Now you might be wondering…what exactly is a songthaew?
Well, a songthaew is basically a green pick-up truck that has 2 benches in the back for passengers to sit on.
You might have seen them on other Thai islands like Koh Samui.
They are available throughout the island and will pick up and drop off passengers at all of Koh Samet's hotels or various beaches on the island. 
If you need to take one, just head to one of the main roads and wave one down. They pass by constantly so you shouldn't have to wait too long.
Songthaew Koh Samet Prices
Prices are fairly reasonable so taking a songthaew definitely won't break the bank.
The price will vary depending on the distance traveled.
The fare generally ranges between 20 and 100 baht ($0.60 – $3) per person depending on your destination. 
You will usually have to share with other passengers and if you're the first person to board, you might have to wait for other people to join.
If you want a private songthaew then expect to pay a lot more. Prices for a private journey may cost up to 600 baht ($17.40).
Songthaews are the only types of taxis that you'll see on Koh Samet. You won't really see normal car taxis on the island.
Motorbike Rental in Koh Samet
A super popular way to get around Koh Samet is by hiring a motorbike or an ATV.
This gives you a bit more flexibility compared to taking a songthaew as you'll have access to your own bike so you can use it whenever you like.
They're also better for exploring the more remote parts of the island in the south where passing songthaews are less common.
Exploring Koh Samet's best beaches including the remote ones in the south is a really fun activity and hiring a motorbike makes this so much easier.
There are many motorbike hire shops located in the main area of town close to Sai Kaew Beach. It's pretty easy and inexpensive to hire a bike for a day, a few days or a week.
The main thing to know is that many of the roads on Koh Samet are unpaved, rocky and hilly so it may not be the safest option especially if you're not that experienced. You'll definitely want to take it slow.
The roads are a lot better in the north of the island but get worse the more south you go where the island is less developed.
If you're an experienced and confident rider then it could be a good way to explore the other beaches on the island and when I visited Koh Samet recently, I saw tons of people doing it.
Motorbike Rental Prices in Koh Samet
If you decide to rent a motorbike then you'll find that prices are cheapest at the rental shops. Avoid renting one directly from your resort as they tend to charge more.
Expect to pay between 250 and 300 baht ($7.20 – $8.70) per day for a motorbike rental. Fuel is usually included for free.
You'll also find that rental prices tend to be better in the north, close to Nadan Pier and prices will increase as you move away from the main pier.
There are also a few options for renting golf carts or 4-wheeled ATVs rather than motorbikes which some people might prefer.
These are a lot more expensive and tend to cost between 1,000 to 1,200 baht ($29 – $35) for the day.
Although legally you need to have an International Driving License to rent a motorbike in Thailand, most of the shops don't really care so probably won't ask.
There is a police presence on the island so it's up to you if you're willing to take the risk as you will be fined if you're caught.
Walking Around Koh Samet
The easiest and cheapest way to get around Koh Samet is simply by walking.
It's a pretty tiny island after all and you'll find that most of Koh Samet's attractions are all located near each other within close walking distance.
You'd only really need to use another form of transport, like a songthaew or motorbike, if you wanted to explore the remote south parts of the island or you wanted to be picked up from the pier.
I actually spent most of my vacation in Koh Samet just walking around. I stayed in an Airbnb close to the main Sai Kaew Beach area and it was literally less than 5 minutes to the beach.
There were so many shops, restaurants and bars all within walking distance that I generally didn't need to use any type of transport.
I even walked to some of the remote beaches in the south on one day of my trip but I wouldn't really recommend this as it's super tiring. It's much better to rent a bike or jump on a songthaew.
It's also pretty easy to find your way around Koh Samet as there is basically just one main road that runs from the north to the south of the island. Easy peasy.
Walking is one of the best and safest options especially if you don't have much (or any) experience riding a motorbike as the roads on the island are very rocky and bumpy.
I personally had never ridden a motorbike before and wasn't very confident so felt that walking suited me most.
Also, if you're a backpacker on a budget then walking is the cheapest option as it's completely free.
---
And that's it!
Thanks for reading this guide on how to get around Koh Samet.
If you're visiting soon then you might be interested in my guides on how to get to Koh Samet from Bangkok and from Pattaya! They detail the exact journey step-by-step.
Related Posts: