Koh Samet is one of the lesser known Thai islands so there isn't a ton of information about it online.
I actually visited Koh Samet recently and spent a few days exploring the island so I know a lot about it.
In this guide, I'll explain the best things to do in Koh Samet including everything you need to know about each activity.
Let's jump straight in!
1. Try Out Diving Or Snorkeling
After visiting several Thai islands, I can honestly say that the Koh Samet snorkeling is some of the best I've seen.
There are several amazing diving and snorkeling spots located across the island where you have the chance to see an abundance of marine life.
You'll be able to spot things like colorful corals, starfish, manta rays, stingrays, barracudas, porcupine pufferfish and even blue-tipped sharks!
Snorkeling is ideal for pretty much everyone and there's plenty of beginner friendly spots.
Here's what you can expect from snorkeling in Koh Samet:
If you want to try your hand at diving then there are several resorts and diving centers that offer dives for absolute beginners and for more advanced divers.
I personally just went snorkeling and was impressed with how easy it was to come across excellent snorkeling spots. Ao Wai Beach is one of my favorite spots.
Some companies in the area also offer snorkeling day trips where you'll venture out across the island searching for marine life.
Koh Samet is the perfect location for snorkeling due to its crystal clear waters and pristine coral reefs.
2. Visit Koh Samet's Beaches
Ok so if you've visiting Koh Samet then I'm guessing you love beaches (who doesn't right?!).
There's 16 beaches on Koh Samet to choose from, meaning there's something for everyone.
And pretty much all of them have soft white sand, swaying palm trees and crystal clear waters. It really does feel like a tropical paradise island.
The main beach, Sai Kaew, is located in the north and it's where all the action happens. It's lined with beachfront restaurants, bars and shops.
There's also tons of water sports available from the beach. It's always filled with families or couples relaxing, playing or just having a good time.
Ao Phai is another lively beach that's more popular with backpackers.
If you head south, you'll find several remote and secluded beaches that will often be completely empty!
I actually spent a day exploring the south of the island and had several gorgeous beaches all to myself.
It can be tricky getting to them as getting around Koh Samet isn't easy but there are options.
You can take a songthaew (taxi-style pick-up truck), hire a motorbike or just walk.
My favorite secluded beach is Ao Cho which is located a 30-minute walk from the main area of town.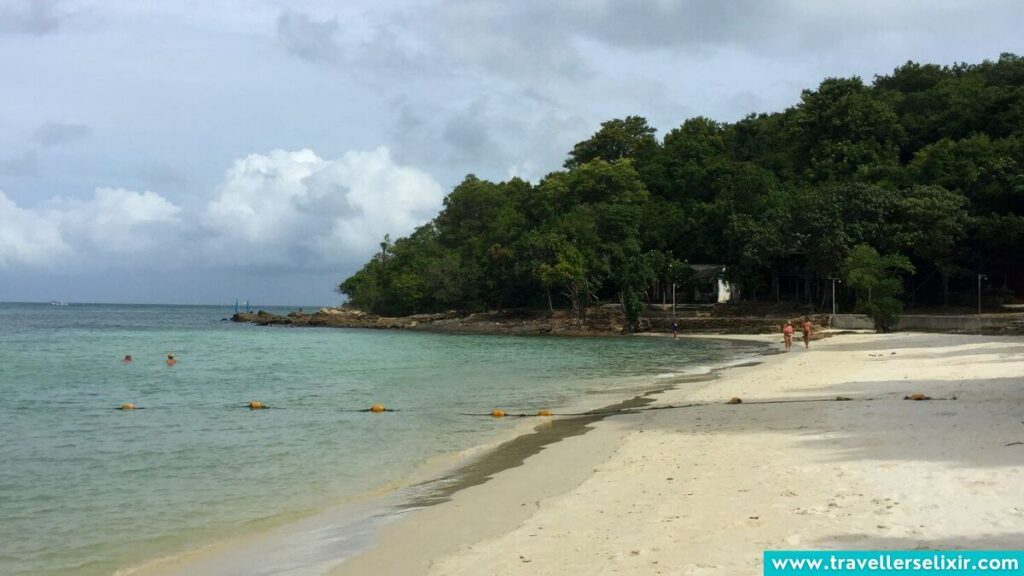 This beach is completely undeveloped and natural but there's so much to explore like a rickety old pier, broken down boats, old faded signs and so much more!
3. Do An Island Tour
You can actually book onto a Koh Samet island tour where you simply board a speedboat and the driver will show you around the whole island.
The island is 6.8 km (4.2 miles) from top to bottom so it's a little bit too big to walk the entire length there and back.
These tours allow you to easily get around the island, see the hidden coves, bays and beaches that otherwise would be unreachable.
Many of the boat tours also include extras like lunch, a snorkeling activity or even a trip to a nearby fishing farm.
The only way to book one of these tours is in person. You'll find many tour companies lining the main beach of Sai Kaew.
Some of them even offer tours where you can explore the tiny nearby islands of Koh Kruai and Koh Pla Tin.
4. Try Jet Skiing Or Parasailing
Another one of the best Koh Samet activities is jet skiing or parasailing in the ocean.
Koh Samet actually offers a huge range of motorized water sports including jet-skiing, parasailing and wakeboarding. 
These activities not only get you out onto the water giving you a new perspective of the island, they're also just really fun. I personally really liked jet skiing!
You can rent all the necessary equipment pretty easily. Just head to one of the more popular beaches, like Sai Kaew or Ao Phai, and you'll find various vendors located on the beach.
They'll usually be happy to show you how it works if it's your first time!
Here's what it's like to go jet skiing in Koh Samet:
One common scam that is unfortunately pretty common across Thailand is that travelers are often accused of scratching the equipment and asked to pay a higher bill.
These claims are usually false (as the equipment was already scratched before you used it) but as you have no evidence, you have to pay the bill.
To ensure this doesn't happen, take photos of the equipment beforehand, especially if there's any scratches or defects.
5. Go Kayaking
Motorized water sports aren't for everyone so for something a bit more casual, why not try kayaking?
Kayaking is actually one of my favorite activities as it's super relaxing and you can really take it at your own pace.
Renting a kayak gives you the opportunity to go out exploring on your own. See how many hidden coves and beaches you can find.
You can easily rent a kayak from most of the main beaches. It's pretty easy to spot the vendors on Sai Kaew or Ao Phai Beach.
Kayaking is another fantastic way to get out onto the water and see the island but remember that it is more strenuous than renting a jet ski. One bonus is that it's eco-friendly!
Here's what it's like to go kayaking in Koh Samet:
6. Watch Sunset
Catching sunset in Koh Samet really is an activity in itself as you can't watch the sunset from most of Koh Samet's beaches as they're all eastern facing.
To watch the sunset, you'll need to head over to the west side of the island which is less built up.
The main beach on the western side of the island is Ao Phrao and luckily it's just a 20 minute walk from Sai Kaew Beach and the main town area.
You'll be glad you made the effort as the sunsets in Koh Samet are really beautiful.
There are a few luxury resorts located near to Ao Phrao but there's few amenities overall.
If you're not staying in the area then you'll find a wooden path that leads from the Ao Phai beach (located right next to Sai Kaew).
Here's a map showing the route: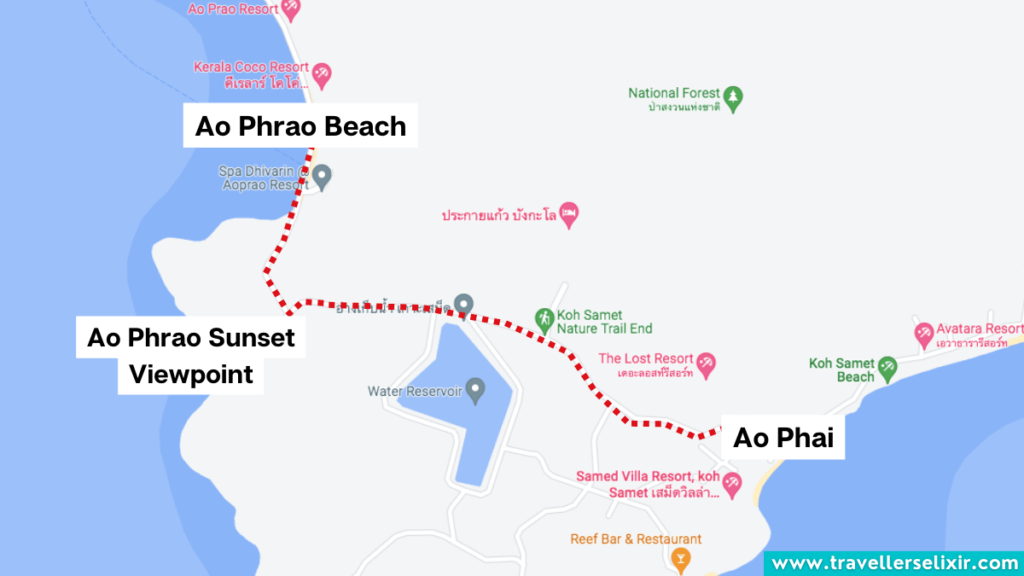 Follow this wooden path for 20 minutes and it'll take you straight to the beach. It's pretty easy and passes by a pretty reservoir.
When you get there you can either sit on the beach, stand up at the viewpoint or head out onto a sunset cruise.
There are often vendors on the beach ready to take you out onto the water to enjoy the sunset.
7. Watch A Fire Show
Another one of the best things to do in Koh Samet that I kinda stumbled across by accident is catching a fire show on the beach.
I had no idea that these were a thing in Koh Samet so you can imagine my surprise when I was just chilling on the beach one evening and I suddenly spotted someone literally eating fire!?
The fire show takes place on the beach every evening at Ploy Talay which is located on Sai Kaew Beach. These spectacular shows are a must-see and completely free.
Here's a quick look at what you can expect:
Ploy Talay is one of the most popular nightlife options along the beach and their fire shows take place at 9:30pm and 10:30pm every day.
The performers are incredibly talented and put on an amazing (and dangerous) show. It really is a lot of fun so add it to your itinerary!
8. Visit The Mermaid Statues
One thing that I noticed about Koh Samet when I visited is that they have a lot of cool-looking statues dotted around.
From mermaids to princes and even giant ogres, there's tons of them!
One of my favorite ones is the mermaid holding a baby out towards the ocean (in a cute way). It's located right on Ao Hin Khok beach and, to be honest, you'll have trouble not seeing it.
Another famous one you should look out for is the mermaid and prince statue.
The statues actually depict a famous Thai poem where the mermaid helps the prince escape to the island of Koh Samet.
These statues can be found on the rocks between Sai Kaew and Ao Hin Khok in the north of the island.
They're really easy to spot and are one of the most unique things to do on Koh Samet.
9. Visit Nadan Pier
If you're coming to the island from Bangkok or Pattaya then you'll probably take the ferry over to the island from Ban Phe. 
The ferry will drop you off at Nadan Pier which really is a sight in itself.
As the ferry pulls into the pier, you'll notice a giant statue rising out of the water. It's basically a partially-clothed female ogre!
This giant also forms part of the story with the mermaid and the prince. The giant is said to have turned herself into a beautiful woman to try and trick the prince into falling in love with her.
Pretty cool right!?
10. Try Sailing Or Windsurfing
Another really fun activity to try in Koh Samet is sailing or windsurfing.
The best place for this is at Sai Kaew Beach as it has offshore winds and a strong current which makes it perfect for sailing.
Even if you're just chilling on the beach, it's really fun to watch all the people out there windsurfing, seeing if you can spot anyone falling into the water!
If you want to try it out for yourself then there's several vendors located across the beach that will rent you the necessary equipment and show you how it works so you can spend an afternoon sailing across the waves.
11. Go Deep-Sea Fishing
Now you may not have come all the way to Koh Samet just to go fishing but it can be a really fun activity.
Koh Samet is actually home to a huge variety of fish and there are many opportunities on the island to get involved and go deep-sea fishing for yourself.
Many local fishermen on the island have started renting out their boats to tourists so they can give deep-sea fishing a go.
Koh Samet is an excellent spot for it as the island is home to a wide range of rare fish that you won't find anywhere else.
You can also try squid fishing after dark too.
12. Explore The Island By Motorbike/ATV
One of the best ways to explore the island is by hiring a motorbike or an ATV quad bike.
Koh Samet isn't a very developed island as a whole so as you leave the main northern area of the island, things start getting remote.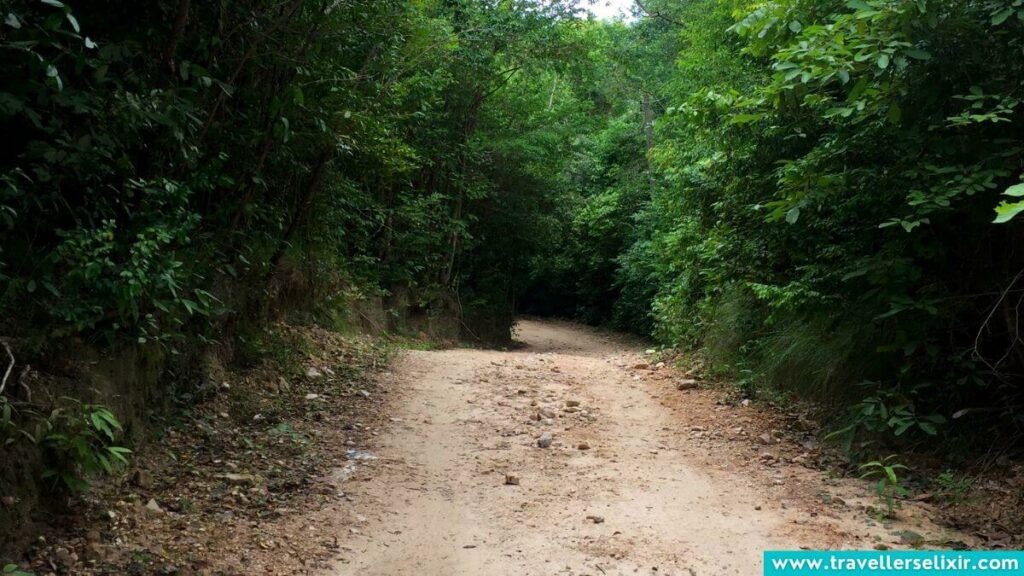 There's many secluded hidden beaches located in the south as well as beautiful viewpoints, long dirt tracks, nature, wildlife and more to explore but most tourists never bother to explore it.
Koh Samet is only 6.8 km (4.2 miles) long from north to south so you'll easily be able to explore it in a day with a motorbike or ATV.
One thing to note is that some of the roads in the south are very unstable, rocky and difficult to ride so if you're not an experienced rider then I'd recommend choosing an ATV over a motorbike.
You can hire both motorbikes and ATVs from most of the larger resorts or from one of the many rental shops on the island.
I'd recommend hiring from a rental shop as they tend to offer cheaper prices than hiring from a resort.
Motorbike rental costs around 250 and 300 baht ($7.20 – $8.70) per day. ATVs cost a bit more.
13. Get A Thai Massage
Is Thailand more famous for anything other than Thai massages?
One of the best ways to relax on Koh Samet is by having a traditional Thai massage.
From the outside, these types of massages look like the masseuse is trying to rip your arm off but I promise they're really enjoyable and relaxing.
You can get one at various places across the island including on the beaches themselves. What's more relaxing than getting a massage on the beach?
You won't even have to find a masseuse as they will usually come to you and give you a massage in the shade as you relax on one of Koh Samet's beautiful beaches.
You'll easily recognise them as they walk along the beach carrying a small stool and blankets.
The massages are super relaxing however they are fairly basic as most of the masseuse's are not certified professionals.
14. Have A Night Out At Naga Bar
When it comes to Koh Samet nightlife, Naga Bar is the only place in town you'll want to be.
I actually visited Naga Bar a few times during my stay on the island and it really was the highlight of my entire trip. You're basically guaranteed to have a good time here.
This place isn't super classy or fancy, so don't expect too much. It's not gonna be as fancy as one of Bangkok's sky bars.
It's a place where you come for cheap (but strong) drinks, fun music and luminous paint (so don't wear your best clothes).
I got myself a ridiculously strong bucket of alcohol for just a few dollars and I couldn't have been happier to be honest.
This place really lights up after dark when both travelers and locals come together. It has a fun atmosphere that just makes you feel good.
I met people from all over the world here and made several friends that I'm still in touch with today. It's ideal if you're a backpacker looking for people to travel onward with.
Don't wear something you're attached to as you'll likely be offered some luminous paint which stains clothing. Unfortunately I had to say goodbye to my fave top after a night out here.
Worth it though.
15. Explore Samet Village
Koh Samet only has just over 2,800 local residents so, as you can imagine, the main town area isn't super big.
You will find a small town center officially known as 'Samet Village' located in the north close to Nadan Pier.
It's a nice little area to explore and it's super easy to find your way around as there's just one main road.
Along this road you'll find a variety of restaurants, souvenir shops, clothing shops, massage parlors, little cafes, bars and more.
You could easily spend an afternoon exploring them all. I bought a few fridge magnets, some shoes and stopped by for some lunch.
16. Visit Wat Ko Kaew Pitsadan
One of the best Koh Samet attractions is the Wat Ko Kaew Pitsadan temple which is actually the only temple on the island.
Thai people are very spiritual so if you've ever spent any time in Thailand then you'll probably have been to several temples.
Wat Ko Kaew Pitsadan is located in the north between the main town area and Sai Kaew Beach. You'll find a large sitting Buddha statue here that is 7-meters tall.
You'll also often meet friendly monks who are known to give amulets to tourists as souvenirs. If you accept one, you'll probably be expected to make a small donation to the temple.
Take a look at around the temple in the video below:
One thing I noticed is that the locals often leave red fanta bottles at temples in Thailand. It's a super weird tradition but it does have a very special meaning.
17. Have Dinner On The Beach
The final thing you should do whilst in Koh Samet is have dinner on the beach.
Many of the more popular beaches, like Sai Kaew, are lined with beachfront restaurants where you can eat your dinner with the sand between your toes and the ocean lapping at your feet.
I did this a few times whilst in Koh Samet and really enjoyed it. It's super fun and very peaceful.
I would suggest checking the reviews on Google for the restaurants beforehand as I found the food to be very hit-or-miss.
At one restaurant, I had a super tasty Pad Thai (one of the best I've had) and at another, I ordered a pizza which just turned out to be ketchup spread across some bread.
---
And that's it!
Thanks for reading this post on the best places to visit in Koh Samet.
Koh Samet is one of the lesser known Thai islands so it has a calm and relaxing atmosphere.
Many people often choose other famous islands like Koh Samui over Koh Samet. Both are great choices so in my Koh Samui vs Koh Samet guide I uncover all the differences.
Related Posts: